Digital Transformation in Insurance

It can bring about innovation, streamline business operations by eliminating unnecessary processes, add value, and increase profit margins. But insurers also face challenges in digitizing unique to their industry. So how to put digital transformation to work for your company?
The industry - specific challenges
Insurance, as a very competitive industry offering many complex products, has to prioritize customer experience and make purchases and services as straightforward as possible. Consumers are increasingly expecting better integration across physical and digital channels. According to Accenture's Global Consumer Study, two out of three consumers say that their main concern is getting what they need quickly and easily, no matter which channel they use.

Source: 2019 Global FS Consumer Study – Insurance
Integration of digital tools into every aspect of the business makes it easier to meet both current and potential clients' needs and expectations, but not everyone is taking full advantage of this opportunity.
Another area that has a lot of room for improvement is data usage. Here customer behavior is also changing, with the majority already open to sharing data in exchange for lower premiums and more personalized services. Those insurers who are able to gather and analyze data to most effectively target potential customers will be able to differentiate themselves in a saturated market.
Data analysis can also be used in risk and claim assessment and fraud detection, providing companies with long-term benefits.
Digital transformation - how to start
Insurance companies were initially slow to embrace digitalization but have finally realized that it is vital if they want to stay competitive with insurtech disruptors. Here are a few things to keep in mind if you are thinking of starting the process.
Find the weak spots
Filling out paper forms, keeping documentation updated, and looking up specific information are just a few examples of where employees might be losing time on mundane and repetitive tasks. That's where AI comes in handy.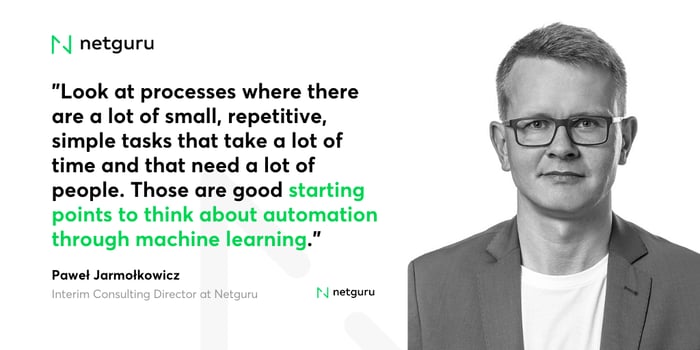 "Look at processes where there are a lot of small, repetitive, simple tasks that take a lot of time and that need a lot of people. Those are good starting points to think about automation through machine learning," recommends Paweł Jarmołkowicz, Netguru's Consulting Director.
Choose the right KPIs
It might be daunting to think of digital transformation as one huge block that you have to move to get your company to the next level. Instead, divide the process into smaller tasks. Define clear and short-term objectives which you can promptly act on.
Wenling Yao, Head of Business Intelligence at Clark, who was one of the experts at Netguru's Disruption Talks, an event focused on AI in the insurance industry, advises, "Always start from the business side and start with 'why?'. What kind of business KPIs are we trying to address?"
Once that is clear, you can start thinking about what digital tools you will need to get there.
Plan for building suitable platforms
Legacy IT systems tend to be difficult to overhaul and might be stopping you from making big changes. Think which of their aspects you're able to replace relatively easily and choose new software that's going to be scalable and adaptable in the future. There are so many different platforms and digital tools out there that deciding which one to choose might seem overwhelming. But you don't need to incorporate every shiny new tool to become ready for the digital future - you just need to choose a few that are good for you and will serve your specific needs.
Merge business and technology
Updating the technology is only one part of the digital transformation process. The whole company needs to be ready to change its ways of thinking and frameworks. The change should be dictated from the top, with IT following the lead and introducing tools to help meet the business objectives. Prepare to embrace an agile framework and constant changes to manage a true shift to digital.
Examples of digital transformation in action
Intelligent content management
The amount of data that every company has to manage is steadily growing and without comprehensive digital tools it can quickly grow unmanageable. Fortunately, AI is here to save you: it automates input and learns from past events, which eliminates a lot of manual work. Many companies have already switched to using central, fully digitized content management systems that, thanks to machine learning, improve over time. It helps them save time and money by connecting data and content in one complete and easily accessible view.
Smart automation
Clark, a digital insurance broker, provides an example of how to increase efficiency through automation without losing the human touch and leaving the customer in the dark.
"Because the nature of these products is pretty complex, automating the sales process is not an easy thing to do and full automation will never be our goal for these specific products. A big part of it is still human-driven, because customers value expert support in this area," says Wenling Yao, Clark's Head of Business Intelligence.
What Clark has achieved is to fully automate the recommendation stage. The user only needs to answer a few questions, and the system automatically assesses their situation and recommends the most suitable insurance plan.
Fraud detection
Costs related to processing claims and detecting fraud make up a significant percentage of insurance providers' budgets. This is an area where Artificial Intelligence could be successfully deployed to handle initial claim and assessment. AI could flag suspicious elements for review by an agent or, if everything seems correct, process the claim automatically. AI could also analyze images of damage submitted by clients.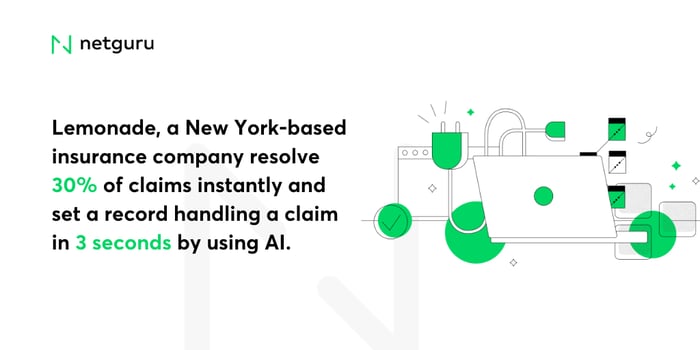 Lemonade, a New York-based insurance company, states that they resolve 30% of claims instantly and that they set a record handling a claim in 3 seconds - something that would never be possible without AI.
Trends and predictions
Health data collection
Precise health data collection allows insurers to better map risks. It can also function as a rewards system, encouraging people to improve their health through a more active lifestyle by connecting it to lower premiums. Consumers are becoming more and more open to hyper-personalization, but there is still a thin line that the companies have to be wary not to cross: if they demand or misuse the data, the customers will leave quickly.
As this is still relatively new territory, there are not enough regulations to clearly mark the limits. How the regulations will be defined will be crucial for future development of data collection technologies.
Internet of Things
Geographic information systems have been used in household insurance for decades and now, combined with the ever-expanding possibilities afforded by Internet-of-Things devices and AI, they're bringing truly transformational results for the whole industry.
For example, it will soon be possible to analyze damage to an insured house remotely, with the help of an IoT device and geospatial analytics. AI is already able to analyze big data chunks and GIS to assess risks more accurately.
Sustainability
This might be the biggest challenge that lies in front of the insurance industry, but at the same time it's the one that gives visionary insurance leaders a chance to shine.
Digital transformation helps to transition to a low-carbon economy just by digitizing actions and processes. But there are more opportunities lying ahead. The insurance industry is uniquely positioned to guide companies and communities through climate change: it can help them acknowledge and prepare for negative effects of natural disasters and help relieve its effects.
When sustainability becomes a strategic and not merely a reputational issue, it can build trust and prepare a business with a truly transformative vision for the years ahead.
Conclusion
At Netguru, we have experience helping insurance companies go through digital transformation to stay relevant, competitive, and achieve their business goals. If you need help with any part of the process - from setting the objective, through developing the software, to consulting, get in touch with us.