Disruption Insights: Ideas and Implementation Go Hand in Hand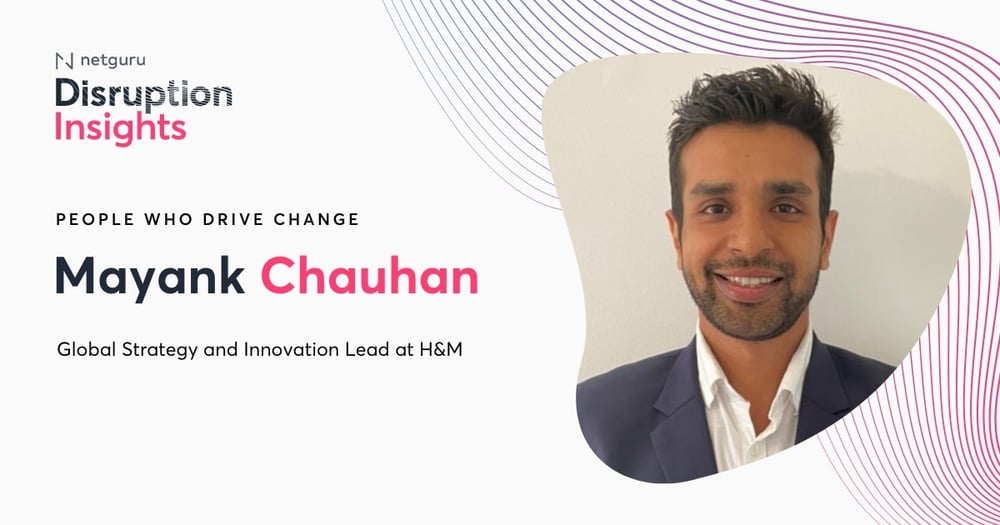 Mayank Chauhan, Global Strategy and Innovation Lead at H&M, shares what skills, traits, and processes help him turn out-of-the-box ideas into projects that deliver tangible results.
With more than ten years' experience in strategic operations, Mayank Chauhan has shaped organizations by streamlining various processes to reduce the cost of operation, increase overall revenues, and build business cases for innovative products and services.
He has an entrepreneurial mindset and loves to drive operations with the aid of technology. This is his take on bringing innovation to life one day at a time.
In the Disruption Insights series, we discover inspirations and insights from global innovators who shape how we live and do things today. True innovation doesn't happen as an overnight breakthrough — it's an ongoing process of constant trial and error done by teams and organizations who strive to solve real human problems. Mayank Chauhan is one of the people who push those ideas forward, making things possible.
💼 Corporate innovation
How do you choose one idea out of one hundred?
To pick the best idea, I would gather the most skilled professionals from the industry and try out all the ideas in small batches. Why? Because the one that clicks can be a by-product of a failed execution of another idea from the list.
How do you convince decision-makers to back innovative ideas?
I always have a business case ready. It should at least consist of the initial assessment, resource requirements, and the evaluation of the idea's impact. This is the bare minimum needed to convince the stakeholders with decision-making power to support innovative ideas.
One thing you'd change about your work
I don't refer to my current organization, but many companies should do more to embrace collaboration. Collaborative initiatives, where different teams contribute towards multiple goals and learn from each other, bring really fruitful results and lay foundations for the future innovation projects.
💪🏼 Innovation mindset
One personality trait that helps you at your daily job
It's not a single characteristic, but there's a combination of an approach and traits that helps me with getting things done. It's the fact that I dare to dream and that I'm bold in coming up with ideas, executing, and implementing them. Ideas and implementation go hand in hand.
What drives you at work?
The possibility to own and provide a seamless shopping experience for both staff and customers.
Your dream profession when you were 20
When I was a teen I wanted my work to be based on courage, so I wanted to join the army. However, the joining process is lengthy, complex, and challenging. I tried to do everything I could, including staying physically fit and polishing my skills for the competitive examinations, but somehow I was not prepared enough and could not make it.
The biggest milestone in your career path
There hasn't been any milestone. However, I've always been and I still am a part of organizations that try to do things differently. Be it the early days of ecommerce businesses or the first ever logistics organization specialized in "3PL" (third party logistics) for ecommerce. This gave me many opportunities to experiment with my abilities and never get inspired by competitors.
The biggest accomplishment in your career path
It's hard to point out one accomplishment, as every day is a new opportunity, full of challenges and possibilities that may lead to delightful experiences. But if I have to pick just one, then I would say introducing a hybrid model of last mile delivery for fashion products through the cooperation with food delivery partners.
This initiative resulted in establishing an industry benchmark of a few hours for an apparel product lead time. A lead time is a latency between the start of a process until its completion, which means I improved and set a new standard for one of the most crucial KPIs in the industry.
💡 Inspiration corner
Biggest source of daily inspiration
What inspires me is the freedom of expressing my ideas and the opportunity to develop new initiatives every day and learn along the way.
Books that inspire you
"Atomic Habits" by James Clear
"No Limits" by Mukesh Bansal
"Profiting from Uncertainty" by Paul Schoemaker
"Why We Buy: The Science of Shopping" by Paco Underhill
Blogs and magazines you follow
Podcasts you listen to
Accidental Tech
The Mindful Minute
Brute Strength Training
Heavy Networking
Movies that inspire you
"Motorcycle Diaries"
"A Beautiful Mind"
"Dear Zindagi"

(a Bollywood movie)
Want to be a part of the Disruption Insights series? Shoot us an email at paulina.burzawa@netguru.com.
---
Discover insights from other inspiring innovation leaders: