Disruption Insights: Luck Can Help Great Ideas. What Else Can?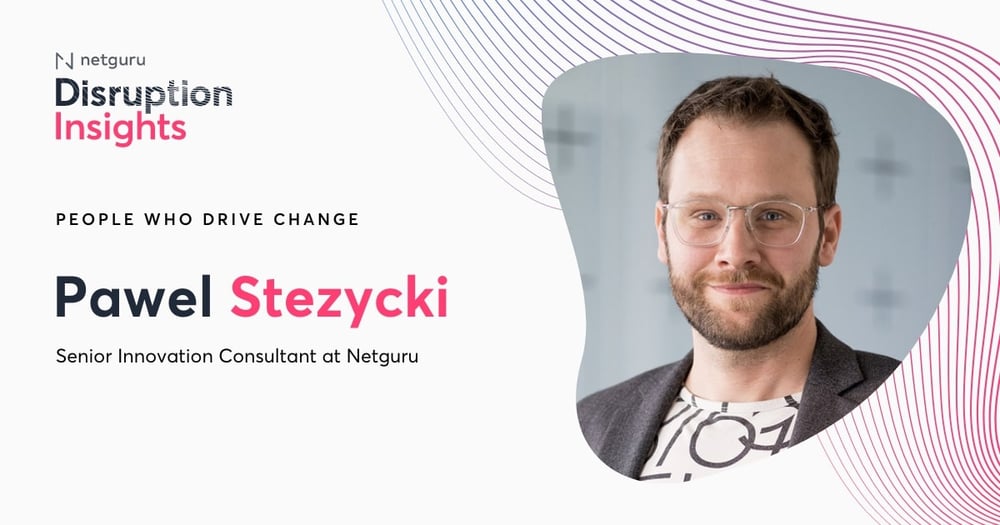 The next contributor to our Everyday Innovation miniseries is Pawel Stezycki, Senior Innovation Consultant at Netguru.
He is a methodical problem solver driven by everyday challenges rather than by big, abstract ideas.
Having worked in the banking, entertainment, culture, and healthcare sectors, Pawel Stezycki has a multidisciplinary background that helps him create digital solutions that connect customer experience, design processes, and business perspectives. This experience, paired with a down-to-earth approach, enables Pawel to lead projects that are innovative and practical at the same time.
In the Disruption Insights series, we discover inspirations and insights from global innovators who shape how we live and do things today. True innovation doesn't happen as an overnight breakthrough — it's an ongoing process of constant trial and error done by teams and organizations who strive to solve real human problems. Pawel Stezycki is one of the people who push those ideas forward, making things possible.
💼 Corporate innovation
How do you choose one idea out of one hundred?
The process of selecting ideas (or choosing anything from a large quantity) gets complicated if there are too many options to choose from. There is this joke about how to screen 500 CVs — just read through the first 50, and then ditch the remaining 450, so you don't hire people who are unlucky.
Obviously, this is not how the recruitment processes look but this brings us to the valid question of how much research needs to be done to find a great solution.
Perhaps there is a strong idea within the first 20 you analyze and spending resources on analyzing an additional 80 ideas will not give you anything way better.
Great ideas also need luck, so you may as well filter out the unlucky ones at the start.
How do you convince decision-makers to back innovative ideas?
It obviously depends on the decision-makers you deal with. To succeed, you need to tailor your narrative so it corresponds with the goals and needs of the C-suite executives you want to get buy-in from. But in general, I always fall back on rational arguments based on research or strong assumptions.
One thing you'd change about your work
I'm a people person. I enjoy working with others at Netguru and I also like remote work but what I miss is face-to-face interactions.
I've always put emphasis on having some project celebration rituals, so I wish I could go out for lunch or wine with my teammates from time to time.
💪🏼 Innovation mindset
One personality trait that helps you at your daily job
It's composure. Being aware that we are just a small part of the universe brings me calm and helps me focus on day-to-day things.
What drives you at work?
The possibility and craving to figure out the best way to design a solution, solve a problem. And what's even better — being able to get people on board for the idea.
Your dream profession when you were 20
I've always dreamed of being an innovation consultant at Netguru. Surfing would be nice too but I'm a little scared of big waves. But jokes aside, I considered being a vet but gave this idea up once allergies kicked in.
The biggest milestone in your career path
So far it was definitely building an innovation lab at one of the banks, along with setting up UX research and design teams.
The biggest accomplishment in your career
Still to come.
💡 Inspiration corner
Biggest source of daily inspiration
It's always the people around me. I observe what they do, what they read, what they share and try to take the best out of all these elements to fuel new ideas or solve problems I've been trying to crack for some time.
Books that inspire you
It's a year dedicated to Stanisław Lem, so most of his works. There's also something more recent, "The Brain: A User's Manual", by Marco Magrini. I also love "The Secret Lives of Color" by Kassia St. Clair — a great summer read for anyone working in design.
Blogs and magazines you follow
Nielsen Norman Group publications — for everything UX
The Economist — to be up to date with what's happening around the world
Subiektywnie o finansach by Maciej Samcik — insights on the Polish economy
Netguru blog — for quality content
Podcasts you listen to
99% Invisible
Planet Money
BBC podcasts
Raport o stanie świata (PL)
Movies that inspire you
"Life is Beautiful"
"The Pianist"
"Cosmos: A Spacetime Odyssey"
Everything with David Attenborough
Want to be a part of the Disruption Insights series? Shoot us an email at: paulina.burzawa@netguru.com.
---
Discover insights from other inspiring innovation leaders: