The Country where Fintech is Booming. "It is Refreshing to see what is Happening"

The adoption rate for fintech products in India stands at 59%, and that's the second-highest level worldwide. The country has raised its first decacorn, a venture valued at over $10 bn, in payments (Paytm), and the market is literally booming.
To discuss the rapid development of fintech in India, I sat down for a talk with Lars Markull, a fintech entrepreneur and consultant, who joined the Open Bank Project (OBP) to help in its expansion efforts in India.
Prior to OBP, Lars Markull spent five years working at figo (now finleap connect), a German fintech company, one of Europe's first open banking service providers. He left figo earlier this year to start a new venture, however, as this turned out to be more complicated than he thought, he is now a freelancer in the fintech industry and supports different startups with building their products.
Freelancing is a great way of working with different teams on different problems and that has many benefits, nevertheless, I see this as an intermediate step before jumping into my next startup - he says.
To the untrained eye, switching from the European financial industry to India looks like a radical change.
I would say it is rather refreshing to see what is happening in India. The open banking mindset is currently suffering in Europe, and especially in Germany due to the technical implementation of PSD2 by many banks.
In India, in contrast, the fintech sector is booming. When I first came to Mumbai at the end of 2014, I wasn't very successful in finding many startups or bank activities in this sector. But a lot has changed since then on all different kinds of levels.

Paytm is the India's first decacorn, a venture valued at over $10 bn
Would you paint a picture for us?
First and foremost, the Indian startup sector is booming. Out of all the industries, fintech startups seem to be getting a lot of attention, experiencing fresh capital inflow, funding rounds, and successful exits as well. While it's safe to assume that the European fintech industry knows a thing or two about the success story of Paytm, there is so much more happening these days.
So just to name a few…
Zest Money, which offers a consumer lending service for online shoppers without requiring a credit card, raised $20m earlier this year.
Kunal Shah, an Indian entrepreneur who sold his previous startup FreeCharge for $60m, raised an astonishing $120m for his new venture Cred, a credit card loyalty scheme.
Khatabook is a mobile app that enables small businesses and entrepreneurs to manage their ledger on their phone. They were part of Y Combinator in 2018 and just raised $25m from Sequoia, Tencent and others.
Lastly, Open, which offers banking services to companies and startups, raised $30m in June 2019. And this is just the tip of the iceberg.
What about the local banks, how they are participating in the fintech revolution?
Most bigger banks have launched APIs and Developer Centres, they are also hosting hackathons and trying to cooperate with startups. Obviously, banks could definitely do more, but they are heading in the right direction.
To be honest, I don't see how this is different than the European market.
I agree that on the surface it looks similar. Yet, in Europe, I see banks in a defensive position as the market is mature and customer growth is limited. On the other hand, the living standards of middle- and low-income classes in India are quickly improving, making this customer segment very attractive for businesses and banks.
As a result, Indian banks are facing an opportunity to grow their customer base without having to attack competitors. They just need to go to the market with the right product for the middle- and low-income classes. And this is probably the reason why many banks in India have launched APIs and other interfaces without regulatory requirements.
What about the technology infrastructure and regulations?
A lot of the innovation in the Indian banking market has been driven by a foundation called iSPIRT, which can be described as a product think tank. Directly and indirectly, this foundation was the starting ground for two groundbreaking products: Aadhar, the world's largest biometric ID database, and the Unified Payment Interface (UPI).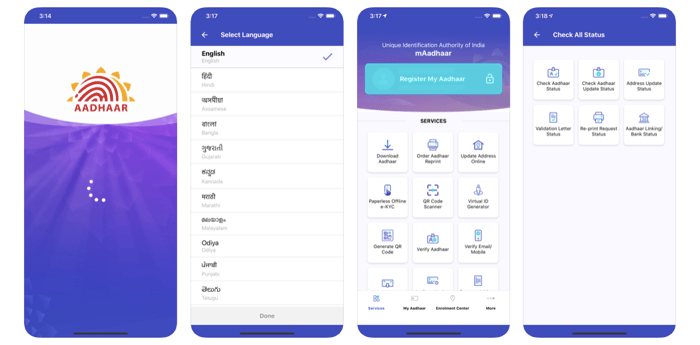 Aadhar, the world's largest biometric ID database
UPI enables easy and convenient bank transfers through third party providers. I used UPI myself for online and offline purchases and the mobile-only approach and integration with third-party services is beautiful.
It was just reported that UPI crossed one billion transactions in the month of October, and over 1.2 billion transactions in the montf of November.
I heard there is another initiative for data sharing.
The local regulator (RBI) is now implementing a new interface for data sharing. It is called Sahamati, and there is a lot of hope in the market that it will be a similar success to UPI. The Indian fintech market is a lot about lending, both personal or business, and Sahamati provides third-party providers with access to bank account data, which enables them to conduct better scoring and better risk profiling of their customers.
Let's shed more light on the project you're supporting in India.
The Open Bank Project is an Open Source API layer for banks to enable them to open up to developers with relatively little effort. The APIs do not just cover access to bank accounts, but also include KYC, cards, ATMs, and a lot more.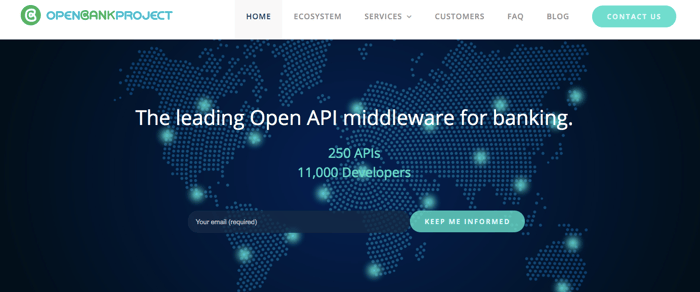 Obviously, by now most banks around the world have learned that they have to open up and provide APIs to third parties. However, it is still a tricky path, with most of the challenges around mindset and strategy. TESOBE, the company behind the Open Bank Project, is helping with that.
I have known the team behind OPB for a few years now, as they were one of the first open banking players in Europe. Since I spend a few weeks every year in Mumbai, I am happy to combine my love for India with open banking.
What's the acceptance rate within the banking industry? Which banks are using their APIs?
Clients of the Open Bank Project include tier 1 banks from around the world, including HSBC, BNP Paribas and Société Générale, to name a few.
In general, the Open Bank Project supports banks in their open banking journey, so there are different ways of how we work with banks. In some countries, we work directly with the regulator to help them understand the impact of open banking and what might be the best implementation for their country.