How Level39 Fosters Tech Entrepreneurs' Growth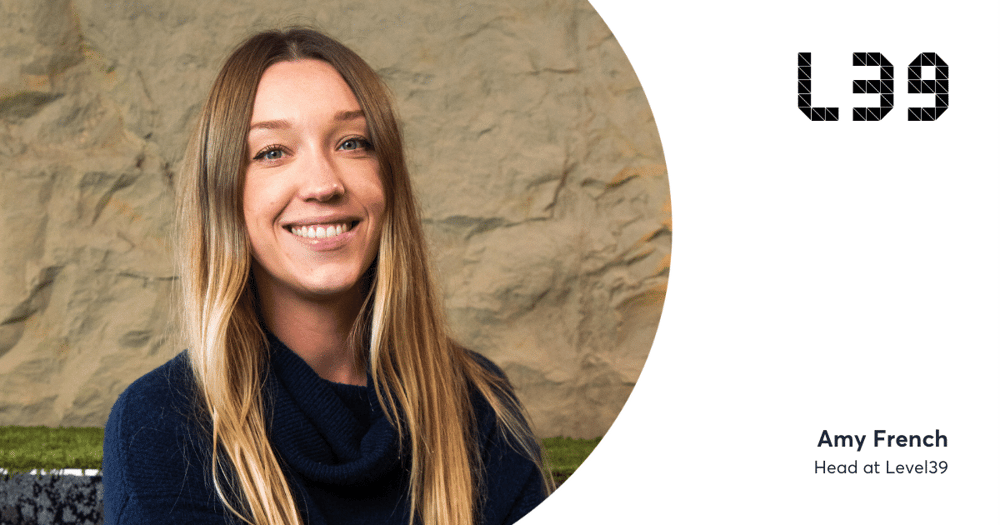 What is the key to business growth as a tech entrepreneur? Is it the tools and resources you have at your fingertips? Partly, but it's also about the community you surround yourself with.
Traditional business networking hasn't exactly gone out of style, but it has changed. Although it's been tougher during the pandemic, the remote working world now has an opportunity to connect more easily with people around the world.
Level39 is a tech hub that connects entrepreneurs worldwide to support them and help them grow. Amy French, Head at Level39, joined this episode of Disruption Talks to share more about it.
Amy leads ecosystem and portfolio development for Level39 and is responsible for the delivery of end-to-end commercial and community strategies centered on supporting early-stage, middle-stage and scaleup technology companies.
What is the role of a tech hub?
The tech world is already thriving, but connecting tech entrepreneurs from different backgrounds can lead to so much more growth. That's the role that tech hub Level39 has taken in the tech community.
Level39 is a community of 1,250 leaders in cybersecurity, fintech, retail tech, smart cities, and more. It supports growth in the tech community with expert mentors, events, and facilities to help businesses scale.
Filip Sobiecki: Could you give us a short personal introduction?
Amy French: I joined Level39 in 2014, and my role has always been focused on our ecosystem and developing the community of members. I also helped to curate the wider ecosystem of mentors, investors, and partners. So far, I've been lucky to work with academia, governments, trade associations, you name it.
Last April, I was appointed as Head of Level39, which was just as COVID hit, so it was an interesting time. We've worked with what we have, and our community has been incredible during this time.
Could you tell us a little about how Level39 got started?
In March 2013, the Canary Wharf Group, the real estate business and owner of Canary Wharf, wanted to create an environment for small and fast-growth companies.
The premise of Level39 was to create a supportive environment for companies.
We primarily look at fintech, but we also have cybersecurity companies and other types of businesses here too.
We bring together mentors, investors, people in our wider network who give advice, support through services and challenge our businesses to give them the best opportunities to succeed. One of our alumni is Revolut, which everyone knows by now.
How has Level39 changed since 2013?
The biggest difference is that we just started on one floor in Canary Wharf and now have 80,000 square feet, so our presence has grown. One of our first members was Digital Shadows, which had five people and was part of the Accenture Fintech Innovation Lab that we hosted for many years. A company like that just grows and grows, and so do their requirements, so we were able to expand as well.
Today, we have everything from one-man-band companies that are self-funded all the way to companies looking to scale up.
This gives us a unique opportunity for everyone to learn from each other.
We now have 48 different nationalities represented here, and it's great to be a part of these journeys of entrepreneurs from all over the world.
International markets and building diversity are clearly important for Level39. How does this help to empower growth?
The tech sector certainly has a challenge of representation from diverse backgrounds. I think we all know now that diverse teams often outperform homogenous ones because they bring innovation, creativity, agility and diverse talent, and an inclusive culture.
With diversity, it means we have a melting pot of over 1,000 different people bringing their experiences and backgrounds, and therefore offering learnings and insights to one another.
Remote work has made it easier for companies to hire outside of their local areas. What are the effects of this?
The really encouraging thing about last year has been that with everyone working from home, businesses are now hiring remotely. They're starting to consider candidates outside of their usual location, which naturally means they have more chance of hiring diversely.
Businesses are finding people from different experiences and cultures and are bringing that diversity into their organizations, which is a really positive thing.
Helping remote workers feel included can be tough. Could this create problems for diversity?
There are difficulties of onboarding remote workers for many reasons, including administrative issues, contractual elements, and salaries.
Human nature requires you to be surrounded by people, not necessarily every day though.
It should be flexible, and it's been great to see that from last year.
However, I think the companies that decide to go remote fully need to understand their employees and what they need. They'll need to work on building trust with the employees and keeping communication lines really clear.
Do you believe that if you want to improve how global finance works, Level39 and London are still the best place to start?
I believe so yes. I speak to entrepreneurs frequently who are still looking at London as a place to do business. Even with Brexit, every entrepreneur I speak with is still really excited to set up their business here, especially in Canary Wharf, a financial center.
What does your decision-making process look like?
The key thing for me is to always go back to it as a business and look at what we seek to achieve. If the task at hand allows us to meet our goals, then fantastic. But we also need to make sure those goals are achievable within certain timeframes and that our teams are equipped to deal with them.
Our key decision-making framework would be to ask does it meet business objectives and can the team sustainably deliver it now and in the future?
Accessibility to resources and training is something that we're always keen about at Level39.
We have alumni at Level39 called the Centre for Finance, Technology and Entrepreneurship (CFTE), which is an education platform for fintech businesses. I always recommend to our team to look at their resources.
If you had a magic wand and could give teach every 12-year-old a new skill, what would it be?
I'd say make sure that all 12-year-olds know that there are no pre-determined roles based on gender, ethnicity, or background. You can go after whatever you have a passion for, so I think helping them feel inspired to be what they want to be in the future.
This discussion is part of our Disruption Talks recordings, where we invite experts to share their insights on winning innovation strategies, the next generation of disruptors, and scaling digital products. To get unlimited access to this interview and many more insights from industry experts, sign up here.