How to Make Crypto "Simple, Smart, and Reliable" with Ulli Spankowski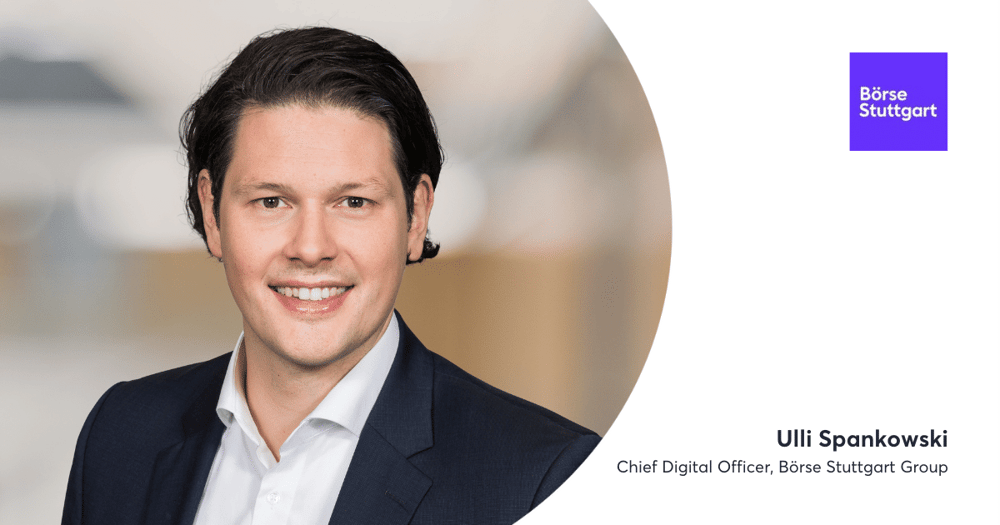 Confidence in cryptocurrency has grown over the past few years, but there's still a long way to go to educate people about it.
Over the past couple of years, new apps and organizations have been talking more about crypto, bringing the conversation into the public space, and educating people about it. One such organization is Börse Stuttgart Group, the second-largest German stock exchange.
In this episode of Disruption Talks, we spoke with Ulli Spankowski, Chief Digital Officer at Börse Stuttgart, about crypto, the BISON app, blockchain, and more.
Fintechs leading the way in cryptocurrency
Several fintechs and trading apps have launched over the past couple of years that make Bitcoin and other cryptocurrencies more accessible.
Börse Stuttgart Group developed BISON, a crypto trading app that seeks to make crypto simple, reliable, and more accessible. The hope is that apps like BISON and other trading platforms for crypto will help to educate consumers and businesses to view crypto as safe as any other stock.
Filip Sobiecki: Could you tell us what an average day as a Chief Digital Officer looks like?
Ulli Spankowski: My day usually involves a couple of board meetings and working on growth on the marketing side. On the B2B side, I also work on the growth of new partnerships and looking at KPIs that we're working towards. It's all about growth, growth, growth! We're also growing the team, so there are a lot of new faces to work with.
On the B2C side, we're working on an app called BISON, where we try to enable the general public to enter into crypto in a smooth and simple way.
How did you personally get involved in crypto and blockchain?
I was pretty late to the party. I founded my company in 2013, which was designed to do predictive data analytics. We used AI, social media, and unstructured data sources to extract relevant information for trading. My co-founders were from Slovenia, where crypto and Bitcoin are a bigger deal.
In 2014, I was in a meeting with my CTO, and we were talking about product strategy. He mentioned that we should explore the crypto and Bitcoin space. I was like, wait, what? I'd never heard of it, but that's how I began.
We quickly designed our algorithms to analyze relevant data on Twitter and other sources for crypto and Bitcoin. I was particularly interested in blockchain because I saw that had the potential to completely change the market infrastructure in the financial domain.
Can you tell us more about the BISON app?
When we first designed the digital strategy, our main goal was to create a complete digital asset ecosystem, starting from tokenization. We decided to test it with the B2C side first.
One of the biggest shortcomings that I saw with Bitcoin and crypto was that people weren't really interested in it. Back in 2016-17, only a tiny group of people understood what Bitcoin and blockchain were. It was super complicated to bring the technical complexity to mass publicity, so that's why we created a mobile app first. Our unique selling proposition is that it's a simple, smart, and reliable way to enter into the crypto space.
Can you tell us what the early successes were like with BISON?
We're very proud that we actually delivered in setting up the digital ecosystem. We also created the Börse Stuttgart Digital Exchange, which is the first European regulated MTF for crypto that you can enter as a retailer or B2B client. This allows them to trade crypto within a regulated framework.
What are the most exciting and important challenges ahead of you right now?
Regulation is an important part of the business models that we're setting up. With that, there's always a degree of insecurity about where we're going next.
I underestimated the time it really takes to get through regulations.
What's challenging is, particularly if you look at Germany, the legal grounding for trading security tokens on the secondary market level in a regulated space hasn't been there.
However, the German government recently came up with a new law that makes it possible to do this. Trading equity is not yet possible, but we're moving in the right direction. Regulations are catching up.
What do you think about Bitcoin versus altcoin, and what factors should be taken into account when it comes to mining them?
About 60% of what people hold is Bitcoin, and then the rest is distributed across altcoins. It will be super interesting to see how second-layer solutions will look and what alternatives to Bitcoin will appear.
But there's an industry-wide issue of energy consumption. If you look at the amount of mining capacity, I think 70% of Bitcoin mining is already in the ecological space, so via wind and water. However, you still see big headlines about Bitcoin consuming as much energy as the Netherlands.
We are just at the beginning of the technological development cycle, so there's a lot of room for improvement.
What do you think the consequences of Bitcoin becoming an established asset class will be?
I think we're already there. I don't really think that Bitcoin or altcoins will go away. Bitcoin will likely never go away because it's already an interesting asset class. If you look at the inflation on other assets, I think Bitcoin is a great way to add diversification to your portfolio.
Looking at other regions in the world, Bitcoin is considered the safe haven when it comes to price stability.
For example, in El Salvador, Bitcoin is a money tender, and you can pay for everyday items with it. More than 20% of the population has already downloaded the government app to pay with it.
That said, one of my biggest fears around Bitcoin is that there's no national sovereignty. There's no one party or country that controls it. So, it's seen as a bit scary for governments. If Bitcoin grows that large, it could even be a threat to national sovereignty.
What is your decision-making framework?
I think for us, it's down to the setup and structure of the team. When we started, it was like an upside-down pyramid. We had three or four guys at the top who did everything, with managers and team leaders below them.
It's all about clear communication and developing a good open communication strategy within your teams.
Say you wave a magic wand and can give all 12-year-olds in the world a new piece of knowledge or wisdom. What would it be?
Be yourself and be open-minded. Everyone has a particular set of skills and talent, and I think it's super important that kids understand that they need to build upon that. There's no right or wrong, so it's just about having fun and doing what you do best.
This discussion is part of our Disruption Talks recordings, where we invite experts to share their insights on winning innovation strategies, the next generation of disruptors, and scaling digital products. To get unlimited access to this interview and many more, sign up here: www.netguru.com/disruption/talks