3 Ways to Scale up a Home Delivery Business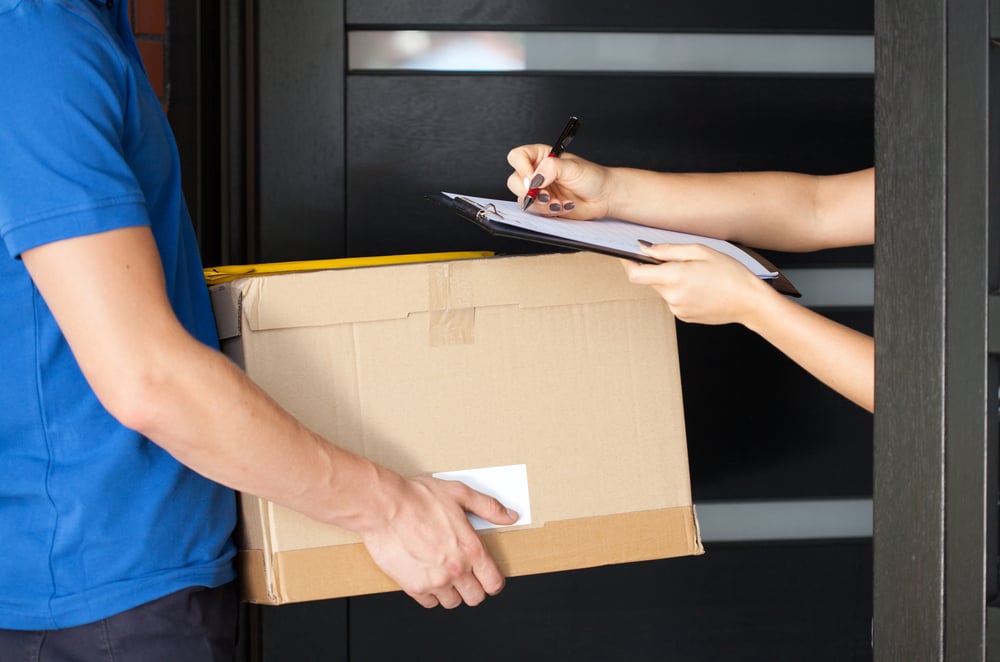 Most retailers currently face a logistics challenge: scaling up home delivery services. The global lockdown brought about by the COVID-19 pandemic has changed consumers' shopping habits, likely for good.
In-store shopping was replaced by delivery services and contactless transactions, causing turmoil, especially in the retail and logistics segments.
Sellers who have stores and offered home delivery options suddenly had to start to deliver multiple and larger orders more often. With growing e-commerce, retailers are looking for solutions to scale up the home delivery business as fast as possible. Is this even attainable?
Well, simply put, yes - some new solutions and technologies address this specific retail challenge. In fact, these new solutions allow businesses to accelerate growth by increasing sales, scaling up their offering, and keeping up with customer expectations.
So, what are the options retailers should consider to scale up their business? Let's take a closer look at three of them.
Micro-fulfillment centers
Micro-fulfillment centers are a relatively new solution in logistics but became especially important for delivery businesses during the pandemic. These centers are essentially packing warehouses that enhance order processing through automation and AI.
Such modular, smaller warehouses can be placed either in residential areas or inside existing stores to automatically process online purchases, allowing businesses to automate order fulfillment and bring the distribution units closer to the customer.
According to the PwC study Shifting Patterns: The Future of the Logistic Industry, consumers increasingly demand to receive their orders faster, more flexibly, and at lower or no delivery cost. For that reason, micro-fulfillment centers are becoming extremely important, especially for grocery and other businesses that deliver fresh produce.
Micro-fulfillment centers focus on the last-mile delivery. Image source: CB Insights.
Walmart is one of the first larger retailers that already incorporated micro-fulfillment centers inside its local stores to handle grocery orders. With that, the company can offer a convenient local curbside pickup to its customers, speed up order processing and diversify its order fulfillment model. In the early days of the pandemic, Walmart experienced a 300% growth in pickup and delivery, and the number of customers interested in these new forms of services increased four times.
Business benefits of micro-fulfillment centers
Micro-fulfillment centers streamline the supply chain to customer flow, which helps reduce logistical costs and speed up delivery times. Instead of one large warehouse, small and medium-size businesses can opt for smaller fulfillment centers placed in customer-dense locations. This solution may also allow them to reduce their CAPEX - building larger greenfield distribution centers may require a bigger initial investment.
In addition, micro-fulfillment centers allow expanding order fulfillment capacity: with reduced order processing, businesses will be able to process more orders and drive more revenue. Such a solution will reduce the distance between the customer and their order.
It translates into cheaper and quicker delivery and higher customer retention rates. It is an excellent option for companies looking to scale up their delivery service: the automated small warehouses also mean lower personnel costs related to handling the distribution units.
Finally, micro fulfillment centers allow retailers who own physical stores to better manage their units. As shoppers opt for home delivery or fulfillment center pickup, store owners can expect fewer customers in the stores, which will ease the aisle congestion and offer a more comfortable shopping experience for those who prefer to shop in person.
The challenges of introducing micro-fulfillment centers
Retailers opting for micro-fulfillment centers when scaling up home delivery services should take into consideration the following characteristics:
They require an initial investment in technology and automation.
They require maintaining separate inventories, which complicates inventory management.
They can only handle a limited number of goods due to space limitations.
Autonomous delivery robots
Autonomous delivery robots have gained their momentum in times of social distancing, and companies making use of robotics to offer fast and contactless delivery certainly thrived while those who didn't were struggling.
Starship Technologies, a U.S. robotics company, was certainly in the first category. With its robots, people could enjoy the safety of their homes while robots delivered small supplies of groceries, medicines, and other first-need items straight to their address.
For the customer, autonomous delivery robots eliminated the need to be in contact with another human being. Businesses may use them as a competitive advantage when scaling up home deliveries, but we have yet to see the direction in which this sector will go. It's a new industry that is expected to grow to $76 bn by 2030.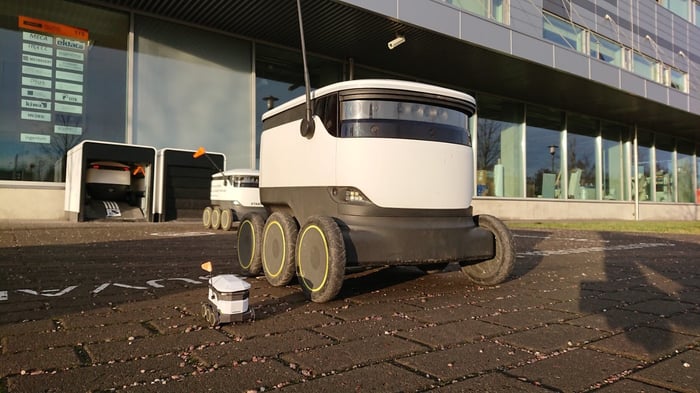 The Starship autonomous robots can carry items within a 4-mile (6km) radius. Image source: Starship Technologies.
The utility of autonomous delivery robots can go beyond social distancing. Nuro created a larger car robot that rides along the streets to transport chilled or heated food and groceries. It's an autonomous vehicle, so businesses willing to invest in such solutions could allocate more staff to process orders instead of dealing with deliveries.
Whenever Nuro delivers an order, a customer receives a text message with a link to open the robot and pick up their goods, which keeps the orders safe. The company hopes that its robot could help companies extend their delivery coverage areas to include those neighborhoods that are currently underserved, e.g. rural areas. It has been testing the solution with pizza delivery in the suburbs of Huston, Texas.
Another example worth mentioning is Eliport, a startup from Barcelona that has created a fully autonomous robot. It's similar to the one constructed by Starship Technologies, but Eliport's machine doesn't have to be loaded up by humans - it is fully autonomous.
The company's vision is to replace delivery trucks with these smaller, hassle-free delivery machines to reduce the number of delivery trucks on roads and thus help cities become more eco-friendly.
Business benefits of autonomous delivery robots
The autonomous delivery robot is a great solution for retail companies looking to diversify their order fulfillment methods. The robots speed up the delivery process locally and allow them to process more orders.
More importantly, autonomous vehicles can help generate significant savings in staff and logistics costs while boosting customer satisfaction through hassle-free delivery.
What is more, autonomous delivery robots offer a new approach to last-mile deliveries - the part of the journey of an order from the transportation hub to its final destination. Businesses increasingly recognize autonomous delivery robots for their potential to offer faster, cheaper, and more sustainable last-mile deliveries.
The demand for autonomous delivery robots is growing - they are already being used by startups and enterprises alike, and the pandemic is not the only reason for that.
They are most commonly used in food deliveries, but it's a great modern solution for any retail business looking to expand its home delivery service. The goods must just fit the robot.
Challenges of introducing autonomous robots
Retailers interested in autonomous delivery robots should baer in mind the following issues:
Rules and regulations of roadside traffic
Availability of machines and their cost
Delivery to addresses in the inaccessible locations for the machines
Stabilizing the packages inside the robots
Dark stores
Dark stores are warehouses dedicated exclusively to processing online orders. The role of these stores is to sort, store and handle purchases in high-demand locations. They are called dark because they are not as visually appealing as the physical retail stores you'd typically see on the high street.
Quite the contrary - these are often located in places where it is possible to avoid high congestion, so they could be built in residential areas or somewhere along the highways.
The idea behind the dark stores is to offer a convenient pickup location for consumers. From their perspective, these stores eliminate the need to travel to the city center to collect orders - something that is highly valued by more increasingly demanding customers.
As such, it's another option businesses should consider when looking for ways to innovate and scale up a home delivery business model.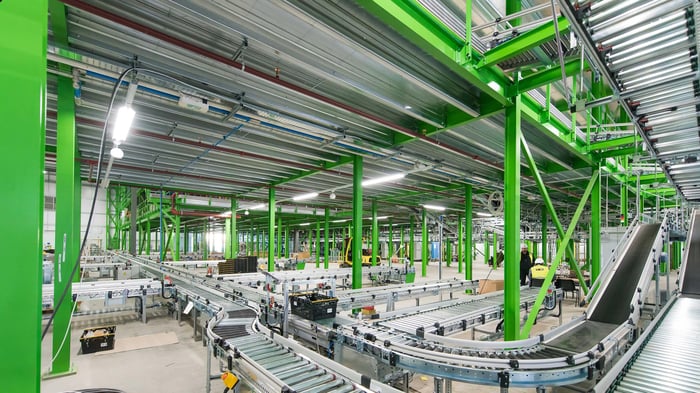 Dark stores can facilitate click-and collect services. Image source: The Grocer.
One of the first retail dark stores in the United Kingdom was opened in London by Tesco through Supermarket Income REIT. Initially motivated by enhancing the omnichannel experience for their consumers, the immediate success of the venture has led the company to claim that dark stores are the future of grocery shopping in the UK.
Sainsbury's quickly followed suit to keep up with customer expectations and offer to produce in places where brick-and-mortar stores have yet to be opened.
This concept isn't used exclusively by the retail industry. One of the first UK companies that started using this model was Delivery Hero, a network of online food delivery sites. It is backed by Prosus, which provides and operates the dark stores for Delivery Hero.
Thanks to this model, another company from Delivery Hero's portfolio, Kuwait-based Talabat, could offer a 15-minute delivery option for its customers in Kuwait City!
Benefits of dark stores
With the COVID-19 pandemic, health and safety became and will continue to be the top priority for customers and businesses. The latter must also adapt to the changing consumer behavior - in many cases, physical stores become unsustainable, and retailers need to look for ways to cut costs.
Differentiation of services and delivery options are possible paths to follow. However, as Deloitte report: 2021 Retail Industry Outlook indicates, retail businesses must also remember that supply chains, inventory management, and user experience can no longer operate in separate silos.
By investing in dark stores, retailers can enhance their supply chain management and reduce the number of people in stores, which not only improves the customer experience but also helps ensure health and safety. At the same time, dark stores also provide additional inventory capacity. They are set up to handle larger volumes of orders than traditional stores.
Above all, this is a more convenient option for shoppers who don't want to commute long distances to pick up their orders and are likely to stay loyal to sellers who offer a convenient pick up option in their area.
Retailers who look for ways to scale up their home delivery business should consider placing dark stores in residential areas. We will likely see more and more of these stores in the years to come.
Challenges of introducing dark stores
Businesses interested in opening dark stores should consider the following:
New operational processes and systems to run relatively small scale units
Costs related to installation, automation, and maintenance of the facilities
A location that is convenient for consumers and delivery trucks alike
The right automation technology
The best delivering solutions for your business
Retailers looking to scale their home delivery business have a handful of technology and innovation solutions that can help them in this endeavor. Micro-fulfillment centers, autonomous delivery robots, and dark stores are emerging solutions that provide invaluable logistical and supply chain support to retailers.
These solutions gained their momentum during the COVID-19 pandemic, but are here to stay with us for good. Before deciding which option is best for your business, consider the kind of products you sell and where you are going to deliver to determine which solution will maximize the value you both deliver and capture.