Top Smart Retail Solutions in 2023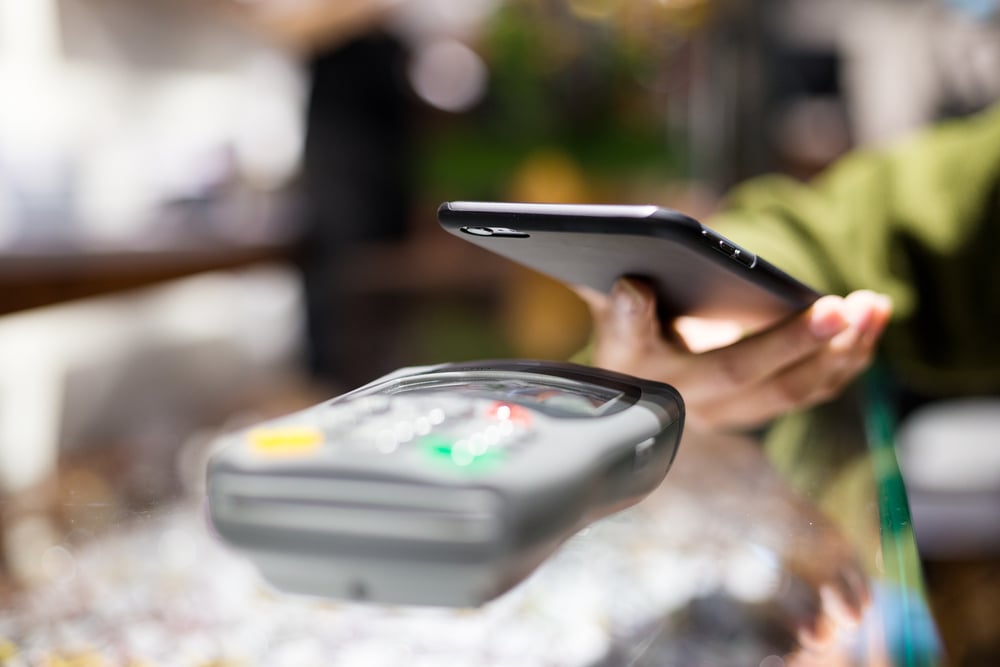 Smart retail solutions have emerged as a game-changer in the retail industry, offering a perfect blend of digital technology and traditional shopping experiences.
These solutions enable businesses to enhance customer experience, optimize processes, and gain valuable insights into consumer behavior.
Smart retail refers to the use of technology and data to enhance the shopping experience for customers and improve the operations of retailers.
The development of AI has had a significant impact on smart retail solutions. AI-powered technologies such as machine learning, computer vision, and natural language processing are helping retailers to analyze vast amounts of data and gain insights into customer behavior and preferences. This data can be used to create personalized shopping experiences, improve product recommendations, and optimize inventory management.
Let's dive deeper into these groundbreaking technologies and discover how they can help your retail business thrive in the digital age.
"Retailers that don't use smart technologies will lose market share in the next few years. In the Dmarts business we see how more and more customers use their smartphones to buy groceries, and when you offer a great experience with fast delivery, they will certainly repeat it."

| | |
| --- | --- |
| | Lorenzo Abbatemarco, Dmart Ops Senior Regional Manager PedidosYa/Delivery Hero |
Virtual try on
Smart mirrors, often referred to as "magic mirrors," combine artificial intelligence with interactive capabilities, displaying real-time, among others, product catalog, alongside your reflection.
These internet-connected tools enable users to effortlessly access personalized information and services, while advanced features like voice recognition and touchpad integration make shopping a seamless experience, complete with virtual assistants guiding customers to find the perfect products, browse enticing offers, make purchases, and even capture and share moments on social media.
With the ability to simulate different environments and display widgets, these futuristic mirrors effortlessly blend functionality and style, making each interaction an extraordinary encounter.
As stated in the Smart Mirror Global Market Report 2023 released by Reportlinker.com in March 2023, the worldwide smart mirror industry witnessed substantial growth, with its market value increasing from $2.82 billion in 2022 to $3.28 billion in 2023. The report also forecasts a projected market size of $5.58 billion within the next four years.
H&M utilized smart mirrors with Microsoft Azure voice assistants in their Times Square store to create a marketing campaign centered around "Instafame." Customers could take selfies that were turned into H&M fashion magazine covers.
By scanning QR codes, customers downloaded the images to share on social media, while also receiving personalized fashion advice from the virtual assistant. The campaign resulted in 86% of customers scanning their selfies and 10% signing up for marketing emails.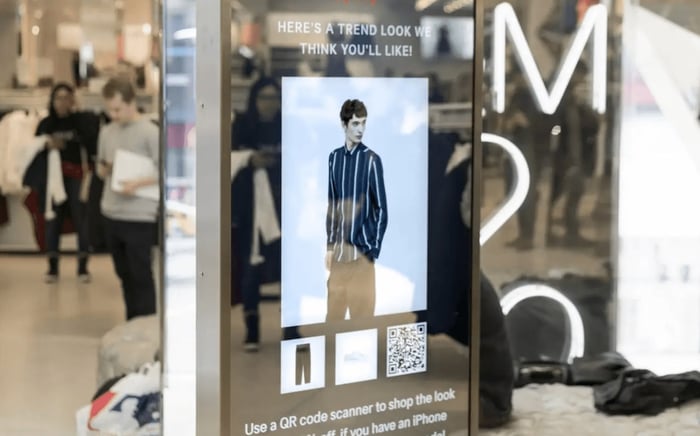 Image source: Business Insider
The benefits of VTO to retailers
Branding (Social sharing and engagement)
Data collection and analytics
Upselling and cross-selling opportunities
Increased sales
The benefits of VTO to customers
Enhanced shopping experience
Convenience and efficiency
Personalized recommendations
Interactive features
Smart shelves + Image recognition
Smart shelves are transforming the way retailers manage their inventory and provide a seamless shopping experience for customers. Equipped with IoT devices and sensors, these shelves can monitor inventory levels, alerting retailers when items need to be restocked, and providing valuable data for demand forecasting and pricing optimization.
According to Global Smart Shelves Market Research Report (2021 to 2026) the projected growth of the global smart S=shelves market is substantial, with an estimated value of USD 7,268.82 million in 2023. It is expected to expand at a compound annual growth rate (CAGR) of 26.61% and reach an impressive USD 38,123.51 million by the year 2030.
An example of smart shelves solutions is Easy Stock created by Trigo that offers precise, up-to-the-minute information regarding the availability of items on store shelves. This valuable data enables faster restocking, minimizes unnecessary wastage, decreases instances of out-of-stock items, and unlocks the potential of intelligent, AI-driven supply optimization. The advantages of using Easy Stock include:
Having a reliable and accurate inventory reference for in-store items
Ensuring a greater selection of products for customers
Reducing costs and wastage
Utilizing advanced store intelligence technologies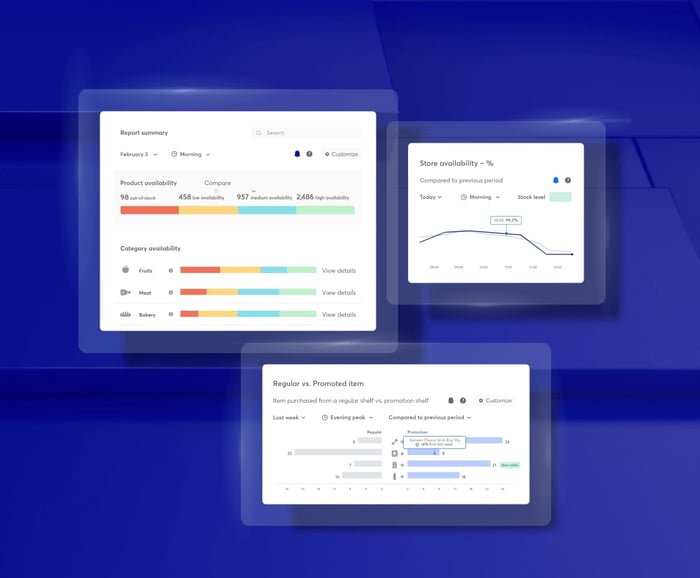 Image source: Trigo
Walmart is an excellent example of retailers who have successfully implemented smart shelves to track inventory levels and expedite the restocking process. The retailer conducted a test of an AI-based system in 70 of its stores in Canada. Computer vision cameras were strategically positioned in high-traffic areas to automatically scan the shelves at regular intervals.
The pilot phase proved to be successful, leading to the decision to implement the system across all the retailer's Canadian stores. This development represents one of the initial adoptions of AI technology for monitoring on-shelf availability within Canada's retail sector.
Benefits of smart shelves to retailers
Real-time inventory management
Temperature control in food and beverage industry
Automated replenishment
Data-driven insights
Benefits of smart shelves to customers
Improved product availability
Convenience and ease of shopping
Pricing transparency
Enhanced product information
Mobile POS
Mobile point-of-sale (POS) systems are revolutionizing the retail checkout process, streamlining transactions, and improving overall customer experience. These systems allow retailers to process sales transactions from any location within the store, reducing wait times and enhancing the in-store shopping experience for customers.
According to Statista's report Mobile POS Payments - Worldwide, the Mobile POS payments market is anticipated to witness a transaction value of US$3.30tn by the year 2023. The transaction value in the market is forecasted to exhibit a compound annual growth rate (CAGR) of 14.00% between 2023 and 2027.
This growth trajectory is projected to culminate in a total estimated value of US$5.58tn by the year 2027. Moreover, by the year 2027, it is projected that the Mobile POS Payments market will have a user base of approximately 1.94 billion users.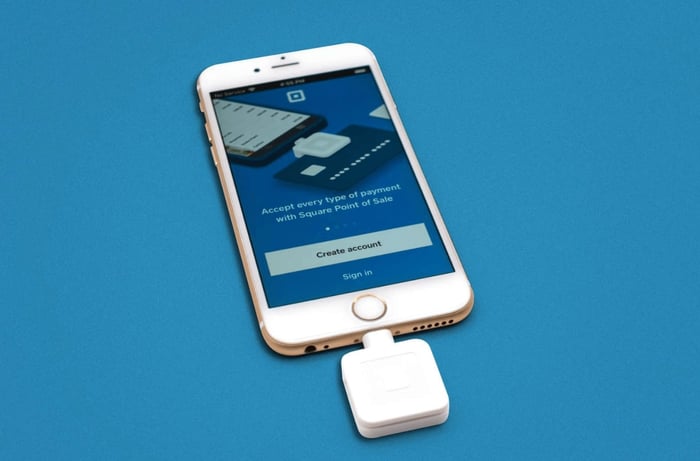 Image source: Money
The benefits of mobile POS for retailers
Cost savings
Reduced checkout time
Increased sales opportunities
The benefits of mobile POS for customers
Convenience and efficiency
Reduced wait times
Flexibility
Internet of Things (IoT)
The Internet of Things (IoT) is a key player in the smart retail landscape, as it connects devices to the internet and provides valuable insights into consumer behavior, store operations, and inventory management. IoT devices, such as sensors and beacons, enable retailers to collect real-time data on inventory levels, customer flow, and store assets, allowing them to make informed decisions and optimize processes.
Statista's report IoT in retail market by hardware in the United States 2014-2025 shows that the market size of Internet of Things (IoT) hardware in the retail sector in the United States varied from 2014 to 2025. Specifically, in 2015, the market size for IoT sensors in the retail industry reached 1.14 billion U.S. dollars within the United States.
According to the report on usage of IoT in retail in Europe, the quantity of active Internet of Things connections within the retail industry in the European Union was projected to grow between the years 2016 and 2025. In 2016, the number of IoT active connections in the retail sector stood at 1.53 million, and it was anticipated to increase to 3.09 million connections by 2025.
For example, fashion and beauty retailers have successfully implemented IoT devices to track store assets and monitor customer flow, adjusting store layouts and inventory levels based on data-driven insights. By leveraging IoT devices, retailers can not only enhance the customer experience, but also improve efficiency and reduce costs, ultimately leading to increased profitability and growth.
The benefits of IoT to retailers
Enhanced inventory management
Improved supply chain efficiency
Enhanced operational efficiency
Optimized store layout and merchandising
The benefits of IoT to customers
Personalized customer experiences
Convenience and connected experiences
Loyalty programs and apps
Shoppers like to be rewarded for their loyalty, so offering discounts and rewards to existing customers is crucial to ensuring repeat purchases and cultivating long-term relationships.
Loyalty programs should not be overlooked by retailers - according to Hubspot, they have a 60-70% chance of selling to an existing customer, while the probability of selling to a new prospect is only 5-20%. When you take customer acquisition costs into consideration, boosting retention becomes a more profitable option.
According to a survey conducted in 2022, loyalty programs emerged as a crucial factor in gaining the loyalty of 70% of Americans towards their favored brands. The study also revealed that over 50% of U.S. shoppers showed a tendency to enhance their involvement with loyalty programs.
Many retailers still focus on old-school techniques of building loyalty, e.g. plush vegetables for every $50 spent. However, by combining loyalty apps with consumer data analytics, sellers can offer not only generic, but also tailored-made promotions that increase the ratio of returning customers and provide retailers with valuable data regarding their frequency, spendings, and basket mixes.
The benefits of loyalty programs and apps to retailers
Customer retention
Customer data and insights
Marketing and promotional opportunities
Brand loyalty and advocacy
The benefits of loyalty programs and apps to customers
Rewards and incentives
Personalized shopping experience
Convenience and ease of use
Exclusive access and previews
Implementing smart retail solutions
Smart retail solutions have revolutionized the retail industry by combining digital technology with traditional shopping experiences. These solutions offer numerous benefits for businesses, including improved customer experiences, streamlined processes, and valuable insights into consumer behavior. Embracing these groundbreaking technologies can help retail businesses thrive in the digital age and stay ahead of the competition.