Smart Retail Solutions That Change Ecommerce (Updated)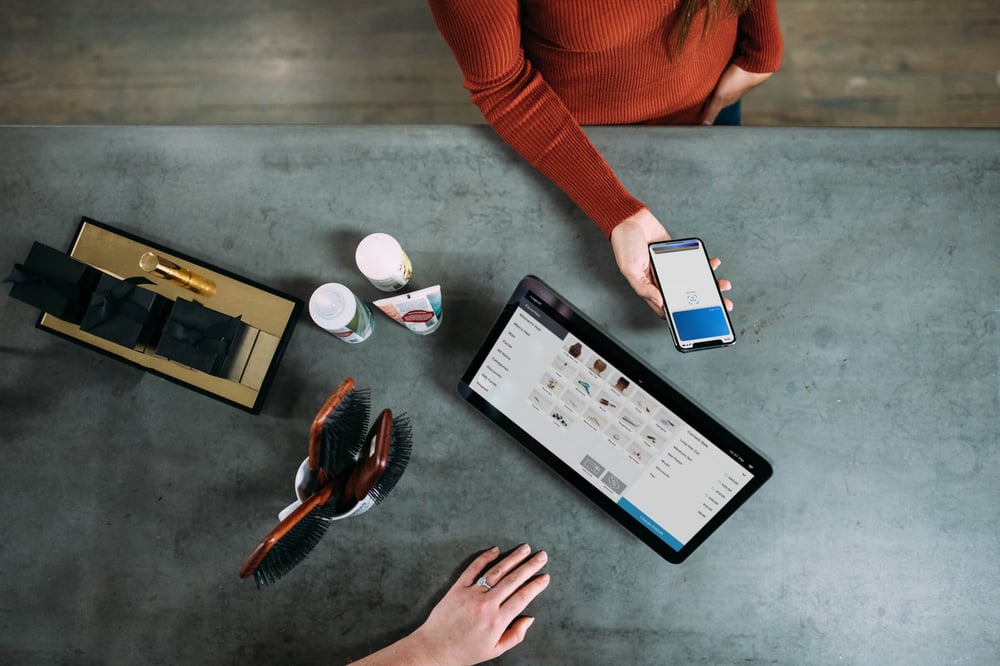 A world in which nearly everybody carries a smart device has enabled a true revolution in retail.

The global pandemic fueled this revolution, accelerating the pace of tech advancements in commerce. How did it all affect the online shopping sector?

Today's consumers remain permanently connected and it directly affects their online behavior. Customer expectations and preferences are changing, so do shopping patterns. For instance, contactless commerce has recently become a must. Consumers simply feel much safer shopping this way, so it's no longer a nice-to-have but a must-have.

"Retailers that don't use smart technologies will lose market share in the next few years. In the Dmarts business we see how more and more customers use their smartphones to buy groceries, and when you offer a great experience with fast delivery, they will certainly repeat it."
Lorenzo Abbatemarco, Dmart Ops Senior Regional Manager PedidosYa/Delivery Hero
In this article, we identify the key smart retail solutions that will play a major role in commerce – both from the customer's & retailer's perspective.
What is smart retail?
Smart retail refers to the use of smart technologies in commerce to offer consumers a better, faster, safer, and more convenient purchasing experience. It's all about applying new technologies to digitally enhance traditional shopping for customers and businesses alike. It also means that online experiences will take place (or will be activated) in traditional brick-and-mortar stores.
Key benefits of smart retail solutions for customers
With smart retail solutions, shoppers can enjoy:
Smooth user journey
Even a fruitful shopping spree can end with frustration if the shopper is stuck in a long waiting line. Impatient customers often abandon their carts. Repeated prolonged waits negatively affect customer loyalty. Smart technologies like frictionless payments or self-checkouts allow retailers to eliminate this frustration and make shopping smooth and pleasant.
Convenience
Smart retail solutions can make online shopping even more convenient for customers. Advanced retail systems that use AR allow them to e.g. virtually try on garments in the comfort of their home. Such systems gained momentum in the fashion industry during the global pandemic. This unprecedented convenience increases the chances of finalizing transactions.
Omnichannel synergy
Shoppers often browse for items online before purchasing them in a physical store. With smart retail solutions, sellers can enable omnichannel shopping experiences. They can e.g. send personalized discounts for the items customers were looking at online once they approach the in-store aisle where these items can be found.
Safety
As the world slowly recovered from lockdown and retailers reopened their stores, the need to ensure customer safety and comfort became the priority for every seller. Smart retail solutions like e.g. contactless payments eliminate the need to interact with another person, making customers more confident in stores. Additionally, advancements in ecommerce payment systems make the checkout process and use of payment cards more secure for the end customers.
Key benefits of smart retail solutions for retailers
Smart retail solutions also benefit sellers in multiple ways.
Personalized interactions
Online shopping says a lot about consumers' preferences and needs. Advanced data analytics of customer interactions with shopping applications provide retailers with rich insights about consumers and their shopping patterns. These insights can be used for personalized and meaningful offers, such as discounts for products or custom recommendations.
Optimizing supply chain
Retailers can use either computer vision or sensors to oversee goods throughout the entire supply chain. Solutions that monitor the quality of products and delivery times make the transport logistics more effective as well. According to Deloitte Review, almost 3 out of 4 businesses that implemented sensor-based logistics saw an increase in revenue.
Additionally, they can better predict the number of items they will be able to sell throughout a specific period, and thus avoid understocking or overstocking. It helps sellers reduce waste and avoid freezing cash in stock.
Optimizing layout and processes
With smart retail solutions, sellers gain insights into high-performing traffic areas and customer behavior inside stores. They can then use these insights to better manage their staff and organize traffic inside their outlets, improving business operations.
Technologies disrupting retail and ecommerce in 2021
Let's take a look at seven technologies that are currently disrupting the retail sector: IoT, Beacons, Augmented Reality/Virtual Reality, Artificial Intelligence, front office bots, mobile Points of Sale (POS), and loyalty apps. We'll provide you with some hints on why and how you might implement them into your business to give your customers the shopping experience they expect.
Internet Of Things (IoT)
Devices, applications, and pretty much every technology around us are becoming increasingly interconnected through the internet. According to Statista, the world currently uses about 10 billion IoT devices globally and the number is expected to grow to 25 billion by 2030.
Combined with retail data analytics, IoT devices provide deep insights into consumer behavior. They also multiply the number of channels that retailers can use to reach new and existing customers. These channels can be used for targeted outreach and personalized offers that strengthen customer loyalty and increase retention rates.
IoT devices can also be used to track store assets, starting with shopping carts, ending with stores' hardware. Retailers also use IoT sensors to monitor customer flow throughout the stores and use the data to optimize store layouts and make customer visits more efficient.
Finally, IoT solutions allow retailers to better manage inventories and optimize supply chains. For instance, they can get real-time insights about low stock products and re-stock the items before they run out. Worth mentioning are smart shelves that inform sellers about current stock, providing them with information like when and what items are about to disappear from store aisles and should be replenished.
Beacons
Beacons are small Bluetooth devices that can communicate with Bluetooth-enabled applications by broadcasting radio signals. Retailers can attach Beacons to shelves in their stores and use them to communicate links to product specifications, pictures, pricing, specials, one-time offers, or other information. The links will be captured by the store's shopping app on the customer's smartphone when they come close to the Beacon.
Before making a purchasing decision in a store, almost three in four U.S. shoppers research products online on their smartphones. Thus, Beacons create a great opportunity for retailers to reach these customers while shopping. When connected to relevant external applications, they can add value by delivering the right, timely message regarding a specific product that the customer has previously researched.
Augmented and Virtual Reality (AR/VR)
AR and VR blend physical shopping experiences with the digital sphere. Retailers use these technologies to augment fitting experiences and showcase products in an engaging way.
Virtual fitting blends in a virtual image of an object onto a shopper's photo, real-time video, or even a social media live feed. There are a number of technologies that enable this effect: professional 3D scanners, Apple's Object Capture and RealityKit, or image-based virtual try-on methods backed by machine learning. Ready-made tools are great, but don't always hit the mark when it comes to meeting business goals. With more complex products, retailers might need to consider developing a custom virtual try-on solution.
With virtual fitting experiences, customers can conveniently try items anywhere they want. They are in greater control of the shopping cycle, as they can use channels of their choice and receive a personalized experience based on their preference and previous engagements.
AR and VR are widely used in luxury retail. With virtual fitting experiences, sellers position themselves in the channels that drive luxury shopping in the home market and internationally. They can also capture customer interactions with products to better understand the market. With that, they make better forecasts of future demand, cut the costs of product transportation between boutiques, and drive more revenue
Fashion and beauty retailers can also offer in-store virtual fitting rooms to allow customers to 'try-on' items without the need to touch them or queue to a fitting room, making the experience more convenient. It also means retailers can allocate less space for fitting rooms in their stores and display more products.
Value for clients
Internal values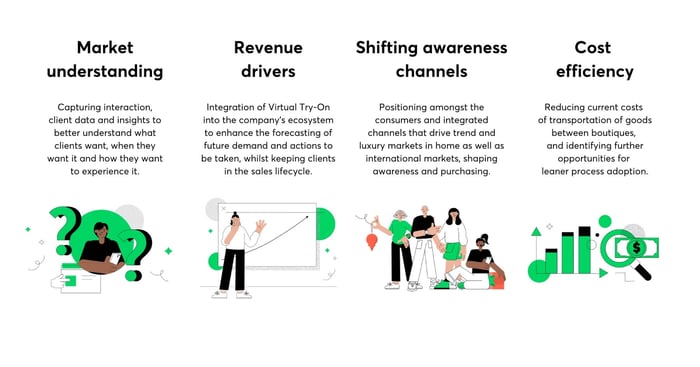 Artificial Intelligence (AI)
Consumers are increasingly expecting more personalized experiences and AI gives retailers new opportunities to align their offer with consumer needs. Artificial intelligence allows retailers to accurately predict demand, optimize pricing, and create personalized product recommendations.
Demand prediction
Retailers face a variety of stock management challenges. AI-powered demand prediction helps them understand seasonal demand and optimize supply chains to avoid misalignment between demand and supply. Demand prediction also enables data-driven decisions regarding profit margins, risk management, as well as planning workforce and capacity. In turn, avoiding stock-outs helps increase customer satisfaction rates.
Price optimization
Many consumers research products online and are likely to purchase from a retailer that offers the best price. Price optimization solutions analyze data from multiple sources in real time to help retailers monitor and adjust prices of products. With price optimization, retailers can understand how customers will respond to changing prices and adjust them to meet revenue goals and business objectives.
Price optimization can also take the shape of dynamic pricing, which is about selling the same a similar product to different customer segments at different prices. Segmentation can take into account demography, geographic location, behavior, individual preferences or special events. Dynamic pricing plans are an excellent strategic tool that can e.g. determine the best penetration price when entering a new market or a discount price for clearing out old stock.
Product recommendations
AI can boost marketing efforts by allowing retailers to offer highly personalized product recommendations. By analyzing customer data, AI can discover the very specific needs of every shopper and deliver relevant recommendations, taking into account individual preferences and factors like e.g. seasonality.
With such data, retailers can offer meaningful suggestions and increase the chances of upselling and cross-selling to existing customers. Offering personalized recommendations while a customer is completing a purchase can also increase the basket size in ongoing transactions.
In addition, product recommendations can make grocery or FMCG shopping even more convenient for the customer. AI can understand what products a shopper buys regularly and send suggestions to buy specific items even before the customer realizes it's time to repeat a purchase.
By having information on what a customer is buying regularly, you can predict what they are going to need and when, creating a great opportunity for targeted marketing.
Lorenzo Abbatemarco, Dmart Ops Senior Regional Manager PedidosYa/Delivery Hero
AI-based size predictions
Shopping for clothes online may be tricky because sizes often differ across brands. Fashion retailers can use AI-based algorithms to suggest accurate sizes for their customers by analyzing the size that a shopper typically picks, data they input, and larger databases of other consumers' choices. AI can also be used to compare sizes across different brands and inform the customer if a given size is smaller or larger in comparison to other brands.
From the retailer's perspective, this tool is instrumental to reducing return rates of shoes and garments as well as the cost of processing these returns. In turn, customers can make more informed decisions when selecting sizes, which also increases their brand trust and loyalty.
Front office bots
Customers expect convenience in customer service, which means access to support whenever and wherever they want. Front office chatbots are vital to enabling such convenient customer service. Well-designed bots help consumers effectively solve their problems upon request or offer advice regarding specific products. An excellent example of how this technology could enhance customer experience is H&M's chatbot. Sephora and Macy's also offer similar tools.
Chatbots allow retailers to generate substantial savings in customer service staff. They can operate 24/7 without the need to keep staff on duty. All-time availability can also positively impact customer satisfaction rates.
Mobile Points of Sale and Grab-and-go systems
Mobile points of sale (mPOS) allow consumers to pay for their goods quickly when they opt for cashless payments. With mPOS, store associates can service and check out customers anywhere in the store, thus eliminating long checkout lines and cutting down on losses from customer walkouts. This solution, first implemented by Apple years back, is still gaining more and more followers among retailers, especially during peak hours.
Grab-and-go systems, on the other hand, work automatically. They allow customers to shop without the need to check out. Customers simply enter a store and their shopping is recorded by cameras and scales. The payment is automatically deducted via a store or payment application as consumers leave. Such solutions help store managers eliminate queues and drive more revenue. From the consumer's perspective, the frictionless experience is a great timesaver. Amazon Go is currently the key player in grab-and-go systems.
Loyalty apps
Shoppers like to be rewarded for their loyalty, so offering discounts and rewards to existing customers is crucial to ensuring repeat purchases and cultivating long-term relationships. Loyalty programs should not be overlooked by retailers - according to Hubspot, they have a 60-70% chance of selling to an existing customer, while the probability of selling to a new prospect is only 5-20%. When you take customer acquisition costs into consideration, boosting retention becomes a more profitable option.
Many retailers still focus on old-school techniques of building loyalty, e.g. plush vegetables for every $50 spent. However, by combining loyalty apps with consumer data analytics, sellers can offer not only generic, but also tailored-made promotions that increase the ratio of returning customers and provide retailers with valuable data regarding their frequency, spendings, and basket mixes.
Elevating e-commerce with smart retail solutions
The global lockdown changed the retail sector for good, forcing businesses to accelerate digitalization. Smart retail solutions have become essential in creating frictionless and highly personalized experiences that modern consumers look for. They also help ensure shopping is safer and more engaging, something that the post-pandemic world also requires.