What Does It Take for a Business to Go Green? Delivery Hero on Sustainable Solutions for Climate Change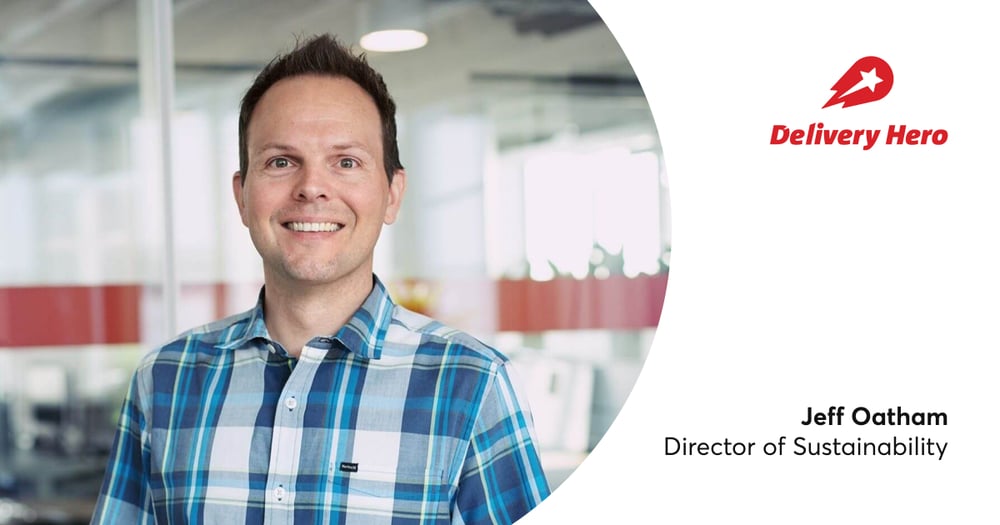 Delivery Hero is one of the leading global online food delivery marketplaces.
The company is based in Berlin and is active in over 40 markets, operating under dozens of brands including Foodpanda, Foodora, and Talabat.
Jeff Oatham, Director of Sustainability at Delivery Hero, was one of the guests at Netguru's Disruption Forum Sustainability, where we discussed the company's pledge to become carbon neutral by 2021, their efforts to change the packaging industry, and their strategy of investing in eco-friendly startups.
Recently, Delivery Hero has announced a partnership with the UN World Food Programme, which this year won the Nobel Peace Prize for its efforts to combat hunger.
Karolina Długosz: Congratulations on your partnership with the UN World Food Programme (WFP)! It's impressive you are collaborating with a Nobel Peace Prize winner. I know that you will integrate their ShareTheMeal functionality into your delivery apps so your customers can donate meals to people in need. Can you tell us more about how this partnership came about and what goals you are hoping to achieve?
Jeff Oatham: Delivery Hero and WFP/ShareTheMeal have been in talks for a number of years, with a vision to integrate ShareTheMeal's API into Delivery Hero's apps. What truly helped push this idea forward a year ago was the creation of a sustainability and CSR team at Delivery Hero and the prioritization of this initiative across the business.
All of a sudden, there was a dedicated set of people who started putting this as a number one priority in the company's agenda. We then connected product and tech teams from both organizations together, and the program was officially on the way.
Our collaboration with ShareTheMeal perfectly exemplifies how tech innovation can be put at the service of a cause we and our customers truly care about. Delivery Hero has always been committed to creating positive impact, and one way to do this is by working closely with partners who share that vision.
Together, we want to enable customers to donate meals through our apps, so that we can support the World Food Programme's ambition to end world hunger by 2030.
Delivery Hero announced plans to become carbon neutral by the end of 2021. What does it mean to be carbon neutral and how does it differ from the zero carbon approach?
Carbon neutrality means an organization's carbon emissions have been calculated and then reduced, avoided or offset by supporting internationally recognized carbon offset projects.
Zero carbon means doing an activity that doesn't emit any carbon. That's much more challenging because if you're making a product, there will always be some carbon emitted through the manufacturing process.
What are the key reasons for your decision?
We want to leave the world in a better state than it was when we started out.
The timeline for being able to avoid catastrophic climate change is shrinking and we all need to take action. Businesses, like any organization, have an impact on the climate. We need to accept this and take responsibility for it. Companies have access to financing, which we can invest in finding solutions, as well as skill, experience, systems, and tools, which we can leverage to address these challenges.
Unless we take action, the world is not going to be as habitable and as nice as when we grew up. Hopefully we can be an example and work with others to be able to address this global issue.
How do you plan to achieve it?
We started by measuring our carbon footprint and offsetting region by region. Last year we did our European operations, this year Latin America, and next year the Middle East and Asia Pacific.
Then we will look into implementing reduction programs. Offsetting is certainly not the end goal but we want to address emissions while we're taking the time to find out the reduction solutions.
Tracking the progress of your efforts may be challenging. What metrics do you use?
Tracking carbon neutrality is done by measuring greenhouse gas emissions, which is measured through tons of CO2 equivalent. Then, we compare that to the number of emissions offset or reduced. Right now we're building that measurement program, by collecting that data from across our business. Then we'll decide what to do based on what the data tells us.
You have already made a lot of progress. Do you have any takeaways for other companies that have not yet embarked on this journey?
There are four main takeaways.
1: Don't be afraid to be bold. Commitment is the first step. You don't need to know all the answers before starting. That can be discovered on the journey. The first step is taking responsibility, taking ownership, and making the commitment.
2: Use international standards like the Greenhouse Gas Protocol, which allows very different companies to measure emissions in a standardized way.
3: Be led by the data, but also consider other inputs. The data will tell you what contributes most to your carbon footprint and that's where you need to focus, particularly on reduction programs. However, often those big areas will be the most challenging: solutions might not be in place, it might take a long time to roll them out.
Meanwhile, we have to be able to show progress and keep stakeholders bought in, so also look at other things that can be done that might be more short-term or require less investment. Those should not be done at the expense of the bigger work, but certainly we should try to balance it as we go through the program.
4: Resource it appropriately. Measuring the greenhouse gas footprint, understanding the protocol, looking for solutions to reduce it – all of that takes a lot of work and we need to have people in place to support that work.
These are very actionable insights! But there's a lot more to your sustainability efforts than just achieving carbon neutrality. You're also investing in eco-friendly startups.
Part of our role in making the world a better place is to support others who are trying to find solutions to these challenges. That support might take the form of financial investment, or providing advice and insight from the broader delivery and restaurant ecosystem. We're also exploring how we could bring some of those products into our programs.
How are you trying to address the plastic waste in the food industry?
Many restaurants that we work with use plastic packaging, and even though we don't have direct control over this, we do see it as a major problem, so we're supporting startups working to fix it.
One of the companies that we've invested in is BIO-LUTIONS. They develop biodegradable packaging made from agriculture by-products. We're working with them to develop their products into something that would work within the food delivery ecosystem.
Another example is Wisefood, a company that created an edible drinking straw to replace single-use plastic straws.
The other two are food technology companies, JUST and Impossible Foods, both looking at using plant-based alternatives as meat substitutes.
So your investment strategy is very close to your core business. Do you mainly invest in startups where you see synergies with your core delivery?
We look for organizations or businesses that have good ideas and the potential of being successful. With our touchpoints with many restaurants and having insight into what our customers are ordering, there might be an opportunity to support products being developed.
We can lend our expertise whether or not that's something we end up incorporating into our projects.
Your professional experience in sustainability goes beyond the delivery industry. What do you think are the key challenges that all companies should keep in mind?
There are two which are interrelated.
The first issue is having focus. There are many issues in the world and many opportunities to support them. Suddenly you can find yourself doing lots of very different things. And of course, any support can be helpful. But what really can make a big difference is when a company uses its strategy to focus on one or two key issues. If you can direct your efforts and resources toward solving them, you can have a bigger impact.
The second point is materiality, which is a process through which we identify the issues that are material to our stakeholders and to our business and that we should focus on.
I think a lot of us in the sustainability profession are here because we want to make a difference, to make the world as best as it can be. And while any work to achieve that goal is great, if we can focus on the issues that are going to have the biggest impact, we can make the biggest difference.
For more information on how to deliver a more sustainable future, check out Disruption Forum Sustainability. You can get on-demand access to all sessions by signing up here.