The Future of Digital Banking is Here - Interview with Hima Mandali, CTO of Solarisbank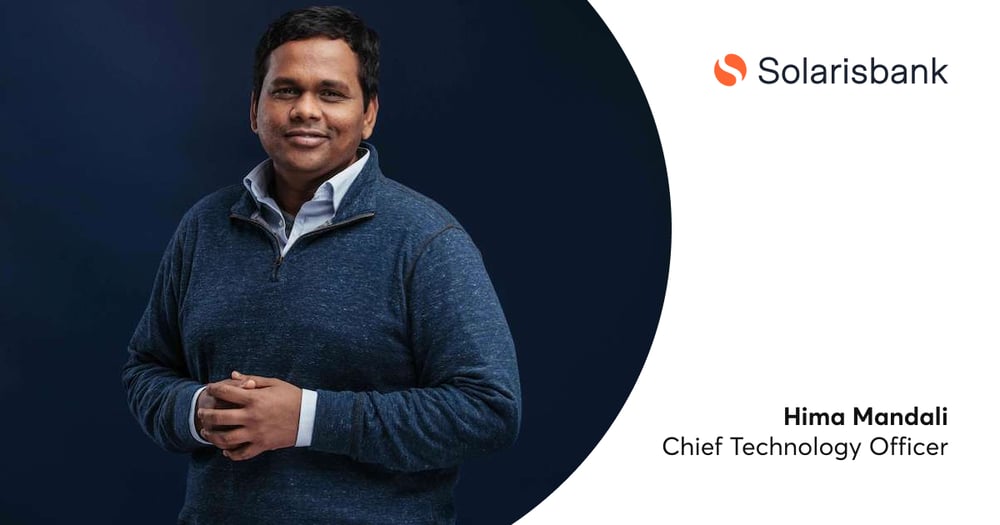 Solarisbank is a Berlin-based fintech company that provides a Banking-as-a-Service platform, enabling companies to offer financial services without having to go through the process of obtaining their own banking license.
Netguru has been working with Solarisbank on backend development.
Since being founded in 2016, the company has quickly established itself as one of the top digital banking providers in Germany, partnering with some of the biggest global brands. In 2020, despite the COVID-19 pandemic, Solarisbank successfully raised Series C funding and launched major products with Visa and Samsung, among others.
Solarisbank is clearly on a growth path. I spoke to CTO Hima Mandali about where the company is headed next, as well as his thoughts on the future of banking and the financial services industry.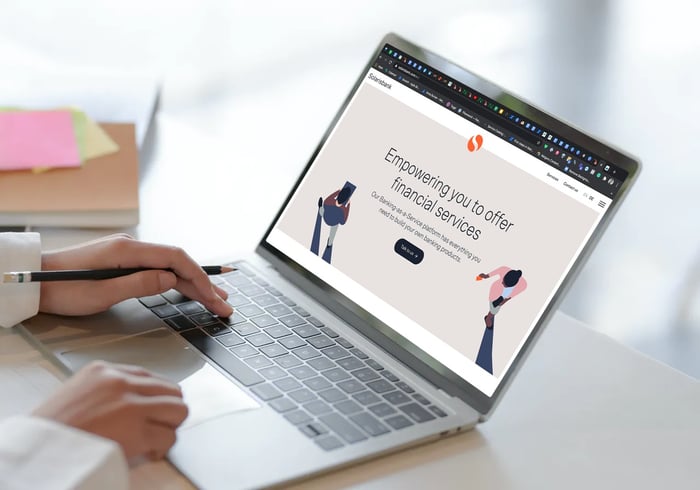 Anna Burtan: You joined Solarisbank a little over a year ago, having come from traditional banking. What is the difference between the two?
Hima Mandali: Everything is different between my previous job at a corporate bank and this one!
In my previous job, I didn't have end-to-end tech accountability. At Solarisbank, on the other hand, my accountability is more clearly defined. I also have a lot more responsibilities.
The delivery here is a lot different as well. We are able to do everything much faster since we don't have legacy banking platforms slowing us down.
Why did you choose to move into digital banking?
Bigger banks cannot transform their model quickly enough to move in this direction. That is a big change that involves reconfiguring their entire infrastructure and teams. If you are used to being a horse business, you can't become a car shop right away. So I joined a company that started as a car shop. Solarisbank had a digital business model from its founding and did not have to go through that transformation.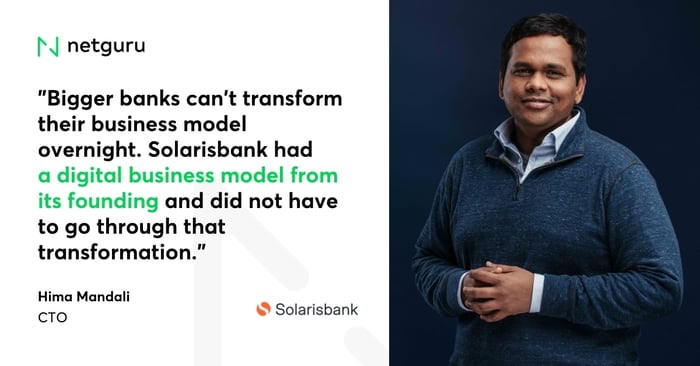 What was your main focus over that first year?
We were working on major projects with our new partners: American Express, Vivid Money, BP, Visa, Samsung, and CarNext. They all joined us in the past year.
The other major goal was to go fully on the cloud.
What trends are you seeing emerging in banking and financial services?
Banking-as-a-Service is the biggest trend, and it's going to define the future of banking. I believe that any business can offer financial services. By leveraging technology, we offer novel financial solutions in contexts that were unthinkable before. With this comes contextual finance, which enables better personalization of service offerings, and embedded finance where the client takes charge and accesses money anywhere and at any time.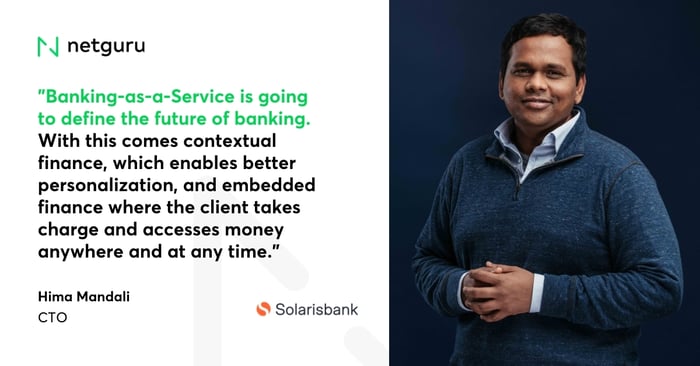 We are expecting these trends to grow dynamically in the near future, and Solarisbank's Banking-as-a-Platform service already enables all of them.
How has the COVID-19 pandemic impacted your work?
Having a tech-driven business model and a digital mindset allowed us to survive this period relatively unharmed. As you know, we were already a remote-first organization before the pandemic, working with Netguru based in Poland and us in Berlin, so going 100% online was not a difficult transition. Almost half of our team are tech engineers or digital product specialists, for whom, I think, adapting to a remote working home office setup was easier than for others. This allowed us to maintain our processes and keep up a high pace and level of productivity.
At the same time, however, we were raising our Series C funding, and this was really difficult to do during the pandemic. Normally, the venture capital business is a face-to-face business, and our fundraising team had not yet met many investors in person when the pandemic hit, so there were a lot of remote meetings. In the end, this round was oversubscribed and closed on time, so that was a huge success for us. On top of that, our valuation didn't drop, unlike many other companies during this time.
We have also been able to launch major products over the past few months that we worked on during the pandemic, like our newest KYC method BankIdent or "Splitpay", a buy-now-pay-later solution, which we launched with American Express. We are very proud of that.
With so many businesses and whole industries heavily impacted by the COVID-19 crisis, we feel lucky that we have been able to not only survive this period but grow significantly as well.
Tell us about your latest partnerships.
We partnered with Samsung and Visa to bring Samsung Pay to Germany, with Solarisbank providing technical and regulatory infrastructure. Samsung Pay is one of the most comprehensive mobile payment solutions in the German market, with an integrated installment product, Splitpay, and a novel KYC process to verify the identity of the client. It includes issuing virtual Visa cards, our fully digital lending service Splitpay, as well as an all-new identification method. In short, Samsung Pay leverages the full breadth of our Banking-as-a-Service Platform.
To connect Samsung Pay to a personal bank account, Solarisbank uses a novel and convenient KYC process that does not require a video identification or branch visit. Instead, the user's identity is verified via a microtransaction from their existing bank account. This way, the identification process is not dependent on the availability of video identification and can be carried out at any time of day.
Also, our cooperation with Netguru is a true partnership. Whenever we faced challenges this year, we could rely on Netguru for our urgent staffing needs and time-critical deliverables. The Netguru team has gone above and beyond any expectations of what a strong and reliable partner can be. It's a pleasure to continue our growth with such an outstanding tech company.
Great to hear that. What are your future plans in general?
After we successfully raised the series C funding, we made it clear that we are on a growth path, so that is our focus now. We are expanding our product and tech platform.
We are also looking at more big tech partners, such as Samsung, joining our platform to really drive contextual finance. This is what our business model is for.
I think it's also fair to say that we have European ambitions. We consider ourselves the European market leader when it comes to banking-as-a-service, so we are planning to expand beyond Germany into other European markets. We want to build a pan-European platform to offer our partners access to new markets, as well as to onboard partners from these new markets to enable them to provide financial services to their customers.
Finally, growing as a company also means expanding our team, so we are hiring a lot of new people. We are planning to move to a new office in Berlin. With COVID in mind, we are looking into setting up a working environment for the future that complies with all the legal requirements that are in place now to keep everybody safe.