How to Improve Website Navigation Using These 12 Tips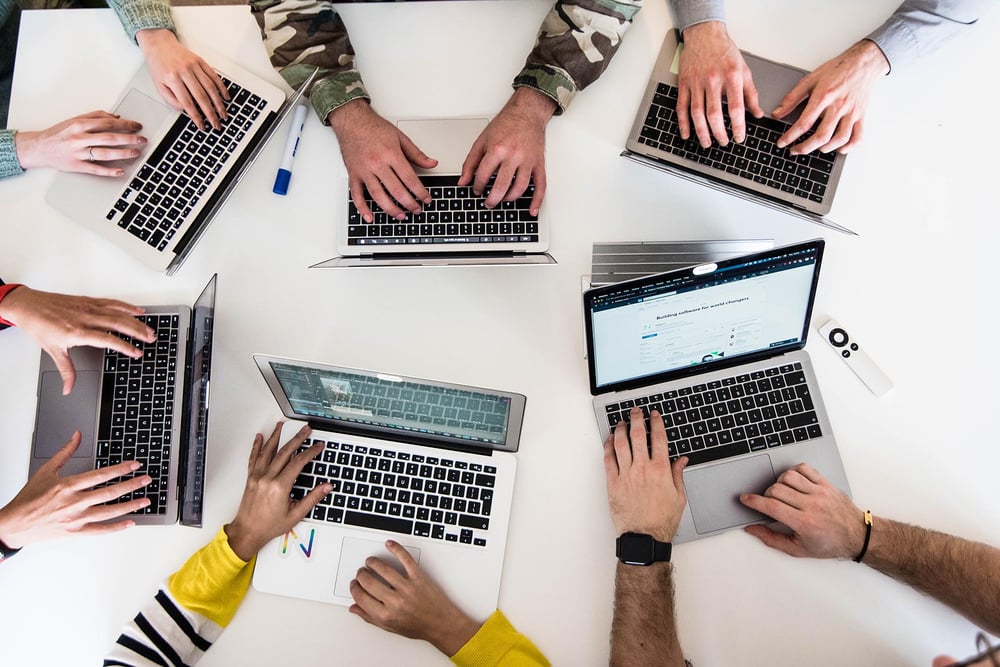 Website navigation is the most important feature of the overall user experience and can make or break your chances of conversion. Having a solid site navigation system is critical to maintaining high user retention rates and low bounce rates.
Nonetheless, many website owners focus on website design and multimedia, ignoring the fact that even well-designed sites can lose up to 55% of visitors due to poor navigation. Users don't like to dwell on to find information they need when they can just switch to another resource.
Outstanding web designs leverage good navigation to support business goals and, at the same time, offer users a streamlined experience, both on desktop and mobile. If you want to stop pushing visitors away, start improving your website and app navigation with our 12 tips right now.
1. Tie navigation with business priorities
Aligning the website design with business objectives will not only help you clearly communicate the purpose of your business, but also help you funnel the visitors to the most important features for conversion and sales. Be aware where you want your users to end up and offer a short, clear and intuitive path(s) that gets them there. The next 11 tips will also help you to tie navigation with business priorities.
2. Incorporate Calls-To-Action
CTAs are indispensable to directing users to where you want them to end up. The right CTA can also improve your click-through rate and help you turn more leads into customers. These buttons are also ideal for when you want a potential customer to fill out a form, share your content online, or even sign up for an event you're promoting. Precise and catchy phrases will perform much better than the usual "click here" button.
3. Limit the number of menu options
Users don't usually have a lot of time to digest the structure of your website, so the simpler the menu, the better. Seven or eight categories to choose from is plenty, so don't go above that number. More options may confuse the audience and cause them to abandon your website - they won't spend their precious time trying to figure your website out! Concise menus also index better in search engines, which assigns more authority to interior pages, driving more traffic to your website.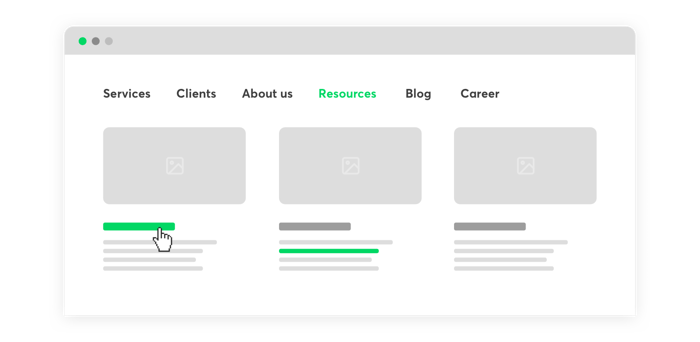 4. Split categories
Your website's navigation system probably has several categories, sections, and subsections. These should have good, SEO-friendly titles, but that's not enough. Your categories should also be clearly presented on the site and visibly separated from sub-categories. This is important for keeping the user informed at all times as to their location. Visual cues that can help users navigate include contrasting colours or banners stretched across the full width of the website5. Remove misleading navigation titles and text
Look out for inaccurate navigation titles and links that could confuse the visitor or annoy them. This is a popular reason for site abandonment. Visitors should have true information about what they will find if they click on a navigational link and misleading them is never good for user experience. Ensure that all language is an accurate portrayal of the page it corresponds to, which also applies to images.
The intent may not be malicious — being vague or unclear could be enough for a user to frustrate out of the process.
5. Create a sticky navigation bar or a back to top button
If you're creating a long page, add a sticky navbar that will be visible to users as they keep on scrolling down. You can also include a back to top button that will help users quickly return to the key content included at the beginning. The point is to make the website quick to navigate for time-poor online users and ensure that all the pages are easily and quickly accessible.
6. Don't underestimate the footer navigation bar
The bottom navigation bar is excellent for displaying your sub-categories! Think about it - users that browse through your website all the way to the bottom may be thirsty for more information. The footer is a good place to include all that extra information or more options, but don't forget to also include links that belong to primary navigation bar categories.
7. Add a search bar
Users looking for specific information may prefer to use the search option instead of scrolling and looking for something manually, so make sure you add this feature to your website. The ideal place for it is right at the top of the sidebar or in the header area, but aside from making it easy to find, it actually needs to work. A search bar that yields no results harms your business! The search bar should always yield quality results, accommodate typos, and show related products and items. Google offers a programmable search engine to add custom search to your site.
8. Make it easy to move from one page to another
Users should be able to go from one page to another without friction, so aside from including links to other pages on your website, it's also good to make all pages accessible from the navigation bar. When designing the menu bar, think about the flow of the information architecture. Opt for a navigation map that provides clean and intuitive paths. Navigation icons are a quick and straightforward way for the user to find what they need.
9. Include links to the homepage
Visitors may want to return to the homepage after checking other pages, so make sure this option is always available. Never force visitors to use the 'back' button in their browser to go to your home page. The homepage acts as a base camp for the user journey, so that's where they usually return having explored other sections of your site. Embedding this link in your company's logo is a good and intuitive way to drive users back to the homepage.
10. Make good use of colors
Application of different colors can add visual navigation cues and positively impact usability. Creating contrast and using eye-catching colors can help users identify important elements faster and should be used to drive attention to the navigation bar. Make sure you visually differentiate it from the rest of your content. You can explore color theory for this purpose.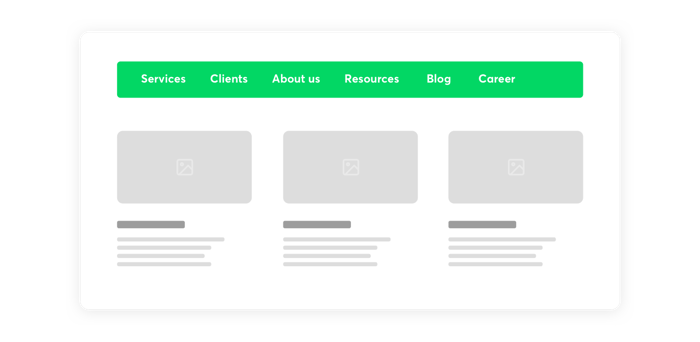 11. Prioritize mobile navigation
Did you know that Google indexes and ranks websites on the basis of what's on their mobile versions? That's certainly the most important, but not the only reason why you should thoroughly consider how to best use the mobile device display space in terms of content distribution. Here are a couple of statistics:
As of January 2021, almost 60% of the global population use the internet, according to Statista (that's 4,66 bn active users!).
In March this year, almost 55% of those users browsed on their mobiles.
Many users won't even see your website on a desktop, so you simply cannot afford to ignore having a responsive design for your new website - it's vital to achieving your business goals. From the users' perspective, offering a seamless user experience across desktop and mobile apps is a must.
12. Use short and concise names
Good navigation will leverage short and accurate words. Long and complicated names are not only likely to confuse and thus won't navigate well, but also harder to recognize for search engines. In the case of navigation names, it won't pay off to be original. Choose names that are straightforward and relevant: Standard expressions like "contact," "search," "subscribe," and "sign in" will do the job.
The importance of solid website navigation for excellent user experience
Easy website navigation is crucial for leading a visitor through the buyer journey, leading to conversion. Business owners should be conscious about their business goals and align the navigation strategy to support them. Overcomplicating the menus, making certain features difficult to find and using misleading words will confuse visitors and make them abandon your page in no time, costing you those precious conversions! The navigation UX has a direct impact on the time users spend on your website, their opinion about your company, and the decision to purchase or not, so follow the best practices to offer outstanding navigation experience.