How Vinted Has Become a Huge Disruptor in the C2C World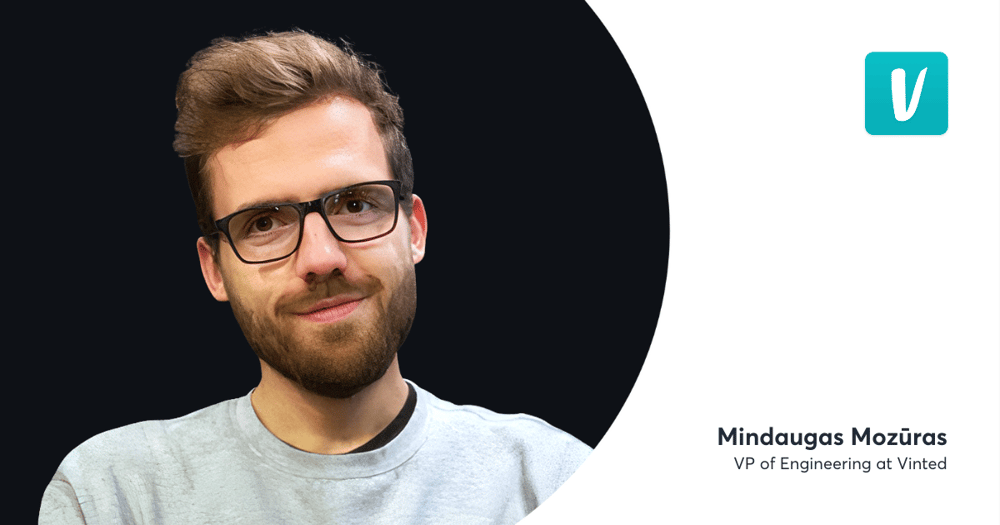 Scaling a company comes with a long list of challenges.
There's the competition to think about, managing customer needs, adapting to new technology, and a whole host of other walls to climb.
On Disruption Talks, we've spoken to leaders about scaling B2B and B2C companies before, but what about C2C companies? It turns out that C2C marketplaces face their own unique challenges. We wanted to get to the bottom of it and so invited Mindaugas Mozūras, VP of Engineering at Vinted, on to the show.
Vinted is a Lithuanian online peer-to-peer marketplace that allows users to buy and sell second-hand fashion items. It's a company quickly growing in popularity, and with increasing demand, scaling has been fast and challenging at Vinted.
Vinted won big funding rounds, including €250 million in May 2021 as part of its Series F funding, and continues to invest in growth. Mindaugas is responsible for helping to develop the app and popularize circular economy principles, so we asked him to join Disruption Talks to tell us more.
What is the circular economy?
The circular economy is a model of production and consumption of products that involves sharing and reusing.
It allows people to sell or swap items they no longer use to others, extending their lifetime and saving them from ending up in a landfill.
It's a term that's gained popularity in a world where the price of new goods has risen, and there's an increased demand for more sustainable alternatives to fast fashion. The circular economy encourages people to avoid buying new items and take better care of the things they own to ensure a higher resale value one day.
While retailers are focused on trying to get consumers to purchase new clothes and goods all the time, the availability of second-hand marketplaces such as Vinted, eBay, and Facebook Marketplace have made the idea of reusing much more commonplace.
Vinted is a marketplace that uses a peer-to-peer model with sellers uploading their own photos and descriptions of products to ship directly to buyers. Vinted users can benefit from low-priced clothes that would have been thrown away otherwise. It's a great example of a rising star in the circular economy.
Aligning all the moving pieces
While scaling, Vinted separated its rapidly growing engineering team into different domains such as payments, shipping, categories, and so on.
Mindaugas explains that the team is split into multiple domains that are "organized around key business opportunities which coincide with core user problems."
The domains are structured to work alongside the average customer journey, which typically follows as so:
The customer learns about Vinted through marketing,
They onboard into the platform,
They diverge into sellers or buyers and communicate with each other,
Transactions and shipping,
Feedback.
"This journey they experience is the lens we look at when dividing our product organization into domains. Different domains take care of different parts of this user journey."
Keeping all those sub-teams aligned to the same company goals is always a challenge. To keep things as simple and focused as possible, there's just one set of objectives that all domains and teams must align with.
How Vinted fends off the competition
As Mindaugas puts it, the "devil is in the details." The Vinted platform is essentially a complex database that connects with the user base, offering a way to upload images, enter measurements, gender, type of clothing, colors, sizes, and so on.
Many online marketplaces are B2B or B2C, and they have their fair share of challenges. However, these marketplaces can use the available building blocks that many other companies use.
Mindaugas uses the example of search as a service, Algolia, being one of the top providers. If you want to build a B2C marketplace, your best bet is to integrate this existing service into your business.
The problem is that in Vinted's case, it's not B2C, it's C2C — consumer to consumer. Many of the available services don't fit well with the Vinted model. Mindaugas explains that it's hard to get external help that can handle the size and complexity of Vinted.
Scaling a C2C marketplace
One of the biggest challenges for Vinted over the past couple of years has been scaling. For Mindaugas, effective scaling crosses three main areas:
Scaling the technology
Scaling the team
Scaling the organization itself
"When you grow as a company, you need to create more clarity around how you operate, or you're not going to be able to operate successfully,"
— he emphasizes. One of the biggest focuses for Vinted was to go international. Today, the platform is fully ready to be international, which was a huge technological challenge because of language differences especially.
Innovation in a C2C marketplace
How much innovation can occur in a C2C business model?
In any B2C or C2C company, some things will always stay the same. The consumer will always want lots of choices, the ability to find what they need quickly, have things delivered fast, and enjoy good prices.
In Vinted's peer-to-peer business model, there's an additional element — consumers want to be able to trust the person on the other end.
These elements are the key pillars that Vinted is based on, and any innovation and new ideas are built with these fundamental pillars in mind.
The challenges and potential of machine learning in building a C2C app
It's safe to say we are fully within the age of AI and machine learning — so much so that it's an everyday part of life whenever we shop online and see recommendations for products.
Having personalized recommendations and improving customers' ability to discover the right item is an important part of a modern online marketplace.
It's something that Vinted is already investing in, but there's a challenge.
With B2C marketplaces, using machine learning is a bit easier because a fixed number of items will be sold. On Vinted, the number of items is much higher and harder to predict because they are listed by individual users. There are also differences in how users list items. One user might call the exact same pair of Nike trainers something different from another user. This makes it tough for any ML solution to determine that product X is the same as product Y, just with a slightly different name.
"The challenge of recommending the right item becomes bigger for us. It's definitely an area we've invested in already and will continue investing in."
Mindaugas believes that while machine learning is technically in its early days, it will eventually become a tool that most of us can take advantage of. "It'll become just another tool in the toolbox."
Scaling a team and picking the right talent
What's a scaling company without a scaling team? Hiring the right people is fundamental to successful scaling.
Mindaugas was employee number 13, but that number has grown to over 1,200 employees — 370 of which are in engineering alone. Mindaugas has been heavily involved in recruitment, and his top tip for others is to be transparent.
In the earlier days of Vinted, Mindaugas liked to be as transparent as possible about the role and the stage the company was at. This, he says, was key to attracting the right people to scale the team.
Building a high-performing team
Not only is finding the right talent crucial, it's also important to be patient and work on bringing that team together. You can't just throw people together in a room and watch it become a high-performing team. It takes a time and effort to build a team that truly works well together.
Mindaugas' other tip is when you have a high-performing team, avoid splitting it up at all costs. You will lose some of that performance, which is what happened at Vinted. As Vinted scaled, the teams had to change and split apart naturally. While it was worth it in the long run, he warns that there will always be a temporary dip in performance if you split teams up that work well together.
One strategy Mindaugas uses is to avoid starting a new team from scratch. Vinted grows an existing team to a bigger size and then splits that team down. This ensures that you have multiple teams that are similar in talent and performance that can focus on different areas.
Hiring based on behavior
Finally, Mindaugas' last tip is to "focus on hiring good engineers that fit the culture." When hiring engineers, most companies focus solely on skills and experience, maybe with a little thought on culture fit as well.
Mindaugas prefers to look at it from a different perspective. Vinted looks for engineers that have good software development skills in any programming language, even if it's not one that Vinted uses.
For Mindaugas, it's far more important to find someone who's a good personality and behavior fit and can learn a new programming language if needed than hiring someone who isn't a good fit but knows the exact language you use.
"Engineers who know their own favorite language want to solve everything with that language. And that's fine, but these are not the engineers that we look for. They wouldn't fit in our very pragmatic solution-oriented culture, where it's more about solving the problem than solving the problem with that specific technology."
How to meet changing user expectations
The way people shop online has changed a lot over the past few years, but Mindaugas argues that it's not the users that have changed, it's the tools. Consumers still want choice, ease of use, fast delivery, good prices — none of that has changed. However, the way the market services those users has changed significantly.
There are so many different apps, delivery services, and business models. Everyone is trying to compete, and Vinted focuses on delivering a great user experience.
"We as a company have to stay on top of our game to be able to deliver that better experience to our members."
Why Vinted has made a mark in the European fashion world
We can gather a lot about the way people have changed their shopping habits by watching Vinted's popularity grow.
Mindaugas believes there are a few different reasons why platforms like Vinted are more popular. One is that it's a more sustainable way to shop. Protecting the environment has become a priority for many people, and consumers now look for alternatives to the wasteful fast fashion industry.
"More and more people have become conscious about sustainability. And because of this, they've become more accustomed to buying second-hand items."
Another reason is simply the price. Buying second-hand goods is always cheaper than buying them new. This has become a key selling point for Vinted in a time when the cost of living is skyrocketing.
This discussion is part of our Disruption Talks recordings, where we invite experts to share their insights on winning innovation strategies, the next generation of disruptors, and scaling digital products. To get unlimited access to this interview and more insights from industry experts, sign up here.