Is Virtual Try-On a Game Changer or Hype? Download Our Report To Find Out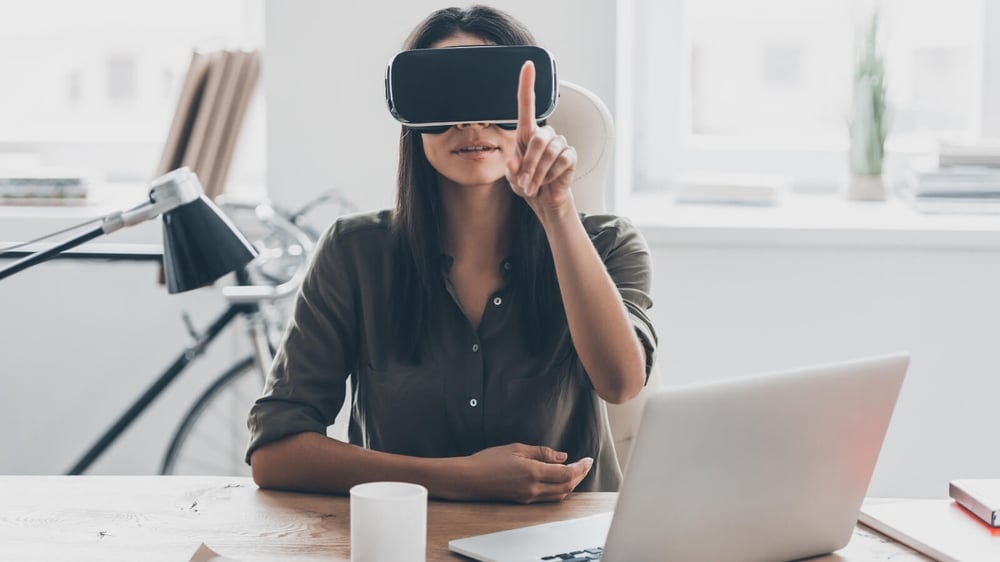 As the pandemic has wreaked havoc on the world, it has simultaneously benefited virtual technologies, pushing them ahead of their time in both experience and adoption.
This transformation is evident in the retail sector, where the crisis has accelerated the shift to online shopping by around five years, according to IBM's US retail index report.
Virtual try-on (VTO) wasn't born out of lockdown restrictions, however. It has been around since 2012 (think Converse, a Sampler app on the iPhone). But what the pandemic has done is start the engines of mass adoption. With an increasing number of consumers now turning to e-commerce, AR and VR solutions provide a way to "try before you buy" without leaving home.
A survey conducted by Contentsquare in the wake of COVID-19 revealed that 36% of American consumers are interested in trying on clothes using AR or VR to avoid physical fitting rooms. The same research also stated that 29% of consumers felt anxious while shopping in-store.
The future for virtual try-on technology looks promising. The market for virtual fitting rooms alone is projected to grow from $3.5 billion in 2021 to $12.97 billion in 2028, a CAGR of 20.6%.
What is virtual try-on?
Virtual try-on solutions enable prospective customers to sample products before purchasing using the camera on their chosen device and AR technologies. For example, shoppers can virtually try on a pair of glasses or choose a shade of foundation that best suits their skin tone. Users can access VTO using an app or browser on their smartphone, via a web browser on a desktop computer, or through digital mirrors and smart displays at an in-store virtual fitting room.
Is virtual try-on worthy of the hype?
Given the game-changing potential of virtual try-on technology, we wanted to evaluate the current market and analyze existing solutions to help businesses get ahead. We looked at what's working well, opportunities, issues, and recommendations for improvement.
Our testing methodology included an expert UX audit, usability testing, and user interviews. We selected some of the top brands that offer virtual try-on solutions and summarized our findings in a report along with a look at the current state of the market and predictions for the future.
We tested offerings from brands spanning the categories of eyewear, jewelry, beauty, and footwear and included companies like Gucci, Ray-Ban, Specsavers, and Pandora.
Click here to download the report: "Virtual try-on: Game Changer or Hype?"
What attracts consumers to virtual try-on?
For many customers, the virtual try-on shopping experience is fun. They can switch between items instantly to see what looks good, and the added element of interaction encourages users to stay on the app longer.
Virtually trying on products also lets buyers experiment with the latest fashion trends from the comfort of their homes. The possibility of trying a new pair of kicks or a shade of lipstick that isn't their usual choice can be enticing for users.
And time! Predominantly, shopping has always been a time-intensive process. Shoppers would have to get ready, travel to the store – with no guarantee that products will be in stock – and then spend time browsing and trying items. With virtual try-on, however, customers can get the feel of a product in a few clicks and save a lot of time.
Common issues in virtual try-on solutions
Virtual try-on is a relatively new technology, and solutions are still developing to meet customer expectations. During our assessment, we discovered seven key issues that weakened user experience of virtual try-on solutions. These include:
Technical problems preventing the use of virtual try-on – Some users struggled to grant access to their device's camera, while for others, the feature failed to appear without explanation.
Inconsistency of products available for try-on – Some brands allowed users to try certain products but not others, disappointing and confusing customers. In several cases, brands provided no explanation as to why this was.
Lack of comparison functionality

– A fundamental feature of e-commerce is comparing products. You would expect that this naturally extends to virtual try-on, but our research found that it's not easy for users to compare the products they tried.

Factors impairing the overall shopping experience

– The shopping process for some of the brands was misleading or confusing, with issues such as inaccurate prices and incorrect redirections.
"I did not come across a flawless solution. Every experience has smaller or larger shortcomings. However, where the solution of one brand is weak, another one looks good."

Łukasz Borowski

Project's Lead Researcher
Virtual try-on can strike gold when done right
When implemented intelligently, virtual try-on can deliver a number of benefits to businesses. It can help boost revenue by enabling greater personalization, higher engagement, better customer experience, location independence, and increased competitiveness. While on the cost side, VTO can facilitate fewer returns, minimize losses, and prevent wasted time and resources.
Arguably, virtual is on its way to becoming the 'new real.' With companies rebranding themselves and preparing for VR experiences (Meta, anyone?), virtual try-on in retail brings a new perspective to online shopping. And if it's done right, it can become a major competitive advantage.
That said, replicating offline experiences online with perfection is not easy, and implementing a poor virtual try-on offering could do more harm than good. To maximize the potential of the technology, solutions must be technically reliable, meet consumer expectations, and align with a wider business strategy.
To find out more about successfully implementing virtual try-on and unpack the substance behind the hype, download the full report.