Rapid MVP for the Medical Sector: An Information Hub in Six Months
Online course platform development for Naontek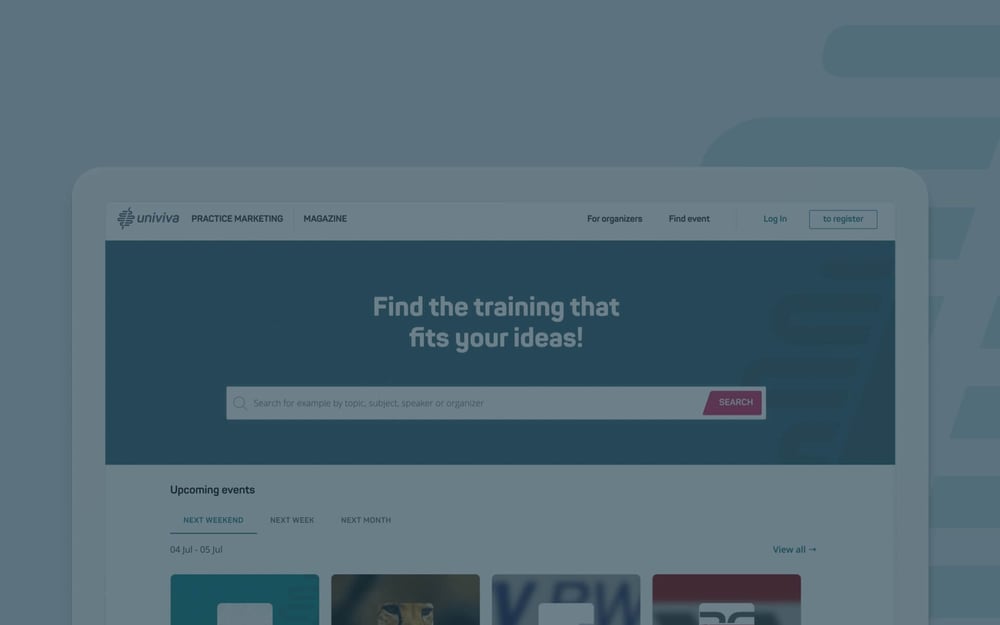 About this project
We've had the pleasure of collaborating with a corporate startup that is on its way to achieving the goal of digitizing the way doctors expand their knowledge and gain new, critical skills. Meet Naontek, the game-changing digital hub changing the way German medical professionals work.
The German healthcare industry needs a boost
Lost paperwork, mixed case files, misplaced archives – these universal experiences in medical data management clearly show the need for digitalization. Convincing doctors and other medical personnel to acknowledge the advantage of digital data over paper files might be a tricky mission.
We've had the pleasure of collaborating with a corporate startup that is on its way to digitizing the way doctors expand their knowledge and gain new, critical skills. Meet Naontek, the game-changing digital hub changing the way German medical professionals work.
Educational platform for medical professionals, powered by software expertise
The long-term vision for Naontek is to create a digital point of contact for the whole healthcare community in the country. They intend to fill the technological gap in the industry by introducing easily accessible digital products and services.
This ambitious project is supported by a respected institution: apoBank (Deutsche Apotheker- und Ärztebank eG., a German bank for medical doctors, pharmacists, and healthcare professionals).
Naontek's product portfolio includes univiva, a platform for healthcare professionals, providing third-party services related to their medical practices and to pharmacies. Personalization, transparency, and convenience bring a whole new level of user experience to the market.
Currently, univiva focuses on providing a marketplace for sharing medical training opportunities for professionals of all levels: medical students, healthcare practitioners, and academics alike.

Introducing a digital platform in the land of fax machines
The German healthcare market presents quite a puzzling landscape. On the one hand, engineering talents excel in developing patented medical technology solutions that bring billions of euros in profit earned abroad.
On the other hand, "digital natives" is probably the last thing one may call German doctors and other medical personnel. About 20% of German medical doctors, nurses, pharmacists, and other healthcare professionals feel less than well accustomed to using digital tools.
Example? Here's a peculiar fact about the preferred ways of sharing information by healthcare professionals: in 2017, 37,000 fax machines were sold in Germany alone, mainly to medical institutions and companies.
Fax machines are frequently used for sending sensitive data and patient information in order to avoid leaving a digital trace inevitable in email communication.
There's a worrying conclusion arising from this piece of trivia – German medical personnel may lack (or not be aware of) the right tools to benefit from digital transformation in healthcare. Netguru helped Naontek develop and launch a product that aims to take the industry to the digital side one step at a time.

An information hub for medical professionals: univiva
Without using at least one digital tool, the velocity of scientific achievements nowadays is impossible to keep up with.
Doctors and other medical personnel must broaden their expertise and gain relevant certifications on a regular basis, since 1.3 paper with medical research is published every second. univiva responds to these requirements and needs with a vast directory of medical training and seminars as their first area of activity.
The platform serves trainees and organizers alike:
univiva for training participants.
Users who are looking for educational opportunities will reach a broad selection of medical training events suited to their needs with the following features:
Apart from typical search filters like location, date and price, users can also select industry-specific filters, including a particular area of expertise, target group, type of training, and training points (certification).
Personal event management.
After registration, participants can also book, manage, and keep track of selected events. Keeping all event information in one place makes it easier to compare events and make the most suitable and effective choices.

univiva for event organizers.
The platform helps institutions and companies reach audiences interested in their educational initiatives and create a dedicated customer base with the following features:
Training providers can plan, publish or adapt events to the platform directory and provide key information to help participants choose their perfect training: agenda, speakers, location, cost, etc.

Every organizer can see the number of bookings changing in real time, has the ability to cancel bookings, notify users, as well as analyze participation and no-show rates.

One organizer profile can include multiple users so that more team members have the chance to collaborate on event management at the same time. Different event roles with assigned editing rights will help keep responsibility in check while allowing for a more interactive and productive experience at the same time.
Institutions and companies hosting events frequently will enjoy the capability of creating a dedicated offer page and making it stand out to all interested participants.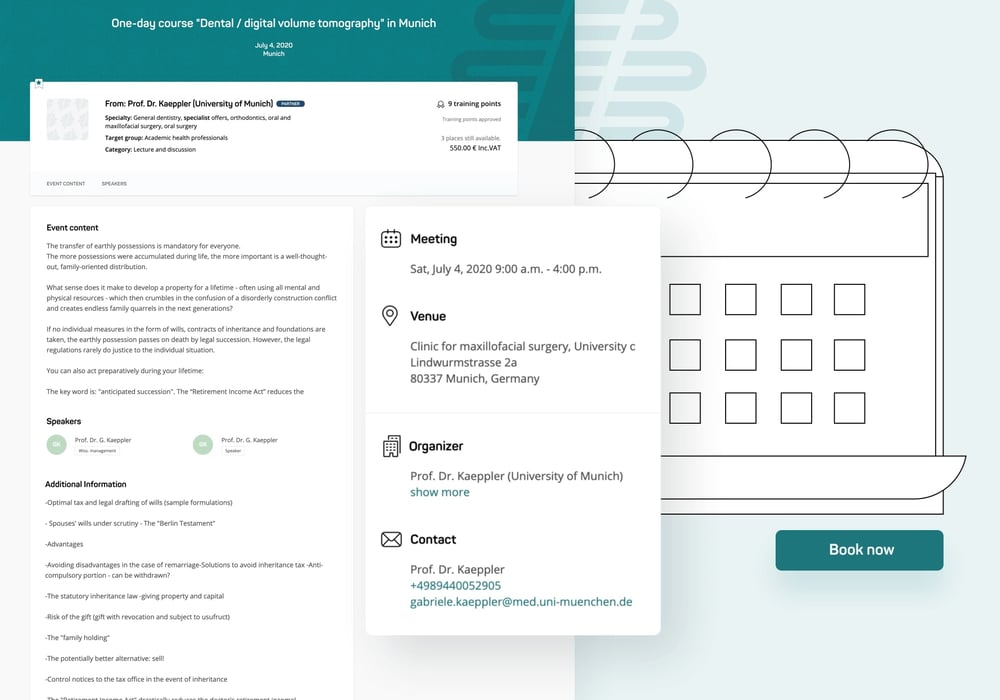 Getting started with Netguru
Before we were chosen by Naontek to bring univiva to the market, a so-called company builder had provided the startup with business essentials and initial code for further development.
Netguru took over the existing foundation and led the growing product team. Apart from our own developers, we kept recruiting in-house crew members as the project picked up the pace.
No matter at which stage the new members came on board, everyone worked closely together as one team to perform as efficiently as possible.
Naontek had high expectations in terms of the project's delivery time due to the investors' focus on tangible development results. Being used to short timeframes requested in multiple projects, the team rolled up their sleeves and finished the project in six months.
"Netguru developers really pushed the whole team forward because they offered a good structural approach. They also were outspoken, actively participated in product-related discussions, and encouraged others to speak up and engage."

Florian Eßer

Vice President Product Development at Naontek
Business consultancy
The creators of Naontek and univiva came up with a remarkable product idea, but to make it real, they needed a helping hand in terms of product development and technological excellence.
A demanding user group posed yet another challenge, but Netguru stepped into all roles with eagerness and confidence. Understanding the target audience, business needs, and technical sides of the project, we were able to comprehend the needs and challenges of the client quickly.
Effective knowledge exchange accelerated the work significantly. The Netguru team made sure that the product development remained solidly structured and backed by a robust proof of concept.
By creating a background for open communication, we were also able to introduce ideas such as keeping communication running in dedicated channels on Slack, instead of having separate, backchannel discussions, in addition to creating and maintaining detailed documentation using Notion. Introducing all these suggestions helped improve the MVP's quality.
Introducing the remote work culture
The exciting yet tricky part of every project involves the differences in the working environment: what seems perfectly natural to us may be a total novelty to the client. Naontek and the newly hired developers needed an introduction to remote collaboration.
Apart from strictly technical work and software consultancy, the Netguru team introduced the new developers to the company's open feedback culture, provided extra onboarding in the form of a workshop with a Project Manager on how to create accurate task descriptions, encouraged proactivity when discussing each element of the project, and offered coaching in the new working environment.
With vast experience in project management, communication, and task tracking, the team maintained swift progress.
End-to-end Development
Working for Naontek, we took advantage of several programming languages and frameworks to ensure the optimal functioning of the app. The development stack for univiva includes:
Node.js,
Go,
Postgres,
Vue,
Python.
Go is an open-source programming language developed at Google, with a rather small developer community. Netguru went on a tough mission of finding a software expert who could come on board and take Naontek's Go code to the next level.
How did it go? You can see it went remarkably well if you take a look at how univiva performs!
Results
Netguru's business expertise and software development excellence made it possible to lead Naontek AG through a maze of challenges, both in terms of digital transformation and technology.
The MVP delivery time met the investors' and business owners' ambitious goals. In the first 12 months of operation, univiva proved to be a particularly successful launch:
The platform has attracted approximately

20,000

users.
Organizers have added about

6,000

courses.
These outstanding results prove that the German healthcare industry was ready to step into the digital environment – it only needed a little push from smart and open-minded visionaries.
With powerful and accessible tools like univiva, medical professionals can expand their knowledge and skills more frequently, which helps improve the overall quality of healthcare.
We are proud to be part of such an impactful project, especially in such a demanding market as the medical sector.