19 Top Banking Experts about the Biggest Challenges of Digital Transformation
The fragmentation of the industry, dealing with legacy systems, and rethinking risk management – these are but a few of the issues that the banking industry needs to confront if it wants to go through a successful digital transformation.
The consequences of a rapidly changing financial landscape impact banking entities of all kinds. Traditional banks need to innovate more dynamically to compete with fintech startups. Meanwhile, startups encounter hurdles to their further development, such as regulations that don't allow for the implementation of the most innovative solutions, especially the ones involving AI and big data.
Digital Transformation Challenges
We asked bank industry experts from both sides of the divide to tell us what challenges digital transformation poses to their industry and what challenges they come up against personally in their work. Many of them agree that in today's evolving market there is an opportunity for cooperation between banks and fintech companies. Combining their different areas of expertise will eventually help everyone achieve higher customer satisfaction. In general, improving customer experience is something that most of our respondents consider crucial for the financial sector to thrive.
Here is what the bank industry innovation leaders consider as the biggest challenges of digital transformation and how to tackle them.
Arshi Singh
Head of Product, North America at Currencycloud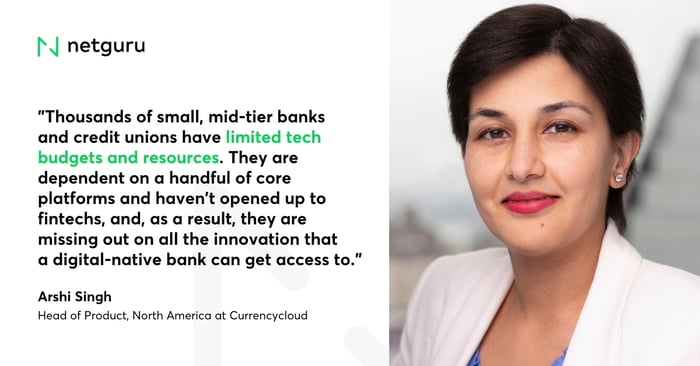 Legacy core banking platforms are the biggest challenge, particularly in the US, where the banking industry is so fragmented. Thousands of small, mid-tier banks and credit unions have limited tech budgets and resources. They are dependent on a handful of core platforms and haven't opened up to fintechs, and, as a result, they are missing out on all the innovation that a digital-native bank can get access to.
Jessica Holzbach
Co-Founder & Chief Customer Officer at Penta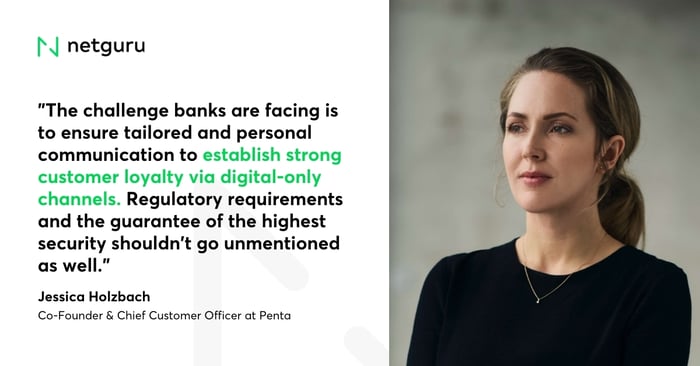 Digital transformation challenges traditional banks to simplify and digitize their product and processes to meet the changing requirements of their customers. New digital challenger banks have the advantage that they can create lean digital solutions from scratch with a laser focus on customers and their needs. The challenge they are facing is to ensure tailored and personal communication to establish strong customer loyalty via these digital-only channels. Regulatory requirements and the guarantee of the highest security shouldn't go unmentioned as well. Despite these challenges, I'm absolutely convinced that the future of banking is fully digital and we need to rethink our understanding of "what makes a bank a bank".
Gunnar Helgi Gunnsteinsson
Co-Founder & COO at Memento Payments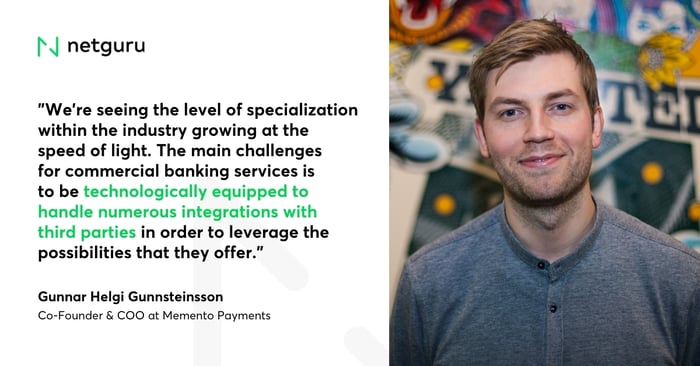 We're seeing the level of specialization within the industry growing at the speed of light. The main challenges for commercial banking services is to be technologically equipped to handle numerous integrations with third parties in order to leverage the possibilities that they offer. Partnering with dedicated vendors to increase automation seems the only way forward when margins are going down with increased competition.
Erhan Bilici
Capital Planning and Stress Testing Officer at UBS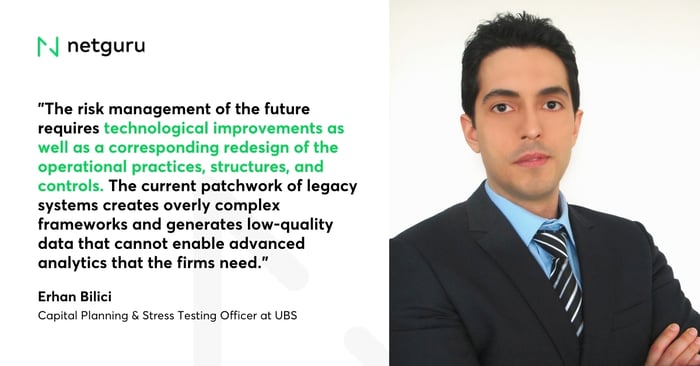 The increasing push from regulators, in addition to the volatile market conditions, necessitates a forward-looking risk management approach that can ensure financial institutions' readiness for various economic scenarios. Applications that can facilitate near real-time detection of different exposures and dynamic analysis that can generate actionable insights are crucial to the success of this strategic goal.
The risk management of the future requires technological improvements as well as a corresponding redesign of the operational practices, structures, and controls. The current patchwork of legacy systems creates overly complex frameworks and generates low-quality data that cannot enable advanced analytics that the firms need. Eliminating information silos, centralizing data collection and management, unifying platforms among all departments and lines of business, and automating inefficient processes are some of the key steps for this transformation.
Dr. Oliver Prill
CEO at Tide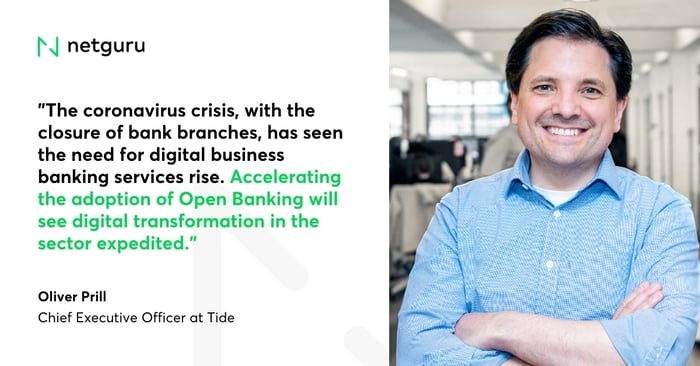 Within the business banking sector there has been a great surge in the adoption of digital services over the past three to four years. The coronavirus crisis, with the closure of bank branches, has seen the need for digital business banking services rise.
While this has proved challenging for the digital players within the business banking sector, Open Banking poses a significant opportunity to reignite competition. Accelerating the adoption of Open Banking will see digital transformation in the sector expedited.
Przemysław Krajewski
Manager Expert, Technology Consulting at EY Consulting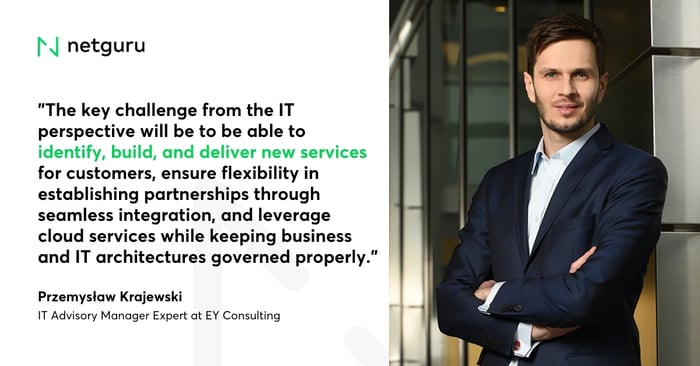 The key challenge from the IT perspective will be to be able to identify, build, and deliver new services for customers, ensure flexibility in establishing partnerships through seamless integration, and leverage cloud services while keeping business and IT architectures governed properly. This should allow for addressing the upcoming transformational drivers, in particular:
The consolidation of the banking sector, which may speed up with the outbreak of the financial crisis related to COVID-19
New market expectations, which are additionally fueled by emerging fin-techs
Digitalization of sales channels, including the implementation of 'digital branch' solutions
Ensuring high levels of trust in financial institutions through scalable and uninterrupted services, which will support the shift to digital currencies.
Daumantas Dvilinskas
CEO at TransferGo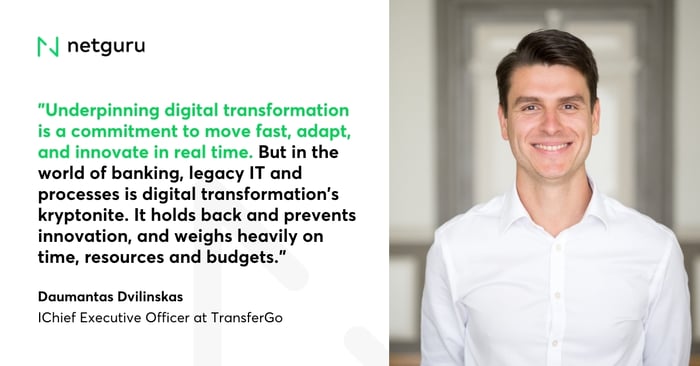 Underpinning digital transformation is a commitment to move fast, adapt, and innovate in real time. But in the world of banking, legacy IT and processes is digital transformation's kryptonite. It holds back and prevents innovation, and weighs heavily on time, resources and budgets. Take international money transfers, for example, where outdated technology has created a slow and costly experience, when it should be the opposite. Sending money abroad should be instantaneous, transparent, and fairly priced. It's why at TransferGo, we seek to support those who might otherwise be left out of traditional banking, like the migrant community, by providing a service that capitalises on the capabilities of today's technology.
Johannes Busse
Independent Banking & Payment Expert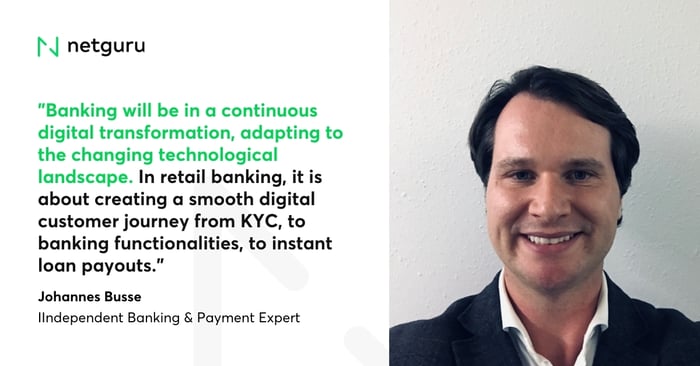 Banking will be in a continuous digital transformation, adapting to the changing technological landscape. In retail banking, it is about creating a smooth digital customer journey from KYC, to banking functionalities, to instant loan payouts. In corporate and investment banking, digital transformation will encompass smart contracts, and digital treasury and custody management, to name just a few. Tomorrow's successful financial service players will need to assess all existing products and processes, recreating them on a nimble and resilient digital infrastructure.
Jan Enno Einfeld
CEO at Finiata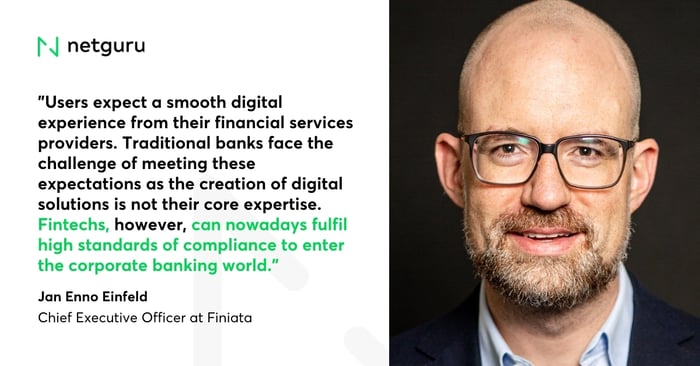 Users expect a smooth digital experience from their financial services providers. Traditional banks face the challenge of meeting these expectations as the creation of digital solutions is not their core expertise. Fintechs, however, can nowadays fulfil high standards of compliance to enter the corporate banking world. Therefore, we are just about to witness the time of cooperation instead of competition in the banking and fintech space. Matching traditional banking assets such as trust and clients with digital solutions of fintechs will radically accelerate the innovation process.
Erick Soto
VP of Product at Socure
Digital transformation is not just a technical challenge but a cultural journey. Building a consistent and frictionless omnichannel experience, which strikes the right balance between CX and Risk Management, is perhaps the biggest challenge financial institutions face. On the other hand, customer obsession is easier said than done, and adopting a 'customer-first' mentality is perhaps the biggest cultural challenge for FI's on the road to digital transformation. Innovation is not digitizing an existing process but rather rethinking the problem from a customer's perspective and reimagining what's possible with new technologies.
Adam Hadi
VP of Marketing at Current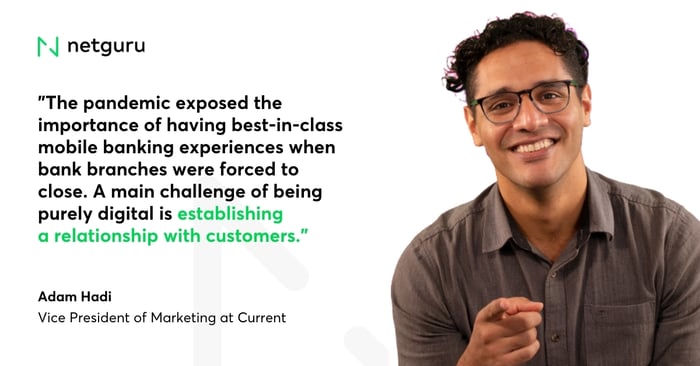 The COVID-19 pandemic has accelerated the digital transformation in banking. The pandemic exposed the importance of having best-in-class mobile banking experiences when bank branches were forced to close. A main challenge of being purely digital is establishing a relationship with customers.
Varghese Mathew
Director, Business Development, Data & Services – Asia Pacific at Mastercard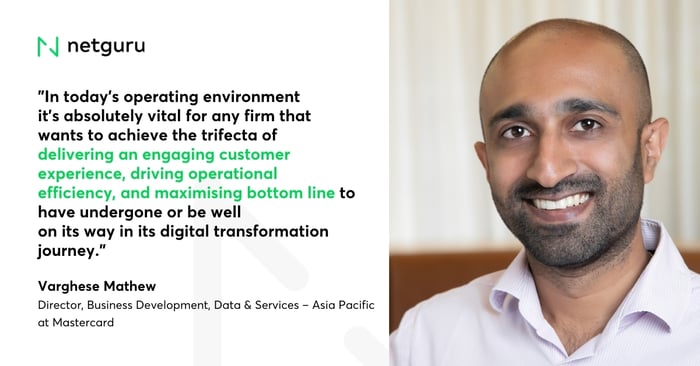 In today's operating environment it's absolutely vital for any firm that wants to achieve the trifecta of delivering an engaging customer experience, driving operational efficiency, and maximising bottom line to have undergone or be well on its way in its digital transformation journey. However, this is often fraught with challenges, two of which include:
Agility (or lack thereof): While this mantra is no longer restricted to referencing software development methodology and is well understood by many players, the cultural transformation that is required to drive the changes in processes, paradigms and people has often been found wanting. Invest in driving mindshare shift, not just updated processes.
Legacy may often be limiting: Many traditional players have invested significantly in technology over the years – and in many cases, they built custom bespoke services for entire divisions. Banks are effectively the original tech firms, their need to deliver new services riding on the technology solution being able to deliver. However, it's a double-edged sword. Custom, often dated, solution are running core or critical systems and with limited skill sets and interoperability with newer technology applications, which often holds financial institutions back in their quest to improve.
Eike Führling
Head of Digitization, Zurich Gruppe Deutschland, Zürich Beteiligungs-AG
The necessity of establishing online and fully digital advice, sales, and support processes became crystal-clear thanks to COVID. Now everyone knows that it will be challenging to bring the customer back to the bank branches.
There are 4 easy demands on future digital distribution
Keep it simple: simple products, simple sales stories, simple customer journey, simple touch points, because it will become mobile first
Listen to your customers: give them what they really need and not what you believe you can do better than your competitors
Interact with the customer: use PSD2 Data, communicate in advance and afterwards; learn what is really needed and improve your product
Be there if needed: automize and digitize as far as possible, but be there if the customer is in real trouble; machines can transfer money, but empathy is what makes the difference.
Sounds easy? The big tech companies are working exactly according to the first three points of this model. The European financial industry is not and that's why modern payment solutions are made by Apple and Google. So we need to speed up with digital innovations.
Ismail Shomala
Product Executive at gomoney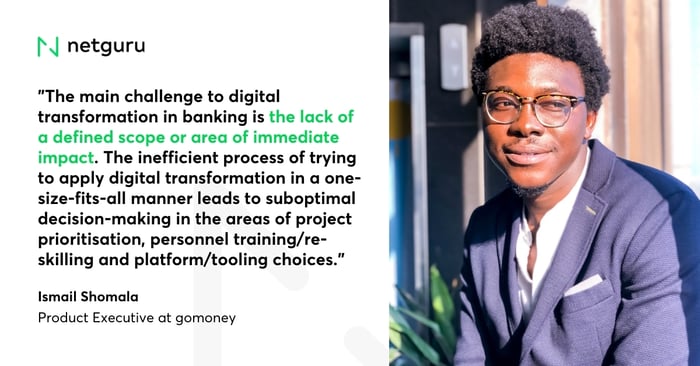 In my experience, the main challenge to digital transformation in banking is the lack of a defined scope or area of immediate impact. The inefficient process of trying to apply digital transformation in a one-size-fits-all manner leads to suboptimal decision-making in the areas of project prioritisation, personnel training/re-skilling and platform/tooling choices.
An adequately defined scope allows banks to progressively replace legacy systems and prioritise end-to-end delivery within selected areas, leading to an optimised customer-centric approach with cost savings and minimal disruption to service delivery, personnel, and culture.
Sean Hunter
Chief Information Officer at OakNorth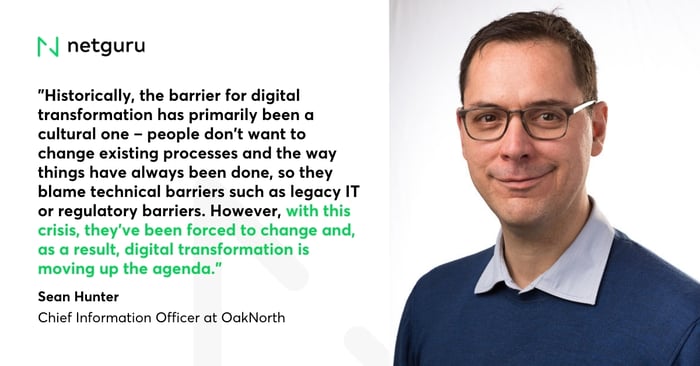 Historically, the barrier for digital transformation has primarily been a cultural one – people don't want to change existing processes and the way things have always been done, so they blame technical barriers such as legacy IT or regulatory barriers.
However, with this crisis, they've been forced to change and, as a result, digital transformation is moving up the agenda and creating a unique opportunity for fintechs. We've seen banks accelerating decisions and partnering with us at a speed that we had never seen previously.
Delia D. König
Managing Director, Identity Unit at Solarisbank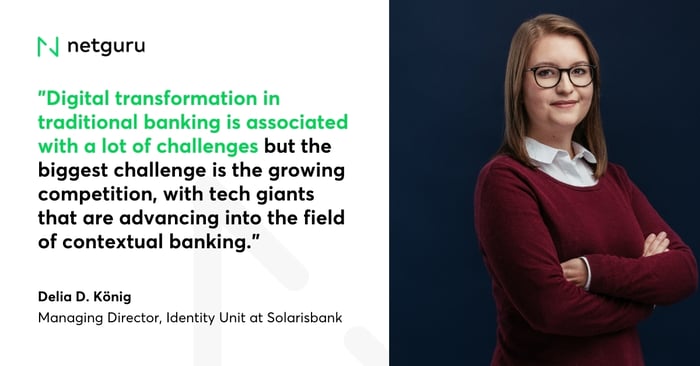 Digital transformation in traditional banking is associated with a lot of challenges: new customer expectations and changed behavior, legacy technology, lack of skills and talent, and new regulations. But the biggest challenge is the growing competition, with tech giants that are advancing into the field of contextual banking. Traditional banks in particular must redefine their role in order to retain their end customers in the long term.
Patrick Lukas
Innovation Manager at finstreet Gmbh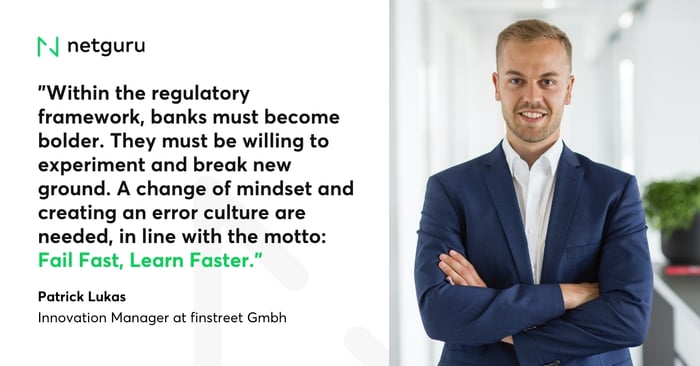 In banks' strategies, "digital transformation" often is just a fancy buzzword. Although exciting concepts are created, there's no hands-on execution for reaching the big picture step-by-step.
The success of isolated initiatives that do get executed is evaluated with methods from the past. Since, for example, digital business models are rarely profitable within 6 months, they are abandoned and labelled a failure.
Within the regulatory framework, banks must become bolder. They must be willing to experiment and break new ground. A change of mindset and creating an error culture are needed, in line with the motto: Fail Fast, Learn Faster.
Robert Albrecht
Head of Product Line at Paysafecash
Cash handling is a major challenge in digitizing bank services. While many services can be provided faster, better and cheaper via the internet, there are aspects of customer interaction where the digitization needs to cater to the tangible needs of consumers. Cash is a very good example. In times of the reduction of bank branches and ATMs, banks need to find ways to efficiently digitize cash for their customers.