Berlin Startups to Keep Your Eye on in 2023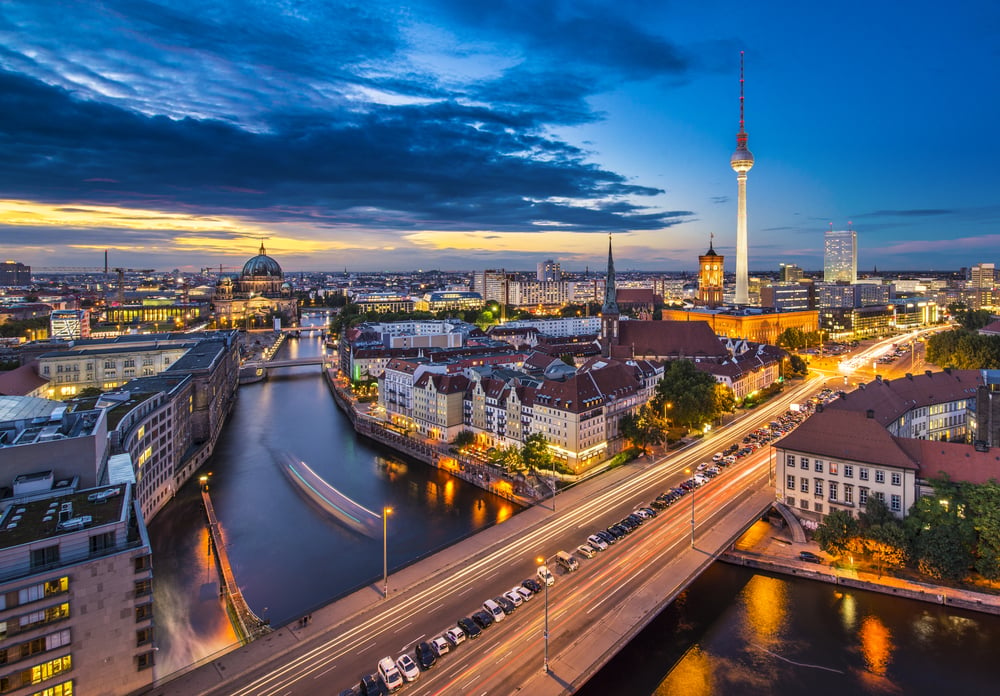 Berlin has emerged as one of the best hubs for tech startups in Europe, attracting foreign investors and entrepreneurs worldwide.
According to recent statistics, there are over 3,000 Berlin startups that are growing at a rate of
15% annually
. The most popular industries include ecommerce, fintech, mobility, and healthcare.
To give you an idea of Berlin's robust startup ecosystem, we have curated a list of the top Berlin startups to keep your eye on in 2023. It provides you with insights into each startup's business model, products or services, and potential for growth.
The list is based on recent funding rounds in Q1 and the beginning of Q2 2023, and financial data available on Crunchbase combined with our own research.
Wefox
Founded Date: 2015
Total funding amount: $1.4 billion
Latest valuation: $4.5 billion
Exemplary investors: Target Global, OMERS Ventures, Goldman Sachs, Mubadala Ventures, Horizon Ventures
Industry: Insurtech
Mission: Making insurance 10x better and safer for everyone through technology.
Wefox provides digital insurance solutions. How they stand out in the market and what's largely responsible for their success is selling insurance products through brokers and eliminating the direct-to-consumer model. According to their founder and CEO, Julian Teicke, "Wefox's 'secret sauce' is in its business model of indirect distribution, which has enabled the company to scale faster than any other insurtech in the world."
The Wefox digital platform uses data analytics and artificial intelligence to provide personalized services tailored to the needs of all parties: insurance brokers, agents, partners, and insurance providers.
Choco
Founded Date: 2018
Total funding amount: $336.3 million
Latest valuation: $1.2 billion
Exemplary investors: Coatue, Bessemer Venture Partners, G Squared, Left Lane Capital
Industry: Apps, Food and Beverage, Marketing, and Restaurants
Mission: Connecting ingredient suppliers with restaurants to prevent food waste.
Choco is a food ordering platform for restaurants and ingredient suppliers. The digital platform focuses on eliminating food waste. According to the company, by 2030, Choco wants to enable food to move around the planet transparently, sustainably, and without waste. They are achieving this by building software that uses artificial intelligence (AI) algorithms to analyze a restaurant's order patterns and ingredient availability, ensuring the restaurant receives the right amount of food at the right time.
Dan Khachab, a cofounder of Choco, says that food waste is the third largest driver of climate change. "We cut down rainforests to grow food we don't need. There are about 7 billion people. We have enough food for 10 billion, but we're not capable of routing food efficiently through the system." That's the problem Choco is solving with its digital solution.
Inkitt
Founded Date: 2014
Total funding amount: $80 million
Latest valuation: $390 million
Exemplary investors: Holtzbrinck Ventures, Lakestar, Redalpine, HV Capital, New Enterprise Associates
Industry: Publishing, Analytics, Digital Entertainment, and Content
Mission: Democratizing book publishing for talented writers.
Inkitt is a digital platform that focuses on publishing the works of talented writers. How are they different from traditional publishing houses? Inkitt gives readers the power to determine which work gets published based on the book's number of readers and their ratings. In the background, the digital platform uses advanced analytical and machine-learning algorithms to analyze readers' behavior to predict which work will likely get attention.
Inkitt publishes on its sister app, Galatea, where most writers have made over $100,000. The digital platform looks to explore media, starting with audiobooks, and developing films, according to its founder and CEO, Ali Albazaz.
Forto
Founded Date: 2016
Total funding amount: $593.4 million
Latest valuation: $2.1 billion
Exemplary investors: Disruptive, Northzone, Cherry Ventures, G Squared Unbound
Industry: Logistics, Shipping, Freight Service, Supply Chain Management, and Software
Mission: To simplify global trade by reinventing shipping processes with technology.
Forto is making shipping logistics seamless. Their digital platform allows companies to monitor their entire supply chain from end to end, providing complete visibility and control.
They stand out from the non-tech and traditional shipping providers by using advanced data analytics and machine learning algorithms to optimize shipping routes, reduce transit times, and improve overall efficiency.
Their approach to logistics is transforming the way goods move around the world. The Forto platform is transparent and committed to customer satisfaction.
Coachhub
Founded Date: 2018
Total funding amount: $333.5 million
Latest valuation: $600 million
Exemplary investors: Molten Ventures, RTP Global, Speedinvest, Softbank Vision Fund
Industry: Corporate Training, Personal Development, and SaaS
Mission: Simplifying access to corporate training for organizations.
Coachhub is revolutionizing professional development by digitizing corporate training for global talents across organizations. The startup focuses on enabling workplaces to access quality training and expert knowledge that lets them reach their full potential.
The platform's AI algorithm provides a personalized experience for users by suggesting programs tailored to their individual needs and preferences.
MakerVerse
Founded Date: 2022
Total funding amount: €9.4 million
Exemplary investors: Siemens Energy, Ninepointfive, ZEISS Group
Industry: Robotics
Mission: Using AI technology to provide easy access to industrial parts on demand.
Makerverse is simplifying the process of getting industrial parts on demand. Their platform gives manufacturing companies access to previously vetted and trusted supply chains for industrial parts. They're solving the problem of going through hurdles and hoops for industrial parts that may not even meet the correct specifications or arrive on time.
The startup uses AI-powered technology to digitize the whole process from order to delivery and optimize the supply chain, and that's their unique tech angle over the traditional method of sourcing industrial parts.
With this platform, manufacturing companies can focus on what they do best, creating innovative products while leaving the procurement of industrial parts to the experts.
Parloa
Founded Date: 2017
Total funding amount: €24 million
Exemplary investors: Newion, EQT Ventures
Industry: Enterprise Software, Machine Learning, Artificial Intelligence, Analytics
Mission: Using conversational AI to enhance the customer service experience.
Contact centers are estimated to be worth over $400 billion worldwide. Companies have dedicated contact center teams committed to taking customer complaints, and it's common to take repetitive complaints and offer repetitive solutions. Parloa builds conversational AI to automate customer service operations and reduce the burden on call center teams.
Parloa's aim is to use its generative AI to improve call response times, resolve repetitive complaints fast, and improve overall customer experience. The digital platform already automates the communication channels of companies like ERGO, Decathlon, Swisslife, and the German Red Cross.
Hygraph
Founded Date: 2017
Total funding amount: $43.6 million
Exemplary investors: Peak, OpenOcean, One Peak Partners, SquareOne
Industry: Content Management System
Mission: To revolutionize content management with the power of GraphQL.
Hygraph is a digital platform improving content management with the power of GraphQL. GraphQL is an open-source data query and manipulation language for APIs and a runtime for fulfilling queries with existing data. Hygraph stands out from other content management platforms because it introduces a new system called the "federated" approach, enabling businesses to build custom content models and easily manage them.
The co-founder of One Peak, David Klein, and the Director, Tatjana Kast, had this to say on their backing of Hygraph in its latest funding round: "Hygraph solves the customization and integration challenges that continue to slow the creation of new or complex digital services at scale. We have been hugely impressed with Hygraph's strong and capital-efficient growth trajectory and believe its federated content platform presents a sizable market opportunity. One Peak is incredibly excited to back the excellent Hygraph team and its founders in their next phase of explosive growth."
Atlas Metrics
Founded Date: 2021
Total funding amount: $5.7 million
Exemplary investors: b2venture, Global Founders Capital, Cherry Ventures, Redstone
Industry: Marketing Analytics
Mission: Improving companies' access to ESG data measure towards a sustainable future.
Atlas Metrics is building an automated online platform that collects, analyzes, and communicates companies' environmental, social, and governance (ESG) data to help them transform the economy through meaningful impact.
The online platform company believes the economy needs to transition towards more sustainable business models. That's why Atlas is solving the problem of inaccessibility of metrics that present companies' activities other than their financials.
On raising €5.2M in a recent seed funding, Atlas Metrics' founder, Wladimir Nikoluk, said, "I'm incredibly proud of our team. We've uniquely combined in-depth ESG expertise and best-in-class product engineering in an intuitive product, which has been adopted with astonishing speed across various industries."
Raisin
Founded Date: 2012
Total funding amount: $304.9 million
Latest valuation: $1 billion
Exemplary investors: Index Ventures, PayPal, Thrive Capital, Ribbit Capital, Orange Digital Ventures
Industry: Fintech
Mission: Fintech platform connecting users to the best finance products.
Raisin is a tech-powered finance platform. They're using their fintech platform to connect users with the best finance products with the most attractive rates across Europe.
The startup partners with banks and financial institutions all on the Raisin platform. Their goal is to support customers in making smart financial decisions by putting money into financial products that yield the most returns. Their platform solves the problem of bad investments and the need for adequate financial knowledge many people face.
Raisin also helps banks grow by providing them access to a broader customer base, promoting a healthier economy and supporting the growth of the financial sector across Europe at the same time.
Monite
Founded Date: 2020
Total funding amount: $12.8 million
Latest valuation: N/A
Exemplary investors: Third Prime, s16vc
Industry: Fintech
Mission: A finance automation tool that makes invoicing and payables seamless.
Monite is an embedded finance platform offering API solutions to its users. What differentiates it from other finance platforms is that it offers a finance automation suite that allows businesses to save hundreds of hours by integrating Monite's API into their existing payment interface.
According to Monite's co-founder and CEO, "Only 5-10% of SMBs use a modern finance stack, while 79% of them still do their accounts payable manually. SMBs remain technically underserved, while B2B neobanks, ecommerce, and B2B SaaS businesses have an incredible opportunity here to grow their revenue with no additional marketing expenses. Digitalizing finance workflows through existing SaaS players is a game-changer, and we allow our clients to become an all-in-one financial OS for their industry."
Medwing
Founded Date: 2017
Total funding amount: $79.1 million
Latest valuation: $143 million
Exemplary investors: Cathay Innovation, Northzone, Cherry Ventures
Industry: Healthcare
Mission: To build a digital staffing solution for healthcare institutions.
Medwing is enabling digital acceleration in healthcare. Their online solution solves the problem of the global healthcare staffing shortage and gives everyone improved access to healthcare.
According to their founder and CEO, Johannes Roggendorfr, healthcare staffing is still manual and analog. Digitizing the process saves costs for all parties involved and guarantees improved healthcare service delivery. Using technology to automate healthcare recruitment sets Medwing apart from other staffing solutions.
Currently targeting Germany and the UK, Medwing looks to expand to other European markets, especially with their recent $47 million in Series C funding.
Sunhero
Founded Date: 2021
Total funding amount: €13.5 million
Exemplary investors: All Iron Ventures, Speedinvest
Industry: Energy
Mission: Building custom-built solar panel solutions for homeowners.
Sunhero is a greentech energy company. The company's unique angle in the solar system space is that they're improving the adoption of solar power by making custom-built solar panels for homeowners to install easily. This saves cost and the planet all at once. Sunhero started in Berlin in 2021 but moved its headquarters to Barcelona in 2022, where it has installed nearly 1,000 solar systems and 2,000 MWh of electricity.
On the company's recent €10 million in funding, the co-founder and CEO of Sunhero, Christopher Cederskog, said, "Recent policy changes, EV growth, and global geopolitical struggles have rapidly increased customer demand for independent and clean energy in Spain. This is a perfect storm for solar. We have all the potential to shake up the market and deliver outstanding solutions to scale consumer transition to solar."
Doctorly
Founded Date: 2018
Latest valuation: €10 million
Exemplary investors: The Delta, Horizon Ventures, Speedinvest, WELL Health Technologies
Industry: Healthcare
Mission: Using cloud-based technology to simplify healthcare practice.
Doctorly offers cloud-based healthcare management. The platform helps doctors practice with automated tools that simplify administrative tasks. The end goal is to make medical practice easy for doctors.
According to the Doctorly co-founder and CEO, "We've worked closely with doctors and healthcare professionals since we started the business to build a new operating system for the entire primary care market (…) Our close partnership has enabled us to build a practice management system that is modern, simple to use, secure, and connects with other modern technologies, making Doctorly the first VC-backed company to have all of the regulatory approvals needed to sell our software in Germany."
Xolo
Founded Date: 2019
Total funding amount: €8 million
Exemplary investors: SquareOne, Capital Corp. and Deep Tech, Climate Fonds
Industry: 3D Printing
Mission: Building complex objects with 3D printing for various industries.
Xolo is a 3D printing startup. The company uses volumetric three-dimensional printing technology to produce complex multi-component objects quickly.
The business enables manufacturing industries to create features and mechanical and optical functions by providing system control, object import, connectivity, transformations, a slicer tool, print video, material selectors, and low-level access.
Pliant
Founded Date: 2020
Total funding amount: $48 million
Exemplary investors: MS&AD Ventures, SBI Investment
Industry: Financial Services, Fintech
Mission: Using API-based solutions to make payment and finance tracking easy for companies.
Pliant is a fintech startup that uses API-based solutions to digitize finances. How are they serving users differently from other fintech startups? Companies can integrate their data into Pliant's finance stack, issue physical and virtual credit cards, and track spending.
Following a successful 2022, where the fintech platform expanded into seven additional European markets, they're already on a great trajectory for 2023 with their recent $28 million in funding.
Pliant also runs a program called Pliant Earth to help companies fight climate change and offset their CO2 emissions.
Nefta
Founded Date: 2021
Total funding amount: $6 million
Latest valuation: N/A
Exemplary investors: Picus Capital, SevenX Ventures
Industry: Blockchain, Gaming, Information Technology
Mission: Using blockchain to help monetize the gaming and entertainment industry.
Nefta is a leading innovation company in the Berlin blockchain space. The startup is leveraging the power of blockchain to make monetizing easy for players in the gaming and entertainment space. They offer tools that include their NFT toolbox for managing in-game assets, wallet services, tokenomics, and the marketplace.
On securing their recent seed investment of $5 million led by Play Ventures, Geeshan Willink, founder of Nefta, said, "Play Ventures has one of the best portfolios in the world for gaming and Web3. Receiving one of the largest investments from its Future Fund demonstrates their conviction in our team, products, and vision. With their support, we're able to power the next evolution of game economies, showcasing the benefits of blockchain to help our partners build, grow and scale Web3 ecosystems."
Moonfare
Founded Date: 2016
Total funding amount: $185 million
Latest valuation: N/A
Exemplary investors: 7GC, Vitruvian Partners
Industry: Fintech
Mission: To provide investors access to private equity funds for higher returns.
Moonfare is a tech-powered financial investment company. Determined to transform the fintech space, the company builds the world's most engaged investor community to inspire investments that drive the world forward. The platform differs from its peers by allowing users access to profitable investment opportunities at low fees and high returns. The Moonfare in-house investment team boasts of applying 200 years of private equity experience to choose the most profitable funds for users.
Recent reports show that millennials are showing increasing interest in private equity, further affirming Moonfare's growth in financial investment.
Berlin startups scene – what to look forward to
Berlin has solidified its position as one of the top tech hubs in Europe, with a growing number of tech companies receiving significant funding rounds in the first half of 2023. These companies span a range of industries, from logistics and finance to healthcare and AI.
Despite their diversity, each startup is committed to innovation, customer satisfaction, high productivity, and delivering unique value to its customers.
As Berlin continues to attract top talent and investment, these startups and their tech products represent just a tiny sample of the exciting developments to come.