How Riskwolf Closes the "Protection Gap" in the Insurtech Space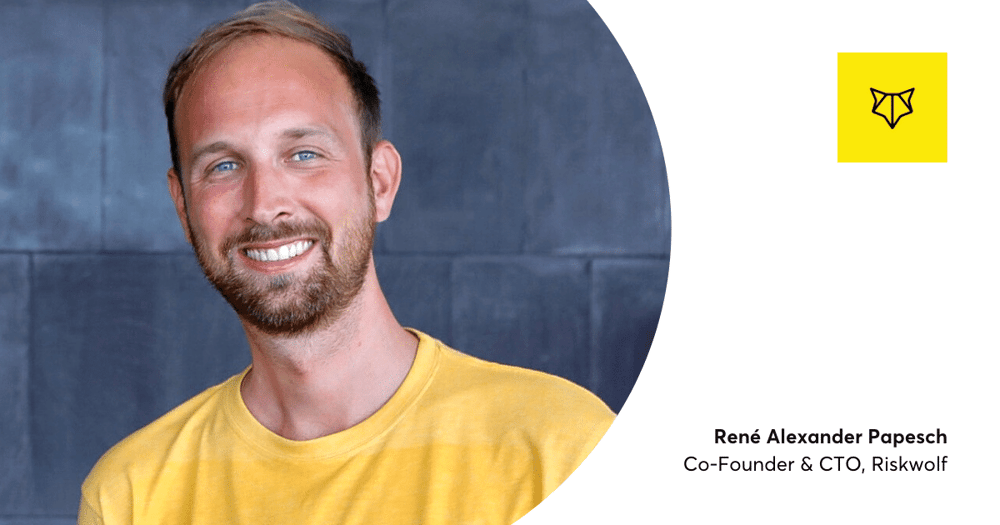 Insurance for digital companies is not exactly new. However, in many ways, there's a "protection gap" within the digital economy.
Web outages, cyber-attacks, and other connectivity issues are some of the biggest threats facing online businesses, especially eCommerce stores.
Recent high-profile outages such as Akamai and Fastly show a harsh reality – that even the global retail giants aren't safe from connectivity issues. Across the world, this is a multi-billion-dollar issue, so what can we do?
Insurtech firm, Riskwolf, is trying to close that billion-dollar gap by providing protection for digital platforms around the world.
In this episode of Disruption Talks, Co-Founder and CTO of Riskwolf, René Alexander Papesch, tells us more about it.
What is insurtech?
Insurtech is a growing industry that combines traditional insurance services with digital solutions. Many modern businesses see it as the future of insurance.
Riskwolf is one of the top firms in the insurtech industry, which aims to provide much-needed protection for digital platforms.
Filip Sobiecki: Can you give us some personal background?
René Alexander Papesch: What I've been doing for the last decade or so is developing architecture and data-intensive application. It's all to do with large-scale data processing. I also have a consulting background which I was doing in Germany, Switzerland, and Austria in multiple industries.
Tell us about co-founding Riskwolf. What's the story?
I never imagined I'd end up in the insurance vertical. My first touchpoint was when I went into insurance on a large-scale project in Zurich a couple of years back. That's where I met Thomas, the co-founder of Riskwolf.
We had chats around how data is reshaping the industry, what you can really do with data, and how you can build systems that are more event-based. If something happens from the outside, how can you take this information, run some risk models, process that, and provide insurance with context?
We saw that during a project, everyone experienced an incident where everything stopped working. This had a chain reaction of departments calling each other and everyone getting nervous.
On the technical end, we thought, what can we do here? We decided to try a new model where we took the parametric insurance model and applied new risks. The aim was to build a platform that's capable of processing millions of data points and linking them to insurance policies to automate them.
Can you explain parametric insurance and how it applies to both tech and physical events as well?
I'll give an example, the flooding in Germany will have typical insurance processes where you need to file a claim. After a claim, there are many months to wait, and then you get a payout. It's a lengthy process with lots of steps and people involved.
When you apply the parametric model, you have an idea of different scenarios, like if X happens, then X will happen. It automatically pays out because, in this case, it'll calculate rainfall on those days. It's a model that works well in weather scenarios, but it's still quite niche.
Would you agree that parametric insurance is a more realistic type of insurance?
The first advantage is that it's also easier to sell, especially for new risks, because you can put everything online, and everyone understands it. The parametric model can also be combined with other indemnity-based insurance components. If you're fully automated, you can give faster payouts as well.
If I'm an insurer, can I go onto your platform, create my own parametric insurance product, and make a policy for customers?
Exactly. What we're targeting with the platform are two user groups. One is around insurance and reinsurance because we see the risk appetite to really define coverages for new risks.
On the other side, we have a couple of APIs where platforms can use these APIs for getting coverage. We're also looking at not just protecting platforms but also their partner networks as well.
What is your prediction for 2022 and beyond?
We want to become really good at carving out protection gaps in the digital economy. There are so many scenarios out there where there's no coverage.
We work in two areas, one on the cloud side and one on large-scale, regional outages. The first focus for us is in Southeast Asia. We also want to grow both geographically and also by adding additional risks into the platform to improve it.
Since the recent funding round, we've been focusing on platform investments, so we're building end-to-end processing capabilities. We're also focusing on the end-user and the underwriters of the insurance to make the process seamless.
Is there any room for collaboration with new insurers?
Insurance will definitely start opening up and looking more into partnerships. We're not competing against insurance. Instead, we want to bring them in and cooperate with them. It's all about making it easier and cheaper for them to do this without building their own platform. They can just use ours.
Do you believe that insurance firms will change their perception that CIOs are just a back-office role rather than a driver of the business?
This is exactly the current perception in insurance conferences. You only see them when something goes wrong.
What I try to do is have a more product-focused point of view where I try to make sure that the business architecture aligns with the IT architecture. We really try to bring in actuary processes and business processes into an IT framework, so that's something we strive for.
What's your decision-making framework?
We want to make quality, centralized decisions. We don't have one guy who's just autonomous and decides on their own. It's always within a team. We also keep a lot of business decision records that are usually one-page documents that explain the context and options for every decision.
If you could give every 12-year-old in the world a brand new skill or piece of knowledge, what would it be?
I would say learn to come up with your own ideas. If someone doesn't like it, or if you fail, you just have to start up again and retry it. If you really believe in and trust your skills, you'll succeed.
This discussion is part of our Disruption Talks recordings, where we invite experts to share their insights on winning innovation strategies, the next generation of disruptors, and scaling digital products. To get unlimited access to this interview and many more, sign up here: www.netguru.com/disruption/talks