Bharath Chinamanthur, CTO, Shares Why He is Drawn to Companies with a Clear Mission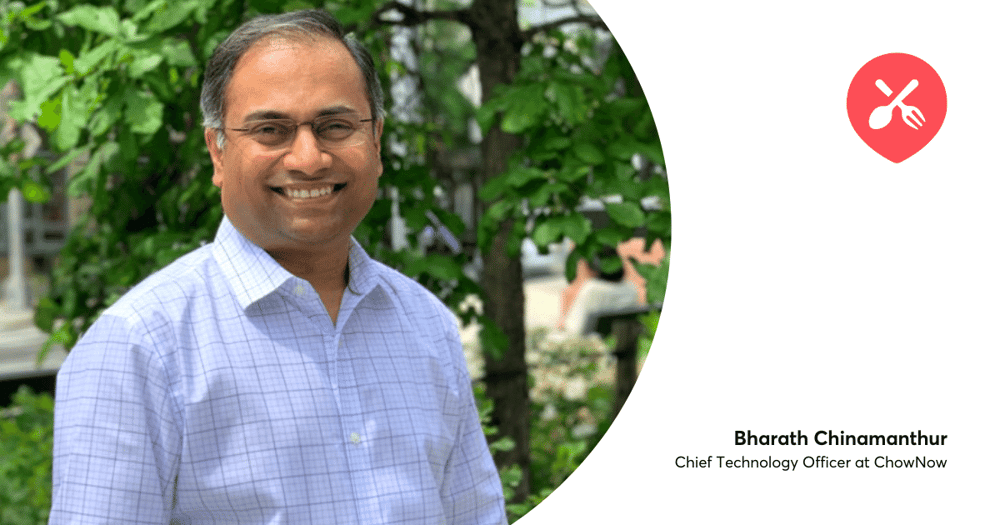 Online food ordering has been a lifeline for many struggling during the pandemic. In 2020 alone, Uber Eats generated $4.8 billion in revenue, a 152% increase year-on-year.
With demand increasing, this is a double-edged sword for restaurants. Many were forced to offer takeout services, but the costs of this can be eye-watering when using platforms like Uber Eats, DoorDash, or JustEat.
In this episode of Disruption Talks, Bharath Chinamanthur, CTO at ChowNow, discusses the importance of leveling the playing field for smaller restaurants and how ChowNow helps to do this. He shares his backstory and secrets for success, and why he is drawn to companies with a clear mission.
Filip Sobiecki: You've held roles at Charles Schwab, Amazon, Zipcar, and Blink Health before joining ChowNow. Not every CTO out there shows that much versatility, so what's your secret?
Bharath Chinamanthur: I think there are a few common themes. The most important theme in CTO roles is to be a well-versed technology leader and to also be a people leader. They go hand in hand.
Another thing is that most companies, when they hire a CTO, will have a sudden mandate. They need you to do XYZ, but they want to replace X with some kind of scaling process. I prefer to look at the Y component. It's about a transformative challenge, taking on something that has to be broken down, fixed, and improved.
The other common theme is the mission of the company. It has to inspire you. That's critical for being successful. All the companies I've held roles at have had a strong mission.
What are some of the transferable skills you picked up from Amazon that are now helpful for ChowNow?
One thing about Amazon is that everything is public. You can look at every single one of Jeff Bezos' shareholder letters from 1997. Amazon has a collection of leadership principles or LPs. These principles are things like a bias for action, customer obsession, deliver results, and so on.
When I joined in 2007, it was all about scaling and holding ourselves to a very high bar to make sure we're doing the right thing for the customer.
While ChowNow is much smaller, we have a very purposeful dedicated team for the customer experience.
What is it about ChowNow that made you join the team?
As a bit of backstory, I took a sabbatical to spend time with my family during the pandemic. I started to think about what I wanted to do next and was reading up about the restaurant industry. The more I read, the more I realized that food is such an intimate part of the human experience. You literally can't live without it.
Over the last 20 to 30 years, we've become used to eating out and sampling different cuisines. So, when I read about the challenges the industry was facing in the pandemic, it was heart-breaking. A lot of restaurants had completely shut down, and others relied on the takeout model.
Some businesses benefitted from that, but not all did. I eventually came across ChowNow, a company that I felt was on the right side of history and squarely in the camp of the restaurants themselves. Their mission is super aligned with the restaurants' mission. I was very fortunate to find that they were looking for a leader.
What are current issues in the restaurant industry?
Right now, restaurants are struggling with staffing and balancing their in-person dining vs. online ordering services.
It all boils down to whether restaurants can build a sustainable business with just online ordering. It is very challenging but having a good partner like ChowNow helps the smaller restaurants out there.
What's your decision-making framework?
I remember reading about a technique called reflective analysis. It's where you write down assumptions you have behind a decision. You write a short note capturing why you made the decision, then say six months later, you go back and read it again to reflect on it.
Another way I do it is I write out the pros and cons of a decision. I then go back six months or a year later to read it. Over the past 15 to 20 years, I've used this technique for the biggest decisions I've made and found that it improves your overall thinking process.
What's your advice for building a successful tech team?
It's always important to line up the skills that one brings to the table and what's needed in that role to make sure they're in alignment.
The framework I always use is to understand the needs according to what life cycle stage the company is at. Is it a seed round company or a series D company? This helps you to understand the needs of the CTO and the team because different companies at different levels will have varying needs.
For example, a series A company will require the CTO to be very hands-on. They'll need to be comfortable managing a small team and writing code, and so on.
If you could give every 12-year-old in the world a special skill, what would it be?
I'll give a different sort of answer. It's something my wife taught me. My personal philosophy is that 12-year-olds should really spend time having the best childhood possible. They will not get that chance again, and everything else can wait until later. It also makes them more well-rounded people for the future.
This discussion is part of our Disruption Talks recordings, where we invite experts to share their insights on winning innovation strategies, the next generation of disruptors, and scaling digital products. To get unlimited access to this interview and many more, sign up here: www.netguru.com/disruption/talks