Cybersecurity in Fintech. Why Is It Important? [2023 Update]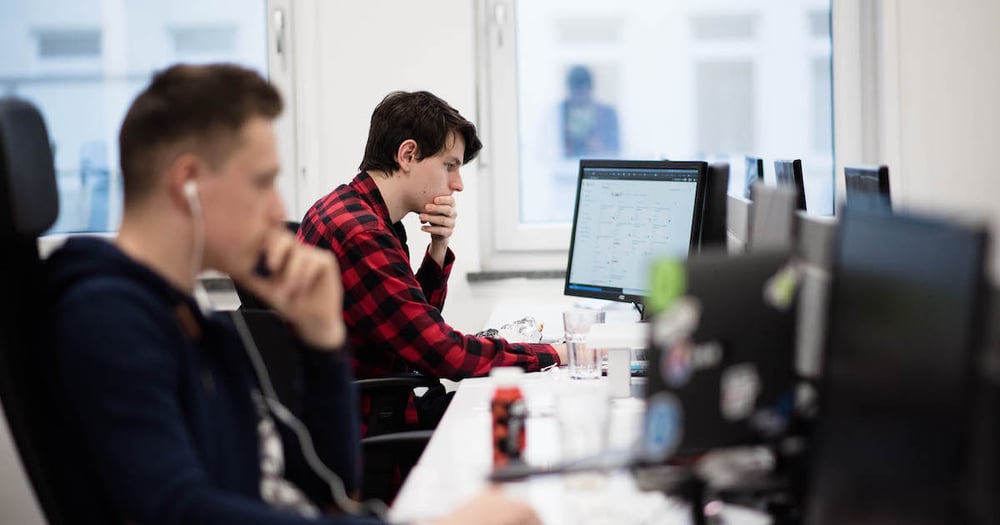 In the realm of fintech, cybersecurity stands as a pivotal cornerstone to protect sensitive data from security threats.
As fintech companies become increasingly intertwined with mobile transfers, electronic payment systems, end-to-end user experiences, and cryptocurrency trading, they harness unprecedented efficiency gains. However, this rapid expansion into digital landscapes also brings forth substantial security risks that warrant thorough examination.
In this exploration, we delve into the specific security vulnerabilities and security threats emerging from fintech's broadened horizons, shedding light on the potential threats that encompass financial data breaches, identity theft, transaction fraud, and cyberattacks.
Cybersecurity in fintech vs banking
Cybersecurity in banking is enforced through legal regulations, which require banks to provide reliable and secure services and to implement robust security policies and cybersecurity procedures and operational processes aimed at optimizing services and providing the utmost data protection.
Large and rich organizations constantly test their security measures as they don't want to risk reputation losses or penalties. Especially in the case of large, global banks, even minor cyber threats or security incidents can draw thousands of customers away, which is too big a risk for any business to take.
Above all, breach of a legal regulation often incurs severe financial penalties - so severe, that it can incur more damage than loss of customers.
Fintech enterprises, commonly known as financial technology companies, frequently comprise small-scale or rapidly expanding startups that extend a portion of their offerings to the banking sector. Some of these fintech entities have transitioned into fully-fledged banks, a transformation that brings them under heightened regulatory scrutiny. Nevertheless, due to their initial non-banking status, fintech firms traditionally operated with comparatively looser regulations, granting them increased adaptability in aligning with prevailing standards.
As such, a fintech company can act as an "overlay" to banks, facilitating the provision of certain financial products in a simplified manner. The additional benefit they bring to the banking industry is shorter time-to-market of services, which is why banks often rely on fintech. This overlay, however, often comes with weak security measures.
Why is cybersecurity in fintech important?
Fintech companies and startups offer more flexible products and services than banks due to modest legal regulations. They also offer shorter time-to-market, which is particularly important from the business perspective.
However, rapid release cycles means that fintech companies often simplify their products or skip certain features. As a result, fintech companies often secure their solutions only partially, omitting or delaying some security measures altogether, especially when they can't see the added business value.
Fintech startups may also lower their non-functional data security requirements and security protocols because of limited cybersecurity awareness and the false conviction that fully secure products aren't flexible enough from the business perspective.
This often leads to creating functional, but poorly secured products, which are likely to generate substantial security costs when these products are scaled and must be properly secured or fixed. As a result, dealing with fintech startups may be riskier than trusting global banks.
Overall, the probability of a security breach occurring on the part of a fintech company may be higher than in a strictly regulated bank. Top cybersecurity threats in the fintech industry.
Banks, financial institutions, and fintech companies are subject to security issues. Fintech startups are particularly attractive to cybercriminals who know that fintech companies rarely invest as much money and effort in security measures as banks. Mistakes such as keeping unencrypted data or unsecured third-party services are only asking for trouble. Most common security breaches in this sector include:
Identity theft, which may lead to social engineering attacks or phishing
Frauds and money laundering
Application breaches and data leaks
Spoofing
Malware attacks (including Ransomware)
What can happen when customers' data is compromised
Compromising customer financial data may bring upon grave consequences on two levels:
1. For the business:
Loss of what's most important - customer trust, which ultimately translates to financial losses
Legal implications, e.g. a GDPR cybersecurity breach is subject to hefty fines and may provoke injured persons to file a lawsuit
Increased risk of unauthorized data access and exposure to subsequent risks, such as phishing attacks
2. For the customer:
Data breaches can lead to a range of activities, such as identity theft, fraudulent transactions, financial fraud, blackmail, etc.
Misuse of sensitive financial information to carry out other threats, especially phishing attacks
Infiltration of other systems, unrelated to the one that was compromised, especially if an individual repetitively uses the same, simple password
Above all, many fintech applications have direct access to various banking systems. If data leaks from such apps, it can be subsequently used to access credentials without suspicion, often remaining invisible to the bank's monitoring system.
How to improve cybersecurity in fintech – best practices
While absolute eradication of risk is unattainable during the development of intricate software products of fintech organizations, the following strategies can substantially diminish it.
Embracing the practice of Product Security Engineering, which aligns seamlessly with the agile approach to constructing digital products, offers a prime trend for integrating security.
Anchored in secure-by-design and shift-left principles, Product Security Engineering serves as the foundation for fortifying digital products against vulnerabilities in the fintech industry.
Secure by design approach
The best way to eliminate fintech security flaws in fintech firms is to incorporate the secure-by-design approach into the software and product development processes. This approach incorporates specific security techniques at every stage of the fintech app development: From analysis, through design, implementation, and testing, to maintenance and monitoring.
The shift-left rule
The most important aspect of the secure-by-design approach is the shift-left rule, which assumes that security practices should be implemented as early as possible, at every Software Development Life Cycle (SDLC) stage.
For instance, the sooner a Security Engineer joins the project team, the more potential threats he will be able to identify and eliminate through appropriate system design and relevant security controls. This way the project team can apply security measures and build a solution that better meets specific business needs to protect sensitive data.
This approach also allows companies in the fintech industry to reduce the costs associated with detecting and fixing errors in software products: the National Institute of Standards and Technology (NIST) estimates that the shift-left approach reduces maintenance costs by up to 30%. Security flaws detected during penetration tests or through security incidents are the most expensive to fix.
Certain practices can reduce cost of fixing a security flaw.
Certain practices can reduce the cost of fixing a security flaw for financial institutions.
Seeking the right talent
Invest in highly qualified Security Engineers who are able to perform a range of tasks:
Analytical
Conceptual, such as risk analysis or threat modeling
Technical tasks, e.g. configuration of CI / CD pipelines or cloud configuration hardening
Security testing on multiple levels, such as application, infrastructure, network, etc.
Also, don't underestimate the importance of solid soft skills. As the team's Subject Matter Expert, the Engineer must be able to clearly present concepts and solutions, so communications skills will be invaluable here.
The importance of cybersecurity in fintech
A good Security Engineer is essential for securing products of financial institutions to address cybersecurity concerns. You can even take security a step further by establishing a Product Security Engineering team, consisting of engineers with solid hard and soft skills. Such focused product-focused security teamSe team will easily cooperate with your development and business teams in during entire product lifecycle which will help build product in fast and but still secure way.
It is the ideal approach for fintech companies looking to meet high security standards to protect sensitive data and diminish cybersecurity risk in a flexible way, as well as to innovate in areas that banks cannot address as easily.