Disruption Insights: Outstanding Products Emerge When Vision and Values Meet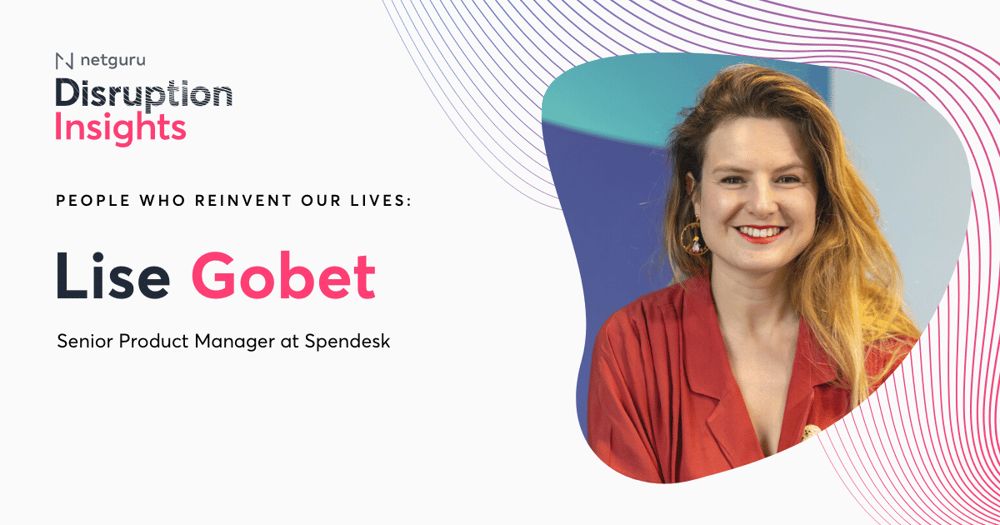 Getting as close to customers as possible is one of the recipes for success for Lise Gobet, Senior Product Manager at Spendesk.
Lise joined Spendesk, now a fintech company with unicorn status, as the 10th employee back in 2017. Ever since, she has been creating outstanding products and delightful experiences for Spendesk's users.
Lise has participated in building the Customer Success team and establishing first processes. Her understanding of customers' problems, empathy, and curiosity led her to the current role. And together with her squad, she launched several innovative features that still deliver value to those using Spendesk.
Being an outstanding Product Manager requires combining a methodological approach, creative thinking, and people skills. How does it work in practice? We answer this question in the Disruption Insights series by presenting proven frameworks and battle-tested tips from top experts who contribute to creating valuable and effective products.
🎁 Product
The most important elements of good "product" stories
Great product stories emerge when vision and values meet. You can develop the best feature, bringing lots of value to customers, but if it doesn't connect to the overall product vision of how it serves your customer, it will not be impactful. On the other side, you can have an astonishing vision but deliver poorly developed features that don't bring any value. Both scenarios can cause customer frustration.
Another element of good product stories is certainly time. There is a common belief that a feature should be delivered as soon as possible. It's a misunderstanding: a first version of a feature should definitely be delivered as soon as possible. But good product stories require patience and iteration, and achieving a satisfying level for your feature (defined through clear objectives) can take time and several iterations, especially if you want it to be ground-breaking.
Tips for communicating product vision and strategy to get others engaged
First, product vision should be simple. Translating complex ideas into simple concepts is one of the biggest challenges for Product Managers, but it is imperative to make sure everyone is on board with your strategy.
Second, it should relate to your daily job. The team needs to understand how both the vision and strategy will positively impact their work. Finally, it should be repeated again and again: you might have a lot of new people being onboarded, external changes happening – so people need to be reassured that the framework remains the same.
Decision-making process when defining strategic bets
The first step of the process is to get a clear idea of what we are trying to achieve on a company level: "What is our goal for the next year(s)? Is everyone aligned with this vision?"
Once this is clear, it can be interesting to map all the potential opportunities on a decision tree to make sure we consider everything before making a strategic bet.

Then, I like to have several people at the table, with various skills and expertise, to discuss the different opportunities. Some of them will be directly excluded, some of them will create excitement among all stakeholders: if you choose the right audience, you can safely focus on those. If there are several possible paths, it can be interesting to run quick and small experiments to validate different approaches.

This process should help take strategic bets quickly. It might sound risky to do so without running more experiments, but to me it is most important that the strategic bet is aligned with the company's vision and the value it is supposed to bring. Having several people around the table, aligned and discussing different options makes it easier to make the right decision.
Three favorite product frameworks
It might sound very basic, but I like the simplicity of the double diamond methodology, one of the most important aspects being the "Five WHYs."

I rely on my intuition and come up with various hypotheses, so Lean Canvas has proven very useful to discuss these hypotheses and align everyone on our assumptions.
Finally, product-market-channel fit adapted to a feature. This alignment is achieved by asking a user: "How would you feel if you couldn't use this feature anymore?" It can be a very useful framework to assess whether you still need to iterate on your feature or not.
📋 Work and talent
Key traits or skills of a great Product Manager
Empathy is crucial to really understand the users and their needs, and to remain open to iteration until the product is really providing them value.
This should be accompanied by a deep curiosity that allows a Product Manager to deal with several topics and personas at a time.
Finally, a good Product Manager should have a sense of leadership (lead by influence). By definition, this job implies leading a team and engaging them in customer problems in order to build the best solution. This requires leadership skills.
Three favorite interview questions when hiring a Product Manager
I like to use the "Tell me about a time when…" type of question to focus on a candidate's real experience. A set of questions to test the skills I mentioned before could include:
"Tell me about a time when you didn't understand the user problem correctly." It tests the empathy and capacity to iterate or to question themselves.
"Tell me about a time when you had to learn about a specific area to understand the customer problem." This one checks curiosity.
"Tell me about a time where you disagreed with your team on the solution to develop." This question assesses leadership skills and the capacity to align.
Top PdM habits you follow every day or week
I talk with my squad (at Spendesk, we call teams "squads"), and I am attentive during stand-ups to unblock them if needed, clarify a point if there is a misalignment, prevent delays, and so on. I also connect with customers or customer-facing teams about the topic I am working on. I do so to avoid any bias and to stay focused on the big picture.
An important part of my day is taking some time without meetings and using my computer to take a step back and reflect on what I am working on to avoid rushed decisions.
🎤 Customer centricity
Top habits, rituals, and frameworks for gathering insights
It depends on the phase of the development of the product capabilities you are in.
During the discovery phase, I love to create a landing page of the product with the value proposition and a basic illustration. I usually ask customers who can be potentially interested to register. It allows us to validate the potential of an idea as well as to recruit beta testers.

For the solution definition, I try to list all my hypotheses and have a quick chat with a data team to see which hypothesis can be easily validated through data.
For tracking, I distinguish "tracking against the objective," which requires some time with the squad and with a data team to define what would be a good measure of success. It's also essential to define "tracking usage" to quickly adapt and iterate after the release. It can be more straightforward.
Winning strategies to collect customer feedback
I spend a lot of time with customers, at all stages of the feature development, to discuss their needs, test our ideas, our solution, and get their feedback on the first version of the feature.

Right after the release of a feature, I like to spend some time at the Customer Support team to connect with customers that have questions about the new feature. Participating in sales calls also gives me a good idea of what customers expect to see first and accelerates the time to create the value of the feature.
At Spendesk, we use Productboard, which has always been a huge help to collect customer feedback from everyone within the company: Support, Customer Success, Sales.
Want to be a part of the Disruption Insights series? Shoot me an email at paulina.burzawa@netguru.com
---
Learn from other product experts: