How to Navigate Disruptive Trends in Banking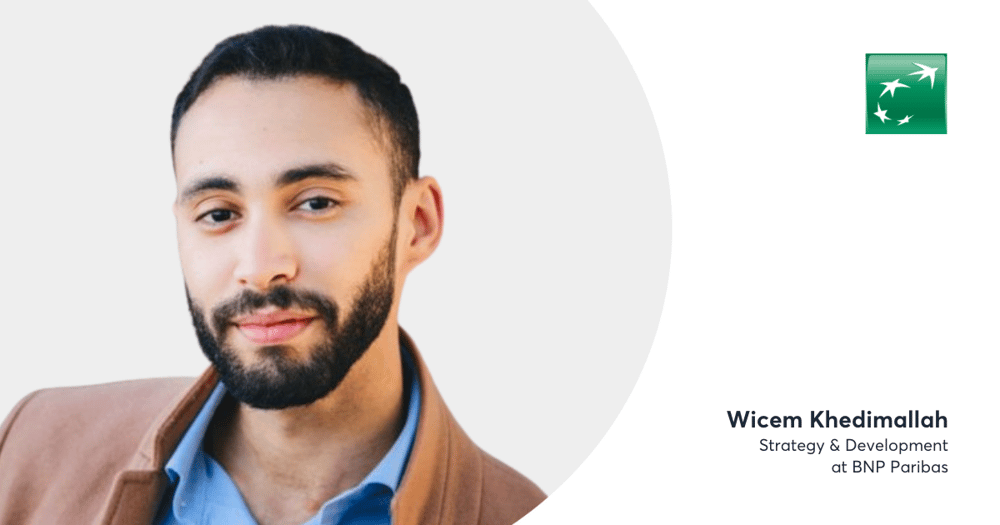 Banking is no stranger to technological disruption and this trend only looks to continue.
With the rise of neobanks, PFM tools, robo-advisors, and skyrocketing interest in cryptocurrency, modern banks need to act fast to meet changing customer expectations.
In this episode of Disruption Talks, we're joined by Wicem Khedimallah, who works in Strategy & Development at BNP Paribas, for a discussion about disruptive tech and trends in banking.
Wicem has experience working across multiple BNP Paribas entities, including international retail banking, asset management, and R&D. In this discussion, he brings a wealth of knowledge and experience on disruptive banking trends, including his predictions for future trends, his take on blockchain and NFTs, and how robo-advisors fit into the future.
Disruptive trends in banking
In general, disruptive trends are innovations that gain traction and become widely adopted by consumers or businesses over time.
Disruptive trends in banking refer to things like open banking, embedded banking, decentralized finance, and platformization – all of which have changed the way we manage our money.
Neobanks have been quick to jump on these disruptive trends and have led the way in providing a new experience for consumers. However, as the incumbent banks are starting to catch up, these trends have become part of the larger banking world.
With ongoing innovation, the banking world must constantly assess where to place its focus. Banks must ask themselves: which new trends are worth investing the time and money into implementing? Assessing that is part of Wicem's role at BNP Paribas. He shares his insights into navigating and approaching disruptive trends in banking below.
How to respond to disruptive trends in banking
With so many different innovations banks can adopt, you need to be certain that you're working on the right projects. Sadly, it's not as simple as pulling the right one out of a magic hat. You need to be strategic.
According to Wicem, it's a simple case of understanding the client and what they need first of all.
"We try to understand our client first – what they need, what trends they're looking for, and we need to be very careful with that."
Beyond that, Wicem says you need to understand the industry you're working in, and to surround yourself with innovative people and a strong startup ecosystem.
Weeding out the trends that are not business viable
Innovation and new technology are exciting parts of growing a modern business. Does that mean you should hop onto every "next big thing" you see? Probably not. Some things may look good or sound exciting, but they're not always business viable.
Part of Wicem's role is weeding out what looks good versus what will perform well in the long run. He does this in a few different ways.
Firstly, he focuses on value. The project has to bring value – and not just the economic type.
The next thing to consider is how well this project will integrate with existing projects and other initiatives.
In the end, the project needs to be more than just a buzzword. Those who are investing their time and money in building a new project need to see the value and practicality.
Taking a project from idea to development
Once you've weeded out the good ideas from the bad, the next step is putting that idea into development. This is where it gets difficult.
As Wicem explains, you may have great, passionate people and brilliant ideas, but in the end, the project is still not in the strategic pipeline.
"In this situation, we fail to bring this great initiative into a concrete, operational project," – he says.
"It sounds cliché, but you realize when you make this mistake how important it is to be as close as possible to the people you want to bring value to,"
– he continues. "So it can be your client, of course, but when you want to do this internally, it can be the people that are working on a day-to-day operation."
"Having the idea is only part of the journey. That idea needs to be a right fit for your customers and not based on another firm's suggestion or a wider business trend. You need to see in-depth what you're trying to bring, what your customer wants. You need to have the big picture."
What BNP Paribas' vision for beyond banking means
Finances have such a fundamental place in our lives, and Wicem understands that his work and the work of BNP Paribas can have a huge effect on customers.
BNP Paribas' vision for "beyond banking" is to "optimize the experience of customers in order to meet their needs and aspirations while ensuring a high level of security." It's not just about simple money management anymore. Customers have come to expect more from their banks.
Wicem uses a personal example to highlight why banks should go beyond banking. As a kid, he watched his father filling in huge, complex forms to send money to their family in Tunisia.
"I always remember that, and I was like, 'This is crazy'. But to be more serious, remittance plays a vital role in our society. If we look at the figures, according to the European Commission, amongst the poorest countries, remittance represents 10 to 30% of their GDP."
This is just one example of why modern banks should try to understand their customers and address their needs – whether it's cross-border payments made simpler or something else entirely.
Major trends in banking for 2022 to watch out for
While Wicem doesn't have a crystal ball, he has a clear idea of three major fintech trends he thinks will be important to watch in 2022.
Everything related to ESG
ESG or Environmental, Social, and Governance, is a way for firms to evaluate their ethical status, sustainability, and impact on the wider world.
Wicem believes that this is already an important trend and will continue to be. We already see solutions like Greenly and PayGreen helping customers offset their carbon footprints. This doesn't just apply to personal banking either. There's been a rise in the demand and the opportunities for sustainable investing as well.
"A very interesting number from Morgan Stanley is that 95% of millennials are interested in sustainable investing. So this is a great trend that will continue."
Everything related to PFM
Personal finance management tools are also growing in popularity as people become more conscious of how they manage their money.
Modern tools allow you to change the way you interact with your accounts, and open banking makes it easier to get a clear overview of your financial situation. This helps customers make more informed decisions on savings, personal finance and investing.
The final thing that Wicem thinks will continue to be a big trend in 2022 is the use of crypto exchange platforms and the democratization of blockchain.
"People will try will understand better what blockchain is about."
These words are relatively new to many people. However, thanks to better resources, tools, and widespread talk about crypto, more consumers are actively learning about it.
The rise of robo-advisors
Another disruptive trend in the finance space has been a huge increase in the use of robo-advisors worldwide.

According to Statista, the number of investors using robo-advisors is expected to increase to over 393 million by 2023, which is three times more than the pre-pandemic figures. This is a trend that's rising in popularity in the US and China in particular.

"One of the reasons is that robo-advisors drastically lower the entry barrier for new consumers and democratize the access to investment. In regard to this, we see a very strong trend among millennials aged between 25 to 35 years old," explains Wicem.
"It is also very important to notice the increase of utilization of robo-advisors in people between 45 to 50 years old."
Overall, Wicem's prediction for the future is that we'll see more of an interaction between humans and machines regarding investments. He believes we'll see more investors and investment managers use these kinds of tools.
For banks and other fintech companies to stay competitive and meet customer needs, people like Wicem need to keep a close eye on disruptive trends in banking. However, it's still important to be strategic and not jump on every new trend that comes by.
This discussion is part of our Disruption Talks recordings, where we invite experts to share their insights on winning innovation strategies, the next generation of disruptors, and scaling digital products. To get unlimited access to this interview and more insights from industry experts, sign up here.