Hype or Pure Genius? Figma vs. InVision: Design Tools Comparison 2021
UX and UI design tools are on the rise and still gaining traction. A survey by UX Tools shows that Sketch, InVision, and Figma were the most popular choices in the industry in 2019.
The last platform, named the most exciting design tool of 2020, has doubled its user base in the last two years. What's more, the 2020 Design Tools Survey, also by UXTools, shows that 66% of designers use Figma for UI design. In 2019 this figure was 37%. What's so special about Figma and how does it compare to InVision? Let's find out.
Before we dive into the top design tools comparison, please be aware that this article is not meant to be your ultimate guide to designer tech stacks. We simply came up with an idea to share our experiences and bring helpful insights to you or your project team. Now that we're all clear, let's roll!
What is Figma
Figma is a versatile 100% cloud-based design tool available for Windows, macOS, iOS and Android. The features cover different areas of software design:
Prototyping (storyboards, wireframes, and more),
Graphic design (vector graphics editor, animated interactions, front-end ready, etc.),
Collaboration (file directory, real-time editing and commenting, etc.).
Figma is strongly focused on facilitating teamwork and efficiency of the design process.
Source: 2020 Design Tools Survey UX Tools
Pros of Figma
Like no other tool on the design market, Figma combines multiple stages of software design into one platform. It introduces a new standard to interdisciplinary teams working on software design. The features and characteristics that make Figma stand out in the crowd of UX/UI design tools include:
A real-time file editor enabling all team members to collaborate on one file at the same time and make the changes visible to others instantly. Thanks to continuously collected version history, everyone can track introduced changes and decide whether to keep or revert them.
A flexible and accessible design system directory facilitates design asset management and usage. Built-in system analytics are definitely worth mentioning as they help leaders make the right decisions about design system updates and adoption.
Prototyping tools combined with a UI design platform bring a new quality of prototypes to the table. With Figma's two-in-one approach, designers can create more appealing prototypes using visual assets, animations, interactions, and dynamic overlays. As a result, stakeholders can clearly see the benefits of the design presented and provide valuable feedback to the parts that need improving.
All you need to run Figma is a web browser, which means it doesn't exclude collaborators with less powerful machines than programmers and designers. Above all, Figma allows unprecedented customization thanks to an open source library of plugins – users can install an available plugin or create and share their own ones.
Cons of Figma
Flexibility can sometimes result in complexity and that's an inevitable drawback of Figma. Users who have just started their adventure with Figma need to face quite a steep learning curve before they enjoy all the platform's benefits. This applies to project team members and stakeholders alike.
One more thing: The focus on collaboration encourages users to add as many contributors and comments as possible. This may result in overwhelming yet repetitive feedback and complicated version control processes. If you thought there's no such thing as too much feedback, let's put it this way: Life is full of surprises.
What is InVision
InVision is a prototype design-to-development tool that has gathered a loyal user base among globally renowned companies like Amazon, Netflix, and IBM. It provides multiple capabilities for a seamless product design process: brainstorming, whiteboarding, wireframes, prototyping, and development specs. The modules are divided into several suites: Cloud, Studio, DSM, and Enterprise. InVision Studio for desktop works on Mac OS and Windows; mobile apps are available both for iOS and Android.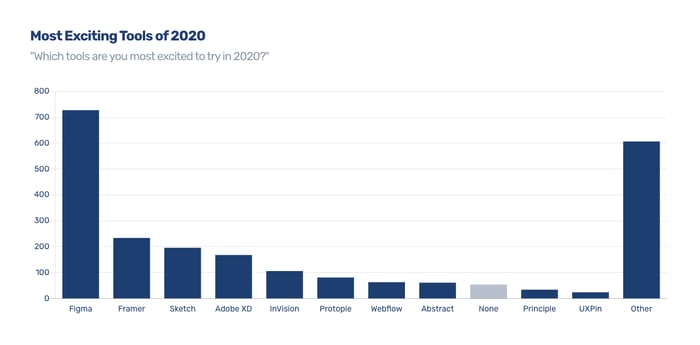 Source: 2019 Design Tools Survey by UX Tools
Pros of InVision
The designer community acknowledges InVision for its prototyping and collaboration capabilities and their seamless integration with Sketch, which has become an industry staple. The most applauded features include:
Collaboration mode enables users to add comments and threads embedded in the prototype. They can be instantly transformed into tasks. The prototyping and commenting features are all available in the cloud, accessible for all team members involved. Note that InVision requires you to upload your comments; other collaborators receive a notification when new comments arrive.
Inspect provides easy handoff from design to development by translating graphic files into front-end development specs. Developers can spot patterns instantly, which accelerates the coding process. More importantly, Inspect works with multiple file formats: InVision Studio, Sketch, and Photoshop.
Freehand is a powerful tool for real-time collaboration, replacing whiteboard sessions in the times of remote work. Apart from the primary use for brainstorming, users can create wireframes and diagrams or introduce a more visual approach to their regular meetings like standups or retrospectives.
Above all that, InVision offers robust integrations with multiple design and business tools (e.g. Sketch or Slack), which facilitates the design transition between tools. After several years on the market, the platform has gained a steady pool of experienced users and has become a desired asset in a designer's skill set.
Cons of Invision
Among Invision's weaknesses, designers mention the lack of certain InVision Cloud features in the Studio suite, which are available for desktop only. The collaboration mode of this platform needs polishing to catch up with its primary counterpart. Another controversial topic is the price, often mentioned by freelancers as a tad too large of an expense. On the other hand, modules such as DSM (Design System Manager) and Enterprise suggest that freelancers and small businesses are not the main target group for InVision.
Similarities and differences between Figma and inVision
Figma and inVision have many things in common but there are several differences too.
Real-time collaboration
Both Figma and InVision offer a vast range of real-time communication and feedback tools, which enable live edits and create a single source of truth when it comes to version control. However, InVision Studio (desktop) software lacks the real-time element in collaboration features, which creates a more individualized, slower workflow. Slower doesn't mean worse, though – if your team is familiar with this pace of work, speeding them up with full-throttle simultaneous communication can result in information overload.
Prototyping features
Figma impresses designers with incredibly adaptable, interactive prototypes. It lets you deliver the authentic look and feel of the designed application when you present the prototypes, e.g. to your client. InVision Cloud's prototyping options deliver less flexibility, but combining them with the Studio suite's possibilities, such as advanced animation features, gives InVision a couple of extra points.
Learning curve
Both tools offer a vast array of features and modules, which can cause difficulties in the beginning. On the other hand, Figma and InVision offer tons of educational materials to get you started. What makes InVision stand out is the size of its supportive user community – the platform has been around for much longer than Figma.
Pricing
The table below presents the pricing for both tools and you can easily notice the difference in focus for each tool: Figma charges per editor while InVision focuses on the number of prototypes first, making the number of editors a secondary factor.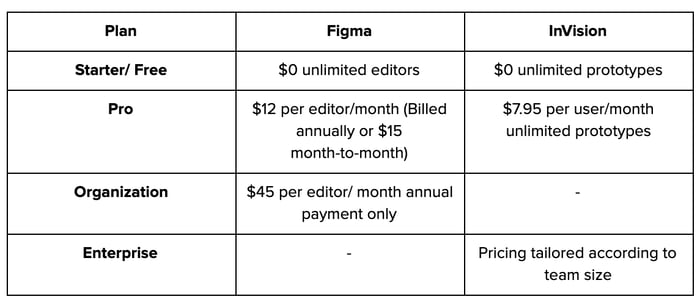 Price of Figma and InVision

It's worth mentioning that InVision Studio doesn't require any additional payment, no matter the range, and InVision Freehand is free to use.
It's not the tool, it's the team
The longer you compare Figma and InVision, the more confused you may get. At first glance, it may seem like Figma takes it all with their all-in-one, ultra accessible platform, but everything comes at a price. Introducing a tool that challenges the whole team and the stakeholders can result in months of learning, including trial and error. However, if your team is keen on exploring new products and hasn't coalesced on a specific stack yet, why not give it a try and go for early adoption?
At the same time, Sketch + InVision + other 3rd party tools have been one of the most popular software design combos out there. A slightly slower pace of collaboration doesn't stop global companies from relying on InVision as their go-to prototyping and collaboration platform.
It's also worth mentioning that if your team consists of senior-level designers, a vast majority of experienced professionals will know InVision inside out. Working with a trusted tool will help them bring the top level of skill and expertise while learning a new tool can distract them from the essence of the project.
Figma or InVision: What is the better choice for your?
Figma or InVision? There's no simple answer to this question. To make any decision regarding your design stack you need to answer a few questions first. These questions may concern aspects like: What does your design tool stack consist of? Are you keen on switching to a new platform or would you rather stick to your current choice? Are your designers willing to acquire and enhance new skills?
The right choice here depends on multiple factors, such as your team size and structure, workflow preference, designer experience, and project requirements. You should perform a thorough analysis before you choose any new design tool for your team or project.