Join Fintech's Top Personalities in Berlin - Disruption Forum Berlin Fintech

The legislation around the market is evolving, alternatives to traditional banking are popping up, and Blockchain is redefining security concerns. That said, the UX aspect of new fintech platforms is one of the biggest shifts the new technologies offer. Those who fail to understand the connection between design and fintech will lag behind.
Best use-cases, lessons learnt, industry leaders. Join the fintech community at Disruption Forum Berlin Fintech!
Why should I care?
The Fintech industry as a whole continued to mature in 2017. According to KPMG's report "The Pulse of Fintech – Q4 2017", the sector attracted over $31B in 2017 in investments and mergers – the market is blooming. For instance, Europe saw the biggest fintech funding increase, which amounted to 121% YoY.
I think fintech as a concept is certainly not what it was 3-4 years ago. Today, when I look at fintech, I see a pool of potential partners and vendors for traditional banks and relatively established challenger banks. With the exception of what's happening in China and India, most successful fintech companies have been either bought by or partnered with an established financial institution (TransferWise and N26, Venmo purchased by PayPal). Meaghan Johnson - Customer Journey Expert and Consultant
Fintech is a massive disruptor that has transformed the financial sector. However, not many companies pay a lot of attention to creating top-notch UX design or are familiar with services offered by UX design agencies when building their products. Until recently, most banking apps were developed to move some features from brick-and-mortar bank branches to the Internet and then to mobiles.
The approach is changing now. Fintech reaches far further than moving banks to the web and to screens of our smartphones. Technology redefines the financial services we know today. The transformation is reflected in the way banks operate. They are becoming more friendly and, at the same time, more useful and appealing to users. They must compete with the top players, such as Facebook, Instagram and Uber – apps continuously developed and upgraded by hundreds of talented experts.
Fintech companies need to keep up with this neck-breaking pace. Their apps should be user friendly, usable, and aesthetically pleasing, and, at the same time, they need to comply with strict regulations. It raises yet another challenge – that of making the app secure and trustworthy.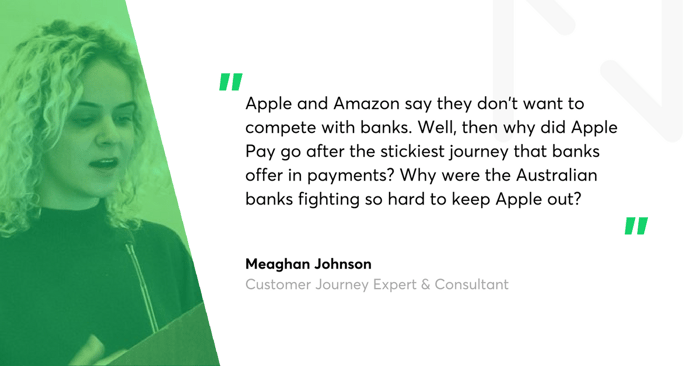 One debate that connects different views
Our idea behind Disruption Forum Berlin Fintech is to engage experts who actively shape the fintech landscape in a constructive discussion about the future of fintech. Top-level managers from German banks, representatives of fintech startups, industry influencers, and UX designers will join the debate to find the answers to the most nagging questions:
Why is UX design a vital element of fintech products?

How is Blockchain influencing the market?

How will the adoption of machine learning, AI, and IoT affect the platforms?

What does PSD2 implementation mean for the industry?
Disruption Forum Berlin Fintech will take place on 10th April 2018, at 6PM in FinLeap's H:32, Berlin.
Who will be speaking at the event?
Dr Jörg Howein - Chief Product Officer at solarisBank,

Lars Markull - API Evangelist at figo,

Kuba Filipowski -Chief Strategy Officer at Netguru,

Meaghan Johnson - Customer Journey Expert and Consultant,

Lorenz Jüngling - Chief Product Officer at N26.
If you want to join, sign up here.