I Travel the World Working Nine to Five – Pros and Cons of Remote Work and How to Do It Right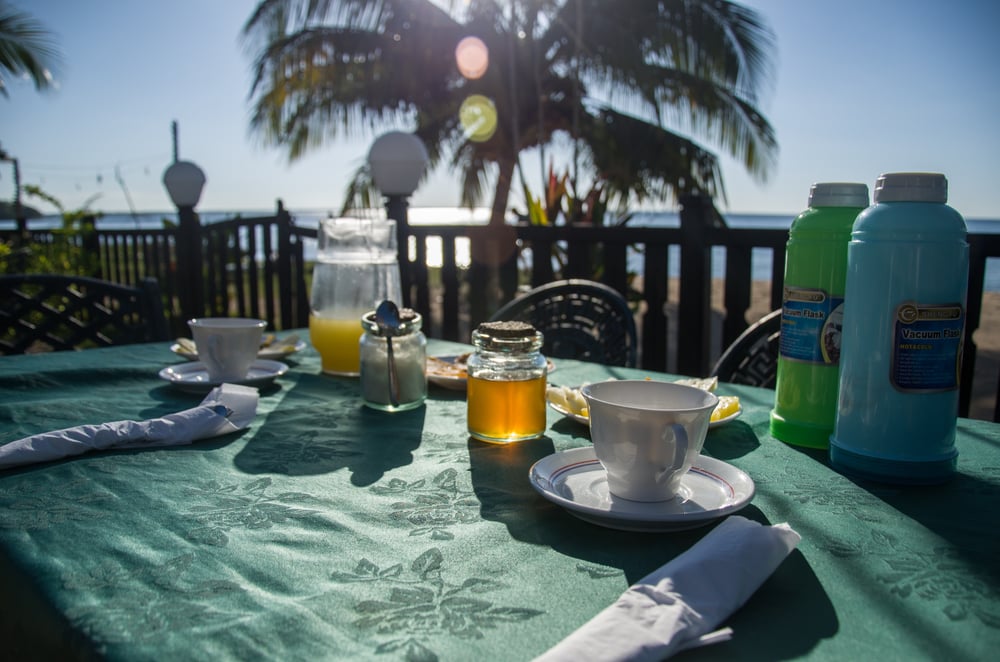 Since time immemorial, travel addicts have faced the problem of either having the money or lots of free time. It's hard to have both.

I didn't want to compromise, and, luckily, I got a job that allowed me to keep my travelling bug alive without giving up on my professional career.
How it all started
Tl;dr: I wanted to reconcile travelling with my professional career as a marketing specialist and sought different options of doing that. Then, I found a dream job that allows me to do both. Here's how to do it right.
I've had a craving for exploring the unknown for as long as I remember. When I was a teenager, I also got into photography, which made me think that I wanted to become a National Geographic reporter, making a living out of travelling and taking pics across the world.
My perspective changed when I started studying and then began working in marketing. I discovered that I also enjoyed working with startups and finding the ways how they can reach and win their prospects. Deep inside, though, I felt torn, as the nine-to-five office job hampered my plans to go and travel the world.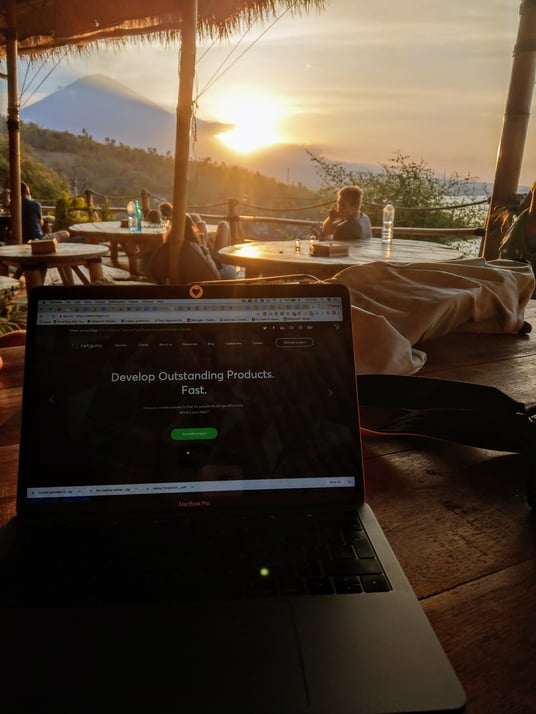 Last year, I spent seven months in Southeast Asia, and this journey only confirmed my conviction that I wanted to discover the world. I met many people travelling in various ways: volunteering, doing temporary jobs, freelancing, doing street performances, or selling their handmade products. I realised, though, that I didn't really want to give up on my marketing career. Thus, I started seeking opportunities.
Freelancing was an option, but I needed a permanent job that would provide me with a stable flow of income so that I could plan my trips comfortably. I looked at job ads and found very few that would give me the opportunity to work remotely. "We're not in favour of remote work, frankly, but I guess we can negotiate to some extent" – I would get that answer every time I asked, and that was not the answer I wanted to hear.
There is some truth in the quote from Paulo Coelho's Alchemist: "When you want something, all the universe conspires in helping you to achieve it." I was about to give up and accept a Warsaw-based nine-to-five office job, when I stumbled upon a job offer on my Facebook feed. The company offered much more than I could have asked for, including my longed-for remote work.
So here I am, sitting in a hip café in Madrid, sipping on a double espresso, and writing this article. I've spent the last six weeks travelling across Andalucía and working in various places, including a cave house in Granada, a terrace overviewing the sea in Malaga or in Sevilla, a city known for its rich flamenco culture. As amazing as it sounds, it also entails some challenges, and I learned the hard way how to tackle them.
A First World problem: Do you have Wi-Fi?
When I'm away, my office is basically my laptop and an Internet connection. While my computer and I are pretty flexible in terms of location, an Internet access can sometimes be hard to find. Before I book hotels or Airbnb flats, I always double check with the hotel staff or hosts whether the connection is decent. In spite of this, the connection will still be temperamental at times.
On my first working day in Granada, there was no connection from early morning, so I set off to find a suitable place to work. In the first café I encountered, they said the Internet is "extremely fast". Brilliant! I ordered a coffee, ran a speed test, started catching up with emails and Slack messages.
Half an hour later, my laptop went offline again. When I asked the waitress to reboot the router, she said she already did. "But it's very common. It's sometimes on, sometimes off, and I can't do much about it", she added.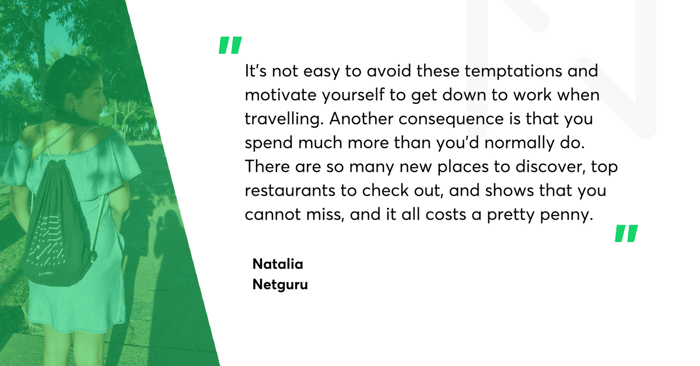 Holiday bias
When I travel, my brain switches to a sort of a "holiday mode", which lets me treat myself with a little more kindness than I would normally do back home. I eat out almost every day, do many more activities, because I always have a fear of missing out and think it will be long before I have another opportunity to see a professional flamenco show or eat fresh seafood in a beach restaurant.
It proves particularly true when the climate is hospitable. A temperature of 30 degrees Celsius outside isn't really compatible with spending eight hours a day in front of your laptop.
It is observable when you compare the economy of the southern and northern regions of Spain or Italy. The wealthier north has less sun and more rain, whereas in the south, you can hardly ever experience cloudy weather. One of my Airbnb hosts wrapped it up in the following words: "We've got more temptations in Andalucía", so they end up spending more time outside with friends and family.
It's not easy to avoid these temptations and motivate yourself to get down to work when travelling. Another consequence is that you spend much more than you'd normally do. There are so many new places to discover, top restaurants to check out, and shows that you cannot miss, and it all costs a pretty penny.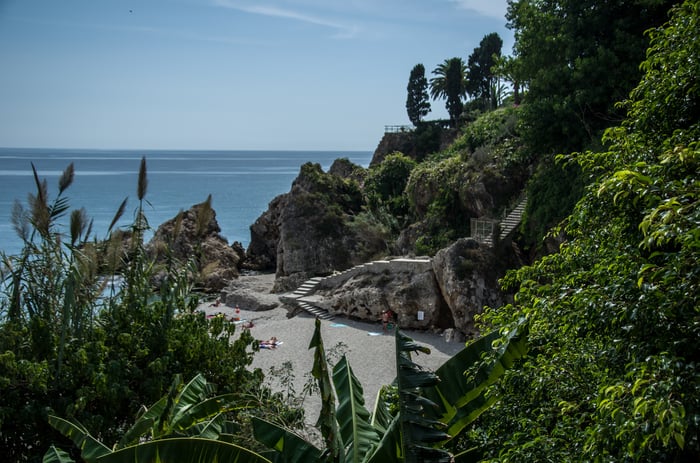 Doing two full-time jobs
Travelling and planning the travelling take up a lot of time and energy. If you want to make the most out of the places you visit, you should do a bit of research, ask other people what's worth visiting, where to eat, or where to go for drinks. Once you're there, you just go out and explore. It's quite obvious and easy if you go for a 2- or 3-week holiday. You sketch a plan and find some interesting options in advance, and then you can just enjoy the holiday.
When it comes to myself, I plan everything on the go, and at the same time, I explore the places I go to. As a result, my daily routine consists of an 8-hour workday, followed by the same amount of time doing what I'd normally do on holidays. Meanwhile, I have to find the time to figure out what I'm going to do next, where to stay, which transportation routes to take, etc. It can be exhausting.
I spent the first week of my Spanish trip in Sevilla. I was obviously working 40 hours a week, but at the same time, I wanted to see as much as possible. There were so many things to do: flamenco shows, museums, cool bars, and a vibrant nightlife, so I tried to squeeze as much as possible into my schedule. I ended up sleeping less than six hours a day, making sure I wouldn't miss on anything. As a result, I had to ease down in the following week and balance all my activities so that I could still enjoy my time in Spain.
Lack of spontaneity
Spontaneity is something that I miss the most when travelling and working at the same time. I can't be as spontaneous with my travelling activities as I would be without a job. I have to plan in advance where I'm going to stay and make sure that I will have access to a good Internet connection and suitable working space.
For instance, when I was travelling across Southeast Asia, I didn't plan anything more than one or two days ahead. I had a rough schedule that included places I wanted to visit, but my route was never fixed. Whenever I loved a particular place, I stayed longer there. When I felt I didn't enjoy a town, I would leave earlier.
I can't really do that when I know that the following day is another working day. It's not easy to live day-by-day anymore. Weekends is when I finally find time to do things spontaneously.
But all the effort pays off
If there are so many obstacles and challenges to deal with, why do I even want to do it? Why do I put myself through all the hassle, when I could just go for a holiday once or twice a year and enjoy it to the fullest? Because all the experiences I take from these travels are worth the effort.
On top of that, going on a short holiday wouldn't allow me to see as much of the world as I can when doing it "full-time". Obviously, it takes more time to explore the places I go to thoroughly, as I work 40 hours a week, and I don't have much time on weekdays. Still, this way I can visit many more places in a year than during a typical holiday.
I can also escape bad weather. When I was in Spain, soaking up the sun and enjoying the 36-degree heat, Warsaw was gloomy, cold and rainy most of the time. During the six weeks of my Spanish trip, I saw rain just once.
I also had a chance to work in a beautiful and conducive working environment. I always try to book my accommodation bearing in mind that I would spend eight hours every day working on my laptop. It was not only the comfy working space that mattered, but also the view, and the general ambience.
In Granada, I worked from a porch in a cave-like house with a breathtaking view of the Alhambra palace. In Malaga, I worked from a terrace overlooking the sea, accompanied by wild parrots. In such favourable environment, I was highly motivated to get out of bed and get things done. It's so much different to an environment that is cold and rainy, where you don't even want to stick your nose from under your duvet.
Also, as I usually stay much longer in one place than I'd normally do when on holiday, I can soak in the lives of local communities. I have an opportunity to spend more time with the locals, make friends, and learn more about the culture and the customs.
From the professional point of view, a major benefit is that I spread a positive word-of-mouth about my company. People ask me "What's that cool job you've got!?" or "So you can travel and work remotely from any place in the world!". This is something that I am very vocal about, giving the brand a good name and supporting Employer Branding efforts.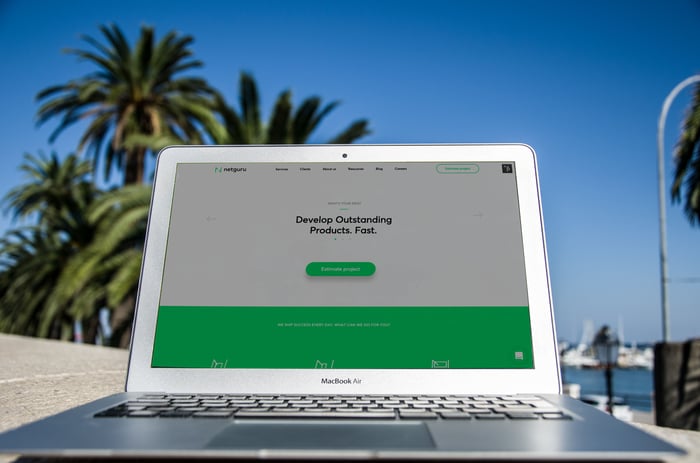 Finally, I don't have to compromise either on my passion or destinations I want to visit. I can travel with the comfort of having a stable job without worrying that my savings will dwindle away, because I have a steady income. I also can travel to many places throughout the year, which otherwise would be impossible.
How to do it right? Tips from an experienced digital nomad
Doing a nine-to-five job while travelling poses many challenges. I learned how to tackle them from my own mistakes and also by observing others. On top of that, it took me a bit of time to get used to a slightly different lifestyle. You will probably face some inconveniences along the way, but as I've already said, it's worth the effort.
Below are my tips and recommendations on how to lead a digital nomad lifestyle and make the most out of it without neglecting your responsibilities.
Plan (as much as possible) in advance
I've got enough stress at work as it is, so I try to minimise the impact of all the other stressors when I travel. Planning in advance will help you reduce stress levels. I don't want to worry about where I'm going to sleep the following night when I need to get down to work early in the morning. That's why planning in advance is crucial.
For my Spanish trip, I booked all my accommodation and transportation a month ahead, so I had the peace of mind when working and exploring the places I went to. It does take away a little bit of spontaneity. Still, there are no plans that you cannot change.
Always have a "backup office"
Something can always go wrong. I might have the fastest Internet connection in my flat and a conducive working environment, but things can still go awry.
I had that problem in Granada. The Internet provider in my Airbnb flat experienced some technical difficulties, and the connection didn't come back until early afternoon on one day. I spent over an hour looking for an alternative office when I should have been working. If I had done some research in advance, I would have headed straight to a co-working space once the problem occurred, saving myself much time and stress.
Find time to chill as well
When I visit new places, it's hard to resist going out every day, exploring the sights, and meeting new people. I also don't want to waste the weekend staying in my accommodation, because it might feel like I'm missing out on something. However, when I wake up early every day and work until the afternoon and then go out until the early hours, it wears me out very quickly.
As a result, there's a risk I might stop enjoying that kind of lifestyle and discourage myself from doing it. That's why it's good to plan some "off time" as well – time you can use to just sit in a café or lie on the beach. I always make sure I'm not sleep-deprived or constantly tired.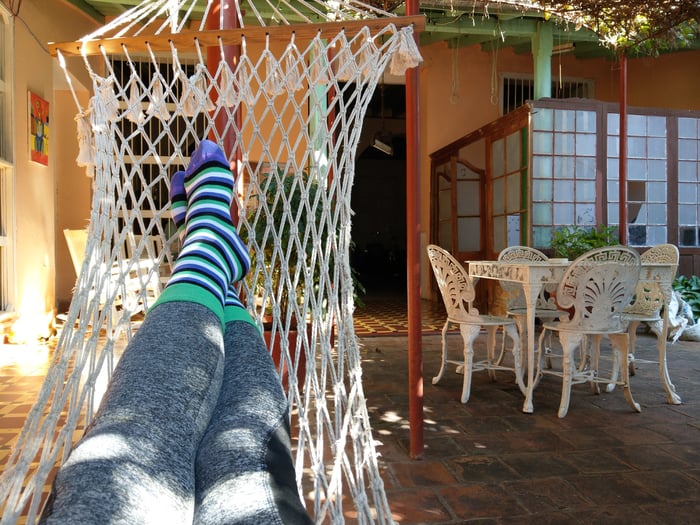 Be transparent with your workmates
Working remotely requires a certain level of trust that I was given when I started working at Netguru. With trust comes responsibility.
I really appreciate that I've got the chance to work in one of the fastest growing companies in Europe and travel around the world at the same time. Therefore, I don't want to let my team down. How do I assure them that I'm rising to the challenge and I'm not lazing around on the beach sipping on drinks?
I communicate with them as I'd normally do. I'm available during the working hours if anyone messages me. If I need to leave in the daytime, I always communicate it to my team. I don't skip meetings, and I deliver all tasks on time. I want to show them that I work just as hard as I'd normally do in the office, so nobody has any doubts about my performance.
Make the most out of online tools for remote work
I always start my day with opening the three key apps that organise my work: Slack, Trello, and Google Calendar. Naturally, Slack is a life-saver when it comes to effective communication within the team. Not only does it let me organise all the threads into separate channels and have video conferences with screen sharing, but it also enables me to set up integrations with other tools.
Trello, on the other hand, is the guardian of my to-do list, making sure that I'm productive and I don't skip any important tasks. Finally, Calendar complements the functions of Trello by integrating all the tasks into my daily schedule.
For time tracking, I use Toggl. It shows me how long it takes to complete particular tasks and how much I work in general. In addition, it's also a base for my salary. It organises all my daily tasks and enables me to I also use Grammarly, which keeps an eye on my spelling mistakes.
For writing longer pieces, I either use Hemingway App or Zenpen. Toby helps me organise all the tabs in my browser.
All the above applications help me keep tabs on my daily chaos, stay productive and on top of things, especially when I'm working remotely.
Finding the way to pursue your dreams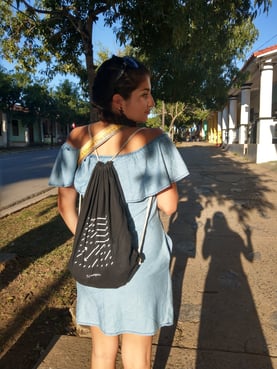 Travelling is one of the most mind-opening experiences. It teaches you how to deal with unusual situations and lets you look at your life from different points of view. You can learn a lot from people you meet on the way. That's why
travelling is something that I don't want to compromise on.
One year ago, I had no idea that I would work at Netguru, but I was sure that I'd be going places and eventually I found a great way to do it. There are obviously some challenges, but you can always learn how to tackle them and live the life you want to live. If there's a will, there's a way.