More And More Programmers Choose Contract Work. Interview With Piotr Latoszek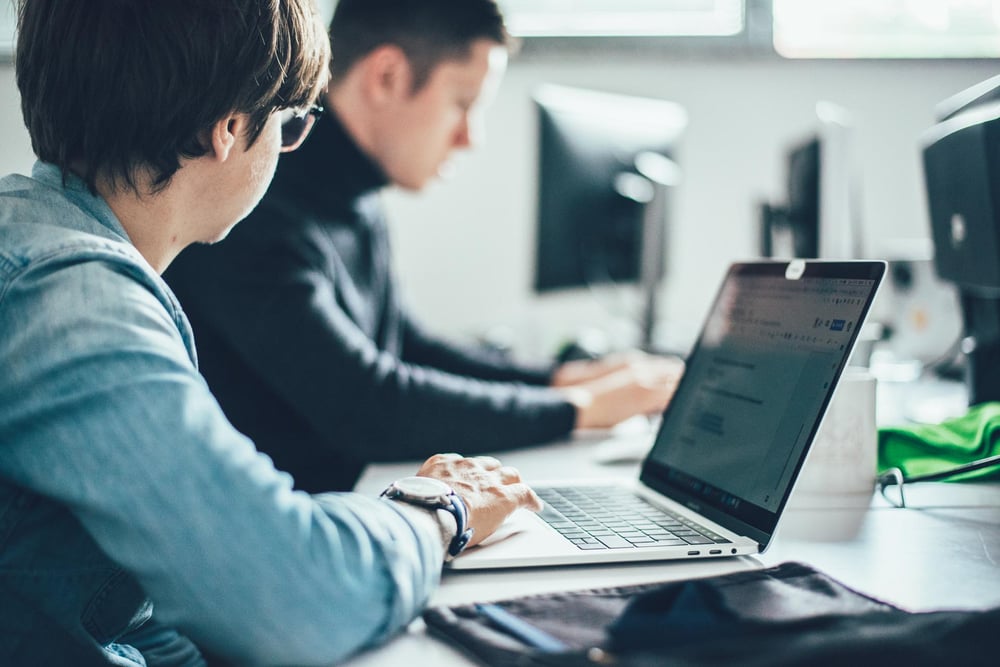 COVID-19 has unexpectedly forced many specialists on the previously stable IT labor market to look for a new employer. Some of them had to find a new source of income, others wanted to secure themselves by accepting more freelance assignments.
One of the most popular places to look for this type of work are so-called gig marketplaces, offering a wide range of offers depending on the skills and experience of the specialist.
The Netguru Talent Marketplace gives contractors new opportunities to choose from among interesting projects and teams. The platform has been operating for two years and allows Netguru to reach the best specialists from different domains, no matter where they're located.
We talk about trends and the situation on the freelance market with Piotr Latoszek, who is developing the Talent Marketplace platform managed by Netguru.
How has the labor market changed since the COVID-19 pandemic broke out?
First of all, it became less stable. IT companies, at the time of the closure of the economy caused by COVID, very quickly decided to reduce staff and expenses related to the maintenance of development teams. This led to an increase in interest in contract work among those who had not yet considered such offers. For some, it may be a way to feel secure in a precarious professional situation, for others, an opportunity to change their project in order to gain diverse experience.
The popularity of fixed-term contracts for IT professionals is growing steadily and has therefore been included in Netguru's long-term growth strategy. These trends are not completely new. They are linked to what we have observed for the first two years since the opening of the Talent Marketplace. It is a platform that allows us to reach out to experts from different fields and at the same time helps specialists find interesting projects.
We noticed, for example, that programmers were looking for the possibility to take one well-paid contract for a few months and then go on an extended vacation. By moving from project to project it was also easier for them to gain new skills. According to Netguru's research, specialists with a lot of experience expect a contract-type relationship because it allows them to expand their portfolio with new technologies or project types. Such a relationship has a fragmented, temporary character for them.
What are the benefits of contract work - for companies and contractors themselves - compared to working under a contract of mandate and salaried employment?
In the past, freelancers cooperated with companies mainly locally. With the globalization of software, the working environment of contractors has stabilized, allowing them to cooperate on long-term contracts. Thanks to this stabilization, freelancers could specialize in specific tasks or project types.
As part of its evolution, the labor market in the IT sector has expanded to include developers who want to gain experience and become experts in various industries. Working on diverse projects gives them unique opportunities to increase their competences. We collect data on what is most important for contractors when selecting projects.
We found out that freelancers are looking for challenging tasks and learning opportunities. They feel good in an international work environment and want to co-create successful products. They also like to feel responsible for the project and have a real impact on its future. Stability of employment, remote working, and opportunities to use the latest technologies can also convince them to get involved in a project.
What do freelancers look for in offers?
Tasks that are challenging and learning opportunities,

International work environment,

The possibility of co-creating successful products,

Ownership - a sense of responsibility for the project and real impact on its fate,

Stability of work,

Remote work,

Using the latest technologies.
Increased mobility in the IT market means that freelancers are willing to move from project to project. This fluidity is important to them. In addition, they have the ability to flexibly select assignments and deadlines according to their needs.
The Agile approach has been important at Netguru from the beginning. We often go beyond our standard technology stack. The Talent Marketplace gives us quick access to knowledge and skills that we do not have at our disposal at the moment.
The Talent Marketplace has already appeared on 16 markets in two years of existence. It allows us to work with talented people from all over the world. In this way we not only increase the diversity of our team, but also expand our knowledge base, design skills and expertise. From the beginning, the idea of the project was to make every contractor feel a part of the project on par with the rest of Netguru's team. We have achieved our goal - the freelancers are as satisfied with working for Netguru as salaried employees. In the future, we want to expand the project to cover all the technologies available on the market and reach more countries.
How to choose good offers then? What to pay attention to? What to avoid?
When choosing a project, we should first look at the criteria we are interested in: technologies, industries, the value the product will bring, etc. Once we know that we like the project, we need to look at the offer more critically. A good step is to look at the profile of the company offering the contract and at the opinions of its customers. If we notice repeated problems, it may not be worthwhile to work with a potentially dishonest employer.
It is also worth having a look at the organization's portfolio. It will allow us to check if a given type of project has already been implemented by our future team. If so, we can expect good practices and many opportunities to learn. If not, perhaps it is us, having such experience, who will take responsibility for the success of the project.
The same goes for the culture of the organization - it may or may not suit us. Some like close contact with the team or a certain style of communication, others do not. Unfortunately, the so-called culture fit is difficult to check before the recruitment process. During this process we can learn a lot about the future employer and it is worth taking this opportunity.
Finally, it is good to think about what a particular project or cooperation with a particular company will add to your portfolio. And give yourself time to analyze the formal side of cooperation. Different organizations can take different forms of settling accounts with freelancers or use various tools to track the work of a contractor. If it is not in line with your expectations, it is not always worth making a compromise here.
And is there any particular risk associated with working on a contract, which is not present e.g. in the case of an employment contract?
For a freelancer, the risk is primarily low stability. There are periods when there are many offers and projects, but there are also periods of drought. Cooperation with many companies also means that the probability of hitting the wrong team or project is higher.
From the perspective of the customer, the situation is similar. Freelancers choose offers according to their needs and may not be available just when the company needs them. In addition, immediately after joining the project, they are in a sense unknown - they may or may not be a good fit.
Then where did you get the idea to create your own catalog of offers?
A few years ago, we noticed that more and more programmers are looking for more flexible forms of employment. On the other hand, one of the bases of Netguru is the Agile methodology, which assumes unpredictability and inevitability of change. We wanted to be able to react to rapid changes in the demand of customers, projects or individual teams.
We decided to combine agility with flexibility, creating a platform to gather the best experts on the market. The Talent Marketplace project is a tool that allows professionals from various fields to choose projects of interest to them and gives them the opportunity to work with new teams.
Is your project aimed only at programmers?
The Talent Marketplace is a platform for freelancers from various fields. At the moment, they are mainly developers and designers who think about changing the form of cooperation from salaried employment or B2B to contract. In July there were also offers for non-technical roles, e.g. content writers, which can be attractive for journalists looking for a career change.
We work with small startups as well as with large companies such as Solarisbank, PAYBACK, Volkswagen, Babbel, Keller Williams, and Hive. Each of our projects is specific and gives different opportunities for development.
What happens when someone is interested in cooperation? What is the process of accepting an offer from the Talent Marketplace?
Two paths lead to the start of cooperation: an application in response to a specific offer placed in the directory of offers, or a general application submitted by filling in a form on the Talent Marketplace page. In the case of the former, the applicant is contacted by the recruiter and guided through the process. One of the requirements is to perform a recruitment task. After positive verification, you are assigned to the project.
The second path begins when a new project matching the interests of the candidate from the Talent Marketplace appears. We then contact such a person by email, encouraging them to take part in the recruitment process. Further steps look the same as in the case of the first path.
Can you tell us what happened to some of the people who work with you in the Talent Marketplace?
Of course. One of our developers, who started through the Talent Marketplace, decided to work on a full-time project two weeks after applying. He resigned from his previous job, becoming a full member of our team. During the onboarding process we gave him a lot of information about how we work, what good practices we apply, etc. We also assigned him a mentor to speed up the process of adapting to our work style.
This programmer has been working with us for 9 months. So far, he has supported our team on two projects. The transition from one project to the next took place smoothly, largely thanks to clear, transparent feedback from the rest of the team.
---
Piotr Latoszek, Product Owner at Netguru. He joined Netguru to build the Talent Marketplace. He has experience with large B2C applications and has built a valuable product as well as the associated cooperation processes from scratch.