Netguru Strengthens E-commerce with Key Acquisition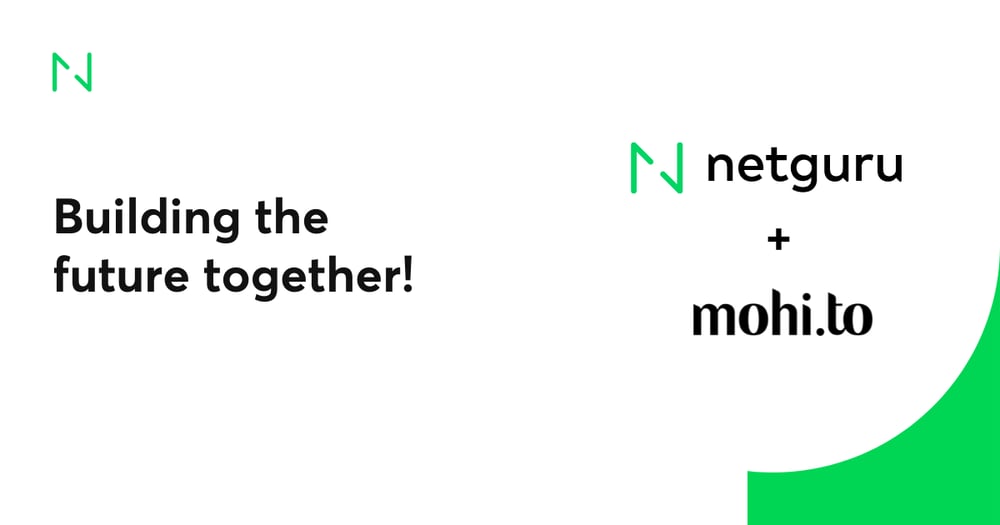 Netguru has acquired majority shares in the Shopify-focused mohi.to agency
Netguru, the Polish technology company, announced the acquisition of a majority share in the mohi.to agency, which specializes in offering e-commerce solutions based on the Shopify platform and UX expertise.
mohi.to's portfolio already includes such brands as Answear, CCC, L'Occitane, Brainly, Mowi, Durex, and Scholl.
Netguru took over 51% of the shares with the option of complete acquisition within four years. The parties do not disclose the value of the transaction.
The deal is part of Netguru's global ambition to provide a full suite of digital services.
Netguru is already working on projects together with mohi.to and Pilot44.
The transaction partner is Bank Citi Handlowy, which also supported Netguru in its earlier investment in the American consulting company Pilot44.
Poznań, July 12, 2022, Netguru, the Polish company offering consulting, creation services software, and digital product design, announced the acquisition of majority shares of a leading agency specializing in UX services for the e-commerce market mohi.to, and WeCanFly, a leading agency that provides the Shopify service.
"As the market evolves, the importance of technology expands, as do customer expectations for 'here and now' services. Companies must act faster and more effectively to not only respond to but also anticipate these developments,"
says Marek Talarczyk, CEO of Netguru. "Netguru decided to establish a comprehensive offering for our clients. The objective is to assist organizations in all stages of digital innovation while reducing the time it takes to adopt innovative solutions. With the investment in mohi.to, we not only improve our e-commerce and UX expertise, but we also become an even stronger partner for the region's and the world's innovation market."
For many years, global e-commerce sales have been steadily increasing. The value is expected to reach roughly $4.94 trillion by 2021, with yearly growth of 50% through 2025. Companies like Zalando, Allegro, Zara, and Answear are investing in e-commerce and providing new ways to buy things.
Companies in the e-commerce industry want to invest in solutions that will not only be available at any time and from any location around the globe but will also be cost-effective. The pandemic also altered expectations, requiring suppliers to create solutions that could be presented and installed in the lowest amount of time while allowing businesses to redirect their attention to business development rather than technical considerations. The Shopify solution, employed by many worldwide companies, answers these criteria and expectations. Over 2 million retailers worldwide already utilize the service.
Netguru chose to expand its offering with e-commerce solutions to fulfill the rising demand for services in this industry, making a majority investment in the mohi.to agency.
mohi.to has been in operation since 2008 and employs around 50 employees. Aside from e-commerce services, such as those for the Shopify platform, the business focuses on UX and product design. Answear, CCC, L'Occitane, Brainly, Mowi, Durex, and Scholl are among the brands in its portfolio. mohi.to's acquisition also includes WeCanFly, one of the major firms offering Shopify services. mohi.to specializes in consultation, design, growth, and development, and it has an NPS of 81 and a worldwide brand support development plan.
mohi.to and WeCanFly's UX/UI expertise will help to enhance the rapidly expanding area of product design, which is now supported by over 80 people at Netguru.
"For over 14 years, we have been steadily building a portfolio of product and online design services. I am delighted that we will be able to put our skills to use in collaboration with Netguru, engaging in the process of producing digital goods for the world's greatest companies,"
– says Kamil Frejlich, CEO of mohi.to.
Netguru has held investment discussions with hundreds of firms representing significant technology and advising competencies over the previous three years. In March of this year, the corporation made a strategic investment in Pilot44, an American innovation studio that it plans to fully acquire in the coming years. Both acquisitions – Pilot44 and mohi.to – are part of the company's ambition to construct a future-oriented digital and business consulting model that provides a comprehensive service to customers looking to grow and scale their businesses. Netguru is already working together with mohi.to and Pilot44 on commercial projects.
Bank Citi Handlowy provided financial support for this transaction, as they have done with previous investments.
"Cooperation with Netguru is part of our aim of being the bank of first choice for firms with development and overseas expansion aspirations," says Sebastian Perczak, head of Citi Handlowy's Corporate Banking Division. "We assist Polish firms in the digital market with a specialized team of advisors and industry specialists. We have knowledge and specific solutions in this field, and because we are part of one of the world's greatest financial institutions, we can serve our clients wherever they travel. I am pleased that we were once again able to assist Netguru in carrying out such ambitious ambitions."
In 2021, Netguru achieved revenues of $57.2M USD (an increase of approx. 45% compared to 2020) and have consistently maintained profitability at the EBITDA level above 15% for years. Currently, the company's team consists of over 900 people.