Product Design Sprint Helped Us Grow by 644% in 3 Years. How?

Product Design Sprint helped many of our clients make their products successful and reduce the risk associated with bringing a new product, service or feature to the market.
They confirmed PDS has the power to streamline processes and increase efficiency. We didn't want to go barefoot like the proverbial shoemaker's child, so we decided to run PDS internally.
What's the Big Deal with PDS?
Product Design Sprint is a workshop which aims at defining the weaknesses of a product and finding as many solutions as possible to eliminate such chinks in the armour. During the five-day workshop, we go through stages of researching, prototyping, designing and testing. We analyse current solutions and prepare new ones to improve User Experience.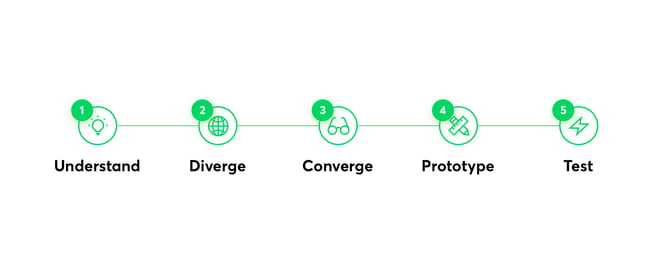 Having conducted a PDS, clients gain a better understanding of the issues encountered by users. They identify possible areas for improvement and gather lots of ideas on how to solve these problems.
The rapid growth at Netguru challenged us to redefine our processes as well. We decided to run the five-day PDS and adjust workflows to the existing structure. Our goal was to deliver a greater number of quality products and to maintain a high level of trust among our clients. We involved 8 people from various departments — Marketing, Business Development and Design. This approach allowed us to look at our processes from different perspectives and prepare best-suited solutions.
Tangible Results of PDS
Product Design Sprint and post-workshop implementations helped us to improve many important metrics in our company. These are the most important ones:
Perception of our brand among our clients and key prospects improved.

We were given NPS of plus 8.

Visitors admit that it's easier to find the information on our website now.

We increased the number of generated Qualified Sales Leads.

Bounce rate dropped.

Overall traffic yield improved.

Events at Netguru's HQ attracted more than 500 people.

Recruitment pipeline enhanced, especially in our new key departments.

The Product Design team grew from 6 to 17 designers (nearly tripled!) within one year.

We released 3 products: Callio, Ember Socket Guru and GitItBack - two of which were featured on Product Hunt.

Our IKEA online assistant concept was featured on Behance and widely recognised by the international press and design communities.
The greatest achievement, though, is the level of trust that our clients credit us with nowadays. We have more flexibility in proposing solutions and executing them — that's why we care about every product that we co-create as if it was our own. Also, customers appreciate the attitude by inquiring us for cooperation and, after the project is complete, they stay in a constant contact with us.
Product Design Sprint in Practice
How did we get to the above mentioned results? It started with a number of exercises which allowed us to identify our strengths and weaknesses.
Defining Personas
In one of the first ones, we created three main personas, which corresponded to our clients' profiles. We sketched a customer journey map to characterise interactions and emotions at different touchpoints with the brand. As a result, we gained a better understanding of their goals, feelings that accompany them whilst making hard decisions, and the expectations they have in terms of the quality of Netguru service.
Value Proposition Canvas
In this exercise, we interviewed other employees who have a direct contact with clients. We asked them about the biggest pains of our clients and issues they report the most often. It enabled us to identify problems and expectations of the personas. In the second step of this exercise, we brainstormed potential solutions to these problems.
Design Studio
We leveraged the Design Studio methodology to create a shared vision of how we want our clients to perceive us and our services. In a collaborative process, we built a shared vision for our products value proposition.
Post-workshops Improvements
The main areas for improvement we discovered during the workshops were:
understanding the customer's needs and fears,

navigation and sitemap of the website,

awareness of our new services among the customers,

meetups for local communities,

effective communication between departments,

after-sales services and contact.
When we defined the areas that needed to be improved, the time has come to prepare solutions that would increase the quality of our services. To address all the issues, we undertook some actions.
Better Understanding of Customer Needs and Fears
more personalised messages adjusted to different personas,

new email workflows that reflect distinct stages of the customer journey

higher quality and readability of our key legal documents such as Executive Summaries or legal documents such as Master Service Agreement and Order Forms.
"During the PDS, I discovered a whole layer of missing content in our strategy. It suddenly seemed like we were great at attracting prospects and getting them to talk with us, but without giving them a proper cushion of trust. In effect, our sales teams were explaining things that should already be clear and understandable to clients from the initial contact. Such a waste." - Radek Zaleski, Head of Growth
Improved Experience on the Website
unique corporate identity and standardised messages across all channels,

new sitemap with enhanced navigation on the Netguru website,

new landing pages with immersive storytelling for both existing and new services (UX Review or Product Design Sprint, Web Development, etc.),

division of the blog into Code Stories (focused on developer stuff) and the main ( business-oriented one).

Meetups for the Local Communities
6 events at Netguru's HQ in the first half of 2017 (Dribbble Meetup, Swift Poznan and PTAQ),

cooperation with universities (workshops, presentations at events and involvement in academic life),

regular webinars for developers (one each month).
Effective Communication Between Departments
new Slack channels devoted to cooperation between the teams,

interdepartmental weekly meetings,

a new process for building and promoting internal products.
Post-project Action Plan
a new strategy for post-project contact,

hiring a Customer Happiness Marketing Specialist who will boost customer experience and make sure clients are familiar with our offer,

expanding Business Development Team.
The side effect of Product Design Sprint and following changes is a growth of 160% within a year. On top of that, in 2017 prestigious FT 1000 ranking, Netguru has been ranked as the 188th fastest growing company, beating such key industry players as Spotify and Skyscanner.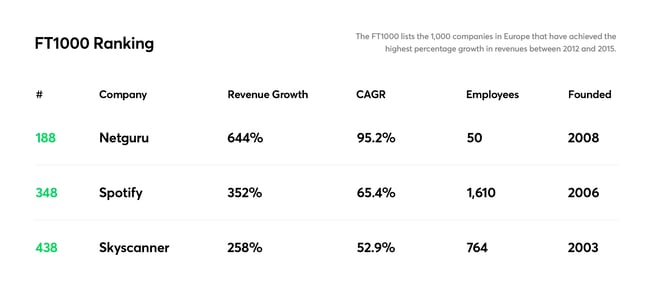 We can help you to achieve great results as well. Sign up for a Product Discovery Sprint now!