What is PDS: Product Design Sprint Explained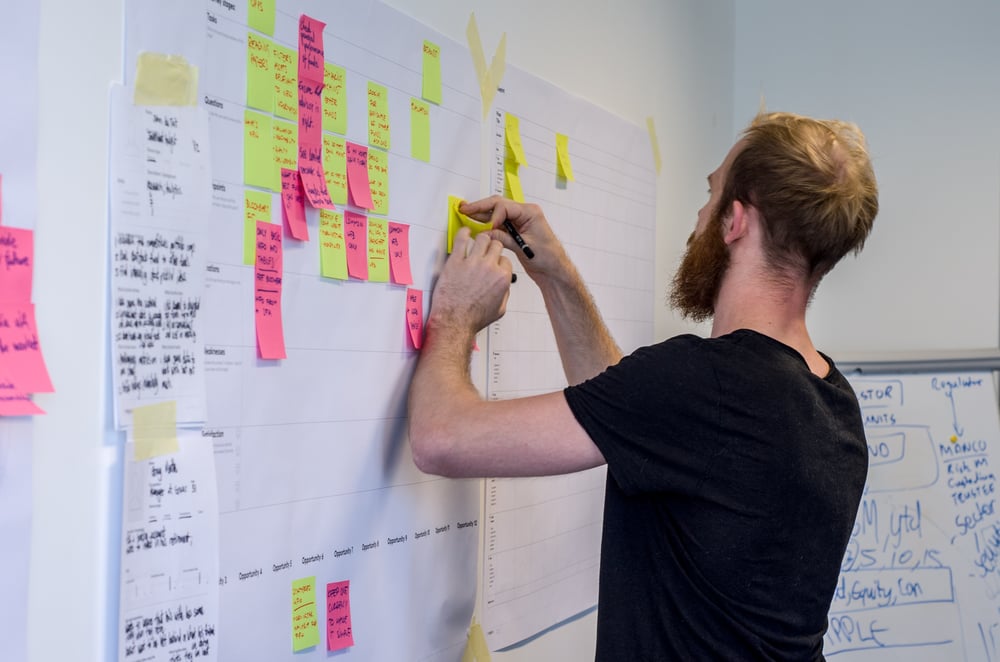 To thrive in an increasingly competitive business environment, it is vital that you make your company as agile and flexible as possible.
You need to be able to spot opportunities and pain points in the market and react to them before your rivals.
Achieving this can be difficult, especially as your business grows. So how are successful companies doing it?
An increasing number of organizations are turning to Product Design Sprints to solve complex business problems – creating new products, improving their existing offerings, and testing out new ideas.
Here, we take an indepth look at what a Product Design Sprint is, the key elements that affect its success or failure, and the role of design thinking in getting the best out of a design sprint.
What is Product Design Sprint?
Product Design Sprint is a workshop that we developed after years of experience and many scoping sessions and kick-off meetings with our clients. The workshops are based on Google Design Sprints, which are inspired by Sprints as defined in the Agile development cycle, and use Design Thinking methodology.
Each phase has a different focus and allows multidisciplinary teams to go through research, discovery, ideation, prototyping, and testing ideas with stakeholders and clients.
The objective of a Product Design Sprint is to reduce the risk of bringing a new product, service, or feature to the market. The workshops can also help teams achieve clearly defined goals and deliverables, and gain key learnings within a short time frame.
Design sprints minimize waste, enhance design thinking, and encourage innovation. They allow months' worth of work to be compressed into a single week.
The sprint phases
Before the workshop begins, we form a team, who will collaborate in person (as opposed to virtual co-operation). A team usually consists of 5-8 people from different departments of the company. Each team should be made up of the people who will be the owners of the product, and will be working on it moving forward.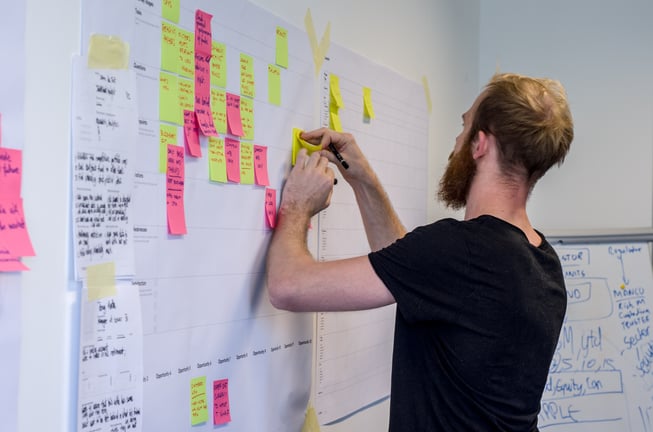 The process consists of five phases, and each phase typically takes one day:
Phase 1: Understand
The main goal of the first day is to identify and understand your business problems. During this phase, the whole team collaborates on topics such as business opportunities, user base, competition, value proposition, and defining the metrics of success. You will be using tools such as the HMW method, lightning talks, user-journey mapping, and user interviews.
Phase 2: Diverge
The second phase is about generating as many ideas and 'outside-the-box' solutions as possible. Team members will work as a group and also on their own in an individual brainstorming session.
Phase 3: Converge
The team's goal here is to identify the best ideas that were generated during the previous two steps, and decide which of them should be prototyped in the next phase.
Phase 4: Prototype
The team will build a quick prototype allowing the solution to be tested with users.
Phase 5: Test
Google calls this phase the "moment of truth". Ideas should be tested against users, business stakeholders, and technical experts, and direct feedback should be gathered from them. This will validate your ideas before you spend a lot of money on development!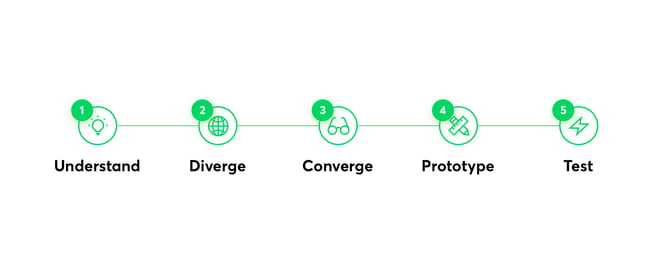 Benefits of a Product Design Sprint
Our main goal when running a Product Design Sprint is to build a meaningful product that meets the needs of real users.
Our clients have seen multiple benefits of running Product Design Sprint workshops, including exceptionally time- and capital-efficient solutions to complex problems, an increase in collaboration and stakeholder engagement within the organization, plus a lower risk of taking pre-validated products to market.
In addition, you will gain a better understanding of your users' problems, needs, motivations, and expectations. This will help you to spot weak points, generate as many solutions for users' problems as possible, and gain competitive advantage.
The results speak for themselves. At Netguru, our Product Design Sprint methodology played a key role in helping us grow by 644% in three years, and allowed Volkswagen to achieve some impressive sales numbers when they opened their new concept store.
Who are the workshops for?
Product Design Sprint workshops are perfect if you identify with any of the options listed below:
have a rough idea for a product or a problem that you'd like to solve;
have a product and want to identify its pain points in order to improve it;
have a product and want to invest in new, more complex features;
want to supercharge your team and promote sharing and collaboration;
have an MVP but need to add good UX/UI Design to it.
Elements of a good design sprint
After years of experience and a lot of time spent honing our Product Design Sprint methodology, we have found that certain elements greatly influence whether a sprint will be a success or a failure.
When conducting a design sprint, you will need to take into account the aspects discussed below.
Define the problem well
Before the sprint starts, it is critical to spend some time on refining the problem statement and ensuring that everyone is on board and in agreement. Distil exactly what the purpose of the sprint is and what change you want to achieve. The aim here is to form a hypothesis, and the Product Design Sprint will then validate it or prove it wrong.
A clearly defined problem statement provides clarity and focus to the team, whereas failing to define the problem well results in time wasted on unnecessary discussions and backtracking, which can undermine the whole process.
Identify the key stakeholders
A multidisciplinary team is essential for a mix of perspectives, skills, and subject matter expertise. Prior to the start of a sprint, identify five to eight people who will form your core team and must be present for the duration of the sprint. Ideally, you are looking to cover:
Knowledge – domain experts.
Ideation – creative problem solvers.
Decisions – someone with the authority to give the go-ahead.
Skills – this is often provided by the Netguru team.
Additionally, you may want to include other stakeholders, who do not need to be involved throughout, but whose perspectives may provide a more balanced view of the problem and emerging solutions.
Prepare an agenda but be flexible
For each phase of the sprint, set an agenda that precisely schedules and timeboxes the methods and activities to be completed plus breaks and objectives for the day. Then be prepared to scrap it completely after the workshop starts.
This flexibility allows for the sprint to change gears and go in unexpected directions. The only part of the agenda that should remain fixed is the design sprint phases.
Involve the project's key stakeholders
Scheduling quality interviews with your target users or the stakeholders whose input is needed can take time, so start arranging these several weeks in advance. Securing time with the key people plays a crucial role in having the necessary feedback to validate ideas and make the right decisions at the end of a Product Design Sprint.
Assess the organization's capacity to absorb the solution
Before the sprint starts, take a snapshot of the organization and its readiness to accept change and manage the product that the team is working on. Buy-in from senior management is essential to ensure that the sprint isn't a wasted exercise.
Draw up a stakeholder map and check that key decision makers are prepared to allocate the resources needed to follow through on the project. A communications plan will be a valuable asset in engaging key people throughout the sprint and beyond. Ultimately, the sprint's outcome is only a tool in the hands of a business, so it is important to be clear on what you want to achieve and how you will deliver value.
Stay focused
The diversity of ideas that emerge throughout the brainstorming phase of the sprint can be a breath of fresh air and generate some exciting opportunities, but it is important that you don't diverge too far from the task at hand. Be prepared to note interesting ideas down and park them for future consideration, only focusing on those that bring you closer to resolving the main challenge of the workshop.
Create the right environment
Cultivate a safe space in the room, where everyone feels comfortable sharing ideas, even those that might seem crazy. A team building activity at the start of the sprint is useful to put everyone at ease and on an equal footing.
It is also important to create a positive environment for participants who have had to travel to attend the sprint, leaving their office duties and families behind. Ensure that they have adequate time to reconnect with their families and to check in with work and email so that they can clear their minds and focus on the workshop fully.
Conclude with a comprehensive report
At the end of the sprint, the client should have a prototype of a solution, but this is just the beginning. In the weeks that follow a Product Design Sprint, we provide clients with a range of resources, including insightful user personas with a value flow, correctly targeted market opportunity, a project roadmap, user journey maps, and predefined tasks for each phase to move the project forward. On top of that, clients should also be provided with project milestones, a design and development estimation, and the associated costs.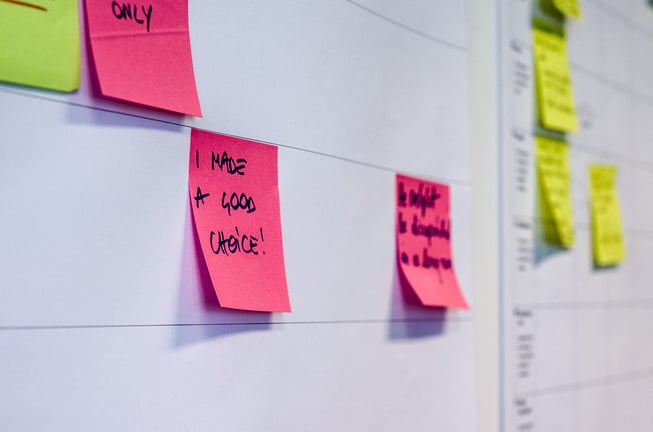 The role of design thinking in optimizing the design sprint process
With so many creative and analytical things to do during a design sprint, there is a risk of losing sight of the overall goal. Design thinking is a key element of running a successful Product Design Sprint and will help to keep your team on the right track.
Often described as a five-step process that is quite similar to the sprint process described above, design thinking includes:
Empathizing – understanding the needs of the users.
Defining the problems they have in getting what they want.
Ideating – coming up with as many possible solutions as possible.
Prototyping – creating simplified tools for the users.
Testing the prototype.
Although usually defined as a process, at Netguru we consider design thinking more of a state of mind rather than a step-by-step walkthrough. It's a concept that evolved over decades since it was introduced in the late 1950s in the field of creative engineering.
The idea is to keep humans in the very center of the design – hence human-centered design. That's why empathizing is so essential. Design thinking is all about understanding the experiences and motivations of the people who will be using the product.
Some phrases that may appear during design sprints run by a team that embraces design thinking are:
"We want to help those guys."
"...so let's think about what they need..."
"...we should come up with an idea of how we can help them in..."
"...then we should ask them what we can do to help them..."
"...ok, now let's think if we can still make it easier for them..."
Keeping this perspective in mind is critical, since business goals can often dominate and obscure it. Instead of wondering "how do I attract 100 new users every month?", design thinking brings a more empathetic approach and raises different questions.
This does not imply that business thinking is not important, but by providing solutions that fit users' needs, the business results will be boosted in a more effective way.
Keeping the right perspective will improve your design
To get the best out of a Product Design Sprint workshop, it is important to keep the right perspective.
Make sure you look at challenges from a human point of view, and only then make all the effort to find human-centered solutions that are technologically feasible and economically viable.
Here are four rules that help us stick to design thinking at Netguru:
Goals are user-oriented (not only organization-oriented).
Every plan includes the people in your organization, along with their capabilities and limitations.
We sincerely want to help the users and give them a valuable solution.
Focus on business aspects (costs and income) is inevitable, but these are the rules of the product design game, not the goal. The goal is to make the user happy.
Do meaningful exercises
Exercises are a vital piece of the first stages of the design sprint. They should be useful (help you make progress in the process) and easy to perform (understandable and approachable). The tricky part about exercises is to keep them unbiased – the result should not be suggested by the workshop facilitator nor any other member of the team.
Here are some examples of the exercises we perform during our product design workshops.
Product box. Imagine how your product would sell itself if it were a box on a shelf among other products. What should be visible from the very beginning so that you would take it from the shelf to read more about it?
Mind mapping. Participants of a workshop try to continue the thought presented by a colleague. There are many possible formats of this exercise; experiment with them and allow the team to unleash their creative thinking.
Empathy maps. They enable your team to quickly assess what people see, think, say and do in particular situations. The method is to imagine how users would respond to the status quo and tell what kind of solution they might need.
Value proposition canvas. It is more oriented at the features than the stimulus action process of a user.
Role play. A role play is where one of the workshop participants, or someone joining the workshop briefly, would play the role of a potential user. The need to work around the requirements of this person may spark further ideas.
Bringing everything together
A Product Design Sprint is a powerful tool for providing simple answers to complex strategic questions, in an exceptionally time- and capital-efficient way. A design sprint can be ideal for further consulting and development on a new product idea, or identifying pain points in order to improve an existing product or service.
Blending design thinking with the Product Design Sprint process ensures that the team is able to stay focused on what's most important – making the user happy while creating profit for the organization.
Although not a panacea, if you have a big, high-level problem where a solution is not apparent, a design sprint may just be the perfect way to tackle it, and identify the roadmap of possible ways forward.
Don't hesitate to contact us. Start a Product Design Sprint with us today!