You might have already encountered to this term, but you're probably here to find out what Product Design Sprint really means. This article will help you understand the powerful impact PDS could have on your business and why it's good to start PDS workshops with us even today.
What is Product Design Sprint?
Product Design Sprint is a workshop that we developed after years of experience and many scoping sessions and kick-off meetings with our clients. We based our workshops on Google Design Sprints (which are based on Sprints as defined in the Agile development cycle and use Design Thinking methodology) to be sure we would use a battle-tested process that had worked for many teams around the world. PDS is a five-day process whose aim is to answer critical business questions through design, prototyping, and testing ideas with customers.
The aim of Product Design Sprints is to reduce the risk of bringing a new product, service, or feature to the market. A PDS can also help the team reach clearly defined goals and deliverables and gain key learnings within a short time frame. The idea behind the Sprint is also to cut the endless debate cycle short and compress months of time into a single week. Product Design Sprint minimises waste, enhances design thinking, and encourages innovation.
Read more and learn how a Product Design Sprint can help you launch a better product.
The Sprint Phases
The process combines five stages: Understand, Diverge, Converge, Prototype, and Test. Each phase typically takes one day.
Before the phases begin, we will form a team who will be collaborating in person (as opposed to virtual co-operation). A team usually consists of 5-8 people from different departments of the company. Each team should be made up of the people who will be owners of the product and working on the product's moving forward.
Now let's move to the actual phases of the PDS:
Understand


The main goal of this phase is to find and understand your business problem. During this phase, the whole team collaborate on such topics as business opportunity, user base, competition, value proposition, and define metrics of success. You will be using tools such as the HMW method, lightning talks, user-journey mapping, user interviews, and more.



Diverge


This step is about generating as many ideas as possible. This step will also generate insights and ideas for solutions. Each team member will also be generating solutions of their own in an individual brainstorming session.



Converge


The team's goal here is to identify the best ideas which the team came up with during the previous two steps and decide which of them should be prototyped in the next step.



Prototype


The team will build quick prototype that will allow you to test the ideas with users.



Test


Google calls this phase the "moment of truth". Test the ideas with users, business stakeholders, and technical experts and hear direct feedback from them. This will let you check if your ideas are right before you spend a lot of money on development!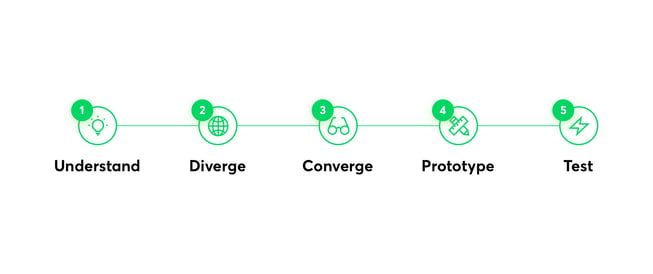 What are the main benefits of a Product Design Sprint?
The most important benefit is that you, as the owner, will get a better understanding of users' problems, needs, motivations, and expectations. This will help you to generate as many solutions for users' problems as possible and analyse the user paths of current solutions, spot weak points and use it as a competitive advantage.
Check out the case study and see how Netguru grew by 644% thanks to PDS.
As a result of Product Design Sprint, you will also receive such materials as:

a detailed report of the workshops with all materials and canvases digitised;

a lo-fi prototype for some of our user stories;

a project roadmap, broken down into phases;

pre-defined tasks for each phase ready for developers to start their work;

notes, user journey maps, storyboards, and information architecture diagrams.
Our main point when running Product Design Sprint is to build a meaningful product that meets real people's needs and to define the product's target user base.
Who is it for?
Sprints are very useful when you want to introduce a new product or business onto the market or to solve problems with an existing product.
In order to run a Product Design Sprint, you will need to define a problem (or problems) that you would like to solve. Our workshops are for you if:
you have a rough idea for a product or a problem that you'd like to solve;

you have a product and want to identify its pain points in order to improve it;

you have a product and want to invest in new, more complex features;

you want to supercharge your team and promote sharing and collaboration;

you have an MVP but need to add a good UX/UI Design to it.
Our workshops will be prepared individually just for you. Before starting a Product Design Sprint, we will arrange a meeting during which we will discuss the key business questions and find the critical problems of your business. After that, we prepare our workshops and adjust the exercises so that our Sprint can bring you as much value as possible.
Don't hesitate to contact us. Start a Product Design Sprint with us today!