Roles within Agile Teams Explained
Agile roles and responsibilities within a team may vary but there are clear and defined goals: to deliver flawless products quicker, more frequently and more closely aligned to the needs of customers and clients.
The Agile team methodology has been widely adopted but what is it, how do these teams work and what are the roles they consist of? Let's explore them below.
How do Agile teams work?
An agile project features teams put together to produce a working, tested increment of a particular product or solution. They use an agile methodology to adopt a flexible approach to product development. At its heart, this iterative process evolves and responds to requirements as a solution is refined and worked on. The needs of clients often change and this process has a strong emphasis on reacting to and including these changes in the finished product or solution.
What is the agile methodology?
The Agile Methodology offers an alternative to traditional project management and involves breaking down a project into short segments which can be developed and iterated at pace. Through the Scrum and Kanban project management structures, this method fosters innovation, and introduces techniques that promote adaptability and flexibility when faced with unpredictable circumstances.
There are a wide range of roles included within these teams. The focus is to ensure team members are aware of the work and deadlines they need to achieve, yet they are also provided with enough flexibility to enable them to take the initiative so they can often exceed client expectations.
The importance of agile teams
Agile roles and responsibilities are shared between a range of team members. Each role is important to the greater good of the wider team, projects as well as to the individual.
The Covid-19 pandemic has created a new normal where the value of the physical office location is now no longer what it was pre-pandemic. Remote working has been increasingly adopted by teams, meaning staff can be in different locations across the globe, yet still form part of the same project. This presents some unique challenges but adaptability is at the heart of agility.
Here is the list of key roles within agile teams:
Team Lead or Scrum Master
The Scrum is a project's framework utilizing an agile mindset for developing, delivering, and sustaining complex products. The Scrum Master is responsible for facilitating the team, obtaining resources for it, and protecting it from any issues or problems.
This role sees them managing the process, overseeing day-to-day functions and monitoring and reviewing the work of team members to ensure milestones and deadlines are reached. One of daily responsibilities is facilitating meetings for the team, including preparing, moderating, and post-processing. The Scrum Master also holds retrospective meetings.
As guardian of the process, the Scrum Master has a crucial role in monitoring the performance of team members and connecting the various elements within the Scrum. One of their key responsibilities is on coaching, teaching and mentoring staff, helping them to organise, overcome any challenges and focus on outcomes.
The Scrum Master's responsibilities cover also product-related tasks such as helping to write product visions, release planning or create or split user stories.
Last but not least, the role is about bringing people together, communicating with all stakeholders, and ensuring team members remain focused and reinforce Agile Project Management values and principles when needed.
Understanding responsibilities within an agile team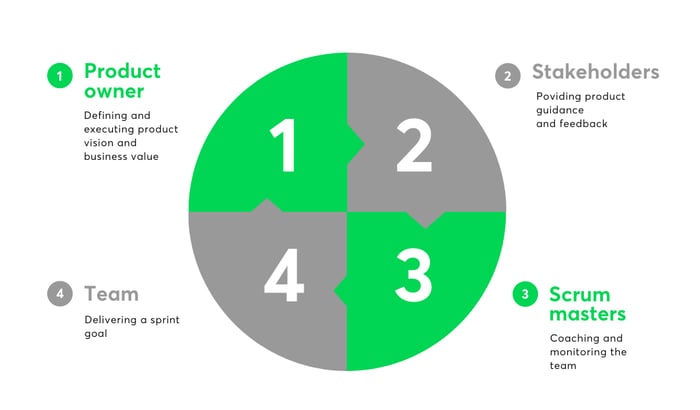 Product Owner
The Product Owner represents the business by briefing the Scrum on what it needs to deliver. To do this effectively, they need to understand the customer and provide a vision of value for the Scrum to work towards when delivering a product.
The Product Owner helps to transform ideas into concrete user stories as well as decides what user stories should be prioritized. Adding new features to a product is easy but the queue for new stories on the backlog might get out of hand very fast, thus the person that takes the product ownership is there to say "no" and decide what the team is going to build now and what to build later. Value and size is what helps the Product Owner to prioritize the backlog intelligently.
The collaboration within an agile team
However, The Product Owner does not do it alone; he or she does it with collaboration with stakeholders, who provides insights into the value, as well as with the development team, who explain what is big and what is small in terms of implementation efforts. Prioritizing and splitting stories into smaller stories is known as backlog grooming; reviewing items on the backlog to ensure that it includes the necessary items and the items on the top are ready to deliver.
Moreover, the Product Owner balances the needs of various stakeholders, alerts the Scrum to any major developments and intervenes when required to ensure the project stays on target. A person in this role needs to continuously balance between reactive work and proactive work. This relates to another aspect: the Product Owner needs to balance between building the right thing, or building the thing right or perhaps building it fast. Ideally, it should be all three. Yet, the Product Owner is responsible for realistic management of expectations.
Anyone in this role often needs to be a great communicatorand provide the Scrum with a task list to define end goals of the project. They then review the finished product prior to delivery to the client.
Team Members
Team Members are the creatives within an Agile Team. There are a variety of roles within this but Team Members could be copywriters, videographers or designers. Within the world of software development, these roles are usually held by programmers, testers and data engineers working within application development.
Their responsibilities include ensuring work is completed on time - so in the case of a developer, they need to create and deliver an IT system to deadline. They have direct ownership of specific tasks meaning they can estimate how long certain pieces of work will take to complete and contribute to business-critical decisions.
The team will usually have direct involvement in every step of a process from planning to execution and final review.
Technical Experts
Technical Experts will be brought into a team on an adhoc basis to help overcome any particular challenges which can only be solved by those with a specific skill-set. They advise on a technical decision to ensure a project is technically coherent and meets the appropriate standards.
They will often work with the Business Analyst to evaluate the technical options and decide the best way to turn these high-level business requirements into a technical solution. They will manage technical aspects of a solution and approve it before it is deployed. This expert will also have the final say on any tech differences between members of the agile team.
Agile Coach
This role is integral for creating and monitoring agile processes and standards within a team, promoting agile best practice and embedding these processes. Often, these coaches will be empathetic and active listeners as well as having an expert knowledge about their specific sector and the latest industry trends.
Integrator
Integrators only usually feature in larger teams where complex systems are being developed. They are responsible for an entire product or larger project with multiple separate teams and sections and integrating the different pieces into a cohesive end-product. This role is only necessary when multiple teams are working together on a project.
Independent Tester
This role is an optional one and again usually only included on complex projects. Their responsibility is to catch any errors the Agile team may have missed in their sprint before delivering a project to a client.
If an Integrator is also involved on a project, then they will collaborate closely on testing a proposed solution. The ultimate aim of this role is the same as a quality assurance specialist and prevent any defective products from reaching a customer.
Architect
The Architect's job is to make sure a solution is fit for purpose and works within the rest of an enterprise structure. They are responsible for facilitating any architectural decisions with sub-teams and leading this group on envisioning the system as a whole. They do not set architectural direction but facilitate creation and evolution.
Why do you need an agile team?
Agile teams allow organizations to achieve business goals. Different roles bring communication, problem-solving, and technical development skills to effectively and quickly execute a project. Moreover, an agile team is flexible and adaptive, which allows it to respond to changes and provide maximum customer satisfaction.