Sales Talk: Our Business Development Process - Interview with Kuba Filipowski, Head of BD at Netguru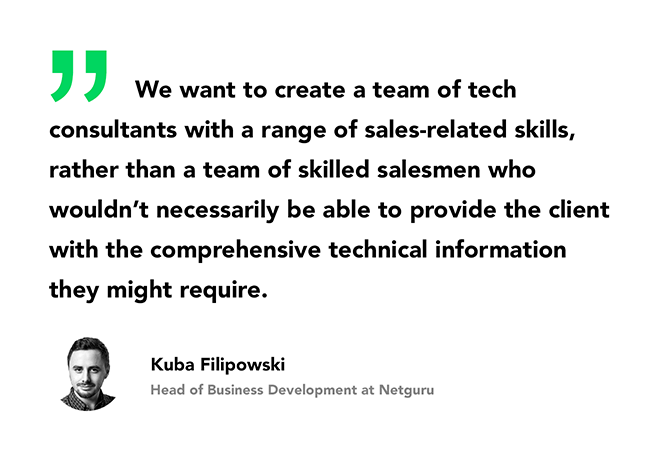 Netguru is among the fastest growing companies of its kind, we have made the fifth place in the Deloitte Fast 50 CEE ranking twice in a row.
We could not have done it without our Business Development Team. We face multiple challenges every day: international clients, enterprise projects and the very nature of the B2B market. Kuba was happy to shed some light on how Netguru's Business Development Team has achieved sustained success not in spite of, but thanks to these challenges.
Ola Prejs: How was the last year for Netguru?
Kuba Filipowski: Last year was particularly good for the company. We managed to achieve the vast majority of our goals, including those we hardly believed we could meet. We closed the year with almost PLN 30m of revenue, which constitutes a 60-percent increase in comparison to the year before. We also managed to acquire some really interesting projects, such as an app which redefines the way people care for the elderly in the UK, which we call "Uber for the elderly". Another example is an app that enables you to display your favourite images and animations on your... sneakers.
We have a lot of fun every day when working on projects like the ones above. We wouldn't have been able to be so successful but for our amazing team, the Business Development Team in particular, which we are currently trying to expand even further. We broke the record of 200 people on board just before Christmas. It took place when we were moving two our biggest offices, the ones in Poznan and Warsaw, to new locations.
O.P.: What are the biggest challenges and plans for Netguru's Business Development Team for the coming months?
K.F.: At the moment, Netguru's Business Development Team consists of 9 people, but it's likely to grow twofold by the end of the year. The biggest challenge is to find the right people and provide them with a comprehensive skillset, which will enable them to work efficiently. We run a lot of workshops, including workshops taught by external consultants, where we learn how to conduct more successful negotiations, provide better customer support and technical expertise.
We want to create a team of tech consultants with a range of sales-related skills, not a team of sales reps unable to provide the client with comprehensive technical information needed for their product.
We want to focus more on outreach activities to enable our potential clients who haven't had the chance to hear about our services to talk to us. We've also launched Netguru Labs. At Netguru Labs, we're aiming at acquiring enterprise clients with whom we could work on startup-like projects but inside large organisations. At the same time, we want to participate in events in related to technology, startups and business topics in Europe and the US. As you can see, our plans are quite extensive.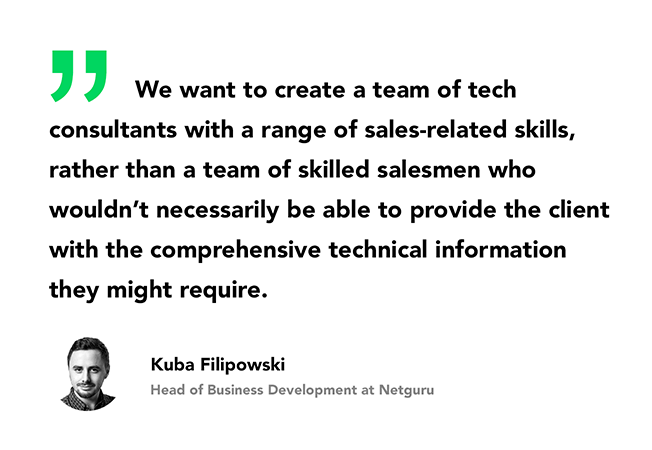 Could you tell us a little bit about the sales processes at Netguru?
The sales process at Netguru is based on a collaboration between sales and marketing. In marketing, we focus chiefly on creating content which would respond to the needs of our potential clients, depending on the phase they're in the sales funnel. We're also actively looking to foster new relations with potential clients. To this end, we use quite an extensive number of tools for a company that has been creating tools and apps on a daily basis. In 2016, we also put a great emphasis on taking care of relationships with current clients, customer success.
On which markets do you operate? With what kinds of clients do you work?
We're focusing on acquiring projects mainly from the UK, US, Middle East and Germany. That said, we still operate internationally and don't have any restrictions as to the location of our clients. We work together with clients scattered over 20 countries on 5 continents, and every year, we run over 60 concurrent projects, out of which only one is from Poland.
What is Netguru Labs and what does its collaboration with Business Development Team look like?
Netguru Labs is a new project at Netguru within which we will help large organisations to manage internal projects like startups. You can read more about Netguru Labs in a post we published on our blog: Enterprises Working Like Startups: Netguru Labs to Help Large Organisations Innovate and Change Faster. Business Development Team helps Netguru Labs by creating outreach campaigns and supporting it in his tasks related to conferences and networking.
What does the career path in the Business Development Team look like?
In Netguru's Business Development Team, we have three levels of expertise in each area we operate in: outreach, inbound and customer success.
Outreach focuses on campaigns aiming at contacting potential prospects and actively looking for new ways of establishing relationships with influencers.
Inbound is about taking care of incoming inquiries and providing people with all information about what it is like to work with us, how to start a successful IT project and how we can help the client develop the project.
Customer success is about making sure the clients can get the most value out of the collaboration with us. Klaudia, who is responsible for this area, talks with clients on a daily basis. She makes sure all their needs are covered and that the client's product is on the right track to living up to its true potential.
Every person working in our business development team should feel comfortable with doing work in every one of those areas. That's why we developed a juniorship program, in which juniors are responsible first for outreach activities and then proceed to inbound activities, to be able to take care of the customer success part in the end. Such an approach enables them to learn how the market and our clients work. It also helps them understand the way we help projects at Netguru.
After the six-month juniorship, people decide which of the areas they are most successful in, and they can choose one field of expertise to become a mid-level outreach/inbound/customer success representative. They can be promoted to seniors when they become experienced consultants with extensive expertise both in sales and networking, who are able to give a presentation at a conference and bring great value to the company.
Why is it worth joining the Business Development Team at Netguru?
Netguru is a rapidly growing company with a stable position on the market, which means both exciting challenges and a job security for our Business Development Team. Thanks to a well-developed career path, our employees have control over their professional growth and can get promoted quickly.
As we help clients from all over the world, remote work and flexible hours are a must – in fact, our team are scattered across many locations. We value good communication and results, which we help to achieve by providing our Team with tried and true (and state-of-the-art!) tools and processes. We give our employees opportunities to learn and invest in their professional development through mentorship, workshops and external training. Don't miss your chance to join our team! Head to our career page and find the perfect opportunity for you.