The Internet Of Things: A Glimpse Into Wearable Tech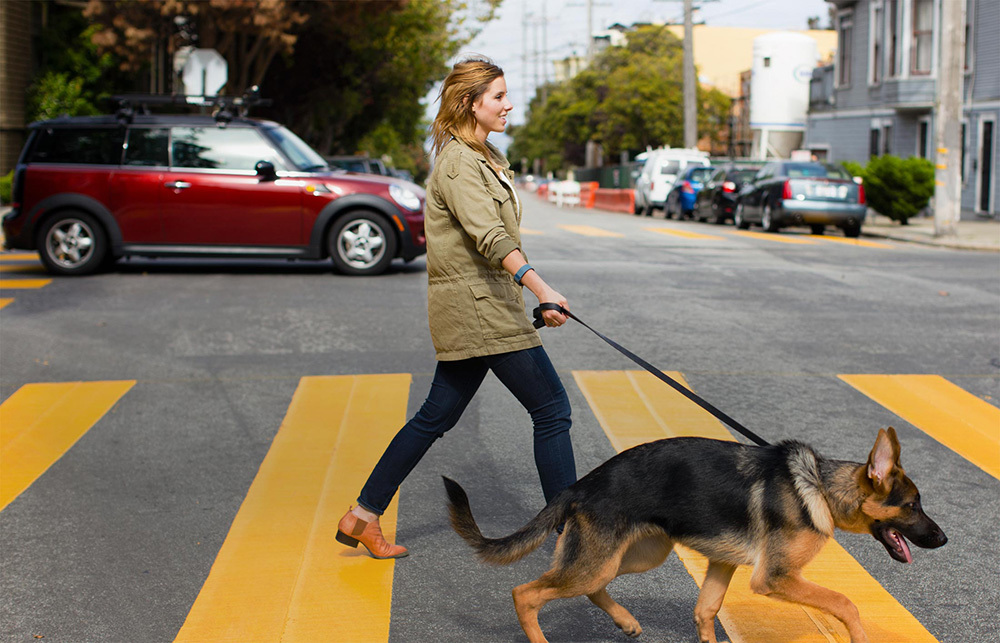 From smart homes with smart burglar alarms, smart lights, smart heating, and even smart ovens, to fitness trackers, sleep trackers, smartphones, tablets and eyeglasses, the Internet of Things (IoT) is continuing to spread its techy tendrils through nearly every part of our lives.
What's the Internet of Things All About?
Just so that we are all absolutely clear before we continue, I'd just like to take a brief moment to explain exactly what the Internet of Things refers to. Put simply, the IoT is a concept that describes the interconnection of unique and independent devices via an existing internet infrastructure.
Importantly, though, the IoT is more than simply describing the relationship between your remote control and your television. Rather, the concept describes a more advanced level of connectivity between independent devices, systems and services that goes much farther beyond simply machine-to-machine (M2M) communications.
When we talk about the IoT these days, what we're essentially referring to is specifically a set of smart communications between smart devices and objects that work by automation. Granted, it's a broad term that covers everything from car sensors to heart monitoring implants.
It's a growing trend in consumer technology as well however, with smart thermostats that automatically regulate the temperature of your home, and smart washers and dryers that are controlled remotely by your tablet or smartphone.
Indeed, Gartner predicts that there will be 26 billion devices on the IoT by 2020. ABI Research thinks it will be more like 30 billion. Whichever of these in the end proves to have the closest guess doesn't really matter. Either figure is simply staggering. As the cloud continues to puff out, and with things like wearable technology becoming ever-more sophisticated, popular and affordable, it's certainly indisputable that in the not too distant future we will simply be surrounded by all manner of devices and objects that are all constantly connected to the internet.
Wearable Technology
One of the most exciting segments emerging with new innovations and connections to the Internet of Things is of course the many wonderful gadgets and gizmos that can be found in the realm of wearable tech. From smart watches to fitness trackers and wearable video cameras, wearable technology is most certainly one of the accelerating trends in both the tech world, and the IoT niche.
So, for part 1 of this mini series of blog posts, we thought we'd put together a list of some of the very best wearable technologies to look out for in 2015. And, since most people immediately think of fitness when it comes to wearable tech, it seems like a good place to start.
Fitness Trackers
Jawbone UP24 – this is a very sophisticated device that has been designed to help you understand how you move, how you sleep, how you drink and how you eat.
As with nearly all IoT wearable technology, the Jawbone UP24 connects wirelessly with the wearer's smartphone via a dedicated app. The wristband also functions as a Smart Alarm to wake you up in the mornings once it's decided that you've been asleep for too long. What's more, if it feels like you're being slightly too inactive for any stretch of time throughout the day, then again it set off and Idle Alert vibration to remind you to get your backside in gear.
All of your health and fitness data the UP24 records is stored on your smartphone, which can then be sent directly to your doctor or physician (provided he or she is equally connected to the IoT), so your health can be constantly monitored by the professionals.
Fitbit – Fitbit produces similar fitness tracking devices to Jawbone, with the latest generation being the Charge. Again, the device wirelessly syncs with your smartphone, but this time with a couple of extra cool features.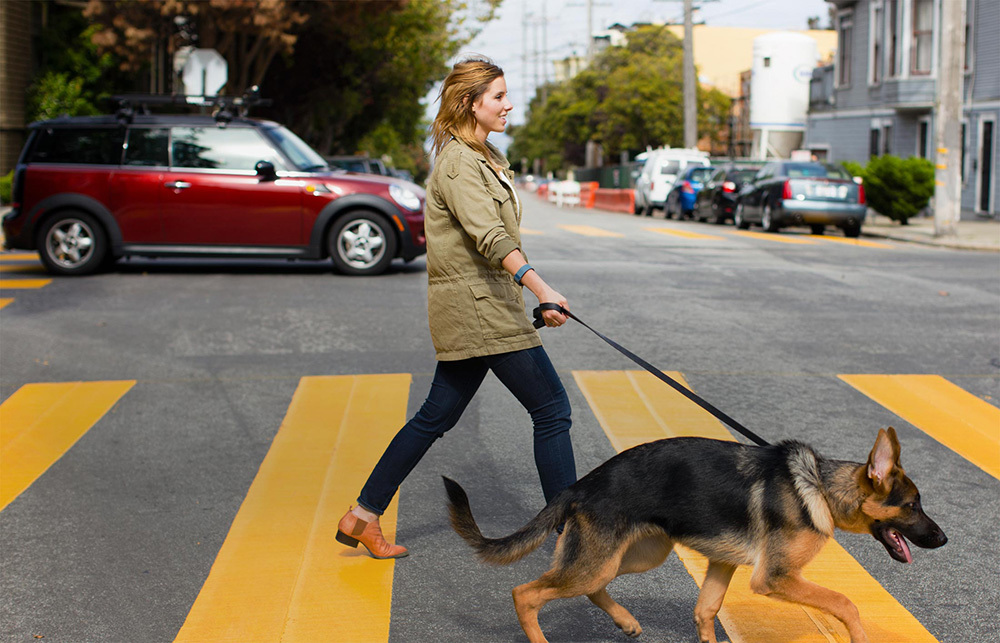 Photo by Fitbit.
Now, obviously the Charge is a fitness tracker, which suggests that the wearer will most likely be partaking in some sort of sports activity whilst wearing it. So, when you're out jogging and your phone keeps buzzing with notifications in your pocket, it can of course be quite annoying and disruptive to your regime to keep having to pull the thing out of your pocket to check if the notification is anything important. But, through the IoT, your Charge will display all of your phone's notifications right there on your wrist for you to view at glance and never lose your stride.
Smart Jewellery
Apple Watch – announced in September 2014 and expected to launch in spring this year, the world eagerly awaits the Apple Watch. Apple, of course, are one of the highest profile pioneers of smart technology devices, known for their design as much as their functionality. And so, a brand new smartwatch from Apple, with a touch screen and able to send messages, play films, and of course sync with the IoT has to be one of the exciting things to watch out for in 2015.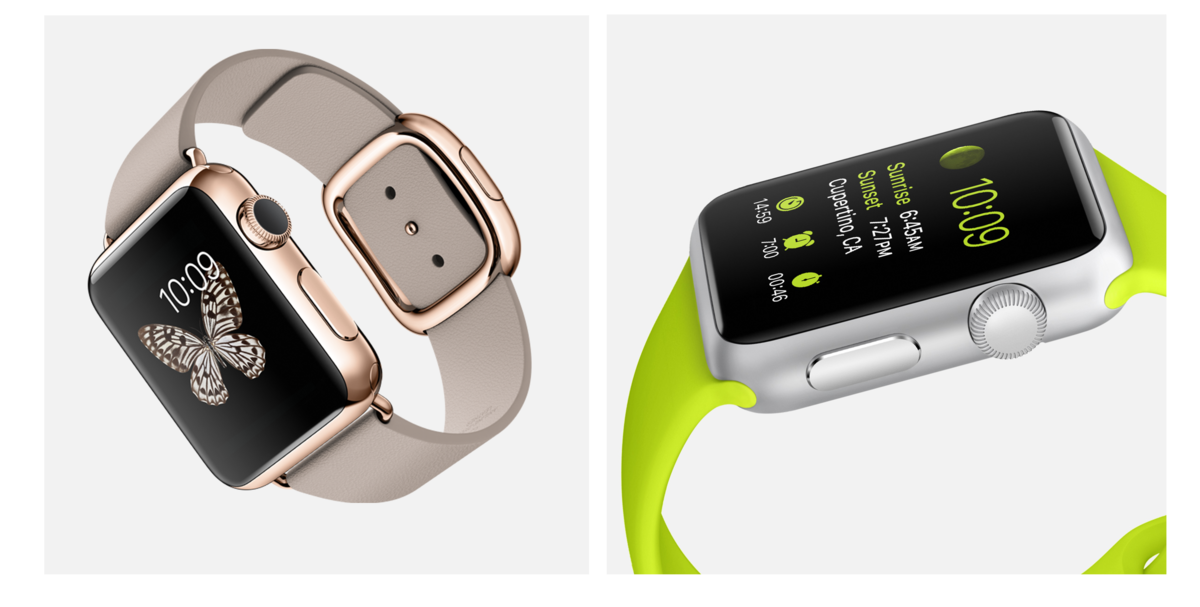 Photo by Apple Watch.
MOTA SmartRing – yes, there are even wearable rings that are being implanted with smart technology and will connect to the IoT. MOTA SmartRing will essentially sync with your smartphone, and vibrate to alert you to new notifications as they appear. Calls, texts and social media notifications will all appear on the ring's screen, which you can swipe to scroll.
Wearable Cameras
Ca7ch Lightbox – this is the world's smallest live streaming wearable video camera. Simply pin it to your clothing anywhere you like, and the Lightbox allows the wearer to capture high res photos and HD videos all day long, and then share them wirelessly across social media by syncing with a smartphone.
meMINI – this is another little discreet camera that attaches to your clothing. It records in HD, the camera has a Recall function that allows the wearer to track back in time up to 5 minutes so that any magical moment need never be lost. Syncing with your smartphone, everything that the camera captures can be wirelessly uploaded to social networks at the touch of a button.
In Part 2 of this mini series, we'll take a closer look at the home objects and devices that are now connecting to the Internet of Things, and consider some of the innovations that we can expect in the future as we move towards a complete smart home. And in the meantime, discover how technology is making the retail and the cities we live in smarter.