Three Things That Keep Me up at Night With Melissa Cullens, Chief Experience Officer at Ellevest

Behind any product, business strategy, or excellent idea, stand people - founders, C-level executives, high- and mid-level managers, or experts.
Every once in a while, we invite them to share their challenges in Netguru's format: "Three Things That Keep Me Up At Night".
This time, we talked with Melissa Cullens, Chief Experience Officer at Ellevest. Melissa is a design professional with over 13 years of experience connecting behavior, emotion, and mindset with innovative experiences. Currently, she's leading the design of an intuitive and delightful experience across all touch-points of the brand and product at Ellevest.
Her work at Ellevest has been recognized by Interbrand as a 'Brand to Watch' and featured on the CNBC Disruptors list.
Melissa is also a speaker at our Disruption Forum in NY. Click the image below for more info.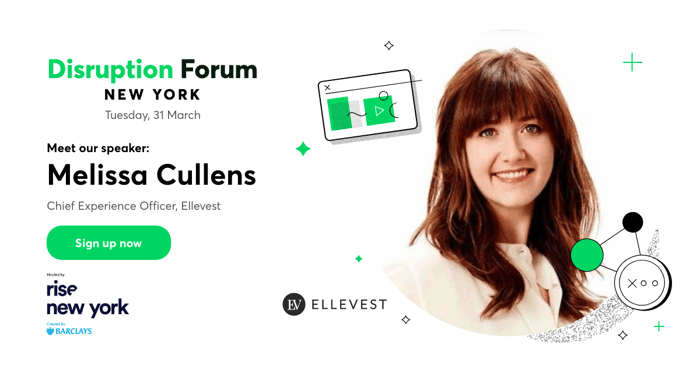 According to Ellevest, "gender-neutral" investing typically defaults to men's salaries, career paths, preferences, and lifespans. That's why they decided to change the game and encourage women to start investing.
Challenge #1
How can I support my team so that they have the processes in place to deliver intuitive, innovative brand and product experiences?
I was the 5th employee at Ellevest — and now we are a team of nearly 100. The processes we used even as a company of 75 break in a pretty spectacular way at this scale, so it's important to take the time to really document new ways of working that are co-authored by your team to try and take the "work of working" as much out of the way as possible. In high-stress situations, it's easy for big ideas to falter because we are wired to avoid risk when our amygdalas are firing at all cylinders.
Good process and communication can help take away some of that stress and pressure, which can make it possible for teams to take risks with ideas.
Challenge #2
Am I telling great stories to my colleagues on our leadership team so that they feel and understand the experience and context of our community?
Our brand and product creative teams are closest to our clients. From curating our online conversations in content and social media to performing user research, our team has the chance to see business opportunities that could otherwise be lost. And yet, we are also moving at light-speed.
Making sure that what the team is discovering makes it into our planning process is a challenge. I need to be able to tell the story of the opportunity to my peers in a way that builds empathy and shared understanding.
Challenge #3
Fintech is already competing with big banks for customers by delivering better customer experiences — can that movement be leveraged to spark even greater change?
Challenger banks have an opportunity to use their growth to set new standards for the entire financial industry towards more inclusive, equitable, and sustainable practices.
The EU is already writing sustainability into the fine print of financial regulations — and at Ellevest, our community tells us all the time that companies that are considering the environmental impact of their practices are more likely to get their business.
Because we impact the flow of capital, we have the potential to create truly meaningful change.
Read also "Three Things..." with: