Virtual Try-Ons Can Make or Break Success for Fine Jewelry and Watches Retailers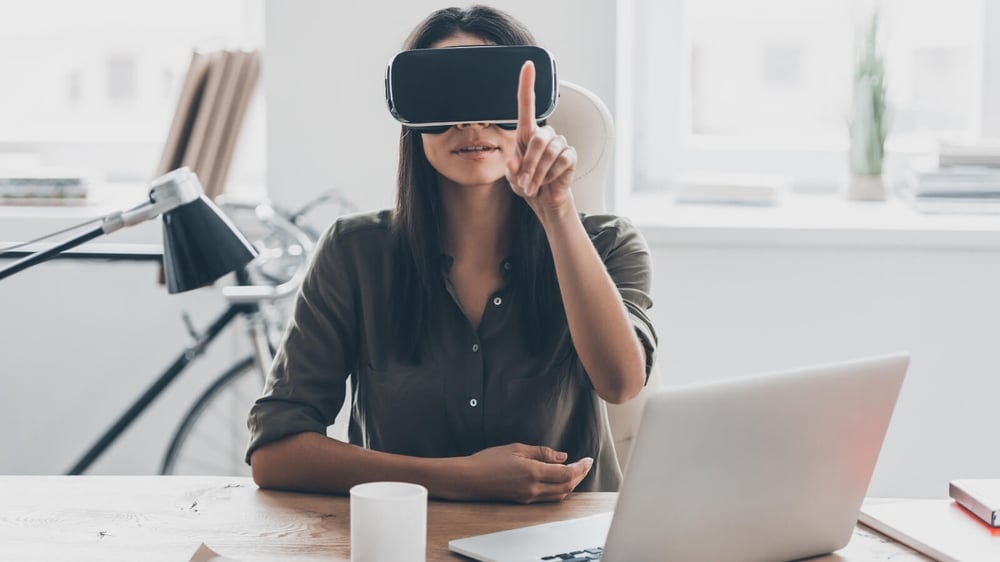 Virtual try-ons, powered by augmented reality, have become popular among ecommerce companies hoping to better showcase their products.
Early adopters include Mister Spex who have been using this technology for years with virtual try-ons of glasses. Newer examples are Farfetch with Chopard watches, Fossil, and IWC (also presenting watches).
The technology that makes virtual try-ons possible and attractive is now available more widely and seems to be the answer to surging demand and some specific problems of the ecommerce market.
Why virtual try-ons work, and how
At first, virtual try-ons may have looked like a pandemic trend — a way for people to enjoy a high-quality shopping experience without leaving their homes. That's not the case though. Brands like Dior, Prada, and even beauty market leaders like NYX Cosmetics are investing in the technology.
Virtual try-ons allow shoppers to use their own image and "try on" various products including clothes, shoes, cosmetics, watches, and jewelry. All they need is a phone with a camera (so basically, a phone). It's an excellent example of how a solution popularized by a crisis can permanently disrupt the market.
Many retail companies offering highly exclusive products are looking into this new opportunity.
It's no wonder — the potential of VR and AR on the ecommerce market is huge.
The state of VR in the fine jewelry and watches industry
Before we look at the seven reasons why virtual try-ons for fine jewelry and watches are so popular right now, let us consider the market situation to get a better idea about the relevance of virtual try-ons. Most of our data has been taken from the latest McKinsey research on fine jewelry and watches.
Revenues have declined: the fine jewelry and watches industry has suffered revenue declines of up to 30%, proving that they are not resilient.
Slow transition to digital: the COVID-19 pandemic has revealed cracks in the industry's digitalization – with online sales representing only 13%. One reason for this could be that there are no proper ways to discover luxury products online.
It's time to bring more business online. Online fine jewelry sales are expected to increase from 13% to up to 21% of the total global market by 2025. Retailers and ecommerce companies that want to benefit from this trend should consider how they can capture those online customers.
Digitally augmented but human-centric experiences are what customers want. It's worth remembering that 80% of purchases will still be made in-store. Customers will expect a high quality of service in both the offline and online channels, so seamless connectivity between them will be key for retailers.
7 reasons why fine jewelry and watch retailers need to lean into virtual try-on
1. Conversion rates improve
According to Shopify, interactions with products that have augmented reality and/or 3D content results in a 94% higher conversion rate than for products without AR/3D. Even top quality photos don't give consumers the same feeling of knowing what the product will look like when worn.
2. Online sales and traffic increase
Virtual try-ons give customers more confidence to buy a product online and send traffic to online stores. Customers can try on a product anywhere, at any time, without going out of their way. No more sales lost because customers find reaching a brick and mortar store too inconvenient.
3. The majority of consumers are willing to use AR solutions
51% of consumers are willing to use AR or VR solutions to assess products, which is a large enough segment to make investments in these technologies more than viable. As younger generations grow up in a world full of AR and VR solutions, this number is likely to grow.
4. New customer segments and markets can be accessed
Since a virtual try-on lowers the barrier of trying on a piece of fine jewelry or a watch, access is granted to a new customer segment. People living in areas without easy access to a physical store can have their needs met, and a new avenue for brand discovery is open, especially to younger customers.
5. The number of returns goes down
Virtually trying on a piece of jewelry or a watch increases confidence in buying the product online. It's also a way to reduce the number of returns for online purchases, as fewer shoppers will be dissatisfied, leading to cost reductions.
6. The technology is available
As mentioned earlier, the once complex and costly technology of augmented reality and machine learning is now available at your fingertips. It is the key to presenting exclusive products in the way of a luxurious product discovery or luxury sales ceremony.
7. The market space is heating up
Strategic decisions are being taken now to either invest in proprietary technology or work with out-of-the-box solutions and platforms. See Piaget with Snapchat, Rolex with Chrono24, IWC with their own app, or Chopard with Farfetch. The market leaders are not twiddling their thumbs.
How to overcome the other challenges of the fine jewelry and watches sector?
What other solutions should fine jewelry and watches providers implement to face the challenges of revenue declines, slow transition to digitally-augmented experiences, and the surge of online traffic?
Improving the online experience they provide will likely be the most important.
This can be achieved in a number of ways, such as deploying sales assistants (human or digital, as needed) to achieve superior customer service. Virtual assistants are useful for answering customer questions quickly, while human employees can use empathy to build a real connection even during a short conversation. Both of these strategies can lead to the customer feeling taken care of.
Retailers may also look into collaboration-driven hype, bringing in social proof and positioning their products as sought-after. It's a way to accentuate exclusivity for luxury brands while maintaining the spirit of innovation. Collaborations are also bound to expand a brand's clientele, which is especially valuable for retailers looking to attract younger customers.
Visual merchandising is another opportunity for growth.
Crucially, the presentation of products should be designed as a consistent, satisfying experience as customers move back and forth between offline and online spaces.
Refining omnichannel strategies might become a necessity to maintain market position. It's advised that retailers should focus on two or three channels to achieve the best results. A good omnichannel strategy can't be stretched too thin.
By gaining focus and precision, brands will still be able to reach customers in any space and at any time. And they'll gain the ability to tailor their marketing message exactly to each consumer's circumstances, improving effectiveness.
Wrap-up
I am thrilled to see fine jewelry and watches retailers taking different paths when it comes to leveling up their game in digital customer experiences, product discovery, and sales. If this describes you and your company, keep in mind these three things:
Retail experiences must straddle the line between online and offline spaces, accessing customers where they are and guiding them towards satisfactory outcomes.
Augmented reality turns browsing online catalogs into an exciting process of discovery, increases buyer confidence, improves conversion, and decreases returns.
AR and VR, once costly to develop and implement, have become much more available.
---
For the last few months, our experts have been researching and analyzing selected VTO solutions. The results of their work will help us understand how consumers perceive virtual try-on, which elements of the experience influence them the most, and how brands can maximize the benefit.
Click here to download the Virtual Try-On Report.