An iOS App With a High Level of User Privacy
A simple but powerful multipurpose voice-memo tool for a meaningful digital screen experience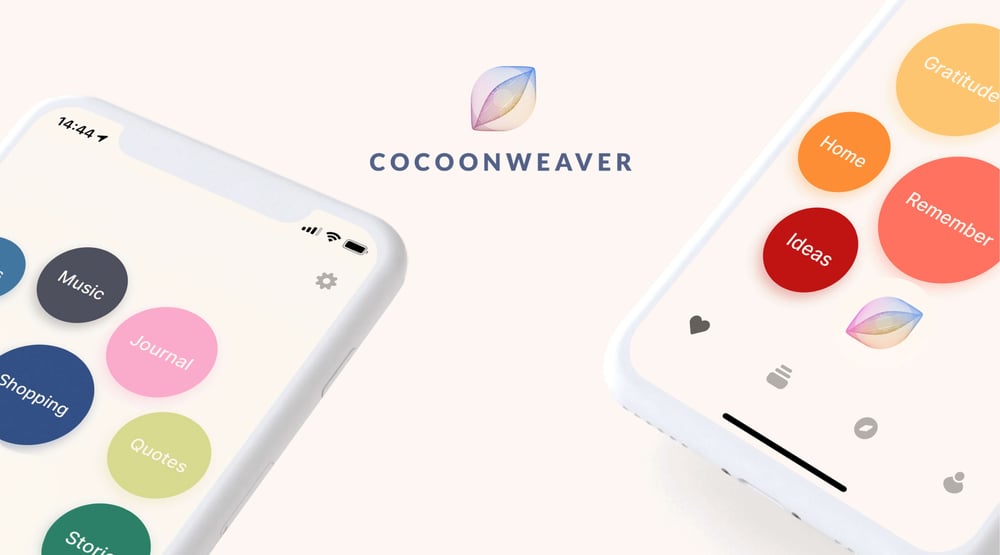 Countless digital distractions have worsened our ability to stay present, focused, and even creative.
Many can spend up to 4 hours or more a day on a smartphone on social media, playing games or just consuming, rather than being creative. That's 48 hours every 12 days.
The CocoonWeaver app looks to tackle this challenge in an unusual way. The tool uses voice notes and transcription to help users instantly collect and organize ideas into colorful categories.
Writing things down with a pen is replaced by a voice interface as it's not always practical, convenient or useful to "tap" or write things down. But the core of CocoonWeaver's use derives from a deeper message - using our technology as a surface for self-reflection and boosting our creative thinking. CocoonWeaver encourages us to use our distracting smartphone companions to "talk to ourselves".

The app follows the ideas of Jungian psychology, which sees self-reflective analysis about thoughts or even dreams as key to understanding and aiding creative projects and helping us understand our inner motivations, desires, and dreams. Or simply keeping track of things.
How can we help solve the issue of our technology getting in our way and work with it better?
"Surely, creativity is a byproduct of spending less time being distracted, and more time being focused and present. How can we help solve the issue of our technology getting in our way and work with it better?," asks Alexander Boëthius, creator of CocoonWeaver and founder of The Origin AG.

When are we the most creative?
This is a complicated question, but Alexander, having a background in psychology, filmmaking, photography, and music says that creativity really comes from a dance between being present/focussed on what it is we are trying to manifest and also spending time away from it.
"A creative project doesn't end when the work day ends. It's an organic process that follows us even into our dreams and develops over time. Therefore, our greatest "Aha" contributions to those projects tend to come when we least expect it."
This could be when we are going for a walk, driving a car, seeing or hearing something inspirational - and not necessarily when we are at the workbench. When that "Aha" moment strikes about that specific text, copy, guitar lick, joke, wedding speech, story or fantastic idea, we want to collect it. CocoonWeaver empowers its users to collect such fleeting potential and spend time with it.
Who uses CocoonWeaver?
The most obvious use cases appeal to artists, journalists or entrepreneurs, people who naturally have lots of ideas which they want to record and keep track of, and who are often on the move.
Adults who display tendencies towards attention deficit disorders are a primary user group as well. Nonetheless, its intuitive design and functionality works well for anyone seeking to collect and organize their thoughts in a gorgeous, fun, and minimalistic interface.
The only voice note app on the market that focuses on creative thinking
There are many apps for recording voice notes. What makes CocoonWeavers different is its approach. The tool encourages the user to practice self-talk and transform raw thoughts into ripened concepts. CocoonWeaver creates an accessible space you can use to collect ideas quickly and easily. You only need to speak, and your words will fall into different categories thanks to machine learning models. Other features such as geo-tagging, custom push notifications, or easy content sharing also aim to facilitate the creative process.

Great app with privacy by design
CocoonWeaver's creator, Alexander Boëthius, had a lot of ideas he wanted to turn into reality. The idea of CocoonWeaver and how it works is quite complex so the biggest challenge was to make it easy to use and intuitive to understand.

Making an app with features stimulating creativity was only a part of the plan. Achieving high-level user privacy was of equal importance. The majority of mobile apps monetise their users' data, but CocoonWeaver prioritizes privacy over profits from advertising. "Otherwise, the product wouldn't be useful to its users in the deeper sense."

CocoonWeaver responds to these challenges on Apple iOS. This ecosystem proved to be the right choice not only for its distinctive privacy policies but also a preference for simple, distraction-free designs.

Complementing Apple's Siri, the advanced natural language processing algorithms ensure speech-to-text-transcription with impeccable punctuation.
The multipurpose voice-memo tool
Users can download CocoonWeaver from the App Store for free and enjoy collecting the things they care about. They also know their data remains private thanks to deploying machine learning models on the device rather than in the cloud. And so far, the app's reception has been incredible.
CocoonWeaver is gradually becoming a go-to tool for professionals or anyone looking to catch fleeting thoughts on the go or when in the flow. The app will be further developed with Netguru so you can soon expect to unleash even more creativity!