Product Design Services for Médecins Sans Frontières
Access Campaign helps challenge unfair patents and pushes for transparency and affordable access to medicines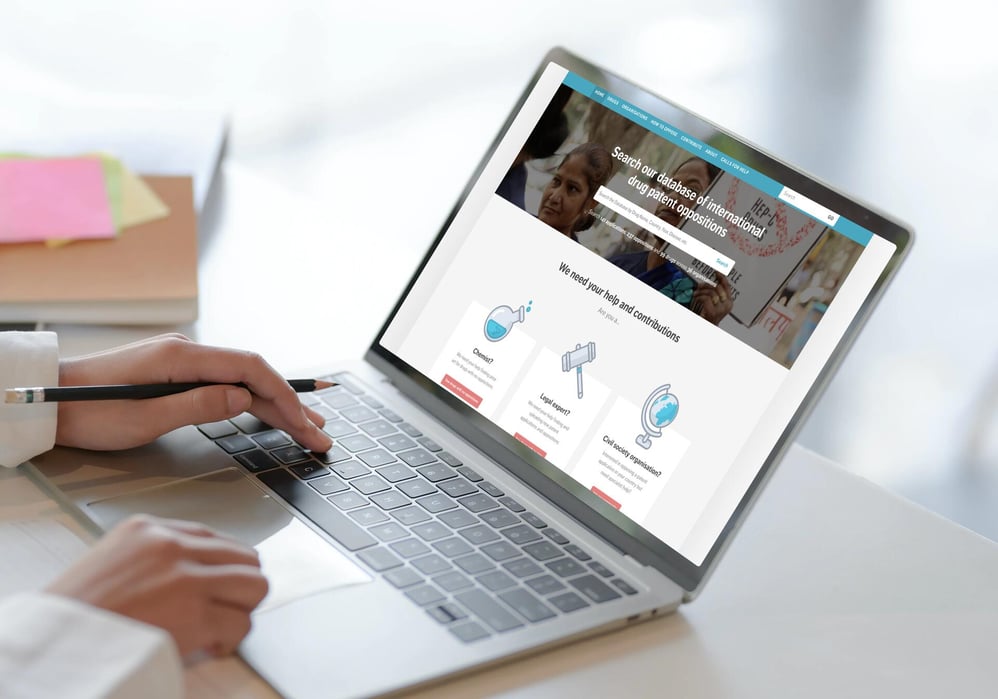 Médecins Sans Frontières (MSF, also known as Doctors Without Borders) is a globally renowned, independent, international medical NGO with a clear and impactful goal: provide effective medical care for people in need, including access to lifesaving medicines, tests, and vaccines.
They work to accomplish this objective through various projects, including the Access Campaign and one of its tools: the Patent Opposition Database. MSF points to medicine patents as one of the factors affecting treatment availability and affordability.
Patent oppositions: expanding access to medicines from the ground up
Patents tend to drive up the prices of medications, making them unaffordable to those who need them most. When pharmaceutical companies develop a new drug, they pursue patents that, if granted, give them the exclusive right to make and sell that drug for the next 20 years.
This prevents other producers from making their own more affordable versions and means the patent-holding company can charge high prices without the risk of competition.
But many patents on medicines are not truly "new" — a company might make small tweaks, such as changing a medicine from a powder to a pill, or adjusting the ingredients slightly to get new patents, extend their monopoly, and carry on cornering the market.
Most of the patent laws in the world include procedures that, in one way or another, allow people to challenge undeserved applications and patents in order to prevent or correct mistakes that might be made by the patent offices.
Challenging patent decisions can overturn them, and medicine can then become more affordable for everyone.
The Patent Opposition Database contains a wealth of information on existing patent oppositions, patent applications, patent office decisions, court cases, and other vital documents that will inform anyone preparing to file an opposition.

Making a change should be easy
Anyone can use the platform to share information on how to oppose a patent. It might be someone from a civil society organization or an NGO with a particular interest in making certain medications more affordable. It could be a lawyer, a researcher, a health professional, or even a market competitor. Or simply an individual interested in doing something for the common good.
When Netguru joined the project, our aim was to improve the platform's design to allow interested parties to easily file patent oppositions. The platform would be a base for sharing resources and user experiences, empowering people to take action.
The key challenge of the project, from the design perspective, was that the platform has to be easy to operate for every person interested in contributing. With so many disparate user profiles, approachability and inclusivity would be crucial for the project.
Growing a platform for the greater good
The digital world opens the way for a new approach to raising awareness and fighting for a cause. It also enables companies and nonprofits to understand their customers and supporters better. Netguru helped MSF gain traction and optimize the performance of the Patent Opposition Database using the Growth as a Service model.
While working on the Patent Opposition Database, MSF realized that two issues were stopping them from reaching a much broader audience and making a stronger impact:
Traffic and engagement. In order to fulfill its role, the POD platform required steady web traffic from the right audience. Reaching out to such a specific user base can't happen without thorough research, which overlaps with the second issue.
User analytics. After launching a software product, the best way to see if it works as expected is to observe the users and make conclusions based on their actions. MSF needed to measure user activity and engagement on their website, track user behavior, and find out whether they were achieving project goals according to expectations.

Engaging users by understanding their behavior
Reliable data can be a treasure trove of science-driven insights, but organizations often don't take full advantage of it. One role of Netguru experts in the Patent Opposition Database project was to guide MSF through the streams of user data and gather valuable insights, which would later translate into the desired outcomes:
Increased traffic,
User acquisition and retention,
Better engagement,
Lower churn,
More added value for the Patent Opposition Database.
Our work started by analyzing the POD website and user behavior. Based on the gathered information, we utilized Google Analytics to help MSF learn more about their users. We wanted to create a platform that users would enjoy and talk about.
To measure platform engagement, the team prepared a taxonomy of events, including a list of user actions and triggers to track in Google Analytics. Once the taxonomy was finished, it was the developers' job to implement it on the website and ensure all relevant data flowed in as expected. A successful implementation wouldn't be possible without crucial support from software testing and DevOps.
Growth as a Service not only involves completing responsibilities inside the project team, but also sharing necessary know-how and tools with the client. MSF needed help to understand the way Google Analytics works and how to make the most of the platform's features based on the taxonomy we prepared for them.
A custom learning session covered the necessary basics and actionable tips for building a better Patent Opposition Database as soon as possible.
Results of a growth-focused approach
MSF's Access Campaign gained a powerful tool for their cause — a scalable, user-oriented platform built with growth in mind.
After months of complex work and more than two years of ongoing maintenance, the Patent Opposition Database functions seamlessly in a digital environment and makes a bigger impact than before.
Currently, the Netguru team is responsible for code and user experience improvements to keep the platform's structure up to date.