MVP of a Hotel Review Web App
Making great hotels exceptional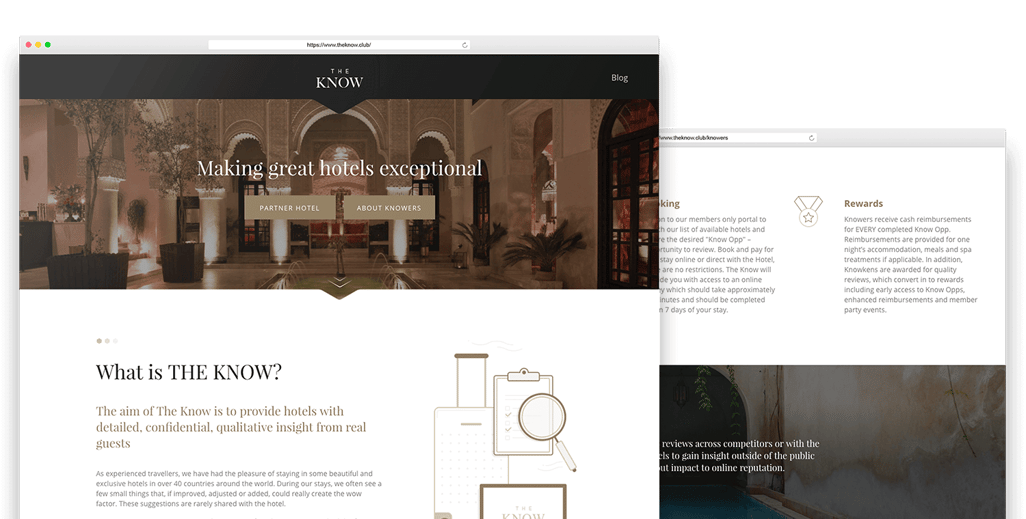 The Know is an improved mystery shopper and insight service for luxury and boutique hotels.
Challenge
The company has built a network of reviewers, named Knowers, who perform detailed reviews in exchange for reimbursement, additional rewards and membership in the exclusive club. The Know turned to the Netguru team to help them with building the web app from scratch. The main challenges included:
building a reliable and uncomplicated system that connects three user databases: for hotels, reviewers and admins;

designing and implementing user interfaces that are in line with brand positioning;

creating an intuitive and transparent way of presenting data and insights to both hotels and Knowers;

meeting budget and timelines to support business milestones.
Solution
The Netguru team consisting of five experts, including a Product Designer, Project Manager, Senior QA Specialist, and two Full-stack Developers, chose Ruby on Rails as the backend technology and React.js for the frontend. Such a configuration offers easy testing and maintenance, native-app-like user experience, responsive interfaces, as well as quick development. The process involved the following steps:
choosing the right technology to provide the best possible outcome given time and budget;

building the database for three different types of users;

implementing all the necessary functionalities such as: adding hotels, inviting users, survey configuration, statistics as well as the search engine for browsing hotels and Know Opps (opportunities to review);

crafting engaging web designs that would be appealing to the target audience.
Results
In less than two weeks, the team crafted a landing page, so TheKnow could kick off with marketing efforts to attract first the Knowers and the hotels. In 4.5 months, the MVP was ready for the commercial release. The biggest wins for the client were:
landing Page was ready to generate the first sales lead within 2 weeks;

the company could start positioning and promoting the brand at the early stage of the project;

all the necessary features were introduced with the MVP, i.e.: KnowOpps booking, three functional dashboards, onboarding wizard for hotels and the Knowers, invitation mechanism;

the product was built before an important marketing event for The Know, the Independent Hotel Show, where the company would generate the new and nurture the existing sales leads.
Numbers
3 systems
2 weeks to build a landing page
4.5 months to build MVP
5 team members