A Scalable Network Hub for a Global Community of Women Leaders
Supporting Vital Voices in creating a communication platform, including product design consulting and development.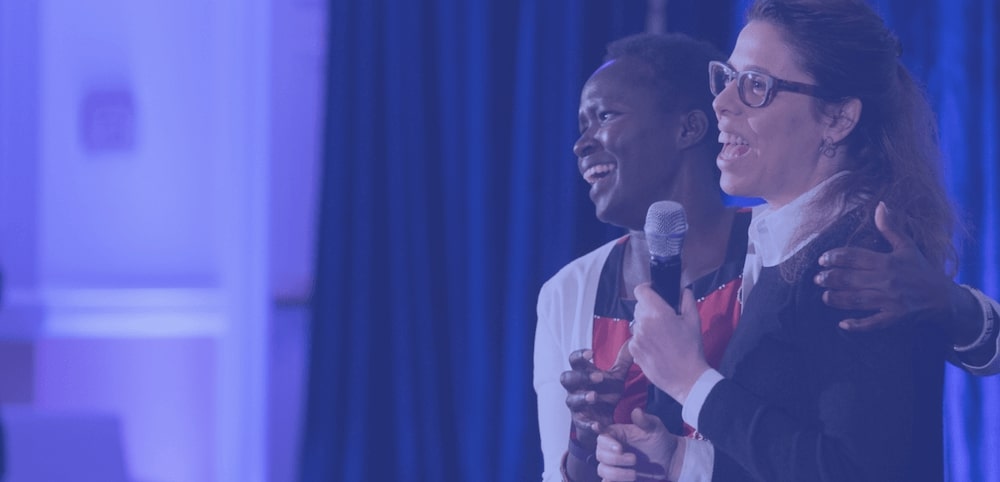 Vital Voices seek out creative leaders, women with a vision, and those who've already proven themselves through local ventures.
They partner with these women to amplify their impact and cause positive change on a global scale.
Vital Voices turned to Netguru to build a hub where women would be able to share ideas, build relationships, as well as seek support.
Thought leadership to catalyze lasting change
The Vital Voices Global Partnership was founded over 20 years ago to invest in women and improve the world through their contributions to it. The founders of Vital Voices understood that women are essential agents of progress in their communities. Without their participation, the world stagnates.
This is why a global movement like Vital Voices, empowering women to solve the world's greatest challenges, was needed.
Vital Voices use their long experience to support activists, innovators and entrepreneurs. They use signature programs, individual investments and thought leadership to catalyze lasting change.
Vital Voices also provide networking opportunities and skill-building programs in areas such as leadership, global activation, economic empowerment, entrepreneurship, human rights, and combating violence against women.
The organization has created their own Leadership Model, comprising practices learned from women leaders. It promotes a collaborative, innovative style that can be applied widely across industries and locations.
This is only one example of Vital Voices' thought leadership. With a broader scope of influence, their Human Rights team advocate to end gender based violence and provide rapid response assistance to support women in need.

Stories of impact
After the tragic events in Beirut and in the middle of the COVID-19 and an ongoing economic crisis in Lebanon, Vital Voices' network members face injuries and death among family and friends, ruined homes and businesses, as well as the emotional impact of the explosion. Many of them have shared their stories.
Aline Kamakian was hosting a staff meeting in her restaurant as the explosion occurred, injuring her and her team.
Despite her own pain, she focused on helping her stadd, and only days later she was already working with World Central Kitchen to feed members of her community. Vital Voices Engage Fellow Joelle Abou Farhat's Fiftyfifty NGO created an initiative called "Women for Beirut".
They streamline efforts, channel donations, use social media to showcase women working in the field, and prepare for restoration efforts to help families return to less damaged homes.
Over the course of the global pandemic, many women in the network have stood firm against the panic and confusion.
Dr. Ngozi Okonjo-Iweala, Global Alliance for Vaccines and Immunization (GAVI) Board chair, would make sure that the COVID-19 vaccine is available to everyone. She discusses leadership during a global crisis on the Voices of Resilience Podcast.
Vital Voices use their platforms, including the social media presence, to share stories of exceptional women, both contemporary ones as well as historical figures.
They remind the world of women who fought for the 19th Amendment, advocate for transgender people during the COVID-19 pandemic, share women's achievements in the world of business, and much more.
They are a much needed uplifting voice.

Creating a platform to engage a global community of women leaders
Vital Voices uses multiple websites and channels to connect with their members and spread their message.
This distribution of information and a lack of common communication platform was a challenge they chose to face by building a safe space for their members.
The goal was to create a hub where women would be able to talk, share ideas, build relationships, as well as seek and offer support.
Much consideration had to be given to the issue of security. Anonymity protects many women from being persecuted for their opinions. And in these difficult times, it's crucial that the world's women leaders have a space allowing them to work together to battle the pandemic and its consequences.
Scope of the project
Vital Voices needed our consulting, flexibility and ability to adjust to rapidly approaching deadlines (so important when a global pandemic forces many organizations to change their plans).

We provided the full scope of our services:
product discovery;
consulting;
design;
development using React and Python.
Challenges and goals
When working on the new platform, we were always thinking about the anonymity and safety of its users.
Despite the short deadline, we had to create a scalable product that would accommodate Vital Voices' ambitious plans for the platform's future growth.
Finally, the experience delivered to users had to be smooth, consistent and flawless. We had to ensure that the platform would be accessible, with friendly UX and UI, as the Vital Voices community is very diverse in terms of age and technical skills.

Delivering a safe space to empower world changers
The Vital Voices Network Hub invites its members to engage in public (though still safe from outside scrutiny) and private discussions.
Users are able to send private messages through a dedicated system, create profiles to share their information, such as a short bio or social media handles, with the community.
They finally have a single platform for communicating, sharing their knowledge and supporting each other.
Thanks to well-designed features, the members of the network can feel safe when they express their opinions.
Administrators have full control over the hub and can react quickly to inappropriate content.
The app is ready for further development, which will include features such as:
Creating groups to help users engage in deeper interactions, including support groups and mentoring,
An interactive map for oppressed community members looking to find someone they can trust, close to home and without a language barrier,
And more!
We hope to see the platform positively impact the lives of women who dedicate their time and energy to guiding the world towards a better future.