5 Examples of Augmented Reality in Fashion Retail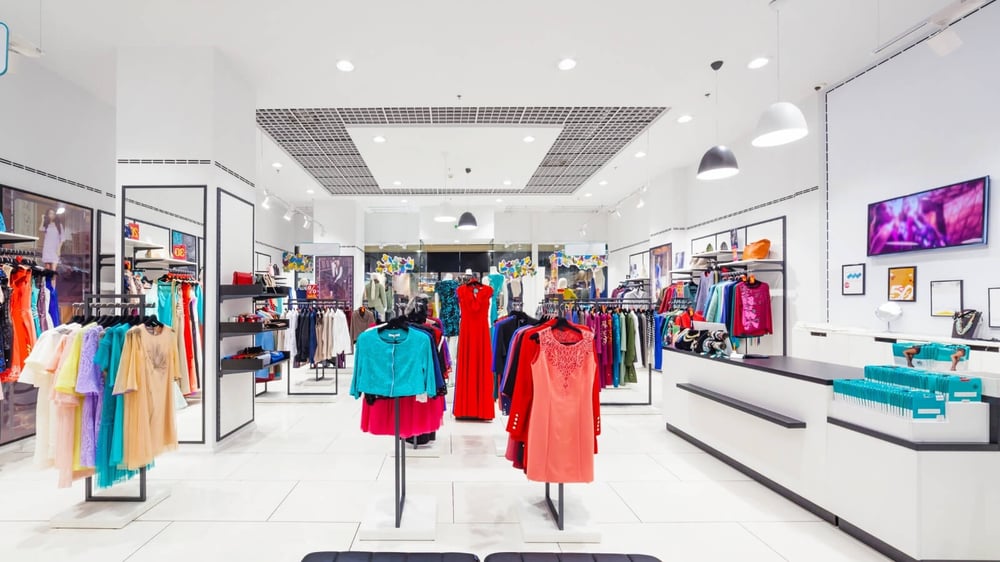 Augmented reality (AR) in the fashion industry is a phenomenon that's been experimented with for a decade or so, but not in the capacity we currently see.
Today, the sector is quickly learning to use enhanced versions of the real physical world to its advantage. AR technologies in fashion can improve customer experience and boost sales. They offer a brand new way to experience products and keep customers more engaged with the brand throughout their shopping journey.
What is augmented reality? A technology that superimposes a virtual image onto the real world via a smartphone, tablet, or other enabled electronic devices. How does augmented reality work? When you start the camera on your smartphone to take a picture or record a video, an AR tool adds an object to the frame that doesn't actually exist.
How is augmented reality used in fashion? The technology allows fashion brands to extend their customer base and product lines, make the shopping experience more interactive, creating an element of fun for the consumer.
Now, let's take a look at examples of the best augmented reality in fashion retail.
1. Burberry: Boosting customer engagement with AR
It's impossible to discuss examples of innovations in the fashion industry without mentioning Burberry. The UK fashion house famed for trench coats is creative with its use of AR for customer retention and brand promotion. Read on for some of the iconic company's most successful AR endeavors.
An augmented reality fashion app by Danny Sangra
Burberry collaborated with artist Danny Sangra to create 'Burberry-inspired' drawings for a dedicated AR feature in their iOS application. The application combined an e-commerce store with interactive brand features. With the AR component, users decorated their surroundings by adding Danny Sangra's images onto their pictures, then shared the images on social media, helping the brand reach new consumers.
High-end retailers increasingly focus on reaching customers online. Why? Two thirds of luxury purchases are now influenced by digital, according to Boston Consulting Group. AR is an excellent way to provide engaging and interactive digital experiences to customers, allowing shoppers to experience brands in fresh and exciting ways.
AR-powered Google shopping experience
Burberry's collaboration with Google is another example of AR in fashion retail. It cleverly brought the in-store shopping experience straight to shoppers' digital devices. Thanks to this initiative, Burberry offered 3D images of their Black TB bag and Arthur Check Sneaker to customers searching for them online. By typing the relevant product name in Google, consumers discovered 3D images of the items.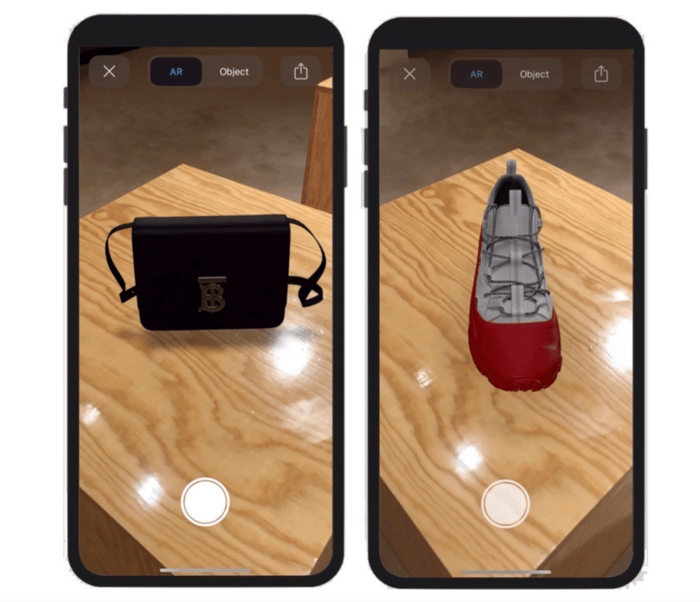 Image source: Burberry PLC.
Collaborating with Google allowed Burberry to reach more potential customers. How? They previously offered 3D images of products, but only via their dedicated app or website. Partnering with Google broadened the reach of the retailer.
Moreover, the solution not only created a more connected experience and enhanced personalized luxury commerce, but also managed customer's expectations about items. That allowed shoppers to benefit from a more realistic view of products before buying, eliminating the need to go to the store and directly interact with the item in person, and potentially reducing the likelihood of returns.
Building brand buzz with pop-up AR
AR in fashion retail doesn't have to focus on selling alone: Burberry uses augmented reality across various locations to create brand energy.
In 2019, they offered a cool AR experience at Ely's Yard, a popular shopping spot in East London, installing three large porcelain fawns in glass boxes. When passers-by scanned the young deer with Google Lens apps, they saw an aerial view feed of themselves and the animals on their phones.
Image source: Burberry PLC.
In the same year, Burberry created another AR experience in Japan at the Ginza store. By scanning QR codes displayed in-store, visitors activated an AR lens to look for hidden Burberry fawns on the streets of the upmarket Tokyo neighborhood. In both cases, users shared photos on their social media channels.
Customers immersing in a virtual world
Introducing augmented reality to its marketing activities gave Burberry a competitive advantage. In the past, upscale brands relied on e-commerce to sell low to mid-range luxury goods - they didn't see online channels as suitable for high-end brand sales, believing customers could receive personalized experiences in bricks-and-mortar stores only.
However, that conviction was proven wrong. Burberry invited customers to a new, digital world and they happily followed. These days, shoppers immerse themselves digitally and increasingly purchase extravagant goods online. The brand already has a solid customer base in China, where almost 80% of purchases are through mobile devices. Thus, deluxe brands shouldn't underestimate the power of online channels for boosting sales.
According to McKinsey, one in five luxury purchases will take place online by 2025, with customers enthusiastically embracing the digital lifestyle. Furthermore, today, almost 80% of luxury sales are influenced through digital channels.
2. Gucci: Try on shoes virtually at home
Gucci created an iOS app powered by AR technology, enabling customers to remotely and virtually try on its Ace sneakers collection. The Italian brand introduced the solution in 2019, before the global lockdown era. Since then, in times of prolonged closures of physical stores, it's proven one of the most effective ways to drive sales. Customers increasingly opt for online shopping; that trend will more than likely stay for good.
Gucci also went a step further, partnering with Snapchat to offer a virtual trying-on experience through the multimedia instant messaging app. That clever move significantly boosted customer engagement, opening a new channel for driving sales. Gucci was the first luxury fashion brand to collaborate with the social media platform to drive sales with an AR tool.
Image source: VentureBeat
Robert Triefus, Gucci's Executive Vice-President of Brand and Customer Engagement said the fashion house's philosophy is to bring immersive shopping and entertaining experiences to their customers. Gucci seeks to merge physical and digital reality through advanced technologies.
The idea behind this AR tool? To build a client base remotely, by offering physical experiences with digital tools. According to Triefus, Gucci is always looking for new technologies, striving to give customers unique experiences they won't get anywhere else.
How did Gucci track the success of its AR solution?
Robert Tiefus explained that Gucci measured the success of the implemented AR solution both qualitatively and quantitatively. In terms of quality, they looked at:
Experiential engagement and the entertainment factor
Time users spent with the application
Seamlessness of customer experience: Could users try multiple sneakers with ease?
For quantitative analysis, they looked at user and conversion metrics, as well as the number of customers moving towards the lower sales funnel, and purchase. Here, the AR-supported shopping experience generated positive ROAS (return on ad spend) for the brand.
Gucci'sThe AR virtual try-on experience was a triumph. Originally, the brand initiated the campaign to generate awareness and boost engagement, but the ability to make purchases directly from the app pushed many customers to buy the sneakers.
3. ASOS: 'See My Fit' technology
In 2019, ASOS – one of the biggest online retailers in fashion – launched an experimental AR feature called Virtual Catwalk as part of their shopping app. The feature was designed to further enhance the online customer experience by helping app users visualize clothes on human models before making a purchase.
The feature was a success, so when global lockdowns ensued and photographers and models could no longer work together on traditional campaigns, ASOS decided to scale up their application of AR in fashion retail. How? The company created a feature called 'See My Fit' in May 2020. That iteration offered customers the option to see how clothes fit on 16 different models sizes four to 18, in a realistic-looking setting.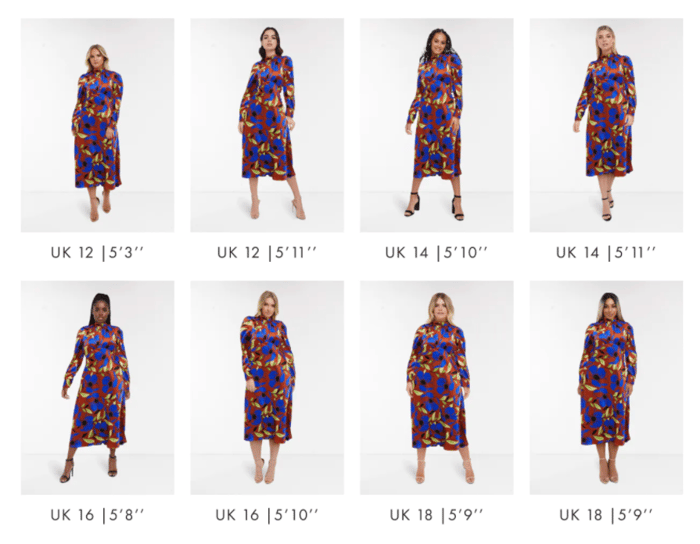 Image source: Bustle
The AR models are shown walking and turning around wearing selected clothes, allowing shoppers to see how sizes fit different body types, offering an even more realistic preview. ASOS's goal? The AR tool would help customers find the right fit and simultaneously solve the pervasive problem of item returns.
According to Tim Carey, Senior Content Manager at ASOS Studios: "With this trial of See My Fit, we're using the latest in AR technology to put the power in our customers' hands, so they can choose to view a dress on the model that they most identify with, in a way that wouldn't be possible using traditional model-shooting techniques."
See My Fit: Reactions
With the tool, ASOS certainly made a step in the right direction, helping customers see products in context and make more informed decisions. However, the tool was criticized for being unrepresentative of 'real' women.
Negative comments came from PR specialist Sunny Bird, creator of Perfect Dress Company, the first UK fashion brand allowing customers to see models of all sizes wearing the same dress on a website. In her view, even though ASOS did present dresses on models of different sizes, they weren't inclusive enough and created false expectations. For example, sizes above 18 were excluded from the trial. Many customers were unsatisfied with that aspect.
4. Timberland's magic mirror
The outdoor fashion retailer opted for the so-called 'magic mirror', an AR-powered mirror that virtually 'dresses' individuals in selected garments from a given collection. As a result, consumers saw how they would look in specific outfits.
Timberland was one of the first brands to bring virtual fitting rooms to Mokotów Gallery, a shopping center in Poland. They implemented the project in collaboration with Lemon & Orange, allowing customers to easily try on selected items from their latest collection.
Image source: Lemon&Orange
The virtual reality mirror reflection was displayed on a public screen, meaning shoppers could quickly and conveniently compare different outfits, without the need to take their own clothes off. They could also easily seek an opinion from friends or family who accompanied them to physical stores.
In that way, shoppers 'tried on' different outfits without the need to visit the fitting rooms, offering a convenient customer experience to people who didn't want to wait in line for a vacant fitting room or simply didn't want to change.
The smart tool was also a great way to attract new customers: The magic mirror stopped and engaged consumers who didn't know the brand.
How did Timberland's virtual fitting room work?
The solution used Kinect technology to follow movements and scan faces. It took pictures of users virtually trying on items in front of an 80-inch mirror. Alternatively, customers could also use an app built for iPads. With that solution, a user took a selfie of their face and put it on a model. That way, they could see how they looked in a given outfit.
When a shopper was satisfied, they could receive the image via email, or post it on Timberland's fan page. Shoppers could also share their outlifts on Facebook by following the link included in the email, so their friends could comment. By connecting the mirror with social media platforms, Timberland also promoted social shopping.
5. Lacoste: more than what you see in store
The last example we'd like to share with you is the mobile app created by Lacoste. The French sports fashion brand used augmented reality technology allowing customers in physical stores to digitally 'try on' the entire available range of products from their LCST streetwear collection, and interact with additional content prepared by the company.
When shoppers entered the store, they could use the dedicated app to scan trigger images on the floor and display different color ranges and style options within a given sneaker model. Next, they were able to try them on without having to take their shoes off.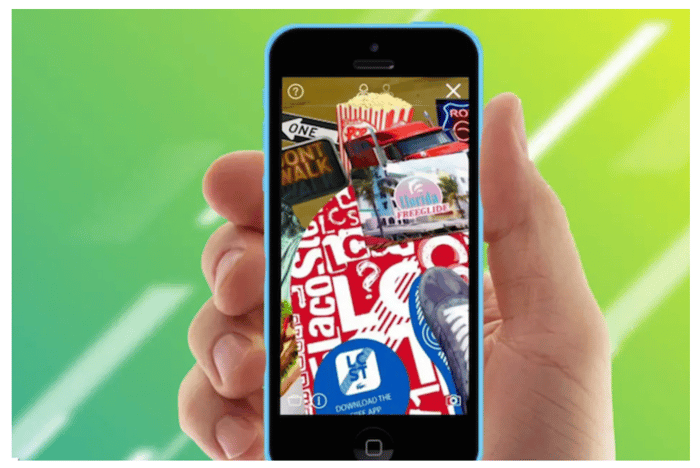 Image source: Engine Creative
The app allowed consumers to conveniently make purchases directly from the app, offering improved customer experience to tech-savvy shoppers. With that, the company showed the entire offering while keeping smaller stores and less stock on display. The application also helped boost marketing efforts with user-generated content. How? By allowing customers to take photos and share them on social media to seek opinions from friends and family.
AR tool promoting 'Bring the Colour' campaign
Lacoste used the AR-powered app to channel their 'Bring the Colour' motto. They wanted to introduce that with a bang, needing an innovative and vibrant campaign to attract new customers and engage the existing base.
With the app, shoppers could color their surroundings by scanning store window displays, in-store signage, and promotional postcards to access 3D video animation content. Lacoste was the first brand to combine high resolution 3D product scanning and AR to deliver an interactive product viewing experience for shoppers.
The campaign successfully promoted the streetwear retailer as bold and edgy. Over 30,000 users interacted with high resolution 3D products using the LCST Lacoste AR app.
Augmented reality: Redefining fashion
We've selected several of the many examples of augmented reality in the fashion industry. Both high-street and luxury brands use virtual reality in a variety of ways, from allowing customers to try on items and encouraging unique user-generated content for brand promotion, to spurring creativity to play with different products and simplifying the shopping experience by allowing customers to skip queues.
By using AR tools, fashion brands and online stores boost customer experience and engagement, driving sales. Above all, AR in fashion retail offers people a new way to experience products – something increasingly demanding consumers welcome. Using AR technology is a true advancement in the fashion industry, and an innovative way of boosting customer loyalty and driving growth.