Top Examples of Augmented Reality in Fashion Retail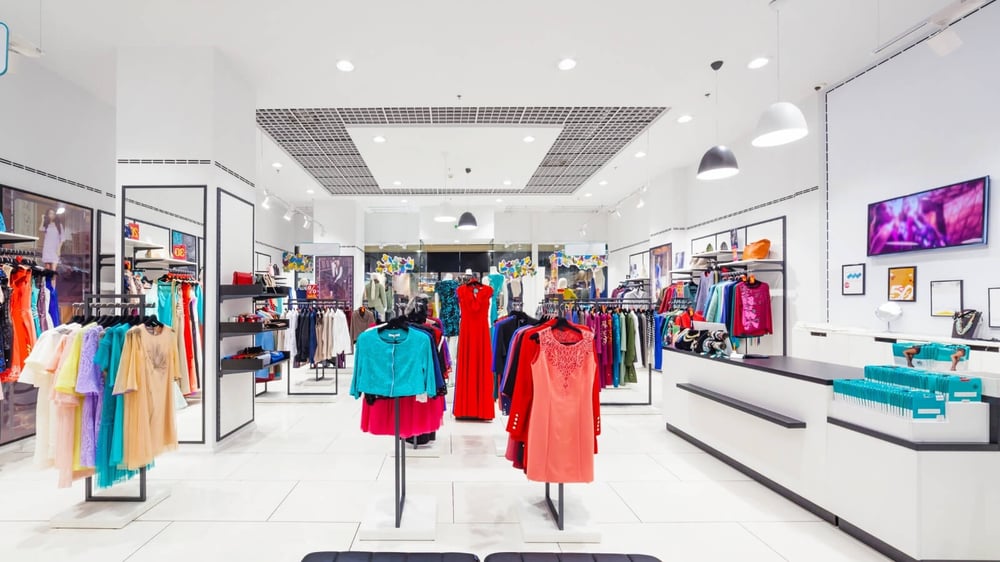 While customers find the concept of using augmented reality to shop for new clothes appealing, the question remains whether it can yield tangible business outcomes for fashion retailers.
Integrating augmented reality (AR) technologies into the fashion retail industry provides customers with a pleasurable and engaging shopping experience. Although AR has been accessible for a few years, it is still a comparatively novel approach to browsing and purchasing clothing, jewelry, makeup, and other personal accessories.
As much as it offers an unparalleled shopping experience, when used to its fullest potential, retailers can leverage augmented reality to drive sales and achieve business objectives. 71% of shoppers say that they would likely shop more frequently when using AR-powered apps (according to a Deloitte report). In addition, 40% of consumers indicate that they would also pay more if they're able to test a product in AR.
To concretely demonstrate the power of augmented reality in fashion retail, I'll be presenting some of the most outstanding examples of how fashion brands have deployed AR into the shopping experience for their customers.
How is augmented reality used in the fashion industry?
First, what is augmented reality? Augmented reality is a technology that superimposes virtual content with the real world environment via a smartphone or other enabled electronic devices.
How does augmented reality work? When you start the camera on your smartphone to take a picture or record a video, an AR tool adds a virtual object to the frame that doesn't actually exist in the physical environment. This delivers an experience wherein digital objects coexist with the real world environment as captured by their device's camera.
The terms augmented reality (AR) and virtual reality (VR) are sometimes used interchangeably, but these two technologies are different. Virtual reality generates computer-generated content that users experience through a headset without the visual layer of the real world.
In fashion retail, augmented reality is primarily applied in the form of Virtual Try-On (VTO). With virtual try-on, retail brands let customers virtually wear or sample clothes, accessories, and makeup, among many other types of personal effects.
With VTO, the AR technology superimposes the virtual representation of a product over the customer's image so they can visualize how the items would fit or look on them. As popularized by social media platforms, they can also be deployed as filters acting as virtual clothing.
As you'll see in the examples below, retailers offer VTO in two main ways:
Through a personal device (e.g. smartphone, tablet, desktop, laptop), customers access the retailer's AR-enabled digital platform through an app or a web browser, which also requires the use of the device's camera.
Through a virtual fitting room, customers access augmented reality using digital mirrors and smart displays.
What are the top examples of AR in fashion?
To further understand how augmented reality and virtual try-ons actually work, let me offer outstanding examples of how brands have deployed them for their customers.
1. H&M: Get dressed in the metaverse
H&M introduced its inaugural virtual clothing line in January 2022 by organizing a competition that invited participants to submit creative and imaginative names for the featured looks.
These virtual garments were exclusively offered as prizes for the competition and were not physically manufactured or sold in stores. Winners had the opportunity to "try on" the virtual pieces by submitting a photo of themselves, which was then styled by 3D graphic designers into an animated image that could be shared on social media platforms.
Image source: H&M Group
With the advent of new technology combined with gamification, H&M has the opportunity to further connect and interact with the customers, and explore more creative and entertaining avenues.
Digital fashion encompasses the entire spectrum of traditional fashion, ranging from casual T-shirts to elegant ball gowns. However, these garments are not physically produced or tangible in any conventional sense. Instead, they are crafted using advanced 3D and animation design software, allowing individuals to "wear" these digital outfits through gaming avatars, AR experiences, or digitally edited photos.
2. Burberry: Elevating the brand experience with AR
Burberry is among the leading retailers in the fashion industry bullish on augmented reality. They've integrated AR in various online channels and continue to experiment with it in their campaigns globally.
Their collaboration with Google cleverly brought the in-store shopping experience straight to online shoppers' digital devices. For example, consumers who searched for Black TB bag and Arthur Check Sneaker on Google were able to view these products in 3D.
Image source: Burberry PLC.
Before, Burberry offered 3D images of their products only through their website and app. Partnering with Google broadened their reach to potential new customers.
Moreover, the solution not only created a more connected experience and enhanced personalized luxury commerce, but also helped manage customer's expectations about their items. This allowed shoppers to benefit from a more realistic view of products before buying, eliminating the need to go to the store and directly interact with the item in person, and potentially reducing the likelihood of returns.
Building brand buzz with AR
AR in fashion retail doesn't have to focus on making an immediate sale. Burberry has been using augmented reality in plenty of global campaigns to initiate a relationship with their target audience.
For instance, Burberry collaborated with artist Danny Sangra to create 'Burberry-inspired' drawings for a dedicated AR feature in their iOS application. The app combined an ecommerce store with interactive brand features. With the AR component, users could decorate their surroundings in real time by adding Danny Sangra's images onto their pictures. Users could then share the images on social media, helping the brand further boost its profile, especially among art enthusiasts.
AR proves its value in luxury shopping
Introducing augmented reality to its marketing initiatives gave Burberry a competitive advantage. In the past, upscale brands relied on ecommerce to sell low to mid-range luxury goods. They didn't see online channels as suitable for high-end brand sales, believing customers could receive personalized experiences in bricks-and-mortar stores only.
Burberry invited premium customers to a new, digital world and they happily followed. One in five luxury purchases will take place online by 2025 (according to a McKinsey report), with premium customers enthusiastically embracing the digital lifestyle. Furthermore, today, almost 80% of luxury sales are influenced through digital channels.
3. Zalando: Try On
Zalando, the leading online fashion retailer in Germany, introduced a new virtual dressing application called "Try On" on Snapchat. By utilizing AR technology through Snapchat's Lenses, users can virtually try on selected products from Zalando's own brands, including Even & Odd, Zign, and Your Turn.
To use the feature, Snapchat users simply take a full-body photo and upload it within the app. They can then choose a garment from the available options, and the application seamlessly integrates it into the photo. The technology intelligently removes any overlapping clothing, resulting in a realistic representation. This functionality enables users to determine if the clothing suits them and provides the opportunity to share the photo with friends to gather opinions.
Zalando has run two effective campaigns in collaboration with Puma, a sportswear brand, and their private label Anna Field. During these campaigns, over 30,000 customers utilized the technology across the two product ranges.
Image source: Zalando
"Our goal with these pilot campaigns is to learn and understand how customers engage with this new technology so that we can develop a seamless scalable solution for the future. We already see that the customer engagement with those campaigns increases and, in fact, around half of the customers try more than one size on the avatar" said Stacia Carr, vice-president for size and fit at Zalando.
4. Lily: Virtual fitting room in non-store locations
For a pop-up campaign, Lily, a womenswear brand in China, installed two smart mirrors powered by VTO at a Shanghai metro station. With these interactive screens, passing commuters could virtually try on the brand's clothes in real time.
The screen invited people to snap a selfie and enter their height and weight. The AR technology then overlays digital clothing onto their image, displaying how they would appear in their selected outfit. If pleased with their look, the smart mirror could generate a QR code for users to be able download their image on their mobile phone.
By putting up a virtual try-on experience at a non-store location with high foot traffic, the campaign brought a fully immersive experience to anyone passing by. It also offered a pragmatic way for would-be customers to discover their collection through this virtual fitting room pop-up experience.
5. Fendi: Maintaining relationships with loyal clients
Despite the pandemic lockdown, Fendi's loyal patrons kept in touch with their client advisors through Whatsapp and other messaging platforms. Customers wanted to see the items available at the stores they once frequently visited. While the products were already available online, they valued the physical shopping experience, including the relationships they've built with their client advisors.
Because of this, Fendi wanted to recreate the sensory and emotional experience of in-store shopping by introducing virtual dressing rooms akin to video conferencing solutions. They installed tailored and high-quality cameras into some of their in-store dressing rooms. Unlike regular cameras, these could capture the real render of colors for customers to be able to see the products better, simulating the shopping experience they're familiar with.
During Fendi's virtual appointment, the client connects remotely to advisors or sales associates inside Fendi's custom-built dressing rooms. The advisors engage with the clients through live video, even fitting the clothes themselves for the client to see. The advisors also encourage clients to invite their friends to join the virtual fitting experience no matter where they are, mimicking an in-store shopping experience where friends express what they themselves like or dislike.
As part of this technology, Fendi built an AR-enabled styling tool wherein client advisors can generate multiple looks for the client, which they can evaluate at home to help them purchase the right product. Fendi also built a broadcasting technology whereby the advisors can integrate digital content during the live fitting. It simulated a live TV broadcasting experience that was easy to learn and deploy from the side of the client advisors as users.
6. Adidas: Highlighting sustainability with AR
Adidas is also one of the top fashion brands enthusiastic about using and experimenting with VTO. For example, in 2019, Adidas introduced a footwear try-on through their iOS app (and being available on Android later on), which let customers virtually wear some of their most iconic models and a select collection of running shoes.
While the AR functionality couldn't account yet for exact sizes, it showed customers how the shoes look in real life on their feet prior to committing to a purchase. This is probably the use case closest to social media AR filters.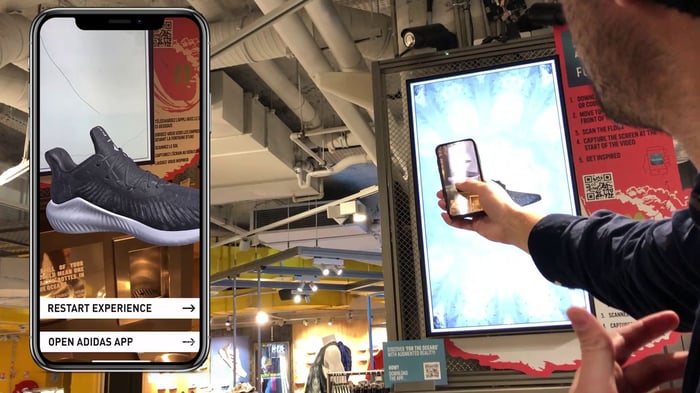 Image source: MarketingDive
The sportswear brand has also deployed augmented reality in a number of pop-up campaigns, particularly to highlight their sustainability initiatives. For instance, Adidas hosted a gamified mobile AR experience at its flagship store in Paris to showcase how they converted recycled plastic into footwear.
In a 2021 campaign with The Athlete's Foot across various locations in Europe, they placed QR codes on retail windows, which functioned as trigger points for an AR experience. Passing shoppers could scan the QR code with their mobile phone to activate an AR-powered digital environment with no app required. It featured a virtual tornado to highlight the sustainable materials used in Adidas Stan Smith shoes.
How can AR increase customer loyalty?
Augmented reality in retail enhances the shopping experience by allowing customers to virtually try on products and visualize them in their environment, reducing purchase uncertainty and increasing satisfaction. The personalized and interactive nature of AR fosters a stronger emotional connection between customers and brands, leading to increased loyalty.
Personalization and customization: AR technology can personalize the shopping experience by offering tailored recommendations and suggestions based on customer preferences and previous purchases. By providing personalized and customized options, retailers can build stronger

emotional bond between the customer and the brand

. with customers and foster loyalty.

Reduced purchase uncertainty: AR enables customers to preview products before making a purchase. They can see how furniture fits in their home, how clothing looks on their body, or how makeup appears on their face. By reducing purchase uncertainty and helping customers make more informed decisions, AR increases trust and loyalty.
Gamification and rewards: Retailers can incorporate

gamification elements into AR experiences

, such as virtual scavenger hunts, interactive quizzes, or digital rewards. By adding an element of fun and providing incentives, AR-based gamification encourages repeat visits, engagement, and loyalty.

Additionally, when customers have positive AR encounters, they are more likely to share their experiences on social media, generating word-of-mouth promotion and attracting new customers while solidifying the loyalty of existing ones.
Social sharing and word-of-mouth promotion: AR experiences can be visually impressive and shareable on social media platforms. Customers who have positive experiences with AR in retail are likely to share their encounters with friends and followers, leading to increased brand awareness and potentially attracting new customers.
Seamless integration across channels: AR can bridge the gap between physical and digital retail experiences. By offering consistent AR features across online and offline channels, retailers create a cohesive customer journey that fosters loyalty by providing a seamless and integrated shopping experience.
Advantages of using augmented reality in fashion retail
All these examples of AR should already paint a clearer picture of how retail brands can achieve their business objectives with this technology. To sum it up, here's how your company can benefit from leveraging augmented reality.
Provide customers with an immersive experience
With AR technologies, fashion retailers provide shoppers with an immersive experience, enabling them to try on clothes, apparel, and accessories in a fun and engaging way. It can push people out of their comfort zone as they experiment with new fashion trends or looks they may not have considered previously. Additionally, retailers can leverage AR to provide hyper-personalized experiences for their shoppers, such as providing tailored recommendations based on their physical attributes, interests, or previous purchases.
Increase revenue by priming your sales funnel
Customers who use AR apps are 19.8% more likely to make a purchase than those who don't. Employed strategically within your sales funnel, augmented reality can increase store sales by shepherding customers from curiosity to an actual purchase. In addition, immersive technologies such as AR try-on makes shopping more efficient because of how shoppers can browse between products more effortlessly, whether in-store or online.
Reduce item returns
Because AR enables customers to virtually try on clothing prior to a purchase, this can give them a greater sense of confidence that the clothes suit their tastes and fits as intended. This can reduce return rates as customers make smarter decisions. Ultimately, this helps stores reduce return-related costs.
Boost brand profile
AR is a powerful tool to invite curiosity, generate buzz, and serve as an anchor for social sharing. Even before prospective customers step into a store or log into your online stores, they already recognize your creativity and innovation. This can result in better sales and brand loyalty since customers are more likely to make a purchase when they have had positive interactions with the brand early in their shopping journey.
Is AR a game changer or hype?
High street and luxury brands use virtual reality in a variety of ways, from allowing customers to try on physical items and encouraging unique user-generated content for brand promotion, to spurring creativity to play with different products and simplifying the shopping experience by allowing customers to skip queues.
Overall, augmented reality in fashion offers immense possibilities for both retailers and consumers. By utilizing AR and VTO to its full potential, retailers can bring a wonderful shopping experience to customers, which has proven to drive sales and deliver business results.
For an in-depth analysis of the benefits and drawbacks of virtual try-on apps, I recommend reading Netguru's report, Virtual Try-On: Game Changer or Hype. This can help you decide whether VTO could be a valuable feature for your digital channels, including your ecommerce platform.