Is There a Space for New Buy Now, Pay Later Companies?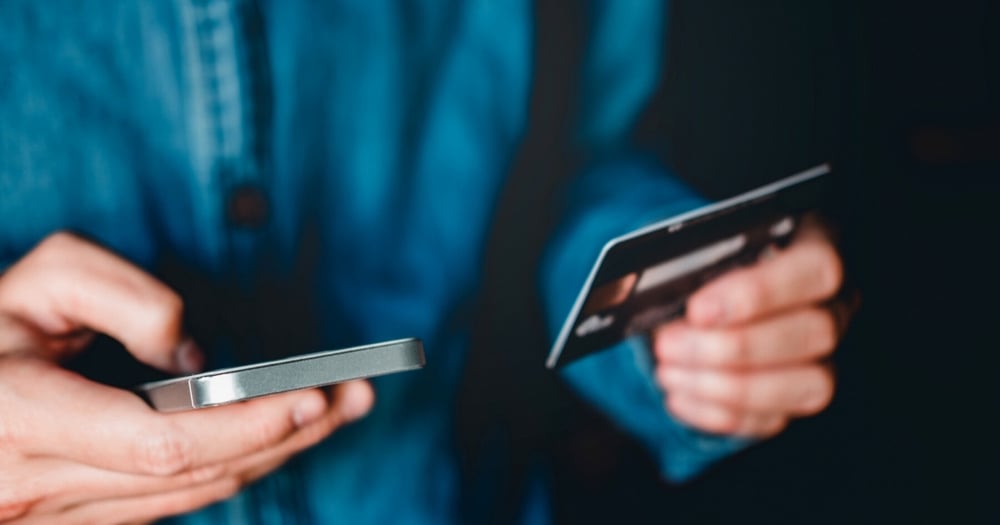 Fintech companies and even some established banking brands are seizing the opportunity to implement buy now, pay later solutions in all parts of the world, replacing traditional financing options with more convenient payment methods.
As the landscape becomes more crowded, we at Netguru prepared an overview of the global BNPL markets with key players and their further growth potential.
"It's going to be a long time before we meet other players in the market and say, 'Well, what do you have and what do I have,'" Max Levchin, CEO of Affirm, recently told CNBC. He downplayed the threat of competition, saying he believes the company still has plenty of room for growth given the demand for BNPL services and current market penetration.
Levchin claims there is still a long way to go before BNPL fintechs play a zero-sum game, and he appears to be right. Buy now, pay later services continue their explosive growth, especially in North America, Australia and Europe, where the strongest fintech unicorn, Klarna, recently reached a $46 billion valuation. It is estimated that the BNPL landscape currently comprises more than 170 companies, with new ones being added every month.
Fintech company Upgrade just announced that it is getting into the BNPL business, and it's not the only one jumping on the BNPL bandwagon. A startup backed by payments giant Stripe plans to offer BNPL as a payment method through its platform. The digital bank Monzo has started offering a BNPL product called Flex, and Revolut also plans to launch a buy now, pay later feature.
Is the BNPL market becoming crowded?
Big names are also entering the market through acquisitions – last month PayPal acquired Japanese BNPL service Paidy, and Jack Dorsey's company Square acquired Afterpay's BNPL service in August in a $29 billion deal. Goldman Sachs also recently secured a piece of the pie, acquiring BNPL service GreenSky for €2.24 billion.
BNPL is becoming a crowded space. It still only accounts for about 2% of the global e-commerce market, but buy now, pay later services are growing at an average rate of 39% per year. According to FIS Worldpay, at this rate they would account for about 5% of global e-commerce outside China by 2023. It is also predicted that China and India will overtake Western BNPL competitors in terms of transaction volume in the future.
Let us take a closer look at which markets are already crowded and which still have room for new BNPL companies.
BNPL in Australia
Australia is one of the most mature BNPL markets in the world. The Reserve Bank of Australia estimates that there are about 20 BNPL services in the Australian market, offered by more than a dozen providers.
The two largest are homegrown Afterpay and Zip Pay, which have a combined customer base of around 6 million active BNPL user accounts as of December 2020. According to Worldpay, Australians made 10% of their e-commerce purchases through BNPL in 2020, and that number is expected to rise to 17% by 2023.
Experts say the saturated Australian market means smaller competitors to Afterpay and Zip may not survive the competition. "Afterpay will survive, Zip will survive, and the rest will end up in a Hunger Games-style race to the death," writes Business Insider Australia, quoting financial advisor Brad Kelly.
BNPL in Europe
The rapid growth of buy now, pay later in Europe is driven in part by the media attention of record-breaking investment rounds from BNPL fintechs like Klarna. The Worldpay report says BNPL will account for about 9% of e-commerce spending in 2023, and 11% in 2025.
The largest and the best known player in the European market is Klarna, but there are other competitors, including:
Afterpay (UK, Italy, France, Spain),
Alma (France) ,
Twisto (Czechia, Poland),
Paypal (UK, Germany, France, Spain),
Laybuy (UK),

Zilch

(UK),
Ratepay (Germany).
In 2020, the top 10 global BNPL markets were located in Northwest Europe.
The leading countries in terms of BNPL market share for domestic e-commerce payments are: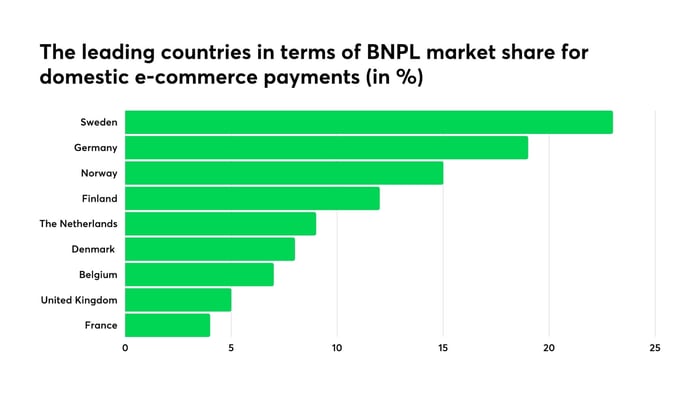 Source: Statista
BNPL's market share of 20% in Sweden and Germany is almost 10 times the global share in developed countries (which was 2.6% in 2020).
There are a few reasons for that. Klarna started off in Sweden - so we can consider this country as one of the most mature markets. Will it be a benchmark for others? Not necessarily - Scandinavian countries are one of the most cashless economies with strong e-commerce and digital habits. On the other hand, Germans have always been conservative in their financial habits, but BNPL is catching on there, too. In Sweden, buy now, pay later was the most popular online payment method in 2019 and stood for 25% of all ecommerce transactions.
BNPL in the USA
BNPL's market share of e-commerce transactions in the US was only 2% in 2020, but it still means that millions of people are actively using delayed payment methods. The forecast states that there will be 45 million users of BNPL in 2021, and over 76 million in 2024.
Interestingly, Affirm overwhelmingly dominated the market in 2018 with a share of nearly 80%, but has now given way to other providers. In Q1 2021, the top six Buy Now, Pay Later solutions, ranked by number of downloads, were as follows:
Klarna – 34%
Afterpay – 26%
Affirm – 16%
Quadpay – 16%
Sezzle – 6%
Perpay – 2%
In 2021, both Klarna and Afterpay saw strong volume and user growth.
Afterpay's underlying global revenue more than doubled, growing 102% year-on-year. The number of global active customers also increased to over 16 million and the merchant network grew to 100,000. Klarna's gross merchandise volume (GMV) increased 77% year-on-year, reaching $39 billion globally in the first half of 2021. Klarna's monthly active app users increased to 18 million, up from 12 million in H1 2020.
The US market is becoming more crowded as Visa, Mastercard and Apple fight for their audience in the BNPL industry.
Many retail brands also offer some kind of BNPL or installment loan solution.
BNPL in Latin America
Latin America has been quick to adopt the BNPL concept, as installment payments are common in the region. About 45% of ecommerce payments in Latin American countries are made in installments, which are usually interest-free. However, millions of Latin Americans are still unbanked, and for many of them, shopping online means buying things online and then paying cash using alternative methods, such as a boleto bancário (a type of bank receipt) in Brazil or a voucher system processed through local stores in Mexico.
According to a report by eMarketer and Insider Intelligence, Latin America was the region with the highest growth in online shopping globally in 2020 (36.7%). Digital payments exploded due to the pandemic, which forced citizens to set up online banking to receive government aid money, and the need to order online during the quarantine.
There are already several startups leading the way, including Nelo, a fintech company co-founded by former Uber executives Kyle Miller and Stephen Hebson. Nelo recently received a $3 million seed funding to expand its BNPL services in Mexico. The company already has 75 merchants in its system and Nelo's revenue and active customer base have grown 60% in the last month.
Another startup, the Mexico-based Atrato, raised $15 million in debt in early September. This was granted by Architect Capital three months after a $2.7 million investment round that also saw participation from Accel, Y Combinator, and Harvard Management Company, according to Crunchbase.
Colombia-based Addi is not far behind. The company received a $75 million extension to its Series B, bringing the total size of the round to $140 million. Addi recently opened an office in Brazil and is planning further expansion into Mexico.
The BNPL field is also populated by U.S.-based fintechs, such as Alchemy, which announced it will offer its services in Mexico through a partnership with Mexican lender Círculo de Crédito. Fintechs dlocal and Dinie have teamed up to offer Dinie Pay to small and medium-sized businesses in Brazil. Another player is Kueski in Mexico, which plans to offer its services across the region.
BNPL in China
The pandemic has significantly accelerated online shopping in China and the trend continues. Unlike in the US, where retail brands have partnered with fintech startups to offer BNPL at checkout, the major Chinese ecommerce platforms have developed their own systems.
The major providers of BNPL include Alipay and JD.com. Alipay offers BNPL through its Huabei feature, while JD.com offers the service through its Baitio product. In 2019, Alipay partnered with Klarna to offer its customers a pay later feature for purchases on its ecommerce platform AliExpress. WeChat has also launched its BNPL feature, Fen Fu.
BNPL in India
The Indian market is still waiting for disruption from BNPL fintechs as the transformation into cashless society has started there later than in Europe or SE-Asia. The market is expected to witness extraordinary growth in 2025 and several players have already set out. These include: LaysPay, Simpl, Capital Float, and ZestMoney. The latter Bangalore-based company has just announced that it has received $50 million in a new round of funding from Australia-based Zip.
According to a Bernstein report, the BNPL market in India is estimated at $15 billion and could reach $100 billion by 2025. This may be one of the hottest BNPL markets to watch. On the other hand, this market may be a challenge for global fintech players. An example is Mastercard, who got banned from issuing new cards in July for failing to store payment data locally.
BNPL in Southeast Asia
Buy now, pay later is booming in Southeast Asia, even though only 27% of the region's 670 million people have bank accounts. Southeast Asia is predicted to be one of the fastest growing BNPL regions due to the increasing number of internet users, and many fintech companies have already jumped on the bandwagon to meet the demand.
The major players include:
Grab – GrabPay (Singapore and Malaysia),
GoJek (Indonesia),
Razer (Singapore),
Oriente – Cashalo (Hong-Kong),
Hoolah (Singapore, Hong Kong, Malaysia),
ReePay (Vietnam),
Akulaku (Indonesia, Malaysia, Vietnam, the Philippines),
Atome (​​Singapore, Vietnam, Indonesia, Thailand, Hong Kong, China, Malaysia, Taiwan and Philippines),
Rely (Singapore),
Kredivo (Indonesia).
Evidence of the rapid growth of BNPL services in Southeast Asia comes from data released by Hoolah. According to the company, during the pandemic, their BNPL service saw an increase in transactions by more than 1,500%, in revenue by more than 800%, and in merchant and consumer volume by more than 400%. Hoolah also represented that the order of volumes increased by 600% from May 2020 to May 2021.
Kredivo has more than four million eligible customers and partnerships with eight of the top ten ecommerce platforms in Indonesia, while Oriente has a total of 5 million users in the Philippines and Indonesia.
Middle East and North Africa
The Middle East region has seen an explosion in the number of BNPL solutions over the past year. More than 10 vendors have emerged, many of whom have already raised significant funding to explore this space. BNPL has yet to be accepted here, and despite the wide range of options, consumers in the region have been slower to adopt this new payment method.
BNPL providers in the region include MENAbytes and Wamda.com. Another BNPL service provider is Tabby, which just raised a $50 million Series B, valuing the company at $300 million. Tabby's Saudi Arabian counterpart Tamara recently received a Series A of $110 million in debt and equity funding from Checkout.
In Egypt, the country's first tech unicorn, Fawry, is leading the digital transformation with a market value of over $1.3 billion.
Wrap-up
BNPL fintechs have taken over the world, and there are signs that there is still plenty of room for new buy now, pay later companies in most markets. In African, Middle Eastern, Asian and Latin American markets, the BNPL craze is still to come. There, technology infrastructure and access to smartphones and mobile internet are the biggest challenges.
By 2025, the global BNPL industry is expected to grow 10-15 times its current volume to gross $1T. However, such growth means that BNPL providers will almost certainly face some regulatory obstacles and fierce competition from incumbents.
Still, they have the opportunity to continue to transform global markets – especially as we can expect BNPL companies will expand product scope, leveraging relations with existing clients. Long term we will see some of them building super-apps related to e-commerce. Others are likely to expand geographically, offering services on markets where millions are still under banked.
If you want to get to know my view on the future of BNPL, follow this link to download our buy now, pay later report: