Family Banking Application That Helps Your Children Learn About Money. Meet Pockee

The fintech industry has gained momentum, shaping the way both traditional and emerging financial institutions operate.
It seems that the rapid adoption of cutting-edge technologies has become a norm in most financial services, including digital payments and money transfers, financial software, or lending and funding platforms. We decided to see whether the was a niche still unexplored. The result? Pockee, a financial platform that bridges the generation gap.
Pockee: how the concept was born
Before we started digging deeper into the market of financial services for children and teenagers, we were inspired by some of the fintech industry leaders. We spoke with Dan Makoski, Chief Design Officer at Lloyds Banking Group, who claimed that public education about money is insufficient, and parents find it hard to teach their children how to use money wisely. We've heard similar voices from BNP Paribas executives. Their valuable insights inspired our further study.
Non-cash payments make up over 50% of all transactions in many countries. In the UK alone, 17.2 billion debit card transactions were made in 2017. Traditional bills and coins are quickly disappearing from our lives, which also concerns the youngest consumers. Children in the UK can hold a prepaid card at the age of six.
While giving a child a card instead of cash enables the parent to have a better control over their children's spending, it makes teaching children how to use money wisely more difficult. Enforcing any parental control without the restrictive nature of physical money will become more difficult, too. This is why we built Pockee, a family-friendly payment app that's safe for children to use.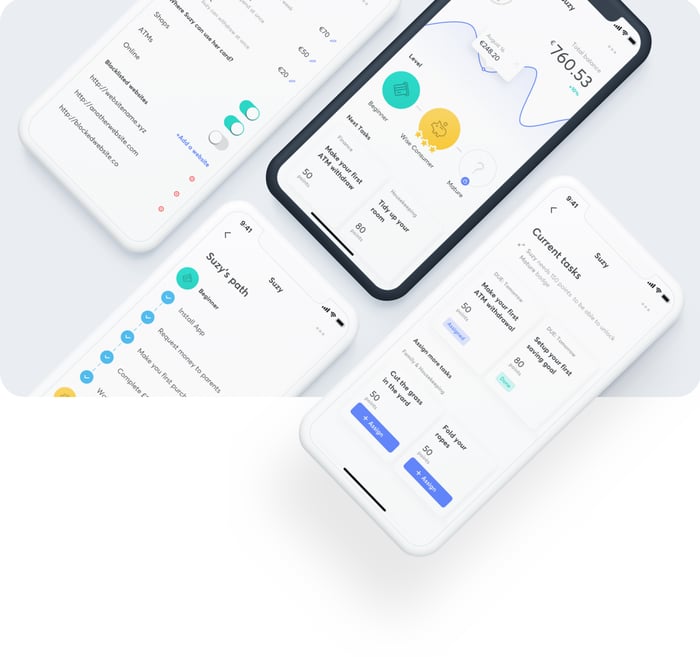 Challenges
The financial world has always been complex, and new technologies make it even more so. It may be difficult for adult consumers to get their head around finances, let alone children of just a few years of age. Our challenge was to develop a solution that would help vulnerable users to make conscious financial decisions while giving parents full control over expenses of their little ones.
Project goals:
Provide children with an educational tool that will help them learn about the value of money in a noninvasive and fun way.

Give parents control over their children's expenses.

Make the platform flexible so that it can adapt to parents and children, depending on their age and maturity.

Include a gamification element that would support the education, without letting children get addicted.

Ensure top-of-the-league security standards.
Stage 1. Research
No digital product exists in a vacuum. Regardless of the industry you operate in, you will always need to consider many elements of your environment and multiple stakeholders. That's why research is essential in making any strategic decisions about your business.
When creating Pockee, we needed to learn more about the market and users, and their needs and pains. Building an app for two types of users at the same time posed another challenge. The product needed to be compelling for children, so that they would engage in the educational aspect. At the same time, it also needed to provide parents with a secure, reliable, and easy-to-use tool for tracking how their children deal with the money.
Interviews with parents
Despite children being the main users of the application, parents are the actual decision-makers and target customers. We started with a survey that we sent out to families in the UK with children at different ages to ask about the financial education in their families. Over a half of respondents admitted that children should start learning about personal finance when they're aged 8-10 and another quarter thought that it should be the ages between 11 and 13. A vast majority of parents considered teaching children about money and financial responsibility important.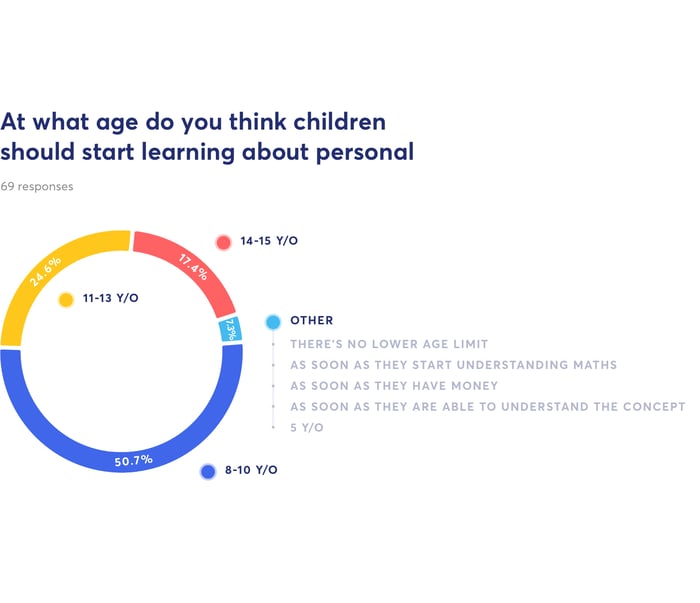 We also asked the parents about the saving habits in their families and preferences regarding financial education. The vast majority of respondents provide their children with pocket money and 71% would feel comfortable with children having access to a prepaid card. More than 75% of the survey participants claimed that their children have their own smartphones. More than 60% would like to have either full or partial control over their kids' experience with a financial app if they had one.
Our results validated our hypothesis that there was a niche on the fintech market and our product would find the audience.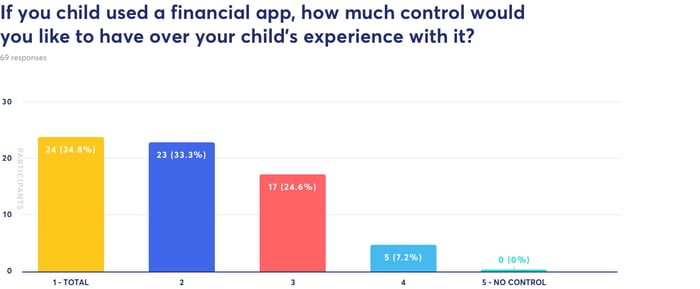 Desk research
While the survey we conducted helped us understand our target audience and their needs better, we still needed to explore the market we wanted to enter. Using third-party data (statista.com) we analysed the size of the cashless payments market first. In the UK alone, the number of debit card transactions in 2017 surpassed 17 billion, which made the UK the leader in such payments in the EU.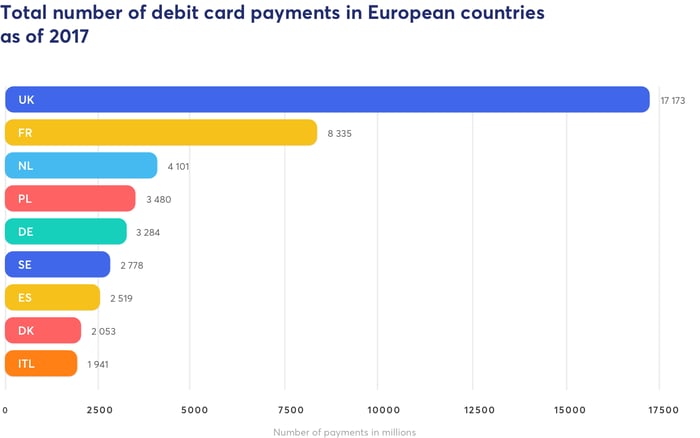 As the next step, we wanted to confront the results of the survey regarding children's smartphone possession with external sources. According to Ofcom data, 60% of children in the UK own a smartphone by the age of 12.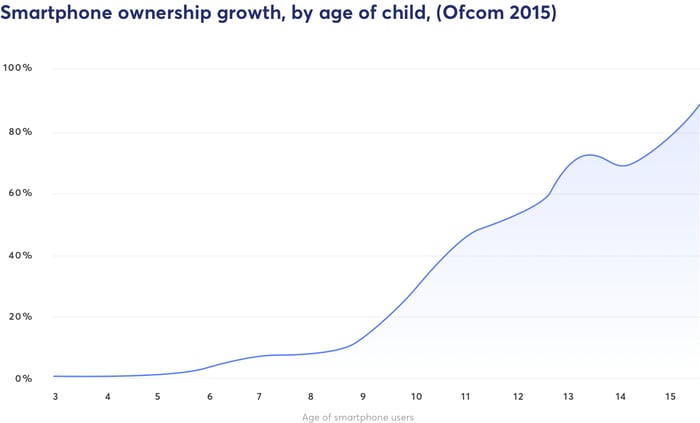 Finally, we ran a competitor analysis. We compared five existing financial platforms for children (GoHenry, Rooster Money, Bankaroo, Osper, Banks) in terms of their features. Out of all the available options, GoHenry seemed to be the most mature solution that covered most essential functions. However, it lacked gamification elements, which can substantially encourage financial education. On top of that, the user interface appeared to target a slightly older demographic than the ones created by other startups. Rooster Money was also a robust product, but its lack of prepaid card made the experience more virtual.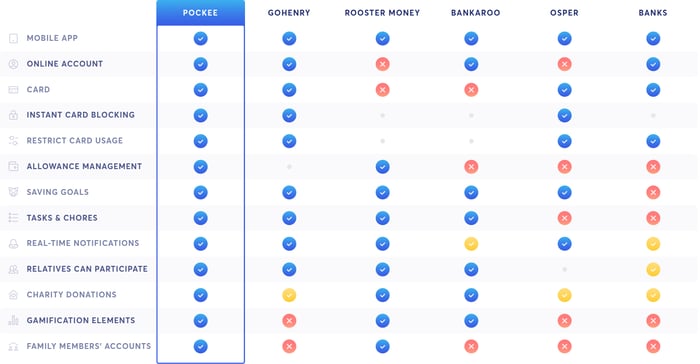 Key takeaways from the research
Non-cash payments make up over 50% of all transactions in many European countries;

Parents believe that financial education is crucial, and the majority believe it should start when the children turn 8;

Parents believe children can own a prepaid card, but they want to retain control over their expenses;

Children need to learn about money in a non-invasive way;

The app should adapt to children's age and maturity;

Gamification for children should rather be supportive than addictive.
Stage 2. Creating User Flows
Using the best available gamification and e-learning methods, we tried to create different ways for parents to give children their allowance, help them learn about healthy money behaviours, and set their saving goals. Following user stories, we created a user flow map that depicted the journey of either type of user: the parent and the child.
Stage 3. Designing a solution
Based on user flows, UX designers started working on the wireframes. It was crucial to make the layouts and transitions intuitive for both parents and children. The key features had to be prominent and easily accessible with a tap of a finger. We also wanted to highlight all the gamification elements to make the learning experience fun.
When it comes to the user interface, we understand it plays a crucial role with such a young audience. Appealing visuals can determine whether a child will continue to use the application. Additionally, an eight-year-old will have different expectations than a teenager, and the user interface should be able to keep up with it. That's why Pockee will adjust to the user as they grow older. We decided to offer predefined themes and card designs so that children can express themselves through the application.
We also designed a series of illustrations and animations which reflect the character of such application and reinforce the branding.
The result
Pockee is an application concept that bridges the generation gap, empowering the youngest to learn about money in the modern world and giving parents full control over their children's expenses.
The platform offers video courses and interactive quizzes suitable for each user's age. Children can complete assignments to gain points and badges. Unlocking new levels will allow them to use new services or ask for allowance. We believe that these gamification elements will help children memorise and understand how money works better.
Parents can manage and monitor their children's profiles. With just a few taps, they can track their main activities, expenses, send money, manage tasks, and edit spending limits. The tool can decide where children can spend their money by customising rules or blacklisting websites and marketplaces.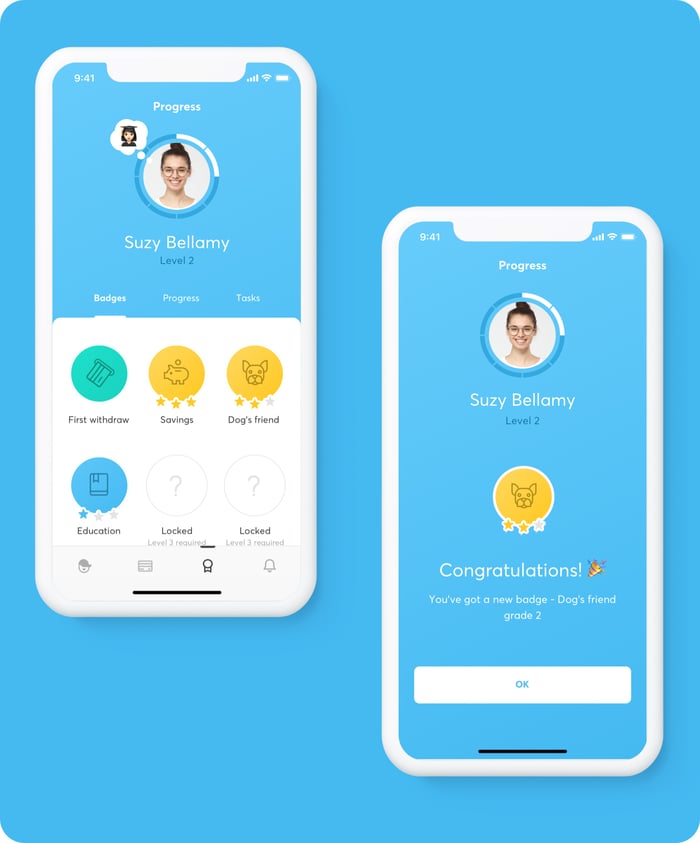 The app is highly customisable. Parents can assign tasks that are pertinent to their children's development path, choosing what's the best for them. Children will have a wide choice of predefined app themes and card designs. Finally, the application UI is designed to adapt to a growing audience – it changes as children grow and their expectations change.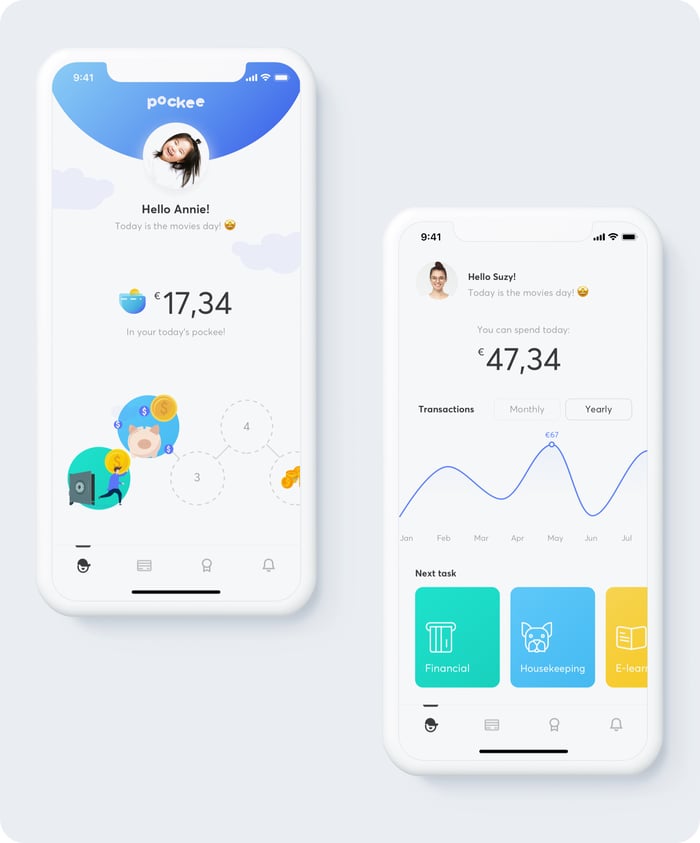 Why Pockee?
We believe that financial education from an early age is crucial to guarantee healthy financial adult life. The world of finance has always been complex, and emerging technologies make even more difficult to understand. Pockee aims at making learning personal finance smooth and fun for children, while empowering parents to monitor their experience. There are three major advantages that make our platform stand out:
Combining the virtual world with a real-life experience of spending and saving money.

Introducing gamification elements that support the learning journey.

Providing customization for parents so that they can decide what's best for their little ones, and children so that they can express themselves through favourite themes.
Parents want to keep their finger on their children's expenses and give them the best financial education available. Children desire to be more and more independent when it comes to their spendings and are not eager to study difficult financial terms in a traditional way. Pockee comes in between, empowering children to learn through discovery and letting parents relax while children learn to save and spend money.
Want to see the whole Pockee concept by Netguru? Take a look at our Behance presentation.