Guide To Developing Healthcare Software in 2023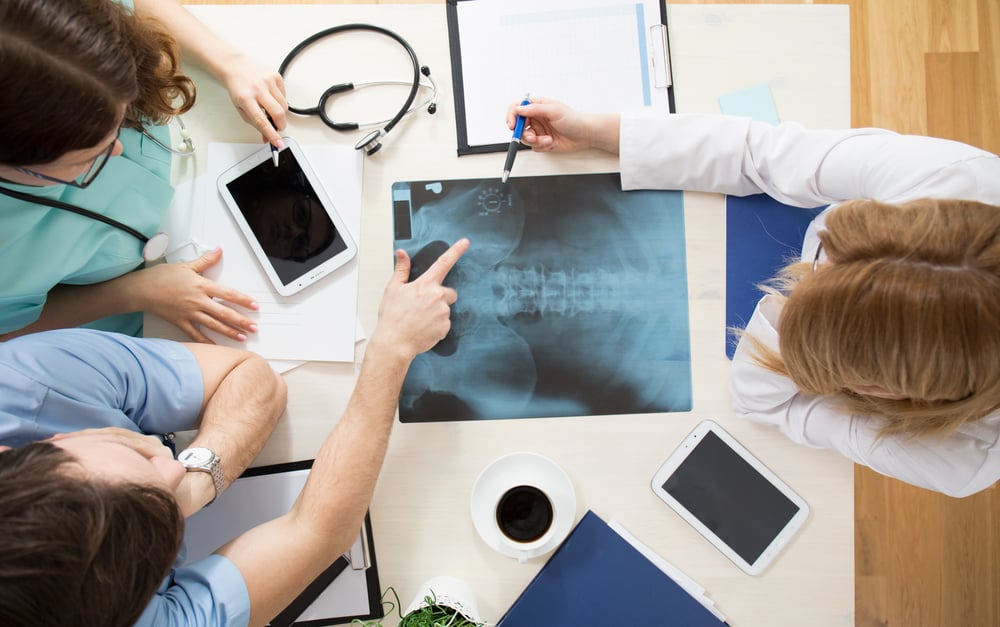 Consumers now expect healthcare services to be accessible at the time and manner most convenient and safe for them.
With the growing role of digital technologies in daily life and the sudden lifestyle disruption caused by COVID-19, healthcare providers are leveraging digital platforms not only to improve their workflows, but more importantly to meet consumer and patient demands on care and well-being.
Source: EL Passion "Digital Health 2021: Impact of COVID-19 on Healthtech"
In developing medical and clinical software solutions, providers must recognize key trends and challenges in digital transformation for the healthcare sector. We present you a guide to 2023 custom healthcare software development in light of trends and challenges in the healthcare sector today.
Trends in healthcare digitization
Digitalization of workflows and patient care has been a recurring theme in the healthcare industry for the past few years. The growing interest in digital disruption within the sector can be partly attributed to how digital tools are being applied to evolving care models. Here are the key trends to watch out for in the digitization of the healthcare market for 2023.
Growing patient adoption — and expectation — of digital technologies in accessing healthcare services
Consumers are increasingly using various technologies to monitor their health, measure fitness, and engage healthcare providers. For example, a Deloitte report showed that consumers engaging in virtual visits with their clinicians jumped from 15% in 2019 to 28% in early 2020. Another report found that in 2020, 76% said that they're going to use telemedicine moving forward, compared to only 11% in 2019.
Further, not only are consumers adopting these digital health services, but also expecting their doctors, clinics, insurers, pharmacies, and other providers to be able to serve their healthcare requirements digitally or online.
This shift in consumer and patient expectations, while an enabling factor to the growth of digital health services, will require changes in analogue health systems, traditional healthcare business models, and approaches from clinicians and medical professionals.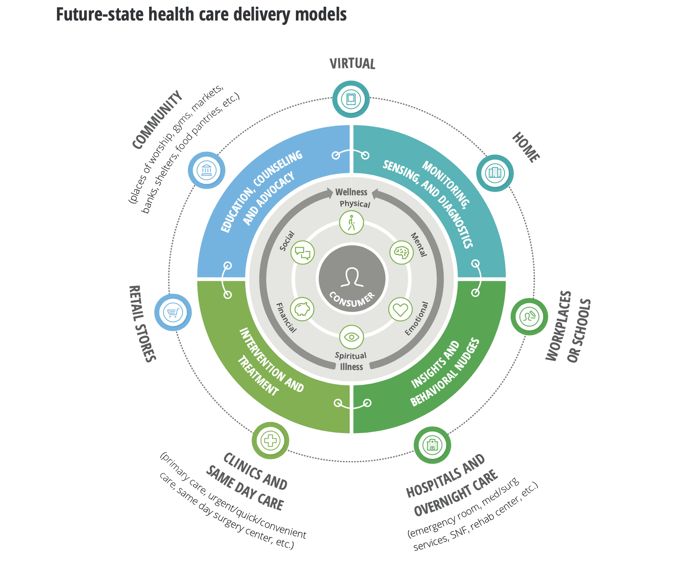 Source: Deloitte, 2021 Global Healthcare Outlook
Artificial intelligence to lessen clerical work and advance prognostic healthcare
Artificial intelligence (AI) is shifting the way patients and healthcare providers interact with each other. For instance, AI-enabled chatbots shortens consultation time and improves patient engagement by aiding in scheduling appointments, collecting patient information, preparing documentation, and directing patients to the right healthcare professional.
More importantly, the role of AI in diagnostic healthcare continues to grow. AI-guided diagnosis enhances human insights into care processes, treatment variability, and patient outcomes. For instance, in oncology, AI analyzes pathology images of different types of cancers to provide highly accurate diagnoses and optimal anti-cancer drug combinations.
Oncimmune, a leading early cancer detection company headquartered in the UK, created a mobile app for calculating the risk of lung cancer. The company's patented technology detects autoantibodies produced in response to cancer, allowing their tests to detect cancer up to four years earlier than current methods.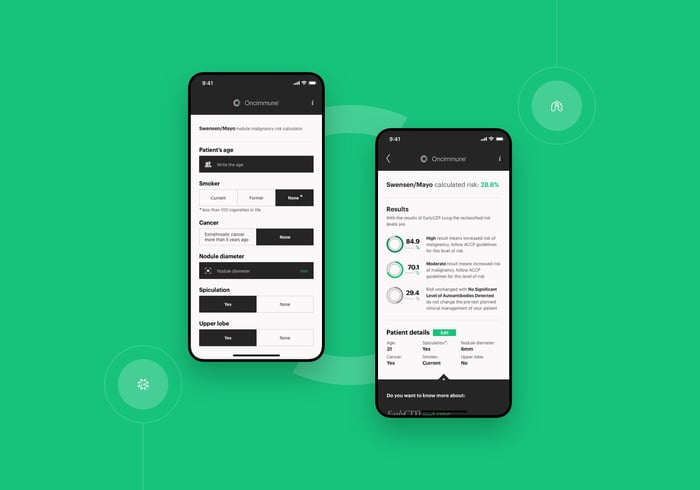 Oncimmune: a mobile app for calculating risk of lung cancer. A React Native app that helps preventing risk of malignancy of lung nodules.
According to the PWC Health Research Institute, nearly 40% of healthcare executives say their organizations already invest in AI, machine learning, and predictive analytics.
As consumers become more health-conscious, more digital tools are focusing on prevention and well-being
Healthcare traditionally focused on care for the sick. Because people are now becoming more informed and educated about the impact of their lifestyles on their health, both physical and mental, businesses are now seeing more opportunities in digital health services related to prevention and well-being.
For instance, among individuals who monitor their health, especially through wearable devices, 75% say that this knowledge prompts them to modify their behavior at least moderately.
By becoming more conscious of prevention, well-being, and mental health, consumers actively search for guidance online. This has opened the doors for digital services such as health monitoring, stress alleviation, and early diagnostics to carve out a role within mainstream healthcare systems.
As an example of the rise of mental health and well-being platforms, Shine, a US startup created a self-care app.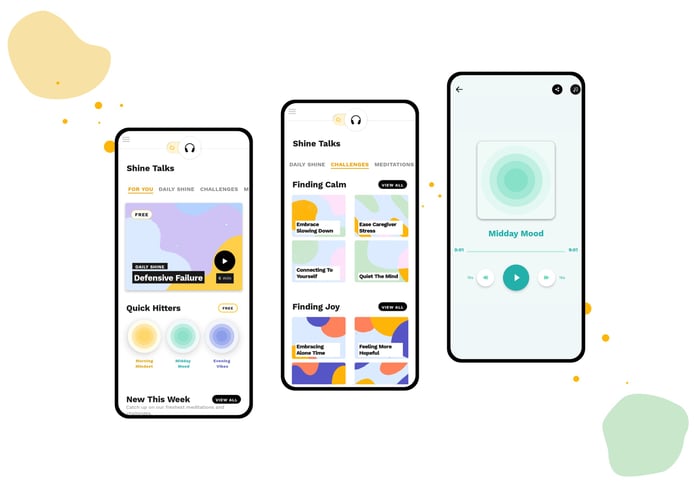 Shine: a well-being application and App Store Best of 2020
At first, their service focused on providing well-being-related content to their users. Now, the app offers podcasts, meditations, in-app articles, empowering text messages, and chat.
The results speak for themselves:
Users in 189 countries
An average 4.7 rating in the App Store
96% of members say Shine helps them feel more self-compassionate
Named App Store Best of 2020 and 2018
Given 2019 Google Play Award in the Standout Well-Being App category
Business challenges in the digital transformation process for healthcare
The healthcare sector faced unprecedented stresses within its workforce, supply chains, and infrastructures. In light of the recent investments in digitization to manage these issues, here are the challenges for healthcare organizations as they transition further into digital ecosystems.
Meeting consumer expectations
Consumer preferences and expectations are the primary drivers of innovation in health-related products and services. Consumers now expect care to be accessible when and how it's most convenient for them.
This means that health services must be digitally enabled, on-demand, and clinician-patient interactions are seamlessly connected. This includes:
Virtual care
At-home prescription delivery
Remote monitoring
Digital diagnostics and decision support
Self-service applications for education, behavior modification, and social support
These consumer or patient expectations require that healthcare providers invest in optimizing or replacing foundational structures, technologies, and workforce processes.
Integration with legacy systems and workflows
To maximize the digital health tools available to them, consumers and patients have grown to be more open in sharing their health and medical data with healthcare organizations and businesses. In return, they expect providers to fully utilize their data to serve their needs through adequate system and data interoperability among healthcare entities.
In light of the digital transformation processes that healthcare organizations have been going through, it's not uncommon for providers to continue working with and managing legacy systems and workflows while introducing new platforms and processes.
Planning for these integration and migration processes is a pervasive challenge. Technology executives in healthcare organizations must deal with system compatibility, workflow changes, and cost management. Further, as is critical in healthcare, integrations and migrations must be performed in a way that minimizes or prevents delays and downtimes that impact patient experience.
Security of medical records
Healthcare devices or software that processes Electronic Medical Records (EMR) and any other type of consumer health data must observe strict security standards and regulations.
MedTech and HealthTech startups and enterprises will always face the challenge of adapting their digital products to regulations in each market they operate in. Mapping local standards and requirements at an early stage will enable healthcare businesses to align their solutions with legal regulations and market expectations.
The most important aspects of developing software for healthcare
Here you can find best practices in software development in healthcare developed by our team.
Define the target group for your digital assets
One outcome from the pandemic is that it pushed healthcare stakeholders to work more collaboratively. It created opportunities for new healthcare behaviors, especially ones enabled by digital and online tools.
The risk that comes with this newfound excitement is that healthcare executives may direct their technology departments to design, develop, or procure apps and systems that cater to a wide set of stakeholders expecting that everyone in their organization will equally benefit from these new tools and that they will adopt them at the same pace.
An effective digital transformation strategy must define what it wants to accomplish for whom. You need to know what a new medical software application will change for which set of medical staff and how that may affect their engagement with patients.
For instance, if a set of users are practitioners who can view and input sensitive patient data, their access to the software should require an extra layer of security such as two-factor authentication (2FA).
For a consumer-facing health app, define the personas especially when users come to the app for a wide variety of use cases. As every individual's health journey is different and deeply personal, healthcare providers should seek to elevate their services into personalized healthcare experiences.
Security, security, security
The value of security in healthcare applications and systems can't be emphasized enough. Regulations on data privacy and risks in cybersecurity should be enough motivation for healthcare organizations to design their systems with security as a primary consideration.
From the perspective of consumers and patients, security is about building trust, so they feel comfortable in sharing their personal health data.
At the outset, medical and healthcare apps should be HIPAA (US) and GDPR (EU) compliant. This means, among other things, that healthcare providers must obtain user consent to process personal data, that users can request information about the data these apps are holding, and that users can also request for their data to be completely deleted. Ideally, apps should be able to enable these to be done in an automated fashion when requested by any given user.
Further, encrypted healthcare communication compliant with the highest security standards for medical staff is essential for data privacy protection.
Data processing is not just about administrative work
Healthcare executives and practitioners should see data collection, processing, and management not merely as administrative work but as opportunities to enhance patient engagement and adherence.
By communicating with patients how providers use their data, increased patient knowledge and understanding of diagnoses and treatment plans can improve willingness to be treated, increase success rates, and reduce healthcare costs.
For instance, Electronic Medical Records streamline the communication between patients and doctors. EMRs aid in facilitating the diagnosis process by drawing from multiple data sources and providing medical staff with instant access to patient history, treatments, and other factors that should be taken into account during the treatment process.
EMRs — coupled with AI and the Internet of Medical Things (IoMT) — reduce time spent on collecting data, putting it together, and analyzing them. Doctors and nurses can then focus more on engaging their patients and working on treatments.
Design for scalability
When releasing the first version of a healthcare software, it's important that it solves specific problems for specific users. But healthcare organizations should remember to make applications and systems scalable from the very beginning.
If you're able to deliver value for your intended users, chances are that your target audience and use cases will expand over time. This was evident during the pandemic when telehealth platforms experienced a surge in user growth. Not only that these platforms had to increase their capacity, feedback from the new volume of users — both patients and doctors — proved valuable in expanding platform capabilities.
UX is vital to healthcare access
User experience in healthcare applications has its own distinctive set of challenges. For clinicians and practitioners, good UX design should enable them to do less clerical work and focus more on patient care and engagement.
On the other hand, the challenges in UX design are much more complex for consumer and patient-facing apps. Because healthcare services are typically associated with physical, emotional, and financial distress, UX designers have to pay close attention to target users and personas and determine satisfactory experiences and outcomes.
Here are some of the considerations in designing UX for consumer health and medical platforms:
Senior or elderly users
Accommodations for rural populations
Access for users with visual, auditory, and cognitive challenges
Inequitable care access and outcomes for the uninsured, financially vulnerable, and other marginalized sectors
Changing workflows to comply with pandemic-related restrictions
Deeply personal and sensitive data
Build with interoperability
Healthcare firms are accelerating their adoption of IT systems powered by cloud and analytics tools. In doing so, organizations should aim for interoperability of data and platforms.
Healthcare providers should expect that new or better digital tools will always come out, whether developed by startups or enterprises. To capitalize on these, anticipate integrations to your core systems with interoperability in mind. For instance, Electronic Health Records (EHR) typically need to connect with different types of medical software and related modules such as financial systems and patient portals.
Further, with the popularity of consumer health wearables (e.g. fitness trackers, smart watches, wearable biosensors), healthcare providers will do well to enable integrations or data interoperability with their own systems.
Deloitte considers this "radical data interoperability" as a necessary foundational capability for healthcare organizations. When executed correctly, this radical interoperability can improve care delivery, empower patients, and provide a solid return on investment (ROI).
Leverage mobile apps to enhance patient engagement
The mass popularization of mobile devices changed how people expect their services to be delivered — healthcare included. Healthcare entities should leverage smartphones to engage patients and provide care services in a safe remote environment.
Mobile apps enable the collection of patient and consumer data, especially when coupled with wearable devices. Patients can receive care recommendations from clinicians and track their progress and results. Ultimately, mobile apps can improve patient care and optimize work processes for healthcare staff.
To demonstrate this further, here are a couple of mobile apps that Netguru has worked on in the healthcare sector:
Envision is a mobile app that empowers medical professionals in Norway to communicate effectively. It allows them to create and share documents, images, and videos and send them wirelessly and securely to their Electronic Patient Records (EPR) system or colleagues across the globe for a second opinion.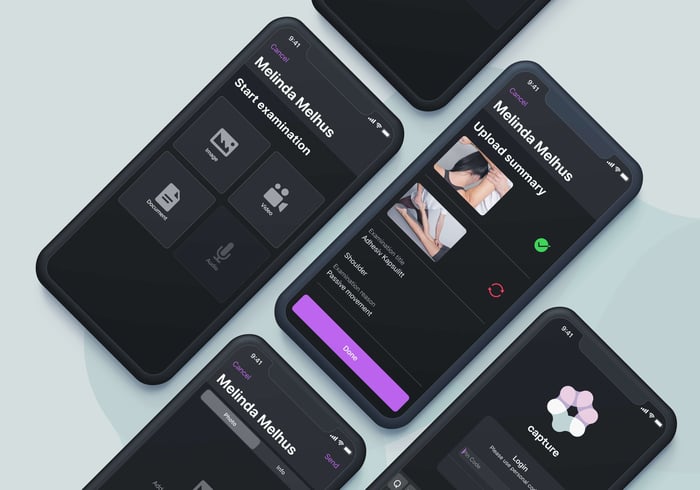 Envision: a mobile app that empowers medical professionals to communicate effectively.
Helpr is a UK-based platform that allows people needing care or their families to post their care needs and for Helpr partners to select jobs that best match their skills, location, and availability. The technology removes many back-office functions allowing more money to be paid to the carers and cost to the consumer to be reduced.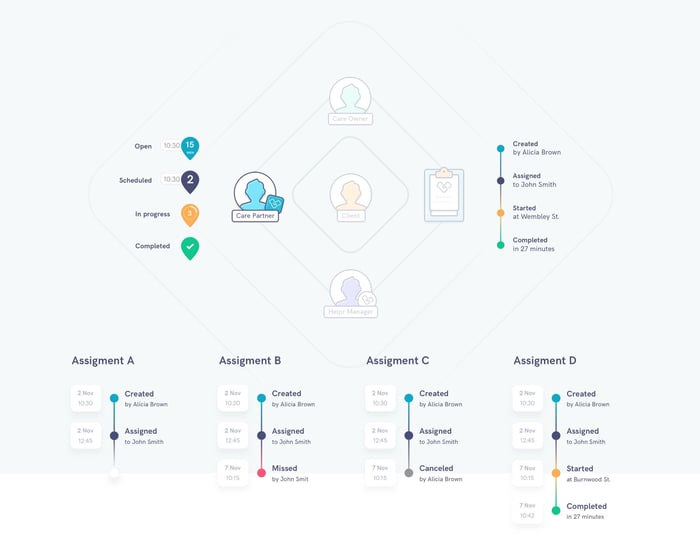 Helpr: A social enterprise that puts people before profit.
It's all about consumer and patient experience
Healthcare companies that focus their digital transformation strategy on consumer and patient experience will have a better shot at meeting their KPIs, outperforming their competition, and delivering healthcare that people deserve. Finding an experienced partner that understands these fundamentals and digital healthcare technologies is crucial to build a software that delivers business value and care for patients.