Top 10 Top Meetups in NYC for 2021
Business is all about who you know, right?
If this is the case, attending in-person events is a crucial ingredient to finding success in the startup world. To best get involved in the New York startup scene, meet your future investor, business, partner or boss, we would suggest attending some meetups where the tech scene is hot. Here are a list of 13 meetups and events in New York to check out in 2020.
Data Driven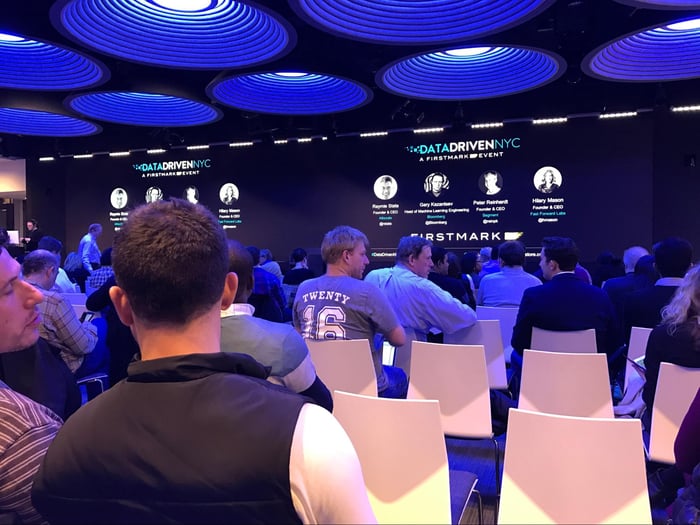 Source: meetup.com
Data Driven is an event put on by FirstMark Capital to bring together the big data and AI communities to talk about technology, tactics, and innovation. Because this is hosted by a VC firm, they often get top-tier speakers to come and shed light on the latest trends in AI and big data.
These guests include the likes of Sarah Guo, Partner at Greylock, all the way to superstar founders like Zach Perret of Plaid. Data Driven also boasts a newsletter to help engage in other ways.
Types of events: Monthly meetups include networking, startup presentations, and keynote conversations.
Relevant Links: Meetup, FirstMark
New York Tech Meetup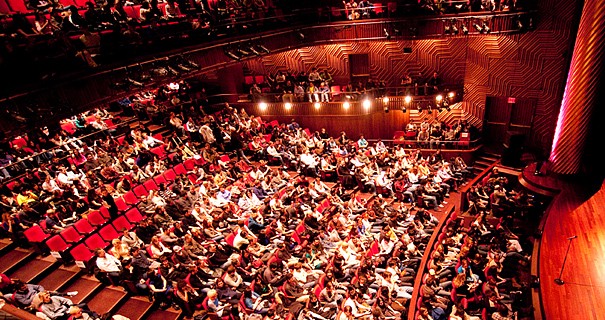 Source: thenextweb.com
With over 61,000 members, the New York Tech Meetup is one of the biggest meetups the local startup scene puts on. Spearheaded by the NY Tech Alliance, founders at this event pitch their ideas to a full room for feedback and hopefully some customers - or maybe even an investor meeting. This is a symbolic moment, as Meetup was also founded in NYC in 2002, later to be acquired by WeWork.
Types of events: A pitch-style, networking event where startups pitch in front of a big audience to get feedback or input on their business ideas.
Relevant Links: Meetup, New York Tech Alliance
Built-In Brews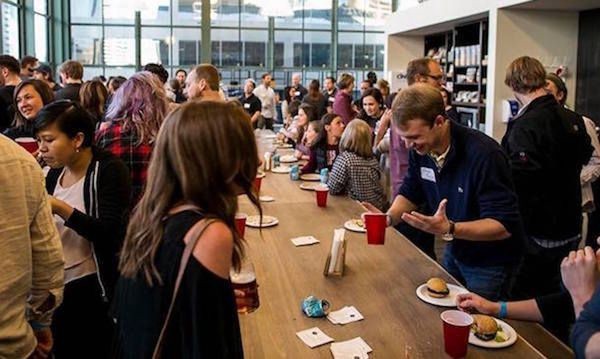 Source: eventil.com
Built In Brews is a monthly meetup spearheaded by the publication Built In New York. Every month this meetup is hosted at a different startup's HQ to show off the local startups and all they have to offer.
Hosts of past events include Sisense, Crossix, Knotel, and dozens of others you can find here. Built in Brews also puts on hiring events for local startups to showcase what they are working on and attract potential talent. Built in NYC is a pillar of the local tech community, and the Built in Brews meetup highlights the best that the New York Tech Scene has to offer.
Format of events: A casual event that showcases the cool pads of other startups around NYC.
Relevant Links: Event homepage, Built in NYC
Startup Grind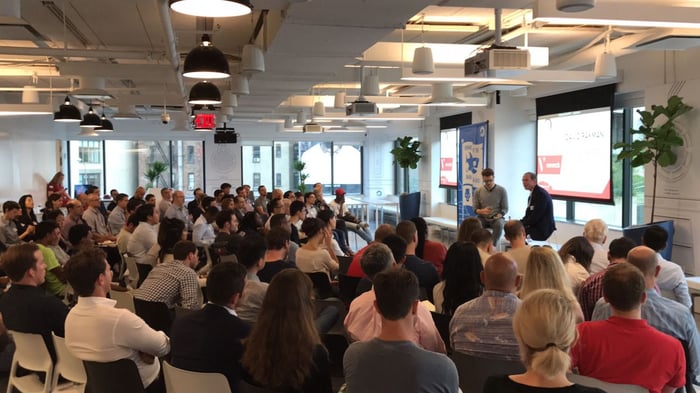 Source: explore-group.com
Startup Grind is a can't-miss monthly meetup in NYC where they interview high profile guests about how they built their empires.
This is a great meetup to go to if you're trying to get plugged into the city and learn from some of the top founders in the game. Startup Grind is a worldwide network, with hundreds of chapters holding meetups with fantastic networking opportunities every single month. NYC has a strong chapter of Startup Grind, with over 11,000 members.
Format of event: It starts with an hour of networking, followed by a fireside chat with a guest, and ends with more networking.
Relevant links: Startup Grind NYC website
Propelify
Source: propelify.com
Propelify is a really impressive network of founders, whose regular culminate in a yearly Innovation Festival. Propelify also has a book club to engage its members year-round, as well as other events like Peak Pitch, Bear Mountain, and Stages of wisdom. If you're looking for a tech or business community and meetup network to plug into, Propelify is a good pick.
Format of events: Propelify puts on the Innovation Festival, Peak pitch, Bear Mountain, and Stages of Wisdom, all events targeting different formats.
Startup Climbing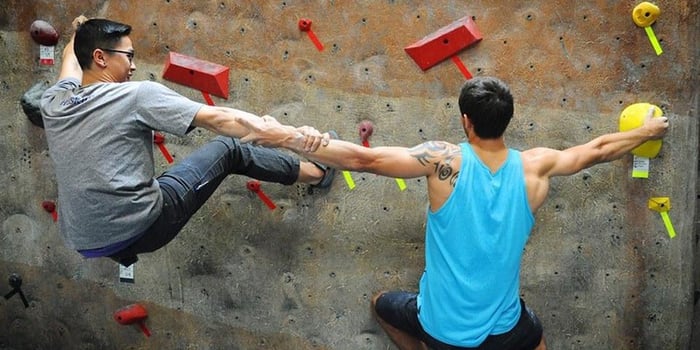 Source: events.alleywatch.com
For those who love startups AND want to rock climb socially, this is the niche meetup for you.
The founders wanted to connect their two loves, so they created a group for people to talk tech while scaling walls. If you haven't climbed before (or ever), don't worry! They are beginner-friendly.
With nearly 2,500 members on Meetup.com, it's likely that you'll make a few friends here too! Try something new, get out of your chair, and network on the ropes next time with Startup Climbing.
Networking event format: Casual networking and climbing. No presentations.
Relevant links: Meetup
LMHQ Meetups
Source: tribecacitizen.com
The Lower Manhattan Headquarters is a fantastic resource for anyone wanting to dive deep into the downtown NY tech scene. LMHQ puts on several events a month, and usually multiple events per week.
In this case, there is no excuse not to get out and get involved. They have several different types of meetups, ranging from "Women's Breakfast" to "fireside chats" to meetups focused on "Cannabis tech". Here, there is no lack of programming for anyone wanting to get into the tech scene in NYC. Also, they rent out space if you need a place to work! Best of both worlds :)
Format of events: They run several different types of meetups, all of which have a different format.
Entre Events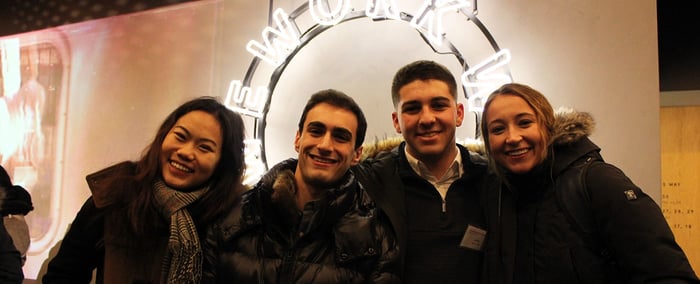 Source: ischool.syr.edu
Entre is a NYC-based organization that puts on tons of different events for founders and startup people of all types.
A platform for business owners and technologists to connect online and in-person, they run multiple events series at a time to make sure there is something for everyone in New York.
They're currently collaborating with Microsoft on a speaker series, and they host a startup happy hour monthly at a different location each time. They even have pitch nights with a cash prize of $1,000. Entre always mix fun into their event series in NYC.
Format of events: Varied
Relevant Links: Eventbrite page, Community Website
1 Million Cups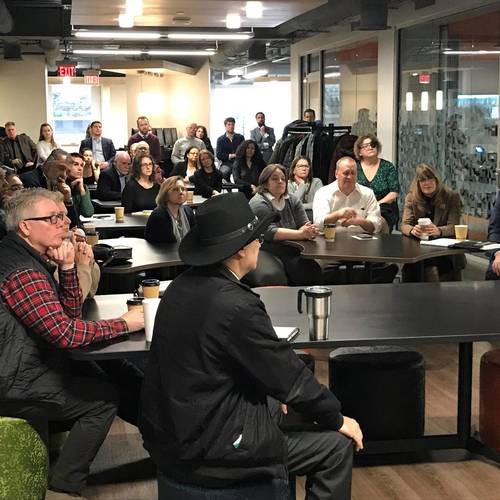 1MC is a worldwide org where founders in the early stages of entrepreneurship pitch their companies to a caffeinated room of spectators.
This gives the founders practice pitching and the confidence to go out and pitch on bigger stages. 1MC is also a great place to go networking, as it attracts many different types of startup folk to its events. If you miss an event, no problem! Catch the replay on their website here.
Relevant Links: 1MC NYC Homepage
House Of Genius NYC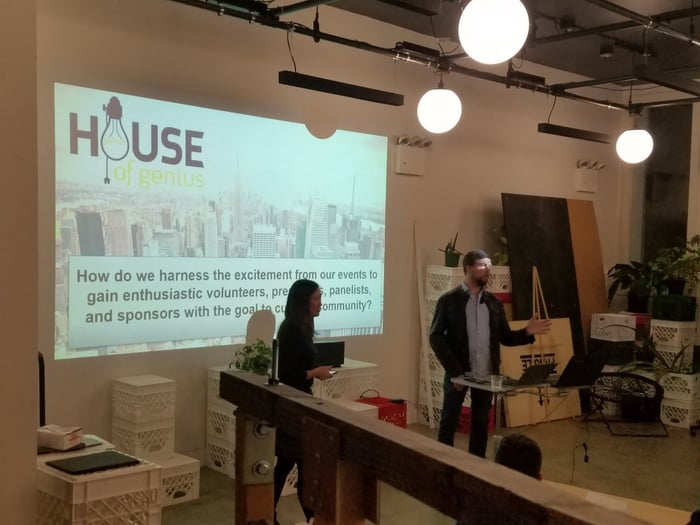 House of Genius offers an interesting event format. Two founders pitch a dozen or so community members in a private room, but none of the community members are allowed to say who they are.
Everyone is on equal footing. The founders pitch, and then the community gives their feedback one by one and works with the company on a growth challenge. In the end, everyone reveals themselves and it turns into a networking opportunity.
This one's a little more on the exclusive side, but if you contact an organizer to get involved, they'll likely have a spot for you. You can find information about the event organizers right here.
Relevant Links: Homepage for HoG NYC, Apply to Present, Disruption Forum in NY
Top events in NYC
With all these events happening all around New York, it's hard to find an excuse not to get out there and start networking.
You never know who you'll meet and what that will turn into. Give one of the listed ones a shot, or ask a local to recommend their favorite events. This is the best way to get plugged into the community.