The Top Mobile Commerce Trends of 2023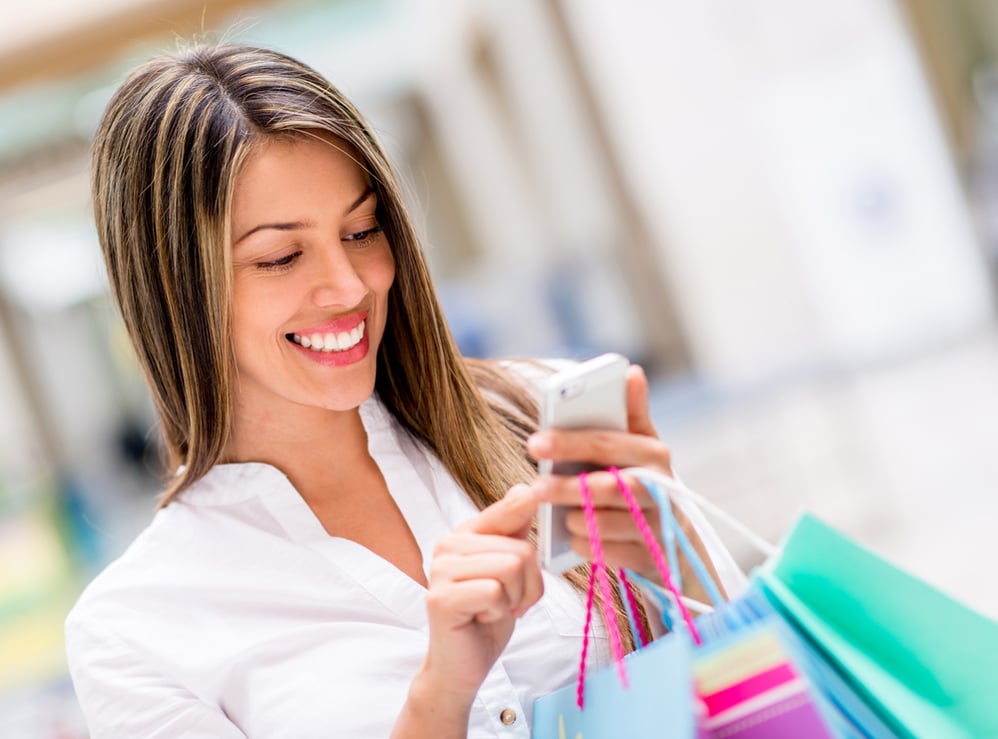 Businesses must prioritize user immersive and personalized experience as well as social commerce to capitalize on the trend of mobile shopping apps.
As indicated by Statista's Market Insights, mobile ecommerce revenue achieved $2.2 trillion in the year 2023, constituting 60 percent of the total worldwide ecommerce sales. The company's researchers anticipate that by 2027 a substantial rise in mobile ecommerce sales to reach $3.4 trillion, a significant departure from the mere $982 billion generated within this sector as recently as 2018.
In 2022, the expenditure on mobile retail ecommerce in the United States exceeded 387 billion U.S. dollars, which was more than twice the amount spent in 2019 before the onset of the COVID-19 pandemic.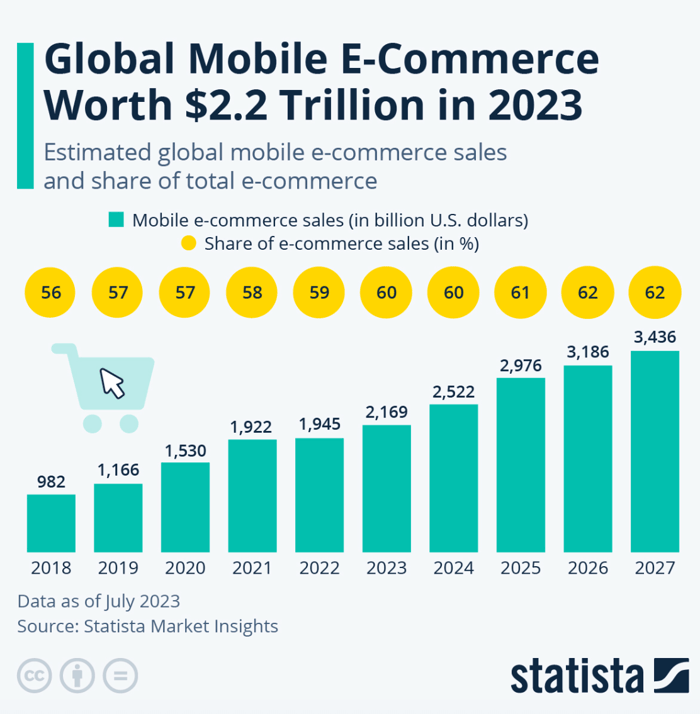 Image source: Statista
As consumers increasingly turn to their smartphones for seamless shopping experiences, businesses find themselves at a crucial crossroads. Navigating this landscape demands not only an understanding of the prevailing mobile commerce trends but also a strategic embrace of elements such as user experience, personalization, social commerce, or mobile wallets and payments.
Augmented Reality (AR) in mobile commerce
The emergence of augmented reality (AR) is making a notable impact on mobile commerce, providing customers with thrilling and engaging shopping experiences. Virtual try-ons facilitated by AR technology are helping businesses to make their mark in the competitive online market space through personalizing customer experience.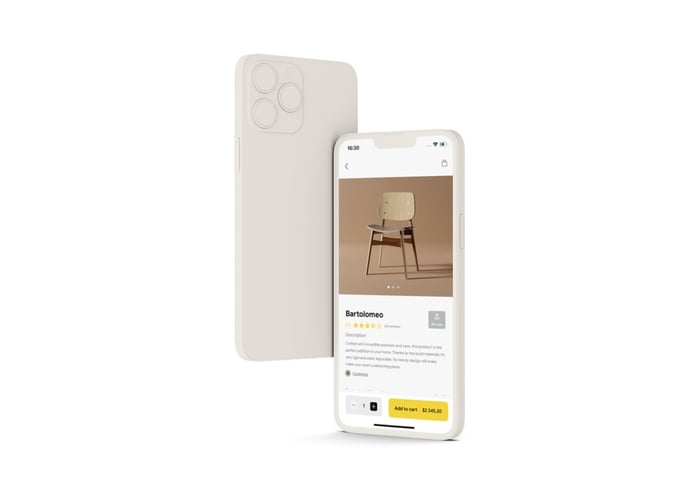 According to current statistics, it is projected that by 2024, there will be approximately 1.7 billion mobile devices used by consumers for augmented reality (AR) globally. This reflects a substantial increase of 1.5 billion compared to the 200 million devices recorded in 2015.
Furthermore, according to the Harvard Business review, individuals utilizing the AR function dedicates 20.7% additional time within the mobile application and engaged with 28% more products.
By utilizing AR, companies can revolutionize how shoppers buy products, giving them an enjoyable and interactive journey as they shop. This provides users with unique opportunities that set apart traditional buying methods for Enhancing overall customer experience.
Virtual try-ons
Mobile commerce strategies that use virtual try-ons through AR technology can enhance customer satisfaction and reduce returns. By implementing this feature into its platform, businesses are able to provide a more immersive and personalized shopping experience for consumers.
Some of the prominent examples of virtual try-on in mobile commerce are:
Sephora's Virtual Artist: It presents a makeup trial application enabling customers to virtually test various makeup items, offering the chance to experiment with different products. The app employs facial recognition technology to assess facial contours and skin tone, resulting in a customized makeup appearance.
AllBirds: The mobile app allows shoppers to test out shoes in the convenience of their own residence, so they know for certain it is the right fit before buying them. The company aimed at strengthening customer engagement and satisfaction, and increasing customer touch points. In result,

80% of users who ranked 5 stars to the app mentioned the try-on feature.





Image source: AllBirds

Cosmo:

Through their Neonail manicure app, Cosmo Group provides a virtual platform for the application of more than 2,500 nail polishes and various products. Neonail leverages augmented reality and machine learning to simulate an authentic nail salon encounter, ensuring a genuine experience for their clientele.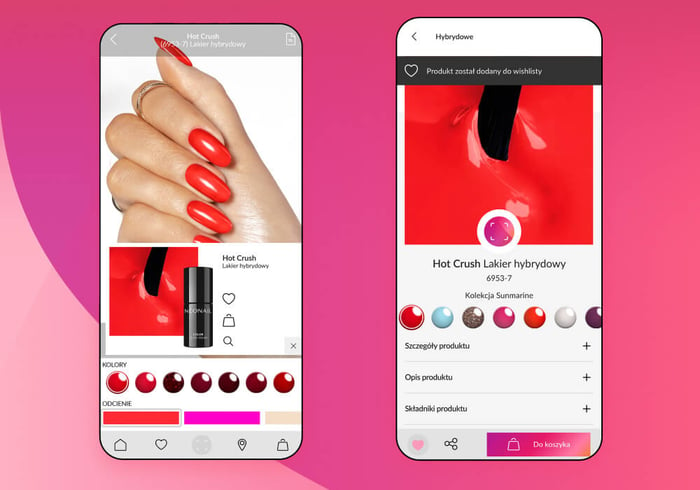 The power of social commerce
Social commerce empowers merchants to directly advertise and sell their products through social media platforms. With the surge in brand utilization of social media for promotional endeavors, major networks now furnish businesses with an extensive array of tools to more precisely focus on their potential clientele.
On a global scale, social commerce produced approximately $728 billion in revenue during the year 2022. Anticipated to experience a compound annual growth rate (CAGR) of 31.6 percent from 2023 to 2030, it is projected that revenues within this category will reach roughly $6.2 trillion by the end of that period.
Social shopping is notably prominent in Asian countries, with over 80 percent of the online populace in countries such as Thailand, India, and China engaging in social buying. To contextualize, China's retail sales from social commerce are valued at almost tenfold the equivalent in the United States.
Prior to engaging in actual purchases, social media serves as a source of inspiration and exploration for consumers. As indicated by a survey conducted in 2021, these platforms played a role in aiding nearly 80 percent of global social media users in garnering insights about products and brands.
Roughly one-third of global shoppers identified Facebook as their preferred social commerce platform for online transactions in 2022, followed closely by Instagram with nearly a quarter of the surveyed respondents.
The effective methods in social commerce are:
Instagram Shoppable posts: Represents a seamless method to transform Instagram followers into customers. Through these posts, enterprises have the capability to directly tag products, drawn from their Instagram Shop catalog, within a variety of content formats such as feed posts, Instagram Stories, IGTV videos, Reels, Guides, and Live broadcasts.
Influencer marketing: In 2022, the global worth of the influencer marketing market reached 16.4 billion U.S. dollars, marking a growth of over two-fold compared to 2019. As the practice of influencer endorsement evolves into a more established industry, the scale and significance of influencer marketing platforms consistently broaden annually, amplifying the profitability of collaborations between brands and content creators.
Smooth transactions with mobile wallets and payments
Integrating mobile wallets with mobile commerce apps is essential for businesses to stay up-to-date as customers increasingly turn to this secure and convenient payment option.
Customers anticipate a seamless transaction process across various devices and platforms. Meeting these expectations and delivering a uniform and smooth payment encounter, irrespective of the platform, has evolved into a fundamental requirement for businesses.
A 2020 Statista report on European ecommerce platforms reveals that unoptimized payment systems lead to order abandonment due to issues like card confirmation (45%), absence of automatic card verification (42%), and acceptance of expired card details (39%), all of which significantly impede the customer's journey.
The landscape of worldwide mobile payments predominantly revolves around digital wallets like PayPal, Apple Pay, and Alipay, although several additional alternatives have emerged. During 2022, mobile wallets constituted approximately half of the overall e-commerce payment transactions on a global scale.
Nevertheless, the market size of these wallets displayed notable variations among different regions. It is estimated that out of the roughly 2.8 billion active mobile wallets worldwide, nearly half were concentrated in the Asia-Pacific region exclusively.
Security and convenience
Convenience and security are key components of mobile wallets that make them an attractive choice for consumers looking to shop online. Services such as Apple Pay and Google Pay provide a fast, secure payment option without needing users to re enter their credit or debit card information each time they want to buy something. This level of convenience helps businesses create a more seamless shopping experience while maintaining the highest levels of customer data protection possible.
It is essential for businesses to integrate mobile wallets and payments with their mobile commerce apps in order to stay ahead of the increasing demand for secure, convenient payment methods. By integrating these two components into their applications, companies can ensure that customers enjoy a smooth and safe shopping experience while boosting customer engagement at the same time.
Mobile shopping apps - user experience and personalization
Between January and March 2023, a remarkable 27 billion app downloads were registered on Google Play, illustrating the extensive array of mobile apps accessible and the resulting intense competition.
According to a survey, the dominant trend in 2021 was the utilization of mobile apps for grocery shopping, as reported by 72 percent of online consumers within the European Union. Furthermore, fashion-related shopping emerged as the second most prevalent category for mobile app ecommerce, with 65 percent of EU-based online shoppers engaging in this segment. The data underscores the critical importance of prioritizing user experience and personalization to ensure the success of any given app.
Creating a pleasant and effortless experience can significantly boost consumer loyalty, as users have an easy time navigating through the app and finding what they need with minimal hassle. Prioritizing such UX design will not only help ensure customers return, but also keep them coming back repeatedly.
From the user's standpoint, a seamless user experience within a mobile commerce app guarantees swift and efficient access to their requirements, conveniently at their disposal. A well-crafted checkout procedure fosters trust and minimizes the challenges and tension associated with mobile shopping, as highlighted in the findings of the Forrester study.
In a survey conducted in 2022 among individuals who had made online purchases in the last six months from diverse countries worldwide, 62 percent indicated that a brand's failure to provide a personalized experience could lead to them withdrawing their loyalty. This marks an increase from the 45 percent recorded in the previous year.
By utilizing customer data, the user experience can be made more engaging through tailored product recommendations, content specifically for them as well as targeted offers. These features incorporated into a mobile commerce app provide customers with a personalized experience that caters to their needs which will help improve sales figures over time.
Mobile shopping introduces an additional crucial element that proves more challenging to replicate on desktop computers: the emotional bond users share with their devices. Smartphones transcend being mere tools for tasks; they serve as constant companions in users' daily endeavors, personal relationships, and leisure activities. The multitude of customization possibilities ensures that each device is distinct for every individual user.
Effortless purchasing through voice-enabled shopping
The global transaction value of ecommerce transactions conducted via voice assistants is projected to surge from $4.6 billion in 2021 to $19.4 billion in 2023. This remarkable growth of over 400% within a span of two years is driven by the expanding avenues for voice assistants to facilitate purchases, particularly through smartphones and smart home devices.
Smart speakers and virtual assistants
With the rise of smart speakers and virtual assistants, voice shopping has become a popular way for customers to conveniently shop online without having to use their hands.
To make sure they keep up with this expanding market, businesses must optimize their websites and mobile apps so that they can be easily accessed through voice search technology. By enabling shoppers to utilize these devices when shopping on their platforms, companies are able to provide an effortless experience that appeals across all customer types.
A recent survey conducted in the United States unveiled that Millennials were the most active demographic engaging in voice commerce. Almost half of the Millennials indicated using voice assistants for online payments, closely trailed by Bridge Millennials at 47%—this being the distinct subgroup of millennials born between 1980 and 1989—while Gen Z shoppers ranked third.
Similarly, when it came to creating shopping lists with voice assistants, Millennials were once again at the forefront, with Gen Z following in their wake.
In 2022, a total of 66% of millennials in the United States possessed a smart speaker or voice-activated device in their households. The Amazon Echo, a prominent voice-enabled device led by Alexa, was widely favored, with more than 70% of voice shoppers using it. Among Echo users, ecommerce retail took the lead as the primary shopping category, with food purchases ranking as the subsequent choice.
Summary
Mobile commerce is a dynamic landscape driven by innovation and consumer preferences. Adapting to these trends is pivotal for ecommerce businesses to thrive and ensure their place in this rapidly evolving ecosystem.