Pocket Change: payments gone wild. Visa, Venmo, Plaid. And Disruption Forum back in NY
It's amazing to see new people keep subscribing to Pocket Change. It's truly flattering, but it's also an obligation to keep my New Year's resolution. Expect that you will get the fintech newsletter in your inboxes more frequently from now on.
One thing in my defense: we've been 99.99% busy with organising Netguru's stellar fintech event in NY (check below for more details or follow #dfny20 on Twitter).
# In the News
Hello, Amazon. Goldman Sachs is ready to collaborate with Amazon to finance small business loans (for Amazon merchants). The project could kick off as early as within a few weeks (more here). Also, Techcrunch breaks down the reasons why fintech is so focused on loans to SMEs (paid content).
Let's double. Speaking of Goldman Sachs, the company is thinking about positioning itself as a "banking-as-a-service" provider. The company has recently shared its five-year plan to double consumer deposits at Marcus, an online savings platform, to around $125 billion.
Down under. The Swedish fintech Klarna scored $200m in funding to finance their launch in Australia.
Records everywhere. In 2019, the UK fintech companies raised $4.9bn of capital. This is more than the rest of the top 10 European countries combined. Greensill and OakNorth led the way raising over $1bn in total. Full report by Innovate Finance. Australia has followed the trend, seeing record fintech funding in 2019 as well, with AMP and Athena Home Loans as frontrunners.
Adyen on a signing spree. One month after closing a global deal with McDonald's, the Amsterdam-based payment platform scored an exclusive partnership with Subway to power their payments online and in-store in over 20,000 stores in North America.
The Mexican neobank segment is getting crowded. Stori, a startup founded by Marlene Garayzar and Manuel Medina, got $10m in funding to serve millions of unbanked customers. It's a tough challenge, but – as we learned during redesigning Swap's mobile wallet – it's well worth the effort.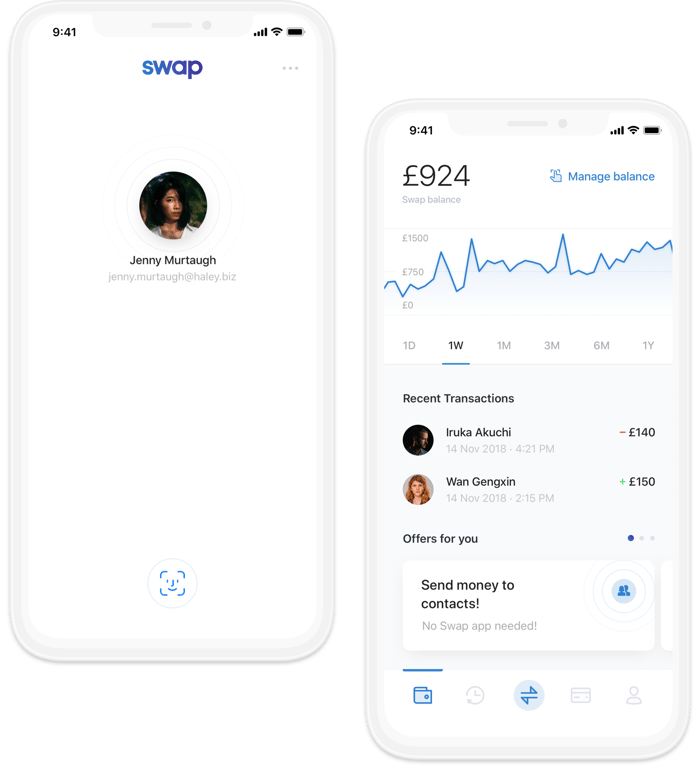 Find out more - case study on Behance
# Payments gone wild
The year 2020 has only started, and we've already witnessed two massive acquisitions. In February, Worldline captured the headlines, announcing the deal to acquire the French company Ingenico for a whopping €7.8bn. Once closed, the deal will create the fourth-largest payment company worldwide.
Back in January, Visa bought Plaid for $5.3bn.
What does this second largest M&A in Visa's history mean for the industry? In the short term, not much. That said, we've already seen a kind of a "halo effect" resulting in speculations as to whether Yodlee, a data aggregator, would be put up for sale.
Some food for thought around Visa's & Plaid's new marriage:
Or, if you fancy more bloody scenarios, check this LinkedIn post by Carlo Cardilli, COO at Alpharank.
#Visa bought #Plaid to quietly kill it. Who makes money for Visa? Their issuing banks (and credit unions). Who are Plaid's customers? Neobanks and non-banks wanting to pull deposits out of existing banks and credit unions. In the end, organizations follow the most direct economic incentives.
If you ask me, I don't subscribe to this point of view. I believe it's more about "skating where the puck is going to be" (as the quote by Wayne Gretkzy goes) and gaining access to customer data to build new products or services on top of that.
I've recently discussed this issue with Anneli Bartholdy, a strategic partner at Nordea, in our Q&A chat about digital innovation in banking.
# High returns? Bet for insurance, but wisely
Digest this: 33.9% of all capital that has been raised in the insurance industry was raised in 2019, according to data by Willis Towers Watson.
Yet, there are two sides to the record-breaking story. The large chunk of the money is going to scaleups, that is fast-growing and mature startups (e.g. Wefox, Lemonade, Hippo), leaving the new players with peanuts.
We can witness the same trend in Europe, where three deals accounted for half of the capital raised in 2019 – WeFox alone took 25%.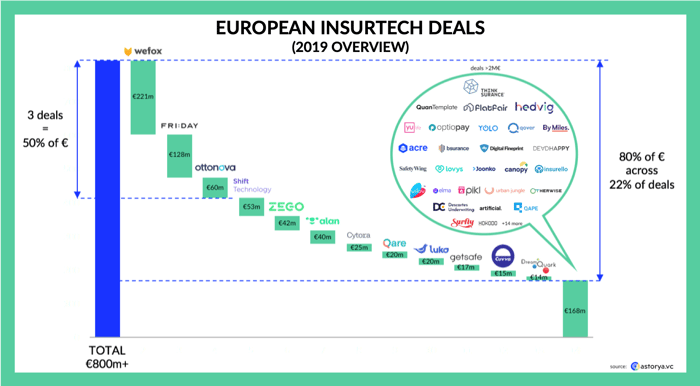 One additional key point by our friends at astorya.vc:
As they were looking into the insurtech landscape, they noticed that the majority of deals involved distribution part of the value chain as MGAs (i.e. a specialised type of insurance agent).
Why it matters:
"The majority of such startups are trying to just build better landing pages and ads retargeting to sell in the B2C model (MGA). Little or no technology (e.g. data science for risk underwriting) raises the question of whether these are tech startups or just specialized marketing agencies."
If you're into insurtech, Astorya's newsletter is highly recommended. Subscribe here: https://t.co/an6rbBuaPo
# The Number of the Issue: $29,000,000,000
Venmo was all over PayPal's last conference call, being mentioned 25 times.
In Q4 2019 alone, Venmo processed more than $29bn of TPV (total payment volume), growing by 56% yoy. In 2019, Venmo processed more than $102bn – up by 65% yoy.
"We ended the year with Venmo's customer base exceeding 52 million active accounts, driving its current revenue run rate of more than $450 million."
- Dan Schulman, President and Chief Executive Officer at PayPal Holdings.
# Fintech 2020 predictions
I was just about to skip this part (it's February), yet I've come across this list by Zach Perret, the co-founder and CEO at Plaid.
Points five ("every company is a fintech company"), six ("shakeout of the mid-stage") and seven ("emerging infrastructure") are my favourites.
# New York, New York
By the way, did I tell you that Charley Ma, who was the 13th employee at Plaid, and led fintech sales in the startup, will be speaking at our Disruption Forum? Some seats are still available.
We are super excited that we're coming back to NY with an amazing lineup at Disruption Forum New York by Netguru, including:
✅ Christine Hurtubise, Head of Data Science @ Stash
✅ Melissa Cullens, Chief Experience Officer @ Ellevest
✅ Richard Arundel, Co-founder & North America GM @ Currencycloud
✅ Justin Ternullo, Chief Design Officer @ Policygenius
✅ Ilana Fass, Vice President, FinTech Platform Lead @ Barclays
✅ Jack Arenas, Co-founder & CTO @ Petal
✅ Bob Petrie, SVP @ Citi Ventures

Check here to learn more and to sign up: #DFNY20