Best Sustainable Decisions in 2020 According to 10 Experts
The COVID-19 crisis has underscored the urgency of transitioning toward more sustainable solutions across industries on a global scale.
Although the conditions for implementing these solutions have been far from ideal this year, there are many examples of businesses and governments doing just that. In some cases, they have even accelerated the process and prioritized going green over other challenges.
We have asked industry experts to pick out the sustainable business decisions that have caught their eye this year. Their choices range from visionary and ambitious to ones that simply work to bring modest but measurable effects.
Here are some ideas to inspire your business to make sustainable decisions for the rest of 2020 and beyond.
Johann Jones, Head of Safety & Sustainability, Tourlane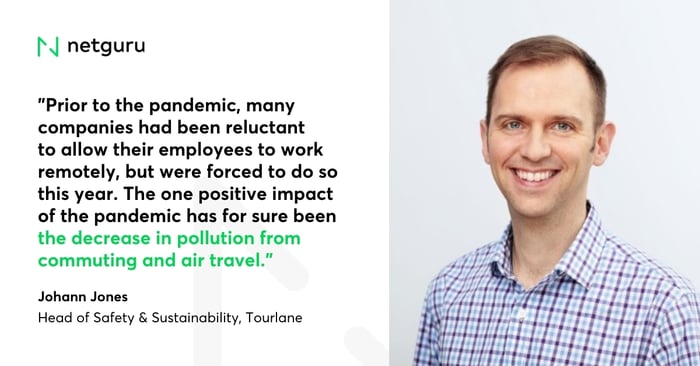 CO2 footprint indicator on Google Flights - Google now displays carbon emission estimates on flight search results and booking pages to help customers make more eco-friendly travel decisions.
Higher electric vehicle subsidies in Germany - Germany's federal government doubled their electrical vehicle subsidies from

€

3,000 to

€

6,000 for cars priced under

€

40,000. There's also a plan to invest an additional

€

2.5 billion in expanding the existing e-vehicle charging network and promoting research and development of sustainable solutions, such as car battery production.
Large-scale adoption of remote work - prior to the pandemic, many companies had been reluctant to allow their employees to work remotely, but were forced to do so this year. Others seized the opportunity to make their workplaces even more remote-friendly. The one positive impact of the pandemic has for sure been the decrease in pollution from commuting and business travel.
Ha Dinh, Treasury Funding Manager, Deutsche Bank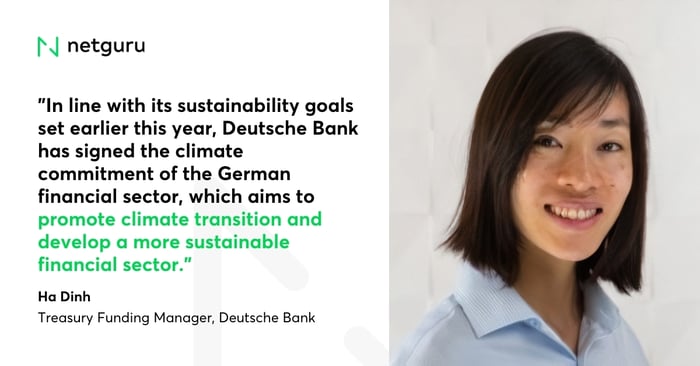 As parts of the world have slowly turned towards COVID-19 recovery, the attention paid to sustainability issues has fortunately not subsided. Among the many decisions that have been made on climate transition this year, there are three that personally stand out to me and that show the level of commitment by policymakers and the private sector to continue the efforts towards a sustainable net-zero economy:
European Union's COVID-19 recovery fund - in August, the EU proposed a €750 billion recovery package for the single market. The European Commission aims to devote up to €40 billion of that to the Just Transition Fund that assists member states in accelerating the transition to climate neutrality and, in line with the European Green Deal, €15 billion in investments in agricultural reforms to strengthen biodiversity. Although there have been critical voices around the execution and fine print, it opens up the debate on how to efficiently spend the funds to achieve a sustainable outcome.
Germany's first Green Bond - in September, Germany issued an inaugural Green Bond worth €6.5 billion. Germany now joins other Green Bond sovereign issuers like France and the Netherlands, further boosting the growth of the Green Bond market. Their ambition to build out their green debt portfolio in the future makes a great contribution towards sustainable finance.
Deutsche Bank's commitment to climate transition - in line with its sustainability goals set earlier this year, Deutsche Bank has signed the climate commitment of the German financial sector, which aims to promote climate transition and develop a more sustainable financial sector. The bank has also joined a number of other European businesses in pushing the European Commission to increase the 2030 greenhouse gas emission reduction target to at least 55%.
Fungai Mettler, Regional Coordinator, EEMEA - Social Business Innovation, MSD
What 2020 has revealed is that sustainability in any respect will require innovation. We need new and improved ways of tackling both social and business problems and we need to tackle them together. Anything less than that will not stand the test of time and hence will not be sustainable.
Jeffrey Oatham, Director of Sustainability, Delivery Hero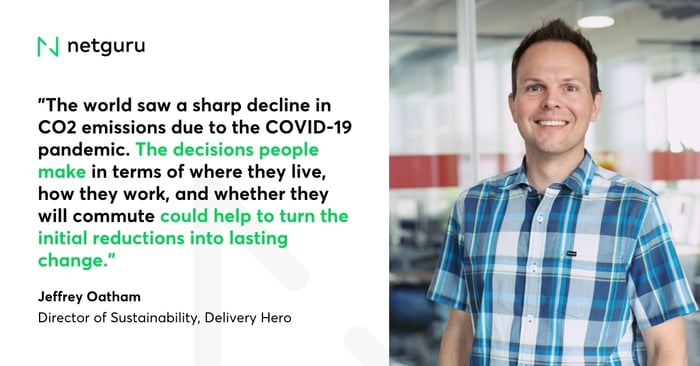 Microsoft aiming to become carbon negative - Microsoft reshaped the landscape of carbon ambitions with its announcement in January to become carbon negative by 2030 and remove the carbon the company has emitted since it was founded by 2050. That's incredible, inspiring, and mind-bogglingly challenging. Fantastic!
Airbus's zero-emission aircraft plan - while not a decision per se, Airbus's concept for a zero-emission aircraft to be in service by 2035 is amazing. Air travel is such a large source of emissions and innovative solutions are necessary to keep the world connected through travel, but in a climate-friendly manner. I'm excited to see how this project progresses.
The lasting effects of COVID-19 - the world saw a sharp decline in CO2 emissions due to the COVID-19 pandemic - 2-3 billion tons of warming gas according to some estimates. But can we maintain that? The decisions people make in terms of where they live, how they work, and whether they will commute could help to turn the initial reductions into lasting change.
Gaia Urati, HR Associate - Talent & Development | Innovation, Impact & Sustainability, IOCAP Srl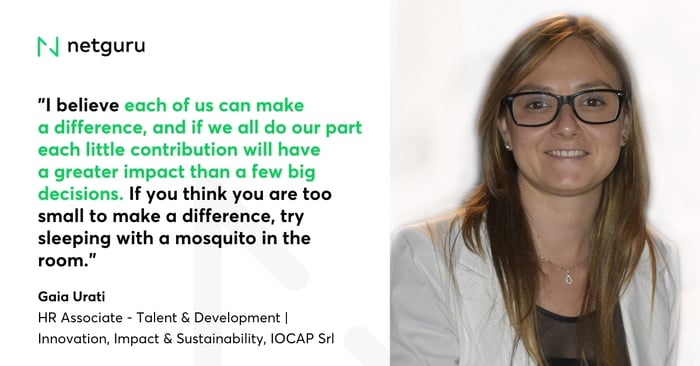 Rather than talking about decisions, I'd talk about actions. Rather than mentioning three big decisions I heard of or experienced, I'd rather mention how grateful I am for every single person and organization that has been taking action towards sustainable goals.
I believe each of us can make a difference, and if we all do our part each little contribution will have a greater impact than a few big decisions. In other words, I could say that, for me, the best sustainable decisions are those that have led and are leading to measurable and positive results regardless of the area of implementation. And each of them counts for our future and the common good. In short, I shall mention my favorite quote: "If you think you are too small to make a difference, try sleeping with a mosquito in the room."
Joanna Gajda-Wróblewska, Social Projects Manager at BNP Paribas Foundation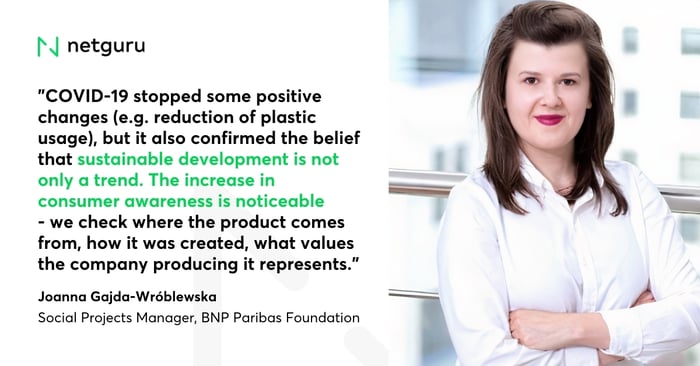 2020 has been unique for many reasons. COVID-19 stopped some positive changes (e.g. reduction of plastic usage), but it also confirmed the belief that sustainable development is not a trend, but the only way to make the world better, and that it is good for business, too!
The increase in consumer awarenessis noticeable - we check where the product comes from, how it was created, what values the company producing it represents. I am also pleased to see the rising trend of plant-based eating - it is good for the environment, animals, but also for our health – and it is a huge market to be explored. The role of youth advocacy in achieving it cannot be overestimated. Young people want to fight for a better world and they show it in their initiatives. I am glad that companies and organizations follow that example to generate more positive impact.
Luigi Spina, Startup and Small Business Consultant, Freelance
We all experienced many changes in 2020 because of COVID-19. I'd like to focus on three of them which disruptively crossed my life and that could be a chance for a more sustainable future and more lively cities all around the world.
Traveling less and using more video-calls - we discovered how many useless flights were taken when the answer was just a click away.
Improving the use of technology to simplify our daily lives without commuting hours - everything becomes more productive and the planet gets a great relief.
Deciding to invest money to develop all kinds of infrastructures in each European country - this could be really disruptive: connecting people with each other even more than before, imagining a new way to live and do business, avoiding a return to what was in the past.
Ulrich Hoyer, Partner at zeb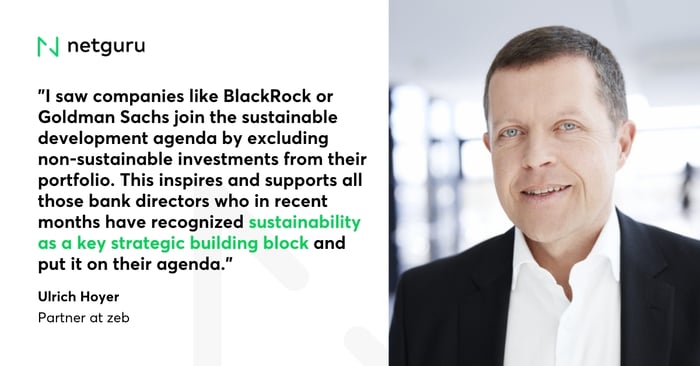 Let me answer this question in three respects: politically, entrepreneurially, and personally.
First of all, I found it encouraging that the European Commission has moved into action, raised the bar, and become much more ambitious in terms of tightening the climate targets. I am, unfortunately, not quite as convinced that all parliamentarians or even all EU member states will follow up.
Secondly, I saw companies like BlackRock or Goldman Sachs – flagships of capitalism – join the sustainable development agenda by excluding non-sustainable investments from their portfolio. They set an example. In the industry I am most familiar with, i.e. financial services, I can say that this inspires and supports all those bank directors who in recent months have recognized sustainability as a key strategic building block and put it on their agenda.
Last, but not least, I can say for myself that I needed that push from COVID-19 to improve my personal carbon footprint, but ever since March I have made full use of my "Bahncard 100", have hardly flown nor used my car. And there's no point in going back to the bad old days.
Agata Frankiewicz, CEO & Founder at Deko Eko B.V.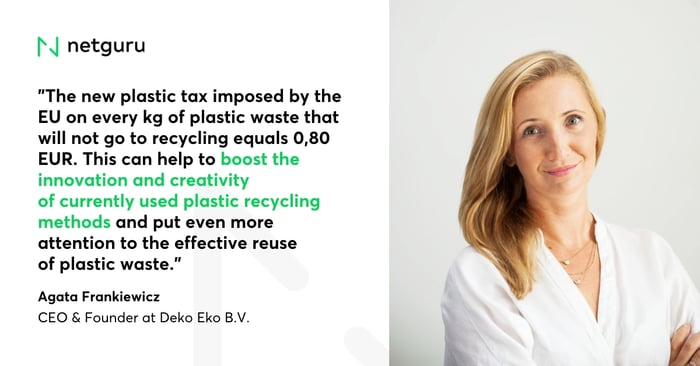 Plastic tax imposed by the European Union on every kg of plastic waste that will not go to recycling from the 1st January 2021 (0,80 EUR / 1 kg). This can help to boost the innovation and creativity of currently used plastic recycling methods and put even more attention to the effective reuse of plastic waste.
Focusing on developing faster our online B2B upcycling marketplace which is connecting designers and small companies who turn waste into consumer products with companies who want to give a 2nd life to their waste. Due to pandemic but also bearing in mind the potential to scale up our business internationally, we are turning from a transactional to a SaaS model.
Privately - our family decided to diminish the amount of meat that we eat every day and move to a more vegan diet.
Anna Sawicka, Business Executive & Co-Founder at Kiwee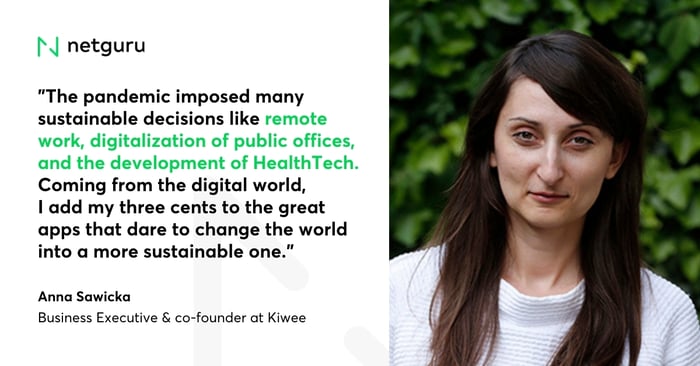 The pandemic imposed many sustainable decisions like remote work, digitalization of public offices, and the development of HealthTech. Coming from the digital world, I add my three cents to the great apps that dare to change the world into a more sustainable one. On a personal level, I discovered insect-based pet food for my dogs. I am also excited to see plant-based substitutes of meat entering the mainstream and pushing back less sustainable animal-sourced products out of the market.