How an All-in-One Fintech Solution Brings Morals into Money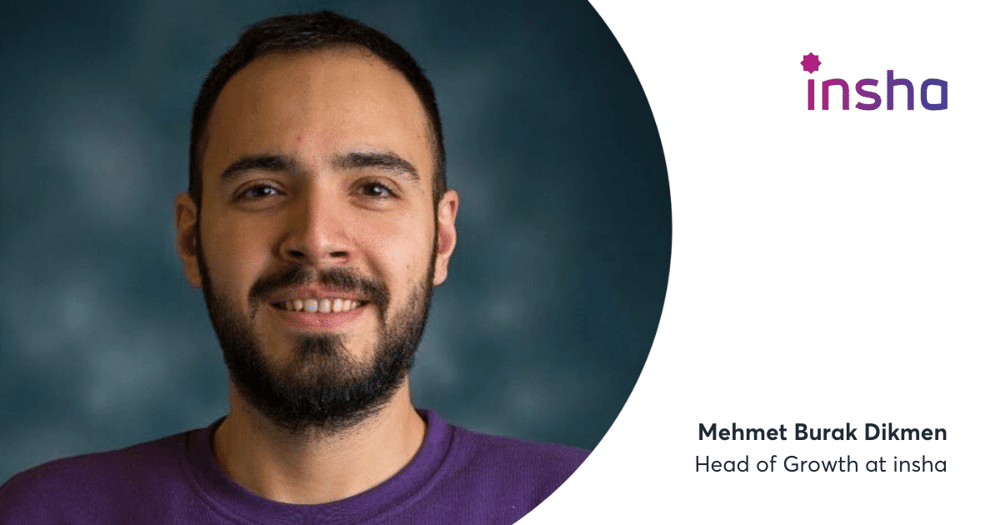 In the booming world of fintech, more and more new finance startups are prioritizing ethics and sustainability.
We have had a few examples on Disruption Talks already, but this time we spoke with the Head of Growth and one of the founding members of insha, Mehmet Burak Dikmen.
insha is a German fintech startup that brands itself as "an account with principles." It offers an innovative and digital account with a range of financial products in a handy all-in-one solution to help you save and grow your money.

It originally started as a financial solution for Muslims in Germany, but the founders realized that more and more people were looking for ethical and sustainable finance solutions. They expanded their business model and plan to continue doing so across Europe.
What is ethical banking?
Ethical banking is a subsection of banking that prioritizes ethical, social, and environmental impacts of its business model.
An ethical bank will be more discerning in what companies it places its investments in.
For example, an ethical bank might choose to only work with renewable energy companies rather than fossil fuels.
Filip Sobiecki: Could you give us an elevator pitch for what insha is?
Mehmet Burak Dikmen: There are lots of start-ups that are based on similar principles, ethics, and values. However, our idea is to combine a range of financial products in more of an all-in-one solution. There is no such product on the market right now that offers the same all-in-one solution with ethics and sustainability as a priority.
Could you also give us a personal introduction to yourself?
I started my career in a bank in Turkey, where I worked as a trainee with some awesome colleagues. We did research on the fintech scene and a deep dive into their business models and how customers react to them. It was something I found fascinating to learn.
I eventually transferred to one of the biggest telecommunication companies in Turkey and began to manage the fintech subsidiaries and projects. We successfully integrated many third-party fintechs, and it was a great experience. As I was focusing on fintech, my colleagues and I tried to open a new initiative in Germany, which became insha.
What does your usual day look like?
Every day is different. Our main focuses are acquiring new customers, retaining them, monetizing them, increasing engagement and satisfaction. So there are lots of different things to focus on.
How do you define growth?
Growth can mean anything, and people understand it in different ways. There's customer growth, revenue growth, and these are very different metrics.
Our growth perspective is based on sustainable growth for both customers and revenue.
Our growth perspective is not just focused on acquisition or retention. We focus on active customer growth specifically. Active customer numbers are important to us because just focusing on customer growth isn't really relevant if those customers are inactive on our platform.
Is insha planning to expand, and if so, what do you see as a challenge to expansion?
We believe compliance is a key element of fintech success, so we invest a lot in our compliance tech. In 2021, we have focused a lot on expansion, and we will soon be ready for three countries, Belgium, the Netherlands, and Austria. We need to invest in compliance in each country to make sure everything is ready before entering these markets.
As you expand, how do you ensure that company culture isn't eroded?
We believe that people change the company. Nice people are crucial to our business, so we look for hardworking and passionate people. The hiring process is very important. If you hire the right people, you can manage growth and also culture very well.
Could you tell us about insha's principles?
We have 13 principles which you can find on our website. The first one is ethical. It's very important for our business model to be based on good ethics. Transparency is another. We like to be transparent when communicating with customers. The next is active participation, followed by real and circular economy, which concerns how we interact with customers.
Another principle is interest-free business.
We promise our customers that we'll always stay away from the interest model.
We're also environmentally friendly. We prioritize social responsibility, knowledge transfer, sustainable business models, constant innovation, strong partnerships, conscious awareness, and a customer-first approach.

These principles are for our customers, partners, employees, and for everyone involved in the business model.
How did insha cope during the pandemic?
In the beginning of the pandemic, we focused on customer acquisition and marketing. The pandemic affected our business, but many people were looking for digital solutions, so we did get an advantage in 2020.
In 2021, our focus has been on expansion, and in the future, we're looking at product developments and B2B services.
Could you explain how insha pivoted from being just a bank for Muslims in Germany to what it is now?
We started to offer services to the Muslim community in Germany, but we realized that others were looking for ethical solutions.
Our basic idea was to not use money in any unethical or un-Islamic industries. So it was a bit of a pivot into a general sustainable and ethical account. That doesn't mean we don't focus on the Muslim community anymore; we just know that others are seeking the same values in their financial products.
How do you protect insha from the competition?
We realized that people want financial products that are convenient and simple. Our idea was to put all the financial needs of people into one place and offer it in a sustainable way. There is no product on the market that offers this blend of an all-in-one product with sustainability and ethical finances.
What are the challenges of this business model from a user or business perspective?
We believe the competition is important, but the most important thing is to try to find the right partners for the business. When we're working with third-party fintechs, we want to work with companies that share similar values. Finding those companies is a challenge sometimes.
How do you educate your customers about sustainable banking because not everyone will know about it?
We like to focus on building financial literacy, so we have a community in Berlin with both online and offline meetings with customers.
We invite a lot of people to these meetings and guests to help educate our community in sustainability. We also like to share information about how they can save money with insha, for example, with automatic savings.
What is your decision-making framework?
The key to making decisions is speed and courage. I believe speed is very important and you shouldn't take too long to decide on something. That doesn't mean you should be reckless and decide without data, but you should have the courage to make decisions with the right data. We like to reduce the number of options when making a decision to a maximum of two or three, so it's easier and faster for us to decide.
If you had a magic wand and could give every 12-year-old in the world a new piece of knowledge or wisdom, what would it be?
I would say communication. I believe human beings are very advanced when it comes to technology, but for communication, we're still in infancy. I think that a lot of people don't know how to communicate or share their ideas, so I think if we could all communicate better the world would be a better place.

This discussion is part of our Disruption Talks recordings, where we invite experts to share their insights on winning innovation strategies, the next generation of disruptors, and scaling digital products. To get unlimited access to this interview and many more, sign up here: www.netguru.com/disruption/talks