Reimagining Retail. Key Takeaways From Disruption Forum Retail 2021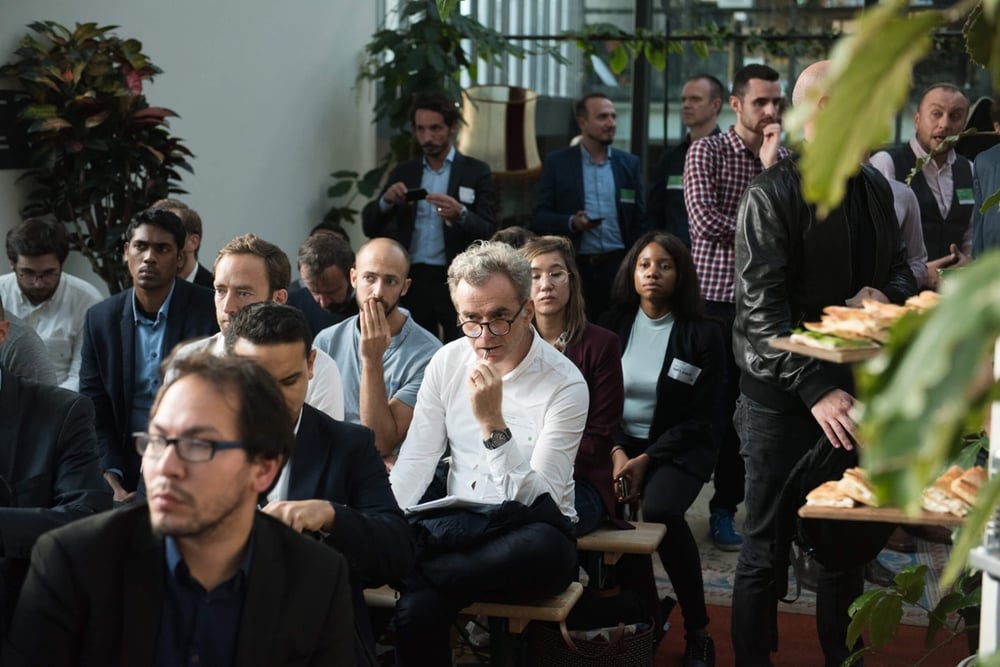 Here's what happen when you get the brightest minds representing H&M, Unilever, Delivery Hero, Pandora, and more come under one 'virtual' roof.
You unpack the trends that are shaping the retail industry and get front row access to what the biggest household names are up to, including their efforts in retail digital transformation. Keep your eyes peeled for the future as the industry undertakes a massive transformation, especially after all the learnings and innovation post-COVID-19.
Now that's exactly what happened on the 23rd of September when Netguru hosted Disruption Forum Retail. The who's who of the industry came together to decipher the world of retail across eight power-packed sessions.
Discover the key takeaways from the event and get a sneak peek of topics that are going to dominate the discussion in the coming months.
Retail experiences adopted during the pandemic aren't going anywhere
The new kid on the block, quick commerce, is here to stay. Once you have experienced a delivery in 15-20 minutes, it's hard to shake it off. That's exactly what companies like Delivery Hero are hedging their bets on. They have their dark stores, along with partnering with neighborhood stores of all types and doing deliveries on their behalf.
During the lockdown, customers got a real taste of how quick quick commerce is and these superior experiences will continue to stay even after restrictions are lifted.
Panelist Milena Lazarevska, VP Commercial Quick Commerce at Delivery Hero, recalled a conversation she had with an investor who summed up what the buzz is all about.
Experiences that customers had during COVID, which are superior experiences to the ones they had before, are here to stay.
"Whether it is having your daily groceries delivered or removing the cognitive load of having to plan for the whole week or the whole month or not having to store a lot of things at home." - Milena added. "We see that as 100% of the superior experience and we believe that this behavior is going to stay."
Personalization is not a marketing tool but a part of the value chain
If there's one thing that brands have learned during the pandemic, it's that customer expectations are ever-growing. Buyers today are demanding and impatient. This is what was unpacked in the Post Pandemic Retail session.
Fatima Baz, ex Digital Process Innovation Lead at Unilever asked:
Who drove your company's digital transformation? The CEO? The Head of Digital? The pandemic? "The answer is always the pandemic."
Experts also shared that personalization both in the offline and online world is what is going to be the key differentiator between brands. It's been shared that digital acceleration will be brought by personalization implemented in every aspect of the value chain, not not used ionly as a marketing tool.
Mental models provide a seamless experience in the digital world
Alina Cahill, Product Lead at Wolt, brought us in on how they're using the app's information architecture and mental models to create a frictionless experience for customers in the digital world. Wolt's vision is to build a digital version of the shopping mall in your pocket.
The whole online shebang is still relatively new to some customers, and the idea here is to make the whole journey as familiar as possible. Familiarity is what makes customers stay longer and use the product repeatedly. This is achievable by matching online information architecture to the mental model the consumer already has for the task in a brick and mortar store.
The goal here is to help make the lives of the customers a little easier, a little more convenient, so that they can focus on the things that matter to them - Alina added.
Unified Commerce can help unlock cross-channel insights
Alright, so we have e-commerce and quick commerce, but what's unified commerce? Jakub Czerwiński, VP CEE at Adyen, defines it as giving customers the freedom to choose how they want to interact with brands and retailers. Unified commerce contains three elements.
First, where the purchase happens. Second, where are the products or services being fulfilled from, and finally, where does the transaction take place? Combining all of these elements provides companies with richer insights and greater flexibility, thus enabling businesses to make intelligent decisions. For the customers, it's all about convenience. Jakub said:
The beauty of understanding where your customers interact with your brand comes with the power of having a completely new, different set of data within your business intelligence. This is the benefit of unified commerce.
Sustainability in retail is no longer just a buzzword
Sustainability in retail is gaining traction. Today's consumers are conscious of their buying choices, and 'eco' brands are making the right noises. But we are far from perfection.
The fashion industry is the second-largest polluter in the world. Can technology help retail get in shape? Jinder Kang, Innovation Consultancy Lead, Netguru stressed how the Internet of Things, AI, Machine Learning can play a leading role in combating waste.
Tech integrations are a step forward; these include making supply chain models more transparent, demand forecasting, and real-time response to prevailing market conditions. But, according to Jinder, at the root lies a shift in mindset and a change in business models — how that pans out is yet to be seen:
We will need to see the idea of upstream innovation, understand the root cause of the problems, and be able to tackle those rather than the band-aid for a broken leg approach that retail has been guilty of in the past.
Drone deliveries are now a reality
Did you know that in the town of Galway, Ireland more than 35% of its population has already used drone delivery as a service? It's not us making this claim; Bobby Healy, CEO & Founder of Manna Drone Delivery, is on his way to revolutionizing the lives of suburbanites. According to him, drone deliveries are the future.
His drones fly at a height of 80 meters and a speed of over 80kph - delivering items within a 2km radius in under 3 minutes. This isn't a stunt. Bobby flies his drones from the roof of Tesco and has tied up with multiple local vendors. Whether you want Chinese takeaway, ice cream, medicines, or broccoli — Manna Drone Delivery is at your service.
Imagine a tie-up between drones and quick commerce. Now that's how you redefine deliveries. Bobby shared:
Our mission is to completely replace road-based delivery across the suburban world, replacing the car 100% for delivery of lightweight, low-value goods.
Fintech and retail are a 'potential' perfect match
The world of payments is fragmented. Hence, a system that unifies it will enable businesses, including retailers, to better manage their tools and operations and provide a 360-degree point of view. With panelists Andrea Tassistro, CEO at Foodetective, and Romain Colnet, Innovation Business Development Manager at Worldline Global, the discussion centered around how fintech and retail are getting closer to each other.
Gaining trust at the consumer end and navigating existing regulations are the key to unify systems from both industries for greater consumer convenience. Multiple technologies that exist today, such as API payments, BNPL, and crypto can bridge the gap.
The connection of payments and customers' data is about trust. A successful payment is a trustful payment.
— said Romain Colnet, Innovation Business Development Manager at Worldline Global.
Innovation must embrace failure
Imagine a team of four people who are not 'specialists' in anything but are driven, optimistic, idealistic, and positive. You arm them with the tools to innovate. Should they need experts from other fields like UI/UX, marketing, then they have access to talent from the parent company. This is what H&Mbeyond and H&M LAB Germany are executing.
At the helm of affairs is Oliver Lange, Head of H&Mbeyond who runs the open innovation project. Innovation in retail is imperative. To succeed, retail innovators must understand their customers thoroughly; their needs, demands, what would surprise them. But not all innovation projects are successful. There has to be space and acceptance of failure to surpass expectations:
Be customer-centric or user-centric, understand what is the need and the demand from the market. What do customers want to have as a product, as a service? What is an experience they expect or that would positively surprise them?
Amidst all the knowledge-filled sessions, Disruption Forum Retail also had a Retail Startup Contest. This was organized by Netguru in cooperation with MIT Enterprise Forum CEE — powered by Foundation for Technology Entrepreneurship. Five startups took to the virtual stage to pitch their products to retailers. After an exciting round of presentations and discussions, the jury chose Consumer Intelligence as the winner. The audience award went to D Street.
Didn't manage to join the event? Head over here to register and get access to all the recordings of the sessions. Also, stay tuned - we'll be publishing more content based on insights and expert tips shared during the event.
Eager to learn even more? See our previous editions of Disruption Forum: