How to Find the Best UX Design Agency? Useful Tips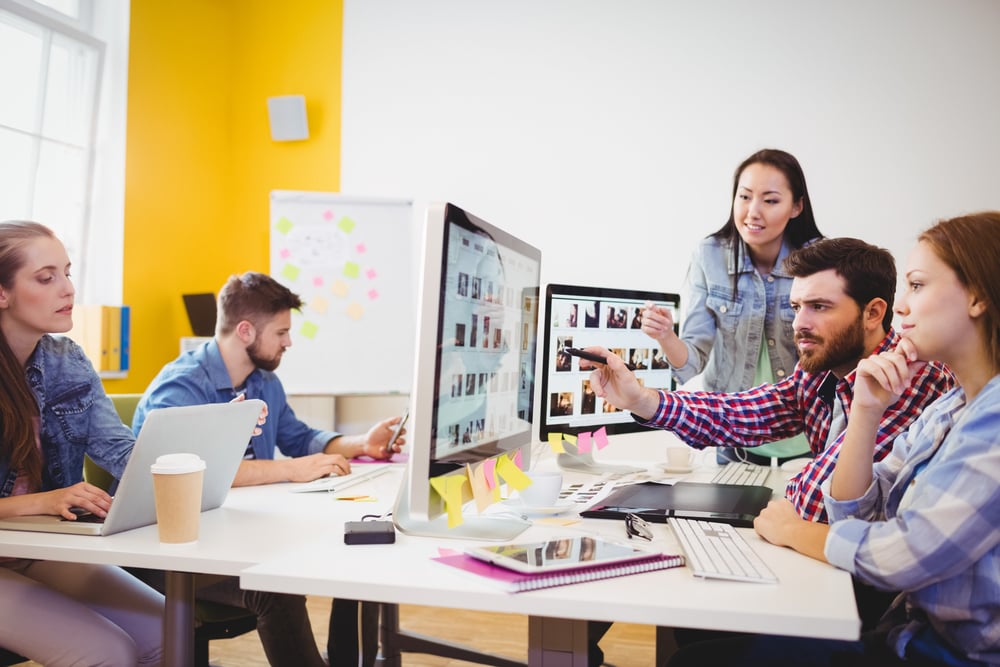 Planning a new launch or improving an existing feature? For products your users will love, consider partnering with a UX design agency.
Even the ideas that seem picture-perfect on paper should be evaluated against real-world markets and data. Relying solely on intuition isn't enough. A well-defined strategy is essential to transform vision into a product that excels – and that's a job for a UX design agency or a UX designer.
Companies that specialize in UX focus on aspects related to the end users' satisfaction. Why is it so important? In short, so your customers fully enjoy your product and want to use it on a daily basis, thus building loyalty to the brand. UX design firms are experts in connecting business objectives with users' desires. With such help, you won't waste resources on failed launches.
In this post, I'd like to get you familiar with how UX design specialists can benefit your business and how to recognize great ones. I'll also walk you through the differences between partnering with a creative agency and hiring an in-house designer. In case you are ready to reach out to a UX design firm but aren't sure how to start your cooperation, I've got you covered.
Let's delve into how incorporating UX design services into your business can create exceptional user experiences for your clients.
Key takeaways:
The goal of UX design agencies is to design products that are user-friendly and effectively meet the needs of the target audience.
There are two main types of UX design agencies: UX-only agencies and UX/UI design agencies.
UX design agencies offer a variety of services, including user research, wireframing, prototyping, and usability testing.
When evaluating a UX design agency, it's important to consider their portfolio, experience, and process.
A creative brief for a UX agency should include information about your problem, objectives, scope, timeline, and budget.
Understanding the role of a UX design agency
UX design companies aim to provide an optimal digital experience to the users. Such agencies specialize in user experience (UX) design, a discipline focused on enhancing user satisfaction and engagement by improving the usability and accessibility.
Unlike traditional design, which is often focused on aesthetics, UX design considers the complete journey of the user, from initial interaction to long-term engagement. That is why UX design can become an essential part of thriving digital product development. Here are some reasons why.
UX design companies get to know your users very well. They do so by conducting user research, creating user personas, and defining user journeys. Because of this deep understanding of the target audience, they're able to create user-centered designs and deliver experiences that match their needs. In addition, agencies also research the market and investigate your competitors. As a result, you can make data-driven decisions and develop unique products that stand out from the rest.
Your business objectives are just as important for UX designers. They act as a bridge connecting users, development teams, and stakeholders. On one hand, they know what clients want and expect. On the other, they collaborate with the developers to achieve that, simultaneously improving the company's profitability.
Another role of the UX design agency is targeting and eliminating difficulties that occur at various stages of development. This can include tasks such as ensuring product accessibility or seamless branding throughout the entire process. Hence, you can prevent oversight of critical details that could negatively affect your launch's trajectory.
There are also UX/UI design companies that handle the user experience, and also ensure that the digital product is visually appealing. User interface (UI) design includes tasks such as creating mockups, designing icons, and the layout of the interface. It's a good idea to check the specific scope of services of the company you'd like to partner with before starting a collaboration. I go more in-depth on this topic further in the article.
To sum up, a UX design agency's key role is ensuring your product excels by focusing on users, while also providing continuous support to help you achieve this. What other benefits can UX design companies bring? Let's take a closer look at some advantages that come with this cooperation.
The benefits of partnering with a UX design agency
Expertise and experience
Professional UX design agencies offer valuable insights, broad knowledge, and extensive experience. Their expertise in UX research methods, such as expert review or UX audits, can provide you with a comprehensive understanding of your end user. This ultimately leads to better-designed products that cater to your customers' needs. UX design agencies are also well-stocked to handle a diverse array of projects, so they can support you with developing websites or mobile apps, just as well as augmented reality or AI products.
Access to specialized tools and resources
These can significantly improve the overall design process.Agencies are in the loop of industry trends and can apply state-of-arts technologies in their work. On top of that, with a team of highly experienced UX designers, they can ensure delivering an outstanding design.
Efficient project management
UX design firms specialize in improving user experience, freeing you to focus on your core business operations. While their primary role is to make your products user-friendly, the wireframes, diagrams, and user flow drawings they produce serve a secondary, yet vital function. These visual representations are designed to be easily understood, even by those without a technical background. Including these in presentations to key stakeholders can greatly assist you in articulating your business vision and demonstrating its potential benefits to the company.
An agency or internal UX designer – what's best for your company?
UX design can be outsourced to an external agency or managed internally by hiring an in-house designer. Both routes have their advantages, and your choice should depend on your current and long-term business needs. Here are several scenarios where I would recommend choosing either the former or the latter.
Think about hiring an agency when your project needs:
Diverse experience and skills.

Agencies are fully equipped to take care of complex projects from the get-go. Their teams comprise multiple specialists who are ready to work on your project from various sides.
Rapid onboarding and turnaround. Because you have the entire team working on your project, it won't be halted in case of a single person's absence.
Quick delivery. The agency will most likely deliver your products quicker than a single UX designer.
Clear budget and timeline. You are provided with the overall cost and length of the project before kick-off. This is especially important if you wish to avoid long-term financial commitments.
Short-term or specific action. If you approach a venture with defined beginning and end or one-off design requirements, agencies can deliver efficiently.
Complex infrastructure for product development. The agency already has this, so there's no need to build it on your own.
Access to specific tools. Your company won't have to pay for a license for tools such as Figma or Miro.
Risk mitigation. Agencies offer stability and continuity in delivering products without the need for a long-term business commitment.
Hiring an agency requires a smooth flow of information between your business and the agency. Without it, you might not achieve the full potential of your cooperation. In some cases, the in-house designer might have a deeper understanding of your product. They can independently notice some nuances or challenges by being inside the organization daily. Let's look at when you might want to bet on an in-house designer rather than an agency.
Employing an in-house UX designer is recommended if you are looking for:
Long-term vision and consistent collaboration. The designer can focus on long-term success, whereas agencies tend to deliver specific projects. Some matters require regular interactions with other departments, and in-house designers can communicate with them directly.
Deep brand integration. This is especially important for businesses where UX is a core element of the brand. Here, having someone absolutely focused on company ethos can be invaluable.
Full-time role with a desire for ownership. So that the particular person can take accountability for the user experience outcome and have a sense of project ownership. This requires investment in an employee's salary, benefits, and training.
You've now gained insights into the responsibilities of UX agencies and their potential benefits for your company. I've also made suggestions on when to partner with a firm or opt for in-house hiring. Now let's focus on what the qualities of top-notch specialists are and how to recognize them.
How to choose the best UX design agency?
There are multiple factors that can make a UX agency stand out from the competitors. When deciding which company to partner with, you can take the following aspects into consideration.
Design consultancy
The agency should be your true business partner, not just project outsourcing. External designers should not only offer you operational services but also recommend the best solutions that address your business needs. Professional UX design agencies take into consideration various aspects (such as growth or sustainability) that impact your product and create the digital strategy in line with them.
Communication skills
It's essential for UX firms to stay connected with their clients and create opportunities to receive their feedback throughout the project. They can do so by providing consistent follow-ups, updates, or scheduling regular meetings. You can observe some of these practices from the start: how do they approach you as a potential client? Do their responses demonstrate timeliness, accuracy, and genuine interest in your project? The best UX design agencies provide that right from the outset.
Effective project management
Developing a successful UX project requires excellent management. User experience design agencies have to prepare a plan and carry it out, all the while making efficient use of resources. They should provide you with a well-defined project schedule and evaluate if they can meet set deadlines.
Portfolio and client testimonials
UX design agencies have portfolios, and you should look for valuable and credible cases there. When going through their previous work, consider not only the look and feel of the UX design but also whether it actually brought real business value. Additionally, look for testimonials from their past clients. These could be published reviews or articles that highlight the business value delivered by the agency. Or perhaps you're acquainted with someone who has already worked with the firm? In this case, reaching out to them could provide valuable insights. Then, you can assess whether the company accomplished great things for other clients and actually solved their issues. Did the agency provide data to back it up? If yes, that's a good sign.
Research-driven mindset
Speaking of data, as already mentioned, great UX design specialists prioritize it in their work. Having a gut feeling or intuition about some parts of the project can be useful but shouldn't be the core of the project. It's good to check whether the company has user researchers in their team and if they've published any case studies that can support their data-based approach.
Versatile array of services
Some agencies solely focus on UX design, while others can offer you "all-inclusive" support. This can include help with branding, growth, or marketing. It's worth evaluating whether the company of your choice has enough resources to provide all the services you seek. Broad knowledge, going beyond UX design, can be important in choosing optimal solutions throughout the project. This is how you avoid, for example, a product looking amazing but not performing as it should. Top UX design agencies comprise diversely skilled teams and, as a result, can advise you in areas such as user interface design,custom software development, and product maintenance.
Diverse business awareness
When looking at an agency's portfolio, think about how they approach particular business objectives. Each design project should be developed in a unique way that fulfills its users' needs. This can be achieved by building a fit-for-purpose interface, proper functionality, and a choice of appropriate aesthetics. Is the design of a healthcare app adequate? How is it different from the design of a dating app? Top UX agencies understand and know how to make the best choices for diverse clients.
How to choose the best UX designer?
Understanding the qualities that define an exceptional UX designer is valuable whether you're considering hiring an on-site employee or partnering with an agency. In both cases, the aptitude and skills of the designer are the foundation of success. A great UX designer is a person with:
High levels of empathy.

They have to understand users' needs. They should be able to figure out their emotions and sensitivity with ease.
Great research skills are crucial to developing a successful product. They should know how to use and gather information, just as well as they understand its value.
Ability to wireframe and create a clear information architecture. This is the designer's core business operation.
Excellent communication skills. Designers spend a lot of time working with other people, including users, business stakeholders, or other team members. Thus, they should easily express and present their ideas or receive and give feedback.
A can-do and problem-solving attitude. Most of the job is solving issues and eliminating difficulties, so such traits are necessary.
Experience. Designers who have practiced in the field are more likely to speed up the process, find the best solutions, and give better advice to businesses.
Mistakes to avoid when hiring a UX design agency
To identify red flags on time, start with research and make sure you properly examine potential agencies. Check whether they have enough experience, successful case studies, and can provide you with end-to-end support if you seek it.
However, you should also know what you're looking for to make sure it's delivered. Unclear project scope or timeline, lack of feedback, or not establishing clear expectations can all lead to ineffective cooperation with an agency.
How to make sure you're fully prepared to approach a UX design company? You can kick off your talks by presenting a creative UX brief.
How to write a UX brief for UX design agencies?
A good UX brief is crucial when starting a partnership with a design agency. It's an outline providing your design requirements and expectations. This allows you to easily communicate with the design team. By preparing a comprehensive UX brief,you can save time and ensure your vision aligns with the project objectives. Here's a list of key information that should be included in a brief.

Define the problem. Precisely explain the challenges you aim to address.
Focus on objectives. Allow the creative experts to propose solutions.
Determine project scope. Specify what you expect from the team to ensure they won't do more or less.
Provide existing data if you have gathered any already.
Set project goals along with the criteria to measure design success.
Prepare the timeline and budget.
Provide insights into your company so the agency can understand its aims better. Mention specifics related to your technology, branding, and any cultural considerations that the agency should know about.
Once you receive responses from the potential agencies, take time to compare their offers. Did any stand out? Or, on the other hand, did you notice some UX companies not addressing all your queries? This step allows you to thoroughly explore the UX agencies market and choose the best one.
The UX design agency is a component of successful software development
Going with the right UX design company or designer can take your product to an absolutely new level. These people focus on usability and functionality that fit your user excellently. By prioritizing your clients, you not only foster strong brand loyalty but can also directly capitalize on it. Whether you opt for a company with an entire creative design team or choose a single in-house designer, prioritizing UX design is essential to excelling in product development.
Frequently Asked Questions
What does a UX design agency do?
A UX design agency is a creative digital firm that takes care of the user experience aspects in digital product development. They focus on how to create a product that is highly desired and enjoyed by users and increases profits for the company. UX design agencies use a variety of methods to understand user needs and optimize the user journey, including surveys, interviews, and user testing. The design process typically involves creating wireframes, mockups, and prototypes.
What's the difference between UX and UX/UI design companies?
Scopes of duties vary between agencies. Companies that handle the user experience (UX) might not assist with the user interfaces (UIs), the visual parts of the project. The UI/UX design agency handles both. Thus, it's good to check the company's offered services prior to hiring one.
What are the benefits of partnering with a UX design agency?
Hiring a UX agency can bring multiple advantages to your firm. They offer expertise and experience regarding the UX design process and can fulfill the expectations of your end users. Such firms also have access to specialized tools and infrastructure, so you won't have to invest in these. In addition, while they proceed with user research and the design process, you can solely focus on running your business.
How can I evaluate a UX design agency's portfolio?
A UX agency will have a portfolio where they present their past projects. Check whether they assisted any prominent businesses or were involved in successful projects. Analyze the complexity of the projects and the scope of their services, along with their results. Can they present data on what profits they brought to their clients? Or perhaps won any awards? All this information should be included in a good portfolio.
What to include in a creative brief for a UX agency?
A creative brief is a set of information you should approach a digital product agency with. It allows you to avoid miscommunication and receive a comprehensive response from a potential agency. In brief, state clearly what problem you'd like to solve and what your objectives are. Mention the expected scope of the project, along with the timeline and your budget. In case there are any important details regarding your type of business, mention them as well.