How to Find the Best UX Design Agency? Useful Tips [Updated]

If you are running a business and would like to expand an existing product or create a new one, you are probably asking yourself "How can I develop my product to make it a success?".
The idea is one thing, but user reception can be another. So, if you want to avoid pointless work and wasting resources, your product has to be perfectly prepared. You might have also thought about hiring a company that is focused on UX design - experts in connecting businesses and their users.
Companies that take care of UX design are an essential part of successful product development. They will investigate your competitors, research the market, get to know your users, and make sure that your product is wanted, functional, and user-friendly. Through various processes, a UX company is able to eliminate many difficulties before introducing a product to the market and guide you through the different stages of a product launch. In many cases they are able to give you wise, valuable, and professional guidance and even become instrumental to the success of your product.
So, there might be a question popping up: how to find the best UX design agency? In this article you will find out a few valuable tips for your search. Let's start from the beginning - the UX designers.
UX agency vs in-house designer
There are roles and responsibilities in every company that can be brought inside the organization or outsourced to an agency. The same is true for UX design. You can hire a UX designer and on-board them to the team or you can rely on the experience of external experts. Both solutions have their bright sides and drawbacks.
An agency has the experience and the skills
First and foremost, an agency has a vast portfolio of proven experience of working on many projects with various clients. The cumulative experience of the agency's team will always be much broader than any single UX designer. A UX agency can also offer you a diverse set of different skills. Every member of the team has their own specialty and focus on a particular part of the design.
When hiring a UX designer for the first time you need to build your own procedures and rules of cooperation. Working with a UX agency saves you the time needed to create the whole design process because the agency has already developed it a long time ago and functions in it every day.
An agency saves you time and money
Furthermore, you can also save some money on tools needed in the everyday job of a UX designer. You don't have to pay for professional app licenses, like Invision or Sketch. The agency itself buys the tools that its designers need to carry out their work.
The agency will probably work quicker than a lone UX designer hired in-house. External experts work in a routine of delivering high-quality projects in the fastest possible way, so your company can benefit from that. The onboarding of the agency is also faster than the onboarding of a new employee.
Finally, cooperation with a UX agency gives you the possibility to control the costs of the project. Before you kick-off the project with the agency you know exactly how much it will cost, how long it will take to carry it out, and what results you can expect.
Keep the agency in the information loop or...
On the other hand, there are some downsides to choosing a UX agency over an in-house designer. The UX expert that you have onboard will always have direct access to the company's information and to a much greater extent than external professionals. A member of your team works with other departments of your organization on a daily basis, so they can notice potential problems within your product much faster.
But you can overcome those downsides of working with the agency. If you choose the agency model of working on a UX design, please remember that it's crucial to share all the key information about the product and internal processes connected with the design. It will save you time and frustration.
… hire a passionate in-house UX designer
When you have a strong and attractive brand, almost everyone will want to work for you. But working AT a beloved company differs greatly from working FOR a firm you admire. An in-house designer can live and breathe his work for his particular brand. That's a huge asset.
In terms of daily work, it can translate to having an employee who will outperform external designers in terms of coming up with new ideas and dedication to their everyday duties. The level of ownership and personal responsibility for the UX design outcome is also higher with a fan-turned-employee designer vs a UX agency.
Long-term focus of the in-house designer
A UX agency works with a client for a limited time and on a particular project. The agency's team will deliver the task, but at some point will leave the project, whereas an in-house designer can put much more time and effort into long-term thinking about particular designs.
In-house designers can assess the UX of a particular product or services regularly and work on improvements on an almost everyday basis. They're not limited by the scope of the cooperation nor by the duration of the contract. Although you need to remember that hiring an in-house UX designer is a bigger investment than cooperation with a UX agency. Every case is different and you have to choose wisely.
How to distinguish an outstanding agency from an average one
The market of UX agencies is constantly growing. The variety of different potential partners is so vast that the decision process of choosing the right UX agency is becoming more and more difficult. There are however a few factors that distinguish an outstanding agency from an average one. When you decide who you want to work with you should:
Seek UX consultancy, not just outsourcing. Your agency should be your true business partner. External designers should not only offer you operational services but recommend you the best solution that addresses your business needs. An outstanding UX agency takes into consideration the aspects that impact your product and create the UX in line with them.
Look for real cases in the agency's portfolio. Every UX design agency will show you their portfolio. While going through their earlier work presented on the agency's website or Behance profile, consider not only the look and feel of the UX design but make sure that the projects built for previous clients brought real business value.
Learn more about the agency's processes. Every agency has its style of work and a UX design process in place. Before choosing your preferred agency, check if the team is just "doing UX" based on their guts or has a research-driven approach. Checking what the users of your product want and how they behave is the key to good UX design.
Go with a team with varied skills. UX agencies often focus solely on this specialty, but there are players on the market that can offer you a more varied set of skills. It's worth considering making the most of the cooperation the agency and choosing one that can also help you with other parts of your business, like development, branding, growth strategies, or marketing.
What makes a great UX designer?
UX designers are the foundation of successful product development. They focus mostly on user experience, so things like how the product is received by your potential customers. And it is not just about visual design. It is also about functionality, what kind of user engagement is activated, and how easy the product is to navigate. So what makes a great UX designer?
High level of empathy. A UX designer has to understand the needs of users - the ability to figure out another person's emotions and sensitivity to what they are experiencing is necessary.
Research is the cornerstone of successful product development. Thus, a UX designer has to be a great researcher with the best quality and usability expertise. They need to know not only know how to use and gather information, but also to understand its value.
Wireframing and being able to create an understandable information architecture - building your product's framework is a key operation that UX designers have to be great at.
Because they will spend a lot of time working with users, business stakeholders, and other team members, he or she has to have excellent communication skills. UX designers explain and present their ideas and solutions on a daily basis. Along with that comes giving and receiving constant feedback. Without great interpersonal skills that tasks would be very difficult.
A can-do and problem-solving attitude are crucial as most of their work is solving issues and eliminating difficulties.
Experience. Practice makes perfect, so, if the designer was a part of various projects they are more likely to speed up the process, find the best solutions or be better advisors.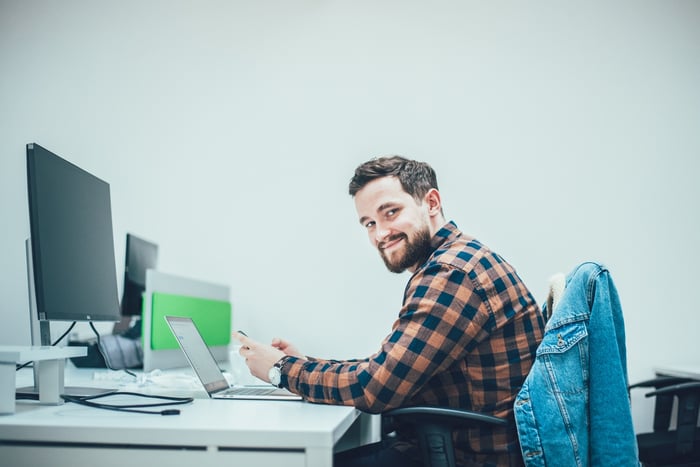 How to choose the best UX agency?
Experience can be a crucial thing in a successful launch. Nowadays, we check portfolios of most companies we are considering working with - from construction crews to potential business partners. It should be no different with UX design agencies.
To make the best decision, first of all, you should verify projects that the agency has done in the past. Were they successful? Maybe you or your friends are using their products on a daily basis and enjoy them? These are good signs of credibility. If they were able to accomplish great things for other businesses, the probability that they will do the same with yours is much higher.
It is important to check if the company has enough resources. Product development is one stage of the launch. So what about the other steps? An experienced UX agency will be aware of the issues that can occur during the whole process. Thus, they will be able to advise you on other parts, like UI design, development, and product maintenance. Their broad knowledge, covering areas beyond UX design, will be helpful in choosing the optimal solutions from the beginning. As a result, you will avoid a situation when, for example, the product looks amazing but does not perform as it should, so it needs to be redesigned. The process of digital product development can be very complex, so advice from an experienced company can solve many problems, thus saving time.
Every client is unique. So, while looking at the UX agencies' portfolios, think about how they deliver solutions and approach particular business objectives. A design company should be the bridge between the users and the business. Are their past projects relevant? Every product should be prepared in a way that fulfills user needs. That can be achieved by building a fit-for-purpose interface, functionality, and appropriate aesthetics. Is the design of a healthcare app adequate for its role and is it different than that of a dating website? An experienced UX company understands and knows how to make the best choices for diverse clients.
How to write a great creative UX brief for a design consultancy
As a company providing UX design services, we regularly have to familiarise ourselves with new projects in an efficient manner. Especially at the beginning of a new partnership, we need to figure out what the project vision is, who the users are, and what response from us will be best for the client. A well-written UX brief can help us tremendously by providing just the right kind of information.
What is a UX brief?
A UX brief is a tool that helps your design team help you. If you've ever needed UX design services, you most likely sent out at least one inquiry to a UX agency. In it, you probably specified what your design problem is and how you'd like it to be solved, described your business, and asked about collaboration options. That was a UX brief, and the information you provided had a direct effect on what response you received.
The importance of the UX creative brief for good cooperation with a UX consulting company
Perhaps you've sent UX briefs to several companies, but the responses you got in return were disappointing and didn't answer your most important questions. This is obviously a problem, as you now have to spend valuable time on either providing each UX company with more precise information, or on finding new potential partners. It's wasteful and frustrating, especially if you're dealing with looming deadlines, and can lead to serious miscommunication between you and the UX studio you choose to partner with.
If, on the other hand, your UX brief is crafted to include all of the necessary data, UX companies can build exhaustive proposals quickly, taking into consideration your current and future needs, as well as your internal processes. They can look at their own schedules and plan for your upcoming cooperation. Finally, the solutions they present you with will be tailored to your unique situation. It's worth it to spend extra time on preparing a detailed brief when the payoff is so far-reaching.
The ingredients of a good UX brief
While there's no one "correct" template for a good UX brief, all you really need is to remember what elements it has to have. You can include extra ingredients if you'd like - such as inspirational materials - but missing one of those listed below can lead to confusion on the part of your design partner.
Definition of the problem
Good apps exist to solve specific problems for their users, and the same is true for good UX design. What are the challenges you face in conveying information to users, engaging them or inspiring them to take certain actions? Do you need to improve conversion and reduce bounce rate? Do your users abandon the buyer's journey at a particular point? Make sure to explain what problems you want to solve and provide all appropriate data that will help your design team understand your needs.
Objectives, not solutions
Remember that you'll be working with a team of creatives with vast commercial experience. You want to set project goals, yes, but if you impose your own solutions on your team, you won't be able to take advantage of their full potential. Instead, define the objectives you'd like to see accomplished. If possible, you can also describe any solutions or approaches that have provided unsatisfactory results in the past.
Project scope
You need to be very clear about what you want your design team to do, and what goes beyond the scope of their assignment. Avoid situations in which misinformation leads your team to provide more than you needed, or not enough.
Product description and background information
Write about your product, your market, and your user base. Include your USP (unique selling proposition), users' pain points and current behaviour (which are especially helpful if backed up by any kind of analytics data), as well as general information on how you plan to differentiate yourself from the competition. It's also worth it to spend some time on describing your business strategy, as UX should (if possible) directly complement it.
Project goals and definition of success
This is a crucial element of the brief (and projects in general), and one that's often overlooked. Many people get so focused on their vision that they forget to define how they will measure success. This results in a strange situation where the project is technically completed, but it's difficult to decide whether it's successful. Don't make this mistake, particularly when working with a design or tech partner, as a definition of success protects you from low-quality services. If you define project goals and communicate to your team what they need to accomplish to complete their task successfully, they will deliver real value for your business. You can provide benchmarks to make sure you and your team are on the same page.
Budget and project timeline
Your team needs to know what resources you're willing to spend on building your product. The solutions they propose will be adjusted for your budget. Scope comes into play here as well: make sure to let your team know whether you want any specific elements of the design process or the designs themselves that might influence cost. Your design team will make their own suggestions based on the brief, but if something is especially important to you, include it.
Deadlines are just as crucial. If you need the product to be ready in a short amount of time, your design team should be a little larger, or prepared to work under pressure. They will also propose solutions that can be implemented quickly. If you don't make sure your design team understands your timeline, don't be surprised when they can't deliver what they've proposed on time.
A peek at your internal processes
A little information on your team and processes (such as job titles of the people your design team will communicate with, main stakeholders and decision makers, other agencies they might collaborate with, or your desired level of involvement with the UX design process) can be a huge step towards a smooth cooperation. Many design companies are happy to make adjustments to their process to cater to the way your business operates, or plan the communication flow with it in mind, but you need to let them know what to expect in advance.
Additional requirements
Make sure that your brief includes any requirements specific to your business. This could be related to the technology you use, your branding, or legal issues impacting your product. If your users come from a specific culture that might react badly to certain design decisions, let your team know. Set them up to succeed - after all, you want to see the best results they can deliver.
The above are basic guidelines for writing a UX brief when looking for a design studio to partner with. They will help you communicate clearly with your future team of designers. These guidelines are not necessarily exhaustive. You know your business best, and are aware of its specific needs. Keep them in mind while crafting your brief and you'll be set to begin a fruitful collaboration.
What are the benefits of top UX design agency partnership?
Choosing the right UX design company is a strategic decision. Through different processes and methods, it can take your product to an absolutely new level. UX agencies not only take care of usability and functionality, but also make sure that the product is targeting its right audience. And they know what your audience wants. What is more, if they are prepared and experienced enough to help you with other stages of a launch - you are getting an end-to-end solution. And that makes you so close to success. That is why it is so important to make sure that you pick the best one.