How to Write a Great Creative UX Brief for a Design Consultancy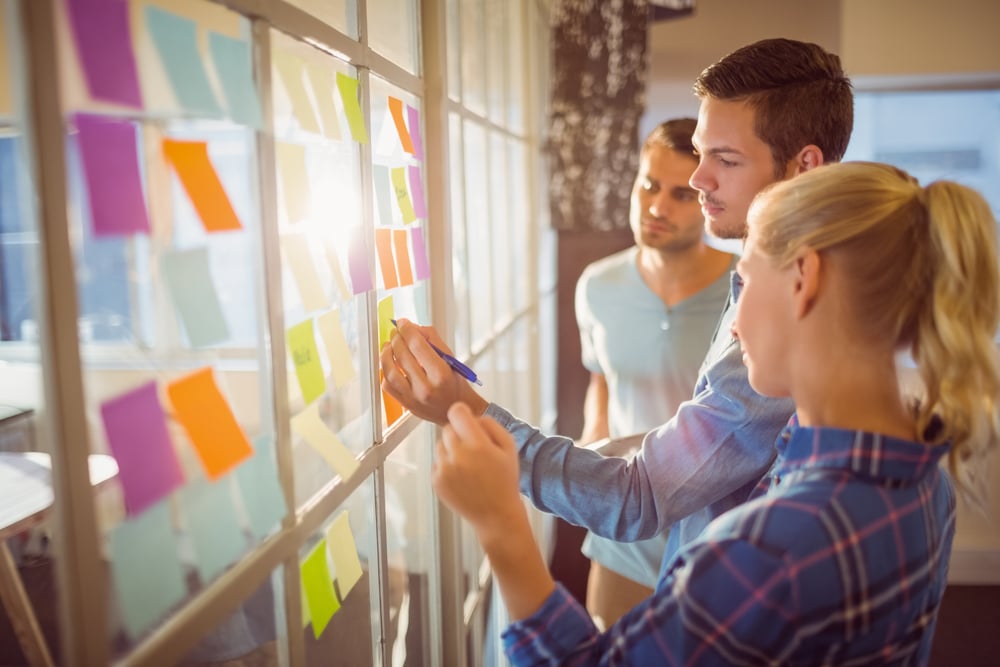 A UX brief can make or break the collaboration with your design agency.
As a UX design agency, we regularly have to familiarize ourselves with new design projects. At the beginning of a new partnership, we figure out what the project vision is, who the users are, and what response from us will be best for the client. A well-written UX brief can make this process swift and straightforward for the benefit of both sides involved. Below you'll find some tips on how to write one.
What is a UX brief?
A UX brief helps the design team help you. It's a document that states the most important elements of the prospective user experience (UX) design project: its guidelines, expected challenges, and goals. It should also include information about the product and the target audience. This serves as a roadmap for the designers to gain initial project knowledge, establish a game plan, streamline the design process, and can decide about the successful outcome.
If you've ever needed UX design services, you most likely sent out at least one inquiry to a UX agency.
In it, you probably specified what your design problem is and how you'd like it to be solved, described your business, and asked about collaboration options. That was your UX project brief, and the information you provided had a direct effect on the response you received.
Why the UX brief is crucial for good cooperation with a UX consulting company
Perhaps you've sent UX briefs to several companies, but the responses you received were disappointing and didn't answer your most important questions.
This is obviously not ideal, as you have to spend more time on either providing each UX company additional information or on finding new potential partners. Moreover, a bad UX brief can result in serious miscommunication between you and the UX design agency you'll eventually work with.
If, on the other hand, your UX brief is well-crafted and includes all the necessary data, UX companies can put together comprehensive proposals which will already be taking into consideration your current and future needs, as well as your internal processes.
They will have a better idea of the time your project will take, providing you with more realistic estimates, which could help avoid future time and cost overruns. Finally, the solutions they present you with will be tailored to your unique situation. That's why it's worth it to spend some extra time on preparing a detailed UX brief.
How a well-structured UX design brief impacts the end product
A good UX brief serves many purposes at all stages of the design process. Here's how it can improve your collaboration with the design agency:
Staying on the same page: Clearly defining the project goals will ensure that the ux designers knows exactly what you want to achieve.
Efficient design process: Communicating what you already know about your project, such as user needs, project scope, and deadlines, will streamline the design process.
Focus on the key elements: Outlining your core objectives will help the design team prioritize and not waste time on the less important aspects of the project.
Risk mitigation: Defining potential challenges and pain points early in the process will help to better manage them later or avoid them altogether.
Better business goals alignment: Sharing your wider business goals and strategies with the UX design team will allow them to adjust the project accordingly. As a result, you'll be more likely to reinforce brand identity and achieve organizational objectives.
Measurable goals: Establishing clear metrics and benchmarks for success will allow you to measure the project's effectiveness.
Cost and time efficiency: Establishing expected project start date, timeline and expectations that will help to avoid time and cost overruns.
Higher user satisfaction: Outlining the user needs in the brief will increase the probability that the final product will resonate with the target audience, increasing user engagement.
In essence, a UX design brief is more than just giving project overview – think of it as a strategic tool that can greatly influence the direction the UX design project is going to take and the final outcome.
The ingredients of a good UX project brief
There's no single "correct" UX design brief template, but there are essential elements that each brief should include. If you wish, you can add extras – such as inspirational materials – but first, make sure your first design brief example includes all of the following.
Definition of the problem
Good apps solve specific problems for their users, and the same is true for good UX design. What are the challenges you face in conveying information to users, engaging them or inspiring them to take certain actions? Do you need to improve conversion and reduce the bounce rate? Do your users abandon the journey at a particular point? Make sure to explain what problems you want to solve and provide all the data that will help the design team understand your needs.
Objectives, not solutions
Remember that you'll be working with a team of creatives with commercial experience. You want to set project goals, yes, but if you impose your own solutions on the team, you won't be able to take advantage of their perspective. Instead, define the objectives you'd like to see accomplished. If possible, you can also describe any solutions or approaches that have provided unsatisfactory results in the past.
Project scope
You need to be very clear about what you want your design team to do, and what goes beyond the scope of their assignment. This will help avoid getting a bloated product with unnecessary extra features, as well as one that is missing essential components.
Product description and background information
Write about your product, your market, and your user base. Include your USP (unique selling proposition), users' pain points and current behavior (that's especially helpful if backed up by analytics data), as well as your plan on how to differentiate yourself from the competition. It's also worth spending some time on describing your business strategy, as UX should (if possible) directly complement it.
Project goals and definition of success
This is a crucial element of the project brief (and projects in general) and one that's often overlooked. Many people get so focused on their vision that they forget to define how they will measure success.
This results in a strange situation where the project is technically completed, but it's difficult to decide whether it's successful. Don't make this mistake, particularly when working with a design or tech partner, as having a definition of success in place gives project team and you something to refer to if the project falls short of your expectations.
If you define project goals and communicate to your team what they need to accomplish to complete their task successfully, they will deliver real value for your business. You can provide benchmarks to key project inputs helping make sure you and the design team are on the same page.
Budget and project timeline
The design agency needs to know what resources you're willing to spend on building your product. The solutions they propose will be adjusted to your project's budget. Scope comes into play here as well: make sure to let the team know whether you want any specific elements of the design that might influence the project's scope or cost. Your design team will make their own suggestions based on the brief, but if something is especially important to you, include it.
Deadlines are just as crucial. If you need the product to be ready quickly, you might need to partner with a larger design team, and one that is comfortable working under pressure. Also, different design elements take different times to implement. If you don't make sure your design team understands your timeline, don't be surprised if they can't deliver the work on time.
A peek at your internal processes
A little information on your team and processes (such as the job titles of the people your design team will communicate with, main stakeholders and decision-makers, other agencies they might collaborate with, or your desired level of involvement with the UX design process) can be a huge step towards a smooth cooperation.
Many design companies are happy to make adjustments to their process to cater to the way your business operates or plan the communication flow with it in mind, but you need to let them know what to expect in advance.
Additional requirements
Make sure that your project documentation includes any requirements specific to your business. This could be related to the technology you use, your branding, or legal issues impacting your product. If your users come from a specific culture that might react badly to certain design decisions, let your team know. Set them up to succeed – after all, you want to see the best results they can deliver.
UX Design Brief Template
Here's the template that's easy to follow and that includes all the necessary elements:
1. Definition of the problem
Brief overview: Short summary of work to be done, e.g., creating user flows for ecommerce shop checkout.
Specific issues: Challenges you want to resolve, e.g., bounce rate, user drop-offs.
Supporting data: Any metrics or data that can be helpful, e.g., current click rate, complete rate.
2. Objectives
Main goals: What you aim to achieve with this project, e.g., improve complete rate by 20%.
Past solutions: Any past approaches that didn't work well, if applicable, e.g., long order form, too few payment methods.
3. Project scope
Inclusions: Scope of the deliverables, e.g., UX research, UX review, UX design.
Exclusions: Aspects that are out of the scope for this project, e.g., UI design, development, UX copywriting.
4. Product description and background information
Product overview: Brief description of the product, e.g., "ecommerce with shoes."
Target market: Who is this product aimed at?
User base insights: Key characteristics of your users, their pain points, etc.
USP: Your product's unique selling proposition.
Competitive analysis: What differentiates you from competitors.
Business strategy: Your business strategy and how UX complements it.
5. Project goals and definition of success
Key project goals: What milestones are you aiming for?
Success metrics: Clearly defined KPIs to measure the success of the project, e.g., increase in conversion rate, reduction in user drop-offs, etc.
6. Budget and timeline
Budget allocation: Budget for the UX project.
Specific cost preferences: Ratio between the services, e.g., focus more on user research, invest in high-fidelity prototyping, etc.
Deadlines: Specify the timeline for the project completion.
7. Internal processes and stakeholders
Team introduction: Brief intro about your team and their roles.
Key stakeholders and decision makers: People involved in decision-making processes.
Collaboration Details: Other agencies or teams they might collaborate with.
Involvement Level: Your involvement in the UX design process.
8. Additional requirements
Technical: Technology-related requirements.
Branding: Guidelines or requirements related to brand identity.
Legal Considerations: Legal constraints or requirements.
Cultural or user-specific: Any specific cultural nuances or user preferences that need to be considered.
Common Mistakes to Avoid
The brief that follows the template and includes all key elements can still have some flaws. Here are the ones that we see most often:
Being too vague or overly detailed: Use common sense, re-read your project description, get feedback – this will help you decide whether you're describing the project unclearly or getting into unnecessary details.
Not involving key stakeholders early on: It might seem like the decision-makers in your company don't need to get involved at such an early stage, but it's exactly the opposite. They need to give feedback on the scope of the project, the goals, and the deadlines at the beginning so that there are no drastic changes to these elements later.
Skipping user research: You might think you know your product best but user research will provide you with a lot of valuable insights. A user-centric approach will result in a UX design that the target audience wants to use and that solves their problems.
Setting unrealistic expectations: Great UX will improve your product and user satisfaction but it won't do wonders. Also, the more limited your timeline and budget, the less you should expect.
Conclusions
These are the basic guidelines for writing a UX project brief when looking for a design studio to partner with. They will help you communicate your project's aims clearly with your future team of designers.
The guidelines we have provided are not exhaustive. You know your business best and are aware of its specific needs. Keep these needs in mind while crafting your brief and you'll be set to begin a successful collaboration.