16 Tips From Experts to Become a Master of Innovation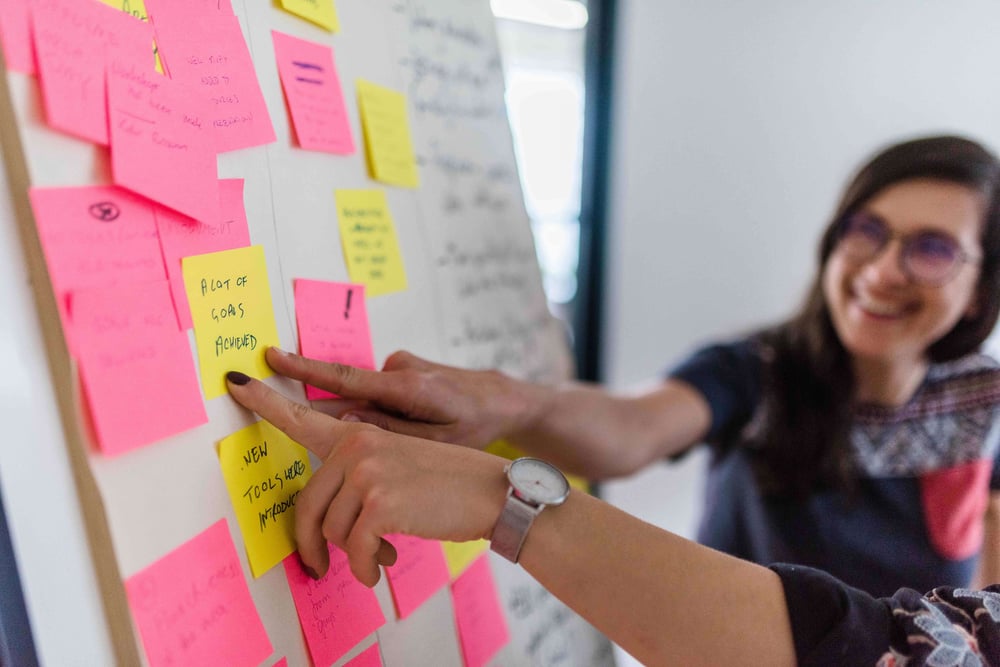 For innovators, volatility creates new openings for disruption. It's time to capture future opportunities and the revenue streams that will follow.
Uncertainty is at an all-time high. Times like these are the ideal breeding ground for new ideas, new solutions, and whole new markets.
To help you unleash your productivity and fearlessly execute your projects, here are 16 actionable tips from the 16 experienced innovators that we've interviewed so far in our Disruption Insights series.
#1: Don't try to catch every wave
"It's easy to lose focus when there are a lot of exciting things happening around you, e.g., new products or a new technology that enables these products to be used. Not trying to catch every wave is the biggest thing which allows me to stay focused and prepared."
– Vipendra Singh, Commerce API Platform Lead at Pandora in "Disruption Insights: Tie Innovative Ideas to the Company's Strategic Goals".
#2: Build a business case for your ideas
"If you can present the benefits of your idea in a clear and concise business case, decision-makers will understand WHY you are doing this and they will be more likely to back it up. A well-thought-out business case will help decision-makers defend your idea towards their management and stakeholders."
– Jessica Constantinidis, Evangelist in the Chief Innovation Office at ServiceNow in "Disruption Insights: Tech Capabilities and Knowledge of Business Drivers".
#3: To stay focused, keep your composure
"[The personality trait that helps me the most] is composure. Being aware that we are just a small part of the universe brings me calm and helps me focus on day-to-day things."
– Pawel Stezycki, Senior Innovation Consultant at Netguru in "Disruption Insights: Luck Can Help Great Ideas. What Else Can?".
#4: When possible, fail fast to learn fast
"Allowing room for failure requires a collaborative culture where teams can make mistakes, drive conclusions from these pitfalls, grow, and gain new knowledge. Such conditions make teams more successful. Obviously, when something isn't working, the course of innovation projects should be changed based on the learnings from failure."
– Åse Marthinsen, Innovation Manager in New Venture at DNB in "Disruption Insights: Fostering Collaboration and Open Dialogue".
#5: Remove stakeholder burdens
"It's important to understand who your audience is and how you consequently adjust that story. If I'm talking to the CFO, I would include the financial benefits of the idea, and if I am talking to sales associates, I would paint the picture of the impact this will have on them. Will it empower them to do their tasks? Will it remove a burden? Add some real evidence where you can – it needs substance, not just the style."
– Jinder Kang, Innovation Consultancy Lead at Netguru in "Disruption Insights: Impact and Utility in Solving Problems".
#6: Embrace collaboration
"Companies should do more to embrace collaboration. Collaborative initiatives, where different teams contribute towards multiple goals and learn from each other, bring really fruitful results and lay foundations for the future innovation projects."
– Mayank Chauhan, Global Strategy and Innovation Lead at H&M in "Disruption Insights: Ideas and Implementation Go Hand in Hand".
#7: Learn from everybody
"I believe the DNA of innovative processes is similar, no matter what industry we're looking at. That's why, with the right adjustments, you can implement innovative ideas from other sectors into your domain. You have to learn from everybody."
– Adi Regev, Global Retail Innovation Lead in Israel at Unilever in "Disruption Insights: Look for Inspiration Outside Your Industry".
#8: Above all, communicate
"In a large organization, it can be difficult to get an unobstructed view of what has already been created. Better communication can help us reduce duplication, enable us to work faster, and reduce expenses."
– Steve Suarez, Global Head of Innovation, Global Functions at HSBC in "Disruption Insights: Pursue the Most Exciting and Impactful Ideas".
#9: Help stakeholders convince themselves
"It's not about convincing them, it's about letting them convince themselves. In other words, it's about helping them determine what they are actually trying to solve or accomplish and then guiding them to the innovation best suited to deliver the desired results."
– Ken Hubbell, former Senior Vice President of Instructional Design Strategy & Innovation at Wells Fargo Bank in "Disruption Insights: Drive Alignment Across Diverse Teams".
#10: Practice empathy
"Most positions require not only technical or business knowledge but also a lot of self-competence and empathy. It's indispensable when working in innovation and strategy."
– Esther Seidl-Nussbaumer, Head of Corporate Innovation at SIGVARIS GROUP in "Disruption Insights Test Early Ideas in Their Natural Environment".
#11: Get inspired
"What drives me constantly is condensed in the poem 'If' by Rudyard Kipling. Selected passage:
If you can dream — and not make dreams your master;
If you can think — and not make thoughts your aim;
If you can meet with Triumph and Disaster
And treat those two impostors just the same"
– Romain Colnet, Innovation & Business Development Manager at Ingenico Labs in "Disruption Insights: Escape Velocity of Innovation Can Be Exhausting".
#12: Turn challenges into opportunities
"A lot of the challenges I faced in my career and life turned into possibilities later on. The main challenge was a lack of self-belief but once I worked on and nurtured it, it led me towards where I am today."
– Fatima Baz, former Digital Innovation Product Manager in MENA at Unilever in "Disruption Insights: What's Better Than Solving Problems Through Innovation?".
#13: Learn when to wait it out
"At times, you need to accept that an innovative idea, whilst logical and needed, might be too disruptive so it is wise to wait for a better moment to really get the corporate buy-in."
– Gladys Wojda, VP Consumer Products at Delivery Hero and CPO at foodpanda in "Disruption Insights: Effective Communication is the Golden Rule".
#14: If it excites you, follow it
"Do I feel excited? Does my heart beat faster? If I am interested in it, why would somebody else be interested? Is it solving a pain? Or is it an opportunity? In my opinion, often, the biggest barrier to success is the fear of taking that first step. Jump straight in, experiment, and see where it leads you."
– Rohit Kumar, Chief Technology Officer at SGeBIZ in "Disruption Insights: Innovation Is Incomplete Without Thinking About the Customer".
#15: Encourage your teammates to be entrepreneurial
"I encourage teammates to feel and act like entrepreneurs – if I'm a co-founder, it's not only my company, it's ours. I give them ownership and make them feel responsible for the direction the company is heading to."
– Peter Grosskopf, Co-Founder and CTO at Unstoppable Finance in "Disruption Insights: Innovation Is About Execution, Not About the Idea".
#16: Keep a fresh perspective
"It's extremely important to stay in touch with your network and close contacts within your specialization. So, constant input from the community and patients makes it easy for me to keep a fresh perspective."
– Dr. Sabine Häussermann, CEO & Founder at VisionHealth in "Disruption Insights: Make Users the Final Judges of Your Idea".
Ready, set, innovate!
The world is in dire need of innovation. Too many industries still rely on archaic solutions and maintain the outdated status quo. New, unforeseen problems keep mounting. Are you ready to be one of the innovators who solves these problems and pushes humanity forward?